When we think of cricket, the name India penetrates our heads. Because, at present, India is a cricketing leviathan.
The fact is that India has earned global admiration and respect for her tremendous success in this gentle sport. Cricket in India is exceedingly famous and profitable as her film industry—Bollywood.
The Top 10 Richest Cricket Players of India | Details, Status, Net-worth | Top 10 List
The Indian public deifies its cricketers as deities and treats them like celebrities. Whereas, The Board of Control for Cricket in India spends thousands of dollars on the players who represent the national side in different tournaments and series or play at the domestic level.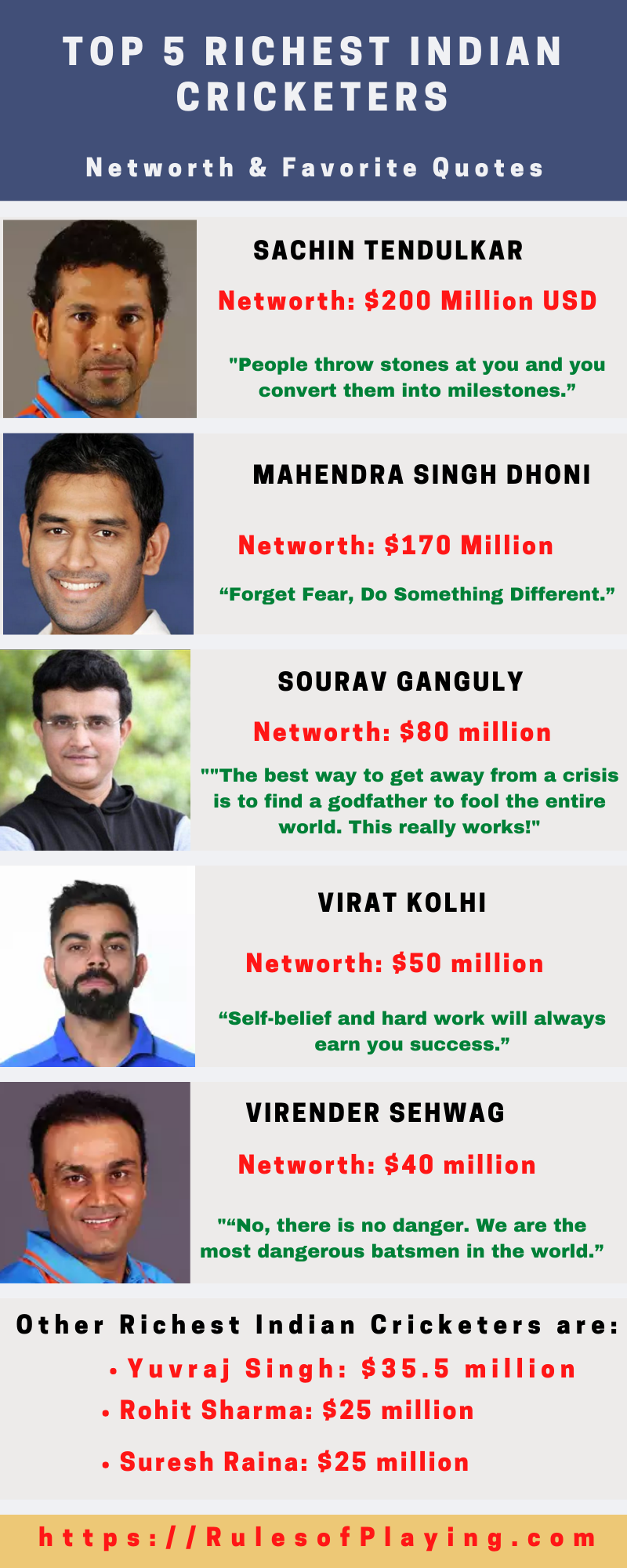 In addition to players' earnings from BCCI contracts, the new T20 format has helped them obtain a bulk of money.
With the inauguration of the Indian Premier League (IPL), the players in India have gone from rags to riches.
Since IPL involves serious money, it attracts a significant number of local and foreign players. The owners of the teams participating in IPL sign players in return for huge money, and that money makes the players rich quickly.
Apart from playing cricket for any league team, they also earn a large sum of money through advertisements for various brands.
After taking handsome salaries from BCCI, making exorbitant deals with IPL teams, and minting money through endorsements, Indian players manage to accumulate astonishing wealth.
Thus, they become the wealthiest people in their country.
Almost every player who has ever represented The Blue Tigers and participated in IPL is wealthy enough to live an extravagant life.
However, we have selected the top ten richest cricketers in India who have acquired substantial wealth till 2020.
1. Sachin Ramesh Tendulkar
No surprise, Sachin is leading our list of the wealthiest Indian cricketers. His illustrious cricketing career and massive popularity beggars description.
Being a prolific run-scorer in every format of the game, Sachin has completed a century of centuries—a rare feat that no cricketer could accomplish.
Date and place of birth: 24 April 1973, Bombay (now Mumbai), Maharashtra, India.
Age: 47 years
Net worth: $200 million
Income sources: Cricket, investment, and endorsements.
Role: Right-handed batsman and leg and off break part-time bowler.

Teams:

India, Mumbai Indians (IPL), Yorkshire (English County), and Mumbai (Domestic).

Awards

: ICC Hall of Fame, ICC cricketer of the year, Bharat Ratna, 15 man of the series, 62 man of matches.
Status: Retired
Starting his career in Mumbai, the little master earned his first cap in 1989. Throughout his scintillating career, he represented his national side in 200 test matches, 463 ODIs, and only 1 T20.
He is the only batsman to have played the most number of matches.
After wreaking havoc with bowlers for an astounding 24 years span, the mater blaster retired from international cricket in 2013.
The year 2011 has been the most celebrated in his long career.
He contributed heavily to the victory of his team in the ICC ODI World Cup 2011—his sixth and final appearance in the World Cups.
Sachin has been the most sought-after cricketer in the world, be it county cricket, league competitions or even commercials. His demand has not waned even after his hanging the boots.
He has been a regular member of IPL's most successful franchise, Mumbai Indians, which has bestowed him with hefty pay-cheques.
His other earning sources include various investments in technology companies and his endorsement deals with TVS, Cannon, UNICEF, Airtel, BMW, Philips, Luminous, Smartron, Boost, GM Pens, Aster Pharmacy, Fiat Palio, DBS Bank, Sony Ten, Star Sports and ESPN.
Facts you Didn't know about Little Master
He is the only batsman to have made 2000 runs in World Cups.
He was a ball boy before making an entry in cricket.
After getting out in the 2011 WC final against Sri Lanka, he didn't watch the rest of the match.
He bats and bowls with the right hand but writes with left hand—he is ambidextrous.
He has been the victim of nervous nineties 24 times that including ODIs and Tests.
2. Mahendra Singh Dhoni
Mahendra Singh Dhoni, lovingly known as Mahi, Captain Cool, and Thala (IPL), stands second on our list with a whooping wealth of 170 million dollars.
He started his career in Jharkhand. No one but he believed that one day he would rule the world.
Date and Place of Birth

: 7 July 1981, Ranchi, Bihar, India.

Age

: 38 years

Net worth:

$170 Million

Income sources

: Cricket and endorsements.

Role:

Batman and Wicket-keeper

Teams:

India, Asia XI, Chennai Super Kings, Jharkhand, Rising Pune Supergiant, and India A.

Awards:

Won "ICC ODI Player of the Year Award" twice, "Castrol Indian Cricketer of the Year," more than 20 man of the match awards in international Cricket.

Status:

Active
By dint of his sheer talent, he kept on cruising the ladder of success and finally made his place in the national team. He debuted against Bangladesh in 2004.
Though he could not make an impression in a couple of early games, nevertheless Indian team management kept him in playing eleven.
He soon showcased his brutal hitting skills against Pakistan (his first century) and Sri Lanka (his highest score).
He not only performed in front of the wickets with the bat but also proved to be equally handy behind the wickets with a pair of gloves.
Mahi had the privilege to lead the Blues in all the formats of cricket after just 3 to 4 years of experience at the international level.
He has got nerves of steel that help him maintain calmness and composure in any troublesome situation. You never see him jittery; he is befittingly tagged as "Captain Cool."
Thala became the most successful captain in Indian cricketing history by helping his team win all major ICC tournaments: the 2007 T20 World Cup, the 2011 ODI World Cup, and the 2013 Champions Trophy and bag 1st position in test cricket.
Along with international Cricket, Dhoni has been an integral part of an IPL giant, Chennai Super Kings. He captained Chennai in all the seasons (except its two years ban), and won IPL title thrice.
Most of the wealth that Dhoni has amassed comes from BCCI (presently, he is out of the team), IPL, co-ownership of different enterprises, and lucrative endorsement deals.
He promotes different brands such as Reebok (sticker on his bat), Pepsi, Colgate, LivFast, Indigo Paints and Coca-Cola. Today, he is the second richest cricketer in India.
Less Known Facts about MS Dhoni
Sachin Tendulkar recommended him as the captain of the Indian team after the 2007 ODI WC debacle.
 He holds the honorary rank of lieutenant colonel in the Indian Army.
John Abraham inspired his initial hairstyle.
His friend, Santosh Lal, taught him helicopter shots.
He likes chicken and chocolate.
3. Sourav Ganguly
The man who set a solid foundation for the Indian team on which its current dominance rests.
It was no other captain than Dada who took a poor-performing and match-fixing afflicted team to a level that many greats of Indian Cricket could not.
Date and place of birth: 8 July 1972, Behala, Calcutta, West Bengal, India.
Age: 47 years
Net worth: $80 million
Income sources: Cricket and endorsement.
Role: Southpaw Batsman
Teams: India, Bengal, Lancashire, Glamorgan, Northam shire, Kolkata Knight Riders, and Pune Warriors India.
Awards: CEAT Indian Captain of the Year, Padma Shri, Sandra Mohan Roy awards.
Status: Retired but associated with cricket as the president of BCCI.
His matchless elegant strokes and unparalleled leading skills made him the greatest batsman and captain the Blues have ever had.
Under Sourav Ganguly's captaincy, the Indian team achieved tremendous success in many ODI and Test series in India and overseas.
However, his most accomplished achievement is taking his team to the final of the 2003 ODI World Cup; India lost to the Aussies in the final.
Known for his significant influence on the team, he was involved in disputes with players and one of the Indian Coaches—Greg Chappell.
Yet, his reputation in India had always been on the rise. He hung his boots in 2008 and focused on IPL.
He played and coached Kolkata Knight Riders and discharged his duty as president of the Cricket Association of Bengal before assuming the charge as the president of BCCI in 2019.
His leading the King Kolhi is no surprise because of his long and profitable association with BCCI, Kolkata Knight Riders, and famous brands, i.e., Tata Tetley, Puma, Senco, and Essilor Lens, making him the third most affluent cricketer in India.
Some less known facts about Sourav Ganguly
Sourav was right-handed, but he played as a left-handed batsman.
On his debut match, he scored 131 runs at Lord's in June 1996.
After Ricky Ponting, Sourav hit the most centuries as captain in World Cups history.
He is the only batsman in the history of ODIs who won 4 successive Man of the Match awards.
He came to bat at number 8 against Pakistan in Toronto.
4. Virat Kohli
Virat Kolhi, the current skipper of Blue Shirts, mints incredible money through cricket, investment, and endorsements. He managed to get the fourth number in our list and previously got included in the Forbes list of highest paid athletes in the world
Date and place of birth: 5 November 1988, Delhi, India.
Age: 31 years
Net worth: $50 million
Income sources: Cricket, investments, and endorsements.
Role: Right-handed batman.
Teams: India, Royal Challengers Bangalore, and Delhi.
Awards: Sir Garfield Sobers Trophy (Cricketer of the year), ICCODI and Test Player of the year, and two civilian awards, Padma Shri and Rajiv Gandhi Khel Ratna.
Status: Active
Virat is widely regarded as the best batsman the world has ever known after his compatriot Sachin Tendulkar, whom he follows passionately. Many cricketing pundits believe that he would one day surpass the records of the Little Master.
Their impeccable batting technique of Virat helps him score tons of runs at every stage and in every format he plays—indeed, he is a modern run machine.
Until now, he has scored 70 centuries in ODI and Test formats at the international level and stands at third after Sachin (100 centuries) and Rickey Ponting (71 centuries).
King Kohli's fiercely aggressive and exceptionally daunting demeanor instills life in every game. You never see him inattentive or lazy during the whole match, be it batting or fielding.
He is the icon of commitment, consistency, athleticism, and aggression.
Virat's phenomenal finishing skills and his quest for chasing towering targets make him a nightmare for the opposing team's bowlers.
Getting him out as early as possible gives a sigh of relief to them. However, it's an uphill task for a team to send him back to the pavilion early on, because he rarely falls prey to their tactics and carries his innings judiciously.
He has stunned the world with his belligerent batting and has changed the dimensions of chasing seemingly impossible targets.
The world's best batman earns a great deal of money for representing his national team, Royal Challengers Bangalore, and moneymaking deals with Audi, Gillette, MRF, Puma, Colgate-Palmolive, Gionee, Uber, and some other brands.
He is also a wise investor and has invested in the business of restaurants, gyms and One8, a Puma-associated brand.
The facts you might not know about Virat Kolhi
His earlier coach, Ajit Chaudhary, nicknamed him Chikoo or Cheeku because his face resembled a comic rabbit named Cheeku.
He is the fastest player to reach 10000 runs in ODIs.
He is the only Asian Captain to have won a test series in the land of Kangaroos.
He had performed as wicket-keeper on two occasions when Dhoni acted as a bowler—both are unusual happenings.
Virat has been the only un-auctioned player in IPL history.
5. Virender Sehwag
A devastating opening batsman, Virender Sehwag, that dominated all the formats of modern cricket for more than a decade, proudly stands at fifth on our list with a staggering $40 million in his account.
Date and place of birth: 20 October 1978 Najafgarh, Delhi, India.
Age: 41 years
Net worth: $40 million
Income sources: Cricket and endorsements.
Role: Right-handed opening batsman.
Teams: India, Delhi, Leicestershire, Delhi Daredevils and Kings XI Punjab, and Maratha Arabians.
Awards: Wisden Leading Cricketer in the World, Polly Umrigar Award for International cricketer of the year, ICC Test Player of the Year, and Padma Shree.
Status: Retired
His ability to hit aggressive shots from the first ball he faced and anchor his innings to huge scores made him a deadly dangerous batsman of the world.
His shot selection resembled that of Sachin, which earned him the tag of "Sachin's replica". Viru opened with his doppelganger and capitalized on taking his innings to triple figures at times.
The prince of Najafgarh is the only Indian batsman who scored 2 triple centuries in test cricket, which, many experts believed, was never a suitable format for his style of play.
He also holds the record of scoring a double century in ODI, thereby becoming the third Indian to have achieved that milestone—Rohit Sharma and the Master blaster are the other two players accomplishing this feat.
Viru, as he is affectionately referred to, had been a mainstay of the Indian batting line-up and had held his reputation intact even in the presence of big names such as Sachin, Ganguly, Rahul Dravid, Yauvraj etc. His only aim was to put the bowling lineup of the opposing team in disarray as soon as possible.
His performances on World Cup stages were always exceptional.
He would give a quick start at the beginning of the innings, and that would subsequently pave the way for middle-order batsmen to propel their team to a decent total.
Owning to his being an explosive batsman, he had been one of the most desirable players in T20 or T10 leagues worldwide. However, he preferred his country's league-IPL, which helped Viru earn easy bucks.
The increase in his affluence relied on his affiliation with BCCI, IPL's franchise King's XI Punjab, and profitable sponsorship deals with Reebok, Hero Honda, Adidas, Boost, and a couple of mobile brands.
Five facts that you might like to know about the only triple centurion from India.
He scored 100 on his test debut.
He scored the fastest 300 in test cricket.
He was about to become the only player in history to hit a third triple hundred in test but got out on 293 against Sri Lanka.
He had the highest strike rate in test cricket.
He announced his retirement on his birthday.
6. Yuvraj Singh
An immensely talented all-rounder and a man of resolute determination, Yuvraj Singh holds 6th position among the top wealthiest cricketers of India. He is one of those players who loved Cricket more than they loved their lives.
Date & Place of Birth: 12 December 1981, Chandigarh, India.

Age:

38 years.
Net worth: $35.5 million

Income sources

: Cricket and endorsements.
Role: All-rounder

Teams:

India, Punjab, Yorkshire, Kings XI Punjab, Royal Challengers Bangalore, Sunrisers Hyderabad, Mumbai Indians, and Maratha Arabians.
Awards: ICC ODI WC 2011 man of the tournament, Padma Shri Award, and Arjuna Award.

Status:

Retired
He impressed millions of fans with the mind-boggling six-hitting ability that he displayed in the inaugural T20 WC against the English team's dominant bowler—Stuart Broad.
He hit six towering sixes on 6 deliveries, which aided him in becoming the only player in T20 to have hit the fastest fifty; he consumed only 12 balls.
His performance in Semifinal against Aussies helped India reach the final stage and ultimately win the T20 World Cup.
The sensational southpaw later played a crucial role in the victory of India in the 2011 ODI World and won the most coveted man of the tournament award. This year, simultaneously, was the happiest and most heat-wrenching for the fastest fifty makers in T20.
He was diagnosed with Seminoma Lung Cancer during the height of his career—it was seemingly the saddest departure of an elegant and brave cricketer.
Nevertheless, the man of iron will never lose hope and got rid of the malignancy with utter courage and made a come back to his lifelong mistress—Cricket.
Yuvraj Singh's wealth depends on cricket and advertisement deals. He had been affiliated with his national team, played for different franchises in IPL, and advertised for various brands before he developed cancer.
As soon as he defeated the deadly disease, he resumed his Cricket at international, domestic, and league levels and made endorsement deals with top brands such as Royal Stag Mega Music, Puma, Reebok, Pepsi, Birla Sun Life, and Lakshmi Vatika Ltd.
Less known facts about Yuvraj
His father also played for the Indian team.
He was to join Roller Skating instead of Cricket as his career.
He was a very poor batsman during his initial days.
He was the highest-paid player in the 11th edition of IPL.
He is the second player to have played for Yorkshire after the little master.
7. Rohit Sharma
The paragon of elegance, excellence, power-hitting, consistency, and dominance, Hitman holds 7th position in our list. He is acknowledged as the powerhouse of the Indian batting line-up in limited-overs formats.
Date & Place of Birth: 30 April 1987, Nagpur, Maharashtra, India
Age: 33 years
Net worth: $25 million
Income sources: Cricket and endorsements.
Role: Right-handed opening batsman.
Teams: India, Mumbai, Deccan Chargers, and Mumbai Indians.
Awards: ODI player of the year and Arjuna award.
Status: Active
The current vice-captain of the Blue Shirts in limited-overs cricket shot to prominence during his T20 World Cup 2007 campaign, where he played some crucial cameos.
Rohit Sharma had been exceedingly talented with a variety of shots in his arsenal. Still, he could not continue his innings after the brilliant start in the early phase of his career.
However, his useful performances in IPL, with his first franchise Hyderabad Deccan, impressed the selectors to give him chances in the national team.
Rohit Sharma, after regular entry into the team, played exceptionally well and won the hearts of his well-wishing selectors and fans. He kept on piling up runs and breaking many unbreakable records.
His records include three double centuries in ODI and four centuries in T20—most centuries in the shortest format by any batsman. He also holds the record of scoring 264 runs in ODI—the highest individual score in a single ODI game.
Apart from being a standout performer of the national team, Rohit has been a mascot for Mumbai Indians, an IPL franchise. Under his captaincy, Mumbai Indians have won 4 IPL titles so far—the most number of titles in the home league.
Rohit Sharma earns a hefty sum by means of his commitment to BCCI, IPL franchise Mumbai Indians, and many brands such as Addidas, Maggi, Lays, Ceat, Relispary, and Hublot watches, Rasna, Trusox, SHARP electronics.
Less known facts about Rohit Sharma
He didn't want to become a batsman initially and started with off-spin bowling.
He is a stalwart fan of Manchester United.
He is the only batsman to have hit three double centuries.
He uses 45 as his jersey number—chosen by his mother.
He loves sleeping for hours.
8. Suresh Raina
A graceful little southpaw with the ability to hit monstrous sixes effortlessly, Suresh Raina, comes at 8th in our list of richest Indian cricketers.
Date & Place of Birth: 27 November 1986, Muradnagar, Uttar Pradesh, India.
Age: 33 years
Net worth: $25 million
Income Sources: Cricket and endorsements.
Role: Left-handed batsman.
Teams: India, Uttar Pradesh, Chennai Super Kings, and Gujrat Lions.
Awards: CEAT T20 international player of the year.
Status: Active
Hailing from Utter Pradesh, Suresh Raina made his place in the Indian team in 2005 at the age of 19 years. He was once considered the backbone of the Indian middle order in ODIs and T20s and was reputed as one of the best finishers.
Chinna Thalla has captained India for two successful series after the 2011 World Cup victory—one against West Indies and the other against Bangladesh.
Raina is not part of the Blues at present; he is striving hard to make a come-back. Until now, he has represented India in 226 ODIs, 18 Tests, and 78 T20s.
However, he is a regular player for Chennai Super Kings. So far, Suresh Raina has played 193 matches in IPL and has made one hundred and 38 fifties. His consistent performance in every IPL edition makes him the most desirable left-handed batman.
As a whole, Suresh Raina has earned a terrific amount of $25 million. Though he is not playing for the national side, he is paid a bulky amount by extravaganza IPL league's second most successful team—Chennai Super Kings. He is also committed to multiple brands such as Asics, Pureplay, CEAT Tyres, HP, and Intex.
Less known facts about Raina
He scored 100 on his test debut.
He is the only Indian batsman to hit a century in T20 World Cup.
He is the youngest captain of India in the T20 format.
Raina was the first Indian batsman who hit centuries in all formats.
He is the 2nd highest scorer in IPL after Virat Kolhi.
9. Rahul Dravid
An accomplished cricketer relying on orthodox technique, Rahul Dravid, manages to grab 9th position on our list. The Wall, as he was known for his impenetrable defense in test cricket, played many genuine innings during the peak of his career.
Date & Place of  Birth: 11 January 1973, Indore, Madhya Pradesh, India

Age:

47 years
Net worth: $22.5 million
Income sources: Cricket and endorsements.

Role:

Batsman and sometimes wicket-keeper.
Teams: India, Kent, Rajasthan Royals, and Royal Challengers Bangalore.
Awards: ICC Cricketer of the year, ICC Test Player of The Year, Don Bradman Award, ICC Hall of Fame, Padma Bhushan, and Padma Shri.
Status: Retired
He redefined the worth of middle-order batting by producing multiple magical and extended innings against any dangerous bowling attack.
Mr, Dependable started his career in 1996 against England. He had been a regular player of the Indian team in ODIs and Tests, where he represented his national side in 164 Tests and 344 ODIs and scored about 25000 well-compiled runs. He announced his retirement in 2013.
The ICC Hall of Fame rescued the Indian team on many occasions after their opening pair had succumbed to the opposing team's bowlers. He won many accolades during his career and even after his retirement.
Besides his international Cricket, The Great Wall has been part of the IPL like most of his teammates. Rajasthan Royals and Royal Challengers Bangalore signed him as a player during different IPL editions.
At present, he is the head coach of the Indian U-19 team. His earning sources had been BCCI, IPL and brands like Reebok, Max Life, Samsung, Pepsi, Castrol, Hutch, Skyline Construction, Gillette, Karnataka Tourism, and Sansui.
Less known facts about Rahul Dravid
He was the highest scorer in the 1999 ODI World Cup with 461 runs.
He is the only cricketer in the T20s who debuted as well as retired in the same match.
He is the first non-Australian cricketer who addressed the Bradman Oration.
He is nicknamed Jammy.
He took 5 wickets in his international career.
10. Gautam Gambhir
A versatile left-handed opening batsman turned politician, Gautam Gambhir, won't surprise you if you see him at 10th position among the top ten wealthiest cricketers of India.
India will remember him for his invaluable contribution in the finals of the T20 World Cup 2007 and ODI World Cup 2011.
Date &  Place of Birth: 14 October 1981, New Delhi, India.
Age: 38 years

Net worth:

$20 million
Income sources: Cricket, Commentary, and endorsements.

Role:

Left-handed opening batsman.
Teams: India, Delhi, Delhi Daredevils, and Kolkata Knight Riders.
Awards: Man of the match in the finals of T20 World Cup 2007 and ODI World Cup 2011 and Padma Shri.
Status: Retired
Gautam Gambhir captained the Blues in 2010-11 for a brief period. He opened with Viru and bolstered the Indian batting line-up in the absence of the master blaster. Before getting retired in 2018, he had played for India in 58 tests, 147 ODIs, and 37 T20s.
Along with international cricket, he played in IPL for Delhi Daredevils and then for Kolkata Knight Riders. Kolkata Knight Riders signed him for $2.4 million—the highest paid in IPL history at that time.
He captained KKR and led his side to win the first-ever IPL title against the hot favorite Chennai Super Kings in 2012. KKR won the 2nd title in 2014 again under his command. He retired from domestic cricket in 2018.
The source of his enormous wealth had been the most desirable BCCI contract, IPL franchises, and big brands that include Hero Honda Reebok, and Red Bull.
Less known facts about Gambhir
Gambhir became the first player of India who score five consecutive hundreds in Test matches.
He was the most expensive player of the 2010 IPL edition.
He is highly humanitarian and compassionate.
He is the incumbent member of parliament.
He took early retirement for politics.
Conclusion
Cricket is a living passion for most Indians. It is heavily adorned. That passion we have been witnessing in the continuous emergence of class players from the land of India.
It is, however, a fact that not only the Cricket but the Indians are far ahead in other sports like football, hockey, badminton, tennis, etc.