Last Updated on January 18, 2022 by admin
Are you looking forward to buying the best, yet cheap and affordable table tennis table that is loaded with playing safety and durability in the year 2022? Here are some keenly chosen ping pong table models from the leading brands which are reasonable enough to buy. For the Rackets you can read our best table tennis rackets reviews guide here
Top Pick
JOOLA Midsize Compact Table Tennis Table
Dimensions: 72 l x 36 w x 30 h | storage dimensions: 36 x 36 inches

Net included

Multiple use tables

No hassle, quick set-up & compact storage:

midsize table tennis table comes 100% preassembled
Best Value
EastPoint Sports EPS 3000 Table Tennis Table,
Foldable 2-piece seamless table tennis table for 1 to 4 players

Tournament size tabletop

On-center net and paddle storage system

Sturdy 2-in with lockable wheels
Best on Budget
Park & Sun Sports Indoor/Outdoor Mini
Mini table-tennis table

3/8-inch medium-density fiberboard (mdf) playing surface

One-inch diameter steel frame with protective black powder-coat finish

Includes 2 paddles and 2 balls; measures 60 x 28 x 30 inches (w x h x d)
Best Cheap, Affordable & True Quality Ping Pong Tables | Reviews & Buyers Guide



While some say "ping pong is ping pong, buy any", others consider numerous features while buying a ping pong table. What table you need to buy depends upon the circumstances you have.
A tight space housing would call for a smaller table. Likewise, the design and style depend on where the table is to be placed; your basement, rec room, poolside, all require specific features.
Where some tables are built for both indoor and outdoor use, others are not. So, you need to calculate your needs accordingly. The durability is the chief facet for consideration as no one intends to buy a ping pong table every couple of years or so. A strongly built and safe to use table is ideal for family use.
If you desire to have a portable table than consider the ones easily folded and packed. The game sensation is linked to the table thickness. The thicker the surface the better the bounce.
Ping pong tables vary greatly in thickness and you should choose the maximum thickness you could get in your budget. Besides, the surface lamination should be hard-wearing. To talk of the budget the most affordable ones would be those including the table tennis accessories along with other facets.
Now let's have a look at the following 5 affordable table tennis tables; our choice is based on above mentioned factors i.e durability, thickness, affordability, design and portability.
1. JOOLA Midsize – Regulation Height Table Tennis Table
The JOOLA Midsize – Regulation Height Table Tennis Table is quite feasible for smaller spaces and apartments. The sturdy metal frame has dimensions:72" L x 36" W x 30" H and storage dimensions: 36 x 36 inches which make it considerably convenient to store.
The set includes a net and post which attaches with provided screw clamps. The table comes in 2 separate halves which can be used for multiple purposes.
You will find it handy in playing board games with your children or poker with friends. Also, the table can be used for art and craft purposes. This makes the product multi-purpose and worthy of the price. The table comes 100% pre-assembled and either half can be easily folded in like a regular card table.
The surface thickness is 1.8 inches which makes you feel like playing on the standard-sized ping pong table with 2\3 the size. Perfect for compact areas like basements, dorm rooms, kids' rooms, or apartments.
JOOLA is an Olympic table tennis brand launched in the 1950s and trusted for over 60 years. JOLA is a proud sponsor of the US Open and USA table tennis. They guarantee quality and satisfaction to their customers.
Final Words

We highly recommend this product to true game lovers or professional and steady players because of the high durability and multi-functional facets.
If you are looking for a ping pong table for your rec room, man cave or living area the EastPoint Sports EPS 3000 Table Tennis Table will be a good choice. The fully laminated play surface and alluring design would be a subtle addition to your place.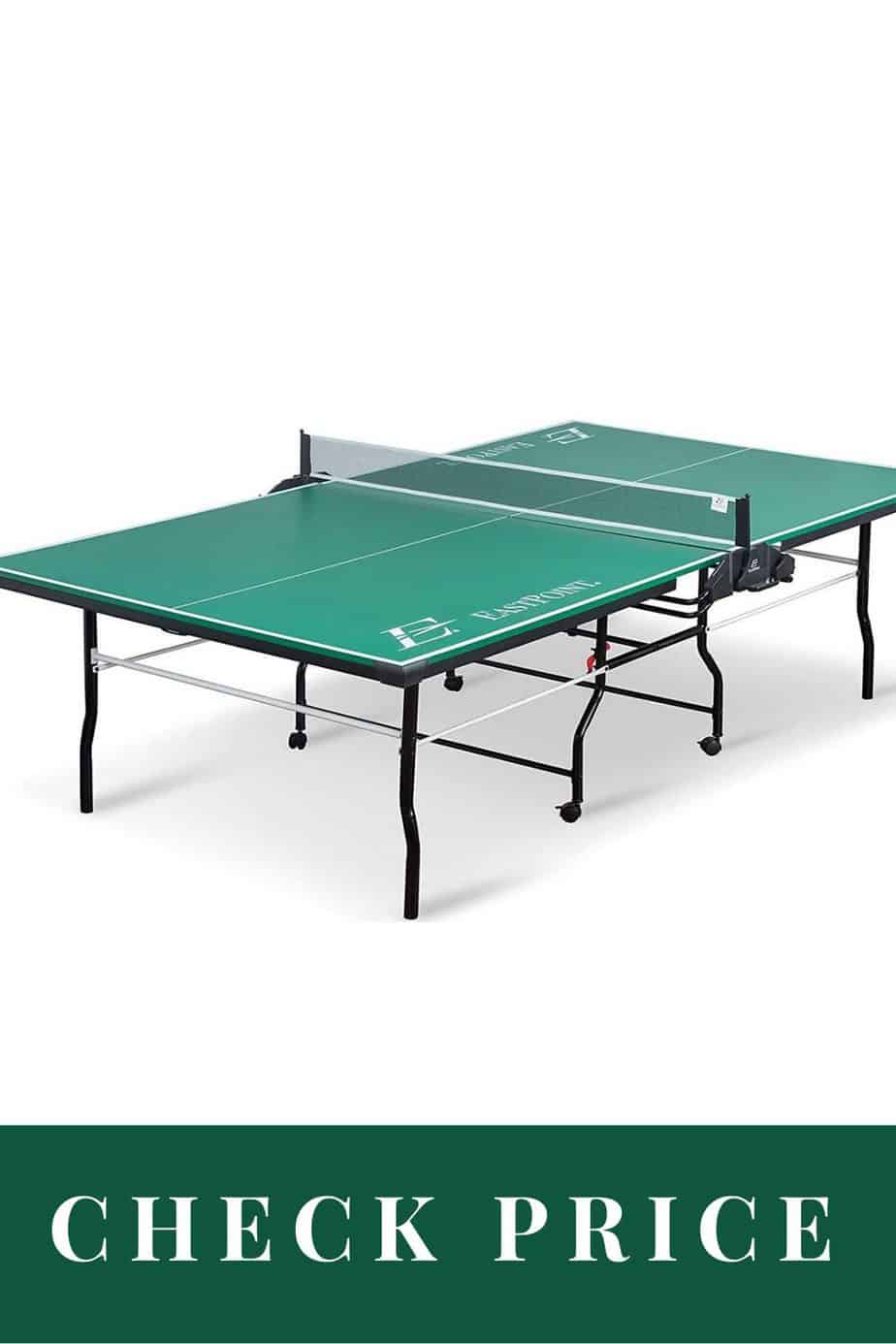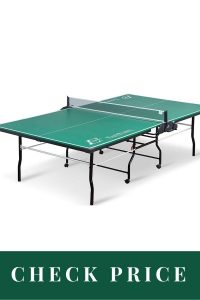 The EastPoint Sports EPS 3000 comes with an on-center net and a storage capable to hold up to 4 tennis paddles and 6 table tennis balls. Now no need to search for the paddles and balls before every game!
The dimensions are that of an official tennis table, measuring at 9 feet L x 5 feet W x 30 inches H when fully assembled. The standing iron frame measures up to 6FT (1.83M). The table fits the ideal room dimensions.
Although the table is regulation sized yet suitable for all ages and skills. Gather your friends and let the match begin! For single player use adjust into playback position.
The edges are well protected by plastic corners and rules out any potential injury. The four central iron legs have movable wheels for easy transport and wheel locks prevent table movement during play.
Final Words

If you are into furnishing and glamorizing your house the above product is for you. Not only it will serve as a good and sturdy tennis table but the modish design will be catching eyes!
3. Park & Sun Sports Indoor/Outdoor Mini Table Tennis Table
Park & Sun Sports Mini Tennis Table is ideal for pastime play. The product is highly compact with a plain framework. But, it provides the same playing sensation as regulation tables. The play surface is a 3\8inch medium-density fiberboard (MDF) with a laminated blue top. The MDF provides a considerably good bounce.
The steel frame is 1 inch in diameter having a black powder- coat finish for anti-corrosion and anti-scratch quality. This makes the Park & Sun mini table equally useful for indoors and outdoors.
You can keep it on your terrace and enjoy your game. Or you can keep the mini table tennis in your room corner and enjoy it as you come round. The Park & Sun mini tennis table comes with 2 rackets\paddles measuring 60 x 28 x 30 inches (W x H x D) and 2 balls.
The table is very smoothly folded into a perfect compact square for you to store it anywhere, in your closet or under your bed. Also, it includes a Velcro lock for secure folding and storage and a carrying handle for easy transport.
Final Words

Looking for fun with tennis and family? No space for extensive tennis tables? Well then, nothing can be a better choice than Park & Sun Sports Mini Table. Use it indoors, outdoors, anytime, anywhere!
4. GoSports 6' x 3' Mid-Size Table Tennis Game Set
The GoSports 6' x 3' Mid-Size Table Tennis Game Set completes your very own table tennis kit. The set includes a mid-sized 6' x 3' table tennis table with 2 paddles, a game net, and 4 balls. So just set up the kit instantly anywhere, anytime, and get going with the match!
The table surface (6' x 3') is large enough for competitive matches and small enough to store anywhere. Also, the surface is smooth to provide a good bounce.
The frame is manufactured of heavy-duty aluminum which makes it super sturdy yet lightweight. 2 tennis paddles that come along with the kit have a premium surface with wooden construction for greater control and fast-paced rallies.
The GoSports mid-sized table can be instantly setup with no tools required. You can set it up in seconds and start your game. Likewise, you can pack it up in no time and store it anywhere. The built-in handles and lightweight allow being carried by one person and easily transported.
Final Words

This ready to go table tennis set is best for you to carry and play anywhere without the hustle of missing a paddle or ball because the complete tennis set can be compactly packed together and easily transported or stored.
5. Hathaway BG2305 Crossover 60-in Folding Portable Table Tennis Table
Hathaway BG2305 Crossover 60-in Folding Portable Table Tennis Table is good for small spaces such as homes apartments etc. The legs fold inside and guise into a fine portable square. Take it along to trips, a party, or even to the beach!
The table dimensions are 60-in L x 28-in W x 29-in H; Folded dimensions: 30-in L x 28-in W x 6-in H. Store it anywhere in the house and carry it along in your car trunk.
You can keep all your game accessories in between the fold in legs to free up space when not in use. All game tools in one box. The surface is supported by a 1 inch diameter steel frame.
The surface is wooded silk-screened with white lines on the vibrant blue tabletop. The surface thickness is 1\2inch. It resists wear and tear while yielding accuracy.
The Hathaway BG2305 Crossover 60-in Folding Portable Tennis Table has a special feature of a built-in durable antilock braking system (ABS) that makes transport safe and easy.
Final Words

Traveling a lot? Always want your game to go with you? The above-mentioned product would suit your passionate gaming with high durability and perfect pack mechanism.
Conclusion



Here is all to the tennis tables. Consider your needs and relate features before buying a ping pong table. The size, quality, durability, and use differ vastly. Not all tables can be used outdoors and not all of them are portable. Likewise, some tennis tables are immensely pricy while others are quite reasonable and you may not even need to buy a costly table.
So, here we've gathered the best affordable tennis tables with chief features along with fors and against of each table.