PUBG is the most popular game all over the world. There are so many amazing players in the game who have set their mark in the gaming community because of their skills and achievements.
Scout is one of those pro players who have raised the bar for other players.
Scout is a big name in the PUBG gaming community. Currently, he is a member of Fanatic which is a famous Esports organization from the United Kingdom.
He has played various PUBG mobile tournaments and proven his skills to everyone. His clan name is OR which is the most popular gaming clan in India.
His PUBG id is5144286984. He is the most famous Indian gamer and Youtuber who made his account on 26th August 2018.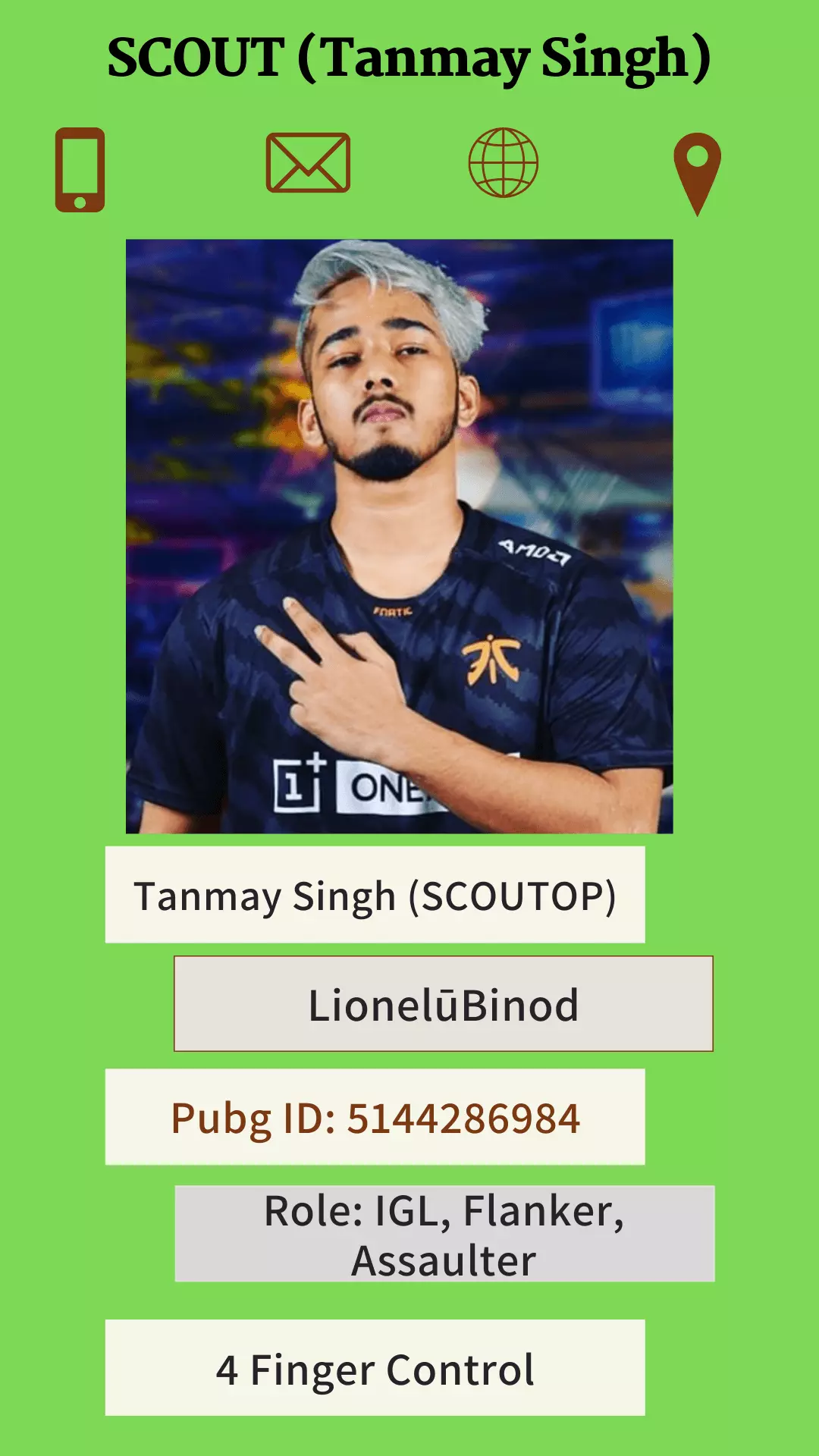 Below, we have listed everything you need to know about him. If you want to get pro at PUBG then you definitely need to watch his videos.
He is indeed the best e-sport player across the gaming community.
Basic Profile

Age:                           Scout is 25 years old. He was born on 30 July 1996.
Birth:                      Scout was born in Valsad, Gujrat, India.
Hobbies:                Scout is very passionate about Football. He is a big fan of Christiano Ronaldo. He was an excellent football player and also got selected to play at the state level.
Unfortunately, his dreams of becoming the best player were shattered when he got injured due to a serious accident. He was also a gaming enthusiast, so after his injury, he decided to make a career in gaming.
Education:          Scout completed his high school education in Gujrat. He has a degree in Mechanical Engineering. He never wanted to tell this but accidentally revealed it during live streaming.
Real Name:          Real name of Scout is 'Tanmay Singh'.
House:                     His house is located in Gujarat, but right now, he is living in Mumbai.
Hairstyle:            Scout has a fabulous hairstyle. His hair color is naturally brown, but he has dyed them golden.
Interesting Funny Unknown Facts About Scout
Scout is the first player who brought the concept of usage of claw controls to India.
He is a fan of popular streamer 'Shroud'.
He plays PUBG on iPhone 11 Pro Max.
His 6x recoil is too good.
He is the top Indian player who represented PUBG mobile at the global level along with Naruto, Assassin, and 8bit_thug.
His team, Team IND, was the first to represent India in Pubg Esports.
In 2019, Scout won All-Stars PUBG mobile championship.
He is also the brand ambassador of Monster energy which is an energy drink.
Recently, he set the highest live watching record of 359k and beat Carry Minati's 207K record.
Scout's net worth is approximately Rs 2 crores.
He gives royal passes to his subscriber every month.
Quotes, Words, Tips By Scout
" If you like something, then go and achieve it."
"The more they hate, the more I get motivated."
"There is not a lot to do with practice but more by studying the best teams."
"Scout's favorite quote is 'Your love makes me stronger, but your hate makes  me unstoppable."
"Do not chase the spy. You must have a special strategy to approach him."
"Use double jump. This way, you will be able to jump over enemy fire and run quickly from the dangerous field."