Choosing a good name for your all-girls team is a big responsibility, especially when the game is competitive like powderpuff.
Powderpuff is an epic game played between girls from junior and senior classes. While the game is certainly a fun experience, it can be stressful too, especially when you are unable to decide on a good name for your team.
However, now that you are at this place, you do not have to worry about that anymore.
Powder Puff Team Name Ideas for Your Squad!
A good team name imparts power, strength, and passion. It creates a friendly atmosphere, and if your team includes only girls, you cannot imagine how much fun you girls are going to have.
For your inspiration, we have listed 70+ epic team name suggestions for your pretty and sassy girl squad. Also, do not worry, as this list does not include typical girly words.
These names will inspire your team to greatness, and honestly, they will also incite fear in your competitor's mind.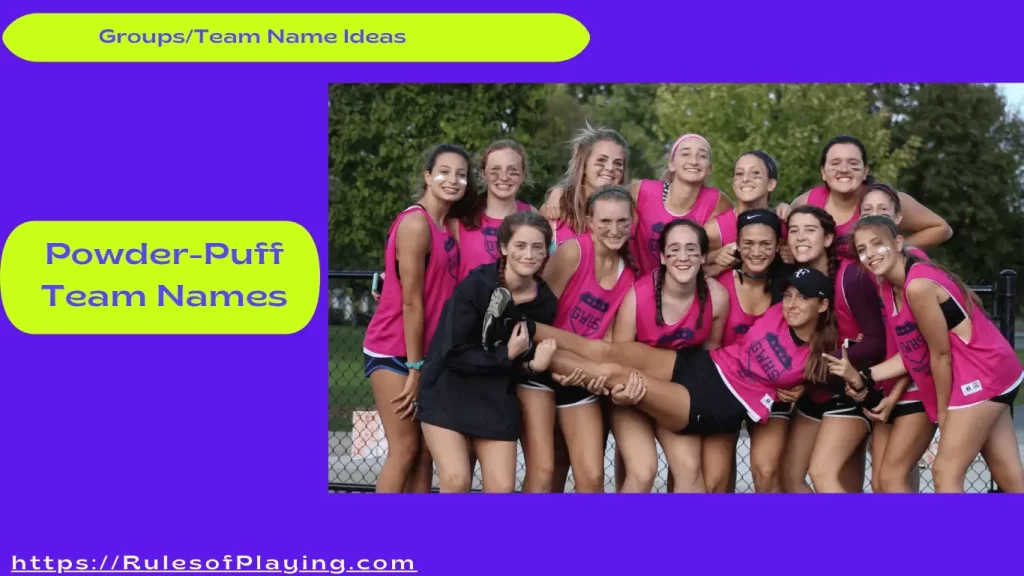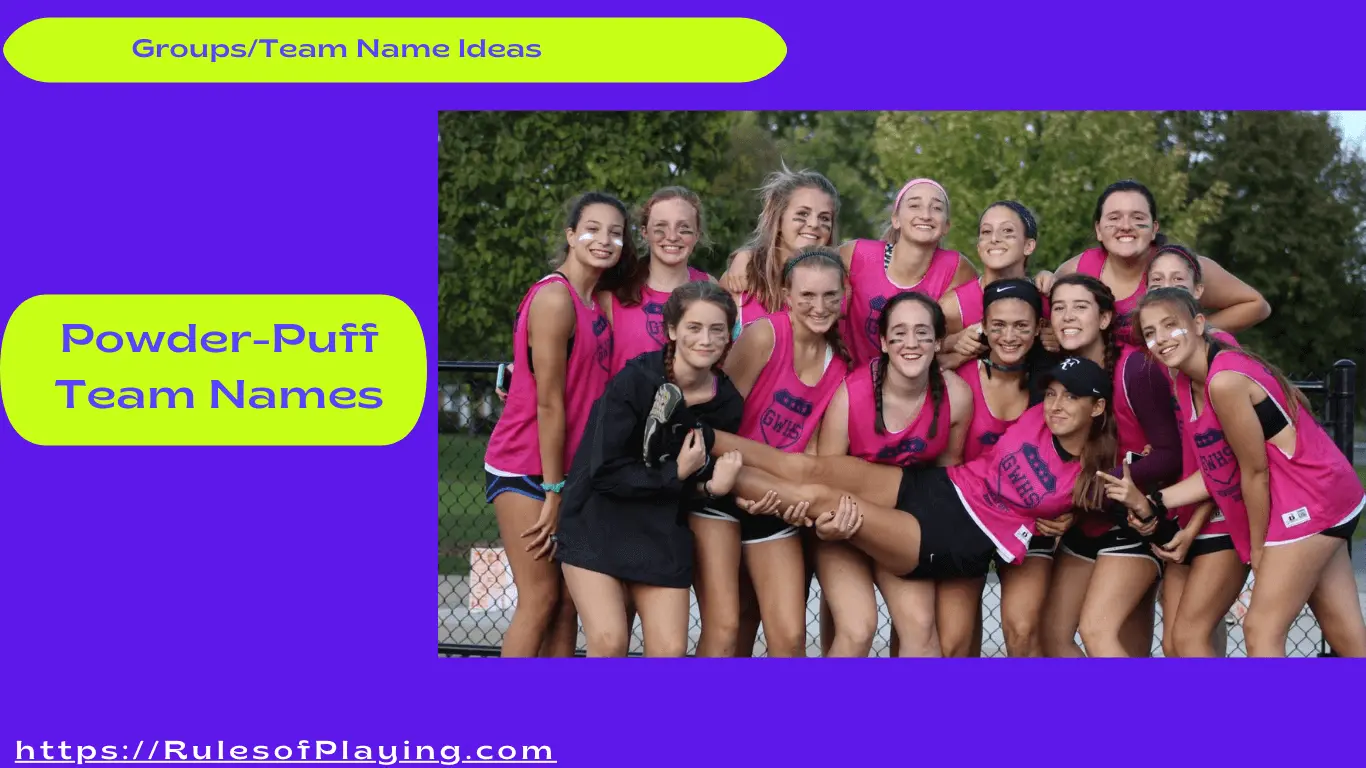 So, what are you waiting for? Go ahead and pick any name from this list to show everyone who is real girl bosses.
1. Seven Power
2. Alpha Angels.
3. Screaming Pack.
4. Crazyhead Chicks.
5. Awesome Blossoms.
6. The Long Shots.
7. Mean Girls.
8. Major Threats.
9. Red Cherries.
10. Badass Queens.
11. Girls Who Score.
12. Girl Power.
13. Quarterback Princesses.
14. Crazy Penguins.
15. The Her-ricanes.
16. Chocolate Bombs.
17. The Fit Chicks.
18. Flower Girls.
19. Queen Bees.
20. The Powerpuff Girls.
21. Striking Ponytails.
22. Deadly But Cute.
23. Wildness Express.
24. Red Devils.
25. Pink Posse.
26. Strong & Fearless.
27. We're All That.
28. Show Steelers.
29. The Kitty Cats.
30. Wild Babies.
31. The Iconic Alliance.
32. Rudeass Beaches.
33. Defending Chicks.
34. Lady Bosses.
35. End Zone Warriors.
36. Highly Offensive.
37. The Spice Girls.
38. The Wildcats.
39. Chubby Chicks.
40. Genies In A Bottle.
41. Proud Feminists.
42. Girls Just Want To Have Fun.
43. Lady Birds.
44. Hit Me With Your Best Shot.
45. Sorry Not Sorry.
46. The Kick Impact.
47. Straight Hitters.
48. The Ponytails.
49. Speed Devils.
50. Chicken Legs.
51. Pretty Little Liars.
52. Flash Kicks.
53. Lady Leopards.
54. Poisonous Cactus.
55. Chicks With Kicks.
56. The Stingers.
57. The Kickass Bunch.
58. The Power Unit.
59. Cleats & Cleavage.
60. Danger Alert.
61. The Gossip Queens.
62. Pack Of Awesomeness.
63. HERstory Makers.
64. Heavy Shock.
65. Slaying Chicks.
66. Leading Queens.
67. Chicks With Flicks.
68. Hustlin' Divas.
69. The Rack Pack.
70. Estrogen Express.
Guidelines to Create Your Own Powderpuff Team Names
If none of the above names fit the personalities of your gal pals, then create your own team name using the following guidelines:
1. Use Empowering Words:
Every team needs encouragement and motivation during the game, so as a starting point, use encouraging words to boost your girls' spirit during the game.
Words like "Queens," "Divas," and "Lady bosses" can be a perfect motivation that your team needs to win.
2. Your Names Does Not Have To Be All Girly:
Not every girl likes typical girly things like pink color or nail paints, and honestly, that is okay.
You should not feel pressurized to include girly words in your team name. Choose whatever you like.
The most important thing is that your team name should reflect the personality of your team members, so feel free to choose any word that you think fits the quality of your team members.
3. Choose Appropriate Words:
Since powderpuff is a game played between school girls so, make sure to choose words that are appropriate for your team name.
Do not use words that are too mature. Choose words that are light-hearted and fun.
4. Use Nicknames:
If you and your team members have nicknames, then you can also use them to create your team names.
If you cannot think of any, then take inspiration from movies and tv shows. For example, The Spice Girls, Mean Girls, etc.
Conclusion
In the rising trend of choosing masculine names, the above-listed strong names would raise the bar on the ground. They will surely give your team a feeling of girl power and inspire them to stay confident during the game.