Who is not familiar with Friends? The show is still everyone's favorite even decades after its finale. Though it is a 90s show, it still makes you laugh like crazy.
A good 'Friends' team name can be a perfect inspiration for a trivia night.
The show has given us so many great moments, hilarious scenes, and iconic catchphrases then can motivate your team members with humor and cherish the memories of your favorite series.
From Monica's tidiness to Chandler's sarcasm, Phoebe's weirdness, to Joey's love for food, there are plenty of inspirations in the season to make your team stand out from the crowd.
Choosing a Friends-inspired team name for your trivia night is surely going to bring your team victory.
Friends Trivia Team Names | List of Friend's themed Usernames, Trivia, Quiz Team Ideas
For your inspiration, we have also listed some of our favorite names from the show below.
All the names are unique, and the best way for you to show everyone no one is a better fan of Friends than you.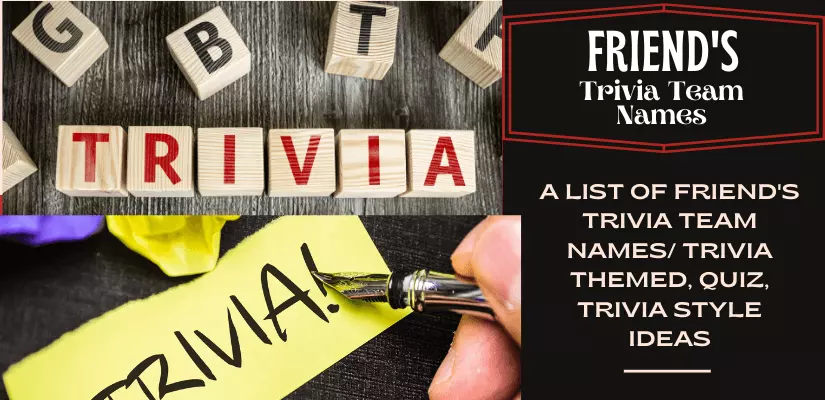 However, if you also have some ideas in mind and just need some guidelines to mold those ideas into a perfect team name, then check out the tips at the end of this article.
Below are some interesting name suggestions that are as witty as your crew of trivia masters.
1. Ugly Naked Team:    Ugly naked guy was the name given to the nudist who lived across the street.
2. Ducks And Chicks:    Chandler's And Joey's Pets.
3. The Smelly Cats :    Phoebe's Iconic Song.
4. We Bet Our Apartment On This :    Giving all in.
5. Could We Be Anymore Trivial? :    A simple name that even the non-fans will understand.
6. Space Cowboys :    Joey's bedtime pal's profession.
7. Team Red Ross :    A very dedicated but unprepared team.
8. Transponsters:    That's what Rachel used to think Chandler's job was.
9. Big Fat Goalies :    Monica's high school name.
10. Joey Triviani :    Go for this name if you think your team members have characteristics like Joey.
11.Gleba :    Emma's First word.
12. Could We Be Wearing Anymore Clothes :    The one where Joey wears all clothes of chandler.
13. The Holiday Armadillos :    Santa's tex-mex Friend.
14. Miss Chanandler Bongs :    Tv guide that comes to this name.
15.Crapbags:    Mike's adopted name.
16. Dr. Drake Ramorays' Patients :    Famous character in the show.
17. Rachel, Use Your Head :    The trivia round where Rachel forgets the answer.
18. We Don't Share Food :    And answers too.
19. I Hate Rachel Green Club :    The club Ross and Will formed.
20. Chandler Is A Girl :    Chandler's high school memory.
>>>> Similar Read: 121+ Cool Agario Skin Names Listed
21. Pivot Pivot! :    The one where ross tries to shift a new couch.
22. The One Where We Win :   Too confident?
23. The One Where We Knew All Answers :    They came prepared.
24. Moo Point :    Points that make no sense.
25. How You Doin'? :    Joey's line to capture the attention of girls.
26. They Don't Know That We Know :    Rachel and Phoebe play a game when Monica and Chandler hide their relationship.
27. We Got Off The Plane :    Famous scene where Rachel gets off the plane to meet ross.
28. We Are Shooting With Althea :    The one where they guess the answer.
29. We Were On A Break :    A famous recurring line by Ross.
30. Nap Partners :    The one where ross and joey sleep together.
31. We Knew It :   They certainly did.
32. My Sandwich :    Ross's love for his sandwich.
33. Mmm, Noodle Soup :    The one where Joey tries to advert for soup.
34.OhhhMyy Gawd :    Janice all the time.
35. We Are Fiiiine :     The one where Ross tries to pretend he is okay with Rachel's and Joey's Relationship.
36. The Divorce Forces :   You surely would not want to get near to this force.
37. Team Gunther:   The poor guy who had a crush on Rachel.
38. The Bracelet Buddies :    The one where joey gifts chandler a bracelet.
39. The Nubbins :    Chandler's third nipple.
40. Seven Seven Seven! :    Monica's fantasies.
41. Bananahammocks:    Phoebe's adopted name.
42. Frankie Says Relax :    Rachel's favorite shirt of Ross.
43. Fun Bobbies :    A fun group until they get sober.
44. Butt Doubles :    The one where Joey plays Al Pacino's butt double.
Guidelines to Create Your Own Friends Trivia Team Names
Show your love for the show by creating your own team name using the following guidelines:
1-Think About Your Favorite Episodes:
Though it is difficult to decide on one favorite episode since every episode of the season is a masterpiece.
Think about your favorite scene in the season.
You can also take inspiration from the episode's title or plot point. Incorporate it into a name so that your team name remains catchy and unique.
2-Use Your Favorite Character:
Though every character in the season has his own iconic scenes, everyone has at least one character that they simply adore.
Maybe you are a fan of Chandler's sense of humor, a food lover like joey, or a cleanliness freak like Monica.
Use any of your favorite characters or their trait to create an epic team name.
3-Take Inspiration From Show's Locations:
The show is full of iconic locations. You can take inspiration from the famous coffee house they all used to go to, Rachel's workplace, or the places they visited in the show.
Examples: include Bloomingdales, Central Perk, Ralph Lauren, London, etc.
4-Think About The Personality Of Your Team Members:
What comes to your mind when you think about your team members? Are you all jolly? Are you all foodies?
Are you all gossip queens? Write down the words that come to your mind when you think about your team members. Use their traits and incorporate them into a team name.
>>>> Also Read:  71+ Cool & Creative Harry Potter Usernames Listed
Conclusion
Half of the fun of trivia comes from a good team name, and if your trivia team name is based on 'Friends,' then you already get the attention of everyone.
We hope you, after reading this article, will have a final name in your mind.  All the names are inspired by the show and will definitely make you look the best in the crowd.
Pick any name to show everyone that you are the biggest fan of Friends.