Football is the game of pure fascination. Coming with a rich history, detailed rules and fine playing equipment, Soccer is indeed a sweet addition to our rules of Sports Guide.
The following Soccer Players Guide would help you understand soccer rules, Fouls & Penalties, Kids soccer and additional common questions answered
Soccer Rules | Fouls & Penalties, Skills to Play, Soccer Rules For Kids, Players Guide



An ultra famous game requiring mettle, physical endurance, agility, intelligence, stamina, determination, composure, self-belief, and most importantly, a fantastically brisk and energetic body (predominantly feet, legs, chest and head) to propel the ball towards the goalpost, by keeping it in your possession, until you score a hard-earned goal.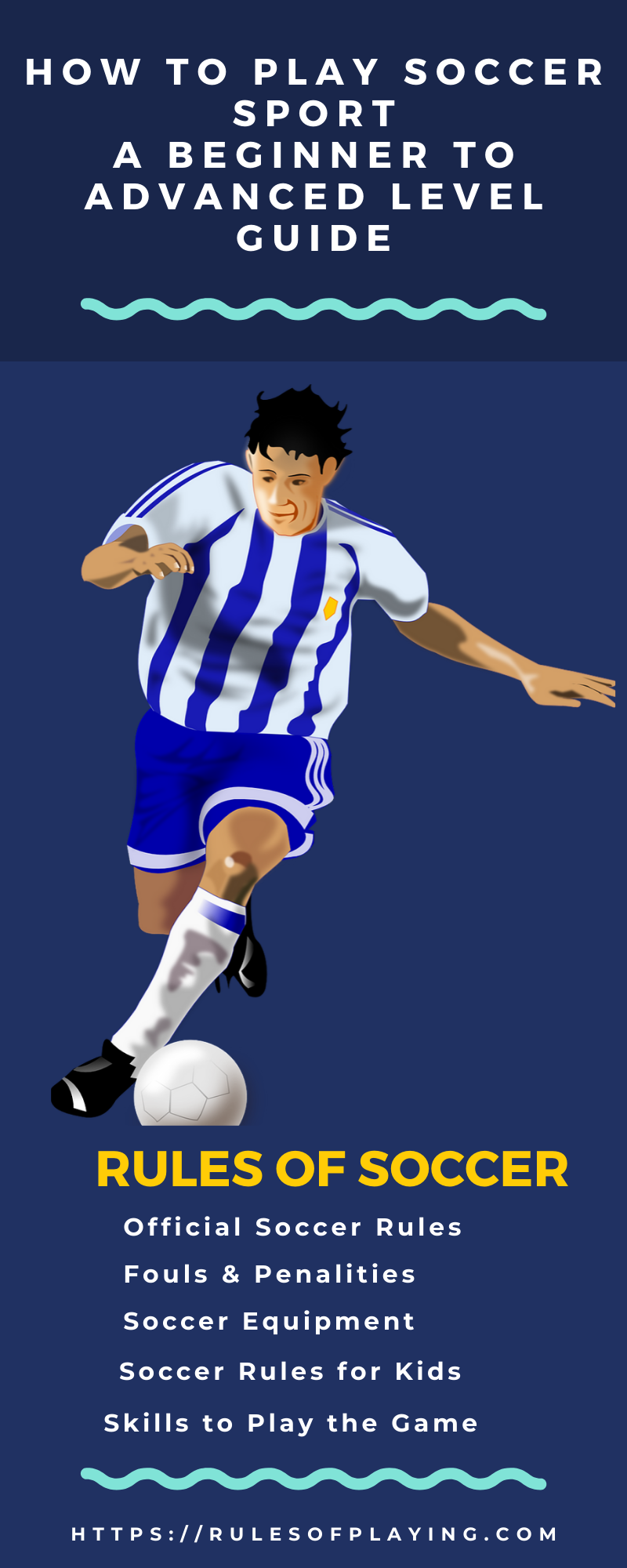 History in Brief
Football or soccer has a very rich and prolific history behind. Football, as it's known and played with all its codified rules and regulations now, originated in England, roughly in the mid 19th century.

The Association Football

further discusses that, in past times, football had several interchangeable versions, getting developed side by side with football, and they are now considered a portion of the football history. Given the vastness of history, we have tried to explore the history of football separately in this post here
How Soccer is Played?

Presently, football is the most popular and most played game of our planet with around half of earth's population, either directly or indirectly, connected with this glorious game.
It's usually played between two teams (comprising 11 players in each side), on a typically rectangular field (100-130 yards long, 50-100 wide) containing goalposts or goals' areas at each end of that field, and with an object to propel the ball over a goal line, into the opponent's goal post, or carry it between goalposts by running, passing, or kicking with the help of feet, legs, knees, chest, head but not hands.
Only the goalkeepers, on each end of field, being permitted to hold, stop or touch the ball with their hands and arms excluding the case of throw-ins.
Football is also known as association football or soccer, and has fair resemblance with certain other games such as; American football, Gaelic football, Australian rules, rugby etc.
Rugby being the sister game of football emerged simultaneously with football. In football one must use one's lower limbs for playing and propelling the round ball towards the goalposts, while in rugby one has to use one's upper limbs for doing the same with an oval ball.
Soccer (Football) Rules & Regulations



Like all other games the soccer game has an advanced set of rules of regulations to play, discussed as below
1. Number of Players in Soccer
Soccer game is played between two teams having 11 players for each team including a uniquely uniformed goalkeeper.
Goalkeeper's position and role is determined by the soccer rules, whereas, there isn't any such restrictions for other players of the team because their position and role is determined by captain and their coach.
Note: In kids' football, the number of players may vary keeping in mind their age and size of the field.  Kids under 12 years may have 8 players in each side, while under 10 years may have 6 players
 2. Goalkeepers' or Goalies' Rules
The goalie is, unquestionably, a unique player on the field. He is wearing a unique uniform, guarding the goalpost, handling the ball with his hands being inside the penalty area.
Note: In case, a designated goalie gets injured or becomes unable to perform his actual role, any of the 11 players of the team can act as goalkeeper after notifying it to the referee.
a) Fouls made by Goalie
 If he holds the ball for more than 6 seconds.
If he touches the ball, that's kicked by his own teammates to him, with his hands.
If throw-ins, by his teammates, are stopped by him directly with his hands.
 3. Positions of Players in Football
Positioning of the players, in football, is of vital importance. Players in football are positioned at different locations on the field as per their expertise.
We have, goalkeeper guarding goalpost, defenders defending the goalkeeper, midfielders supporting the strikers and then strikers scoring the goals. Same positions are allotted to different players by both the teams.
          a. Goalkeeper:
the first player to start off the game, just behind the defense
b. Defenders:
The second position after goalkeeper is held by the defenders.They provide shield to the goalkeeper and preventing the ball being hit by opponents from entering the goal posts.
c. Midfielders:
The next position is occupied by the midfielders. They usually stand between defenders and strikers with twofold responsibility; defense and offense.
They are considered to be the organizers of game since they have broader area at their disposal, with a broader look on the field.
Thus, they provide the strikers with an opportunity to score goals or even, sometimes, they themselves try to finish with the goals.
d. The strikers:
The last but not the least, the strikers, with the responsibility to score goals for their team, stand at the edge of center line. They are supported by both; the defenders and midfielders.
That's all about the basic positions in soccer.
4. Substitutions Rules
Unlike other sports, football has very strict rules for the substitutions. Once a substitute is called, he will replace the other player and won't leave the field, until the game gets over.
Generally, players are substituted near the end of the game or in case of sudden injuries. A substitute player can enter in field, when there is a normal cessation of the play.
Before entering in the field, he should inform the referee first, and don't enter until the substituent exits the field, referee gives the signal to enter.
Note: One has to make entry from center line.
5. Fouls &Penalties (Soccer Fouls & Main Penalties)
Foul is an act of going against the defined rules of a game.
While penalty is a negative enforcement of that foul committed by players during the match. A penalty may be a mild warning or even expulsion of the players from the ground.
Note: It's the referee who, being on the ground, decides fouls and penalties. He is an absolute authority on the ground.
a. Minor offenses:  When opponent team is granted an indirect free kick.
b. Serious offenses – When the opponent team is allowed a direct free kick.
c. Warning (Yellow card) – Yellow card given by the referee to the player who repeats the same foul. Normally, 2 yellow cards are served to the player. Second yellow card will result in the red car which is regarded as severe punishment; expulsion from the game.  .
d. Expulsion (Red card) – When a player is served with a red card, he has to leave the game in between and remains un-substituted.
Some common Fouls
Kicking your opponents.
While attempting header, you unintentionally jump onto an opponent.
Charging into an opponent.
Pushing or tackling your opponents.
Touching your opponents before coming in contact with the ball.
Holding or grabbing your opponents.
Touching the ball with your hands unwittingly. (Only goalkeepers are allowed to use hands)
Using offensive language with opponents.
6. Signals from the Referee
a. Direct Free Kick
This kick is at your disposal, you can hit it where you want, but you must indicate the direction with one hand and arm.
b. Indirect Free Kick
This kick is directed by the referee by holding his hand straight towards the direction.
c. Goal Kick
This kick is also directed by the referee.
d. Caution or Expulsion
Referee holds either yellow (Caution) or red (expulsion) card high in the air with his one hand so as to make it visible for all.
e. Corner Kick 
Signals with one hand and arm pointed toward the corner.
f. Penalty Kick
Points exactly at the penalty mark.
7  Signals by Assistant Referee using Flags 
a. Offside
The assistant referee will point out the exact location where the offside took place usually with a flag.
b. Substitution
While calling a substitute he holds the flag high, in both hands, above the head.
c. Throw In 
He signals with the flag directing toward the throw in.
d. The Whistle :
He blows a whistle to either start the game or stop it.
8. Rules of Restarting the Game
There are a number of methods to start the game:
a). Soccer Kickoff
The kickoff is the first kick that starts the game either initially (after the toss) or after scoring every goal. The kickoff is made from the circle in the middle of the ground.
It is usually made by one player, who kicks it to his teammates and this starts the game. Initially, toss decides that which team to serve kickoff first and then by the team other than that has just scored a goal.
b). Soccer Free Kick
(Direct free kick and Indirect Free Kick)
Referee awards the free kick to the team other than that has made a foul. It has two types:
a). Direct free kick -It's hit from an exact location aiming directly at the opponent's goalpost.
b). Indirect free kick-This kick is not directed toward goalpost. It must come in contact with a player before heading towards the goalpost.
9. Rules for Free Kicks
This kick is made from the exact point of the penalty.
In case, you are awarded a direct free kick within the penalty area, it becomes a penalty kick.
Opponents may build up a temporary wall to prevent the ball, being kicked as a result of free kick, from entering the goalpost.
This wall of players must be at least 10 yards from the position of direct free kick.
You can not, at first, score goals on indirect free kicks since they must come in contact with any player before being sent to the goalpost.
The striker can not touch the ball twice, until another player touches the ball.
10. Soccer Goal Kicks
This kick is usually taken from any position within the goal area by any player of the team. However, it's goalkeeper that takes up this kick.
Opponent team has to be outside of the penalty area.
The kicker can not touch the ball twice, until another player touches the ball.
11. Soccer Corner Kick
Each corner is positioned at corner positions. It's the place from where a free kick or shot is taken by an attacking team against a defending team.
In case the ball has gone out of play over their goal line after being last touched by one of defending team's players.
The ball has to be positioned in the corner arc.
The nearest corner arc (where the ball passed lastly) has to be used.
There has to be at least 10 yards' distance between the opponents and the ball.
The kicker can not touch the ball twice, until another player touches the ball.
12. Soccer Out of Play Ground
The ball is declared to be out, when it thoroughly crosses the goal line. It means it's out of bounds, when it trespasses the goal line either being in touch with the surface or being in the air.
13. Soccer Throw-In
It's the way of putting the ball into play again, after it has gone out of bounds. The ball is thrown (by the player of the team other than the last touching the ball before it goes out of bounds) with two-hands rolling from behind the head, having both feet on the ground.
a). Rules for throw-in
Throw in is taken from the place where the ball crosses over the touch line and is declared out of bounds.
The ball should be thrown (by the player of the team other than the last touching the ball before it goes out of bounds) with two-hands rolling from behind the head, having both feet on the ground.
You are not likely to score a goal from throw-ins.
There has to be 2 yards distance between the player involved in throw in and his opponents.
The player involved in throw-in can not touch the ball twice, until another player touches the ball.
Soccer Pitch
As a rule, football field is typically rectangular in shape. It means, it must have larger length than width.
There are variations (because of kids and adults) in the size of length and width of football field which measures 100 to 130 yards long, and 50 to 100 yards wide. It contains goalposts, boundary, center, corner and penalty box.
1). The Goalposts (the bull's Eye)
At each side of the ground, exactly in the middle of goal line, there are 2 goalposts (1 on each side) with 8 yards width and 8 feet height.
These goalposts are made with square shaped side bars and nets attached to it so as to catch the ball.  When you make the ball enter in opposite goalpost, you are supposed to have scored a goal.
2). The Boundary
There are different lines on the field which define different boundaries. The lines on longer side of the field are called side lines or touch lines.
While the lines on the shorter side, where goalposts are erected, are known as the goal lines or end lines.
3). The Center
The field is divided in two equal halves by center line. It just slices football field into two pieces by being in the middle of the ground.
Thus, allocating one side of the field to each team. There, in middle of the center line, you may find a circle with 10 yards diameter. This circle is used by one player of either team while starting the game.
4). The Goal Areas (Area in the Surroundings of Goalposts)
a. Goal Area: a box like area that stretches 6 yards out from the goal posts on each side of the field. As per rules, free kicks are struck from this area.
b. Penalty Area: Also box like or rectangular area extending 18 yards out from the goal posts on each side of the field.  A goalkeeper is allowed to use his hands while being inside this area.
c. Penalty Mark: The spot at the center of the goalpost, exactly 12 yards away from the goal line.  It's the place from where penalty kicks are struck.
5. The Corners- Each corner is positioned at corner positions. It's the place from where a free kick or shot is taken by an attacking team against a defending team, in case the ball has gone out of play over their goal line after being last touched by one of defending team's players.
Set of skills Needed to Play Soccer
1. Controlling the ball with feet, knees, thighs, chest and Head
Having complete control over the ball is of paramount importance in soccer.  There are a number of ways a player should apply for controlling the ball.
First Touch: This skill is very important as it can make or break a chance for you to possess the ball once you receive it. You can simply control the ball productively and make it pass to your teammates.
Trapping the Ball: If you face an awkward ball, you should this technique to handle the ball. Here tapping means "tackling a ball with care" with the use of legs, thighs, feet, head etc but not hands.
Use of Feet: It's no exaggeration if we say that football solely depends on feet. Having proper control over the ball with your feet provides you edge over your opponents. Skills such as; dribbling, passing, or shooting are wholly dependent on your feet.
Use of Knees and Thighs: On different occasions, you feel unable to control the ball with your feet and thus resort to using your knees and thighs instead. Smart use of knees and thighs enhances your skills.
Use of Chest: Chest comes to your rescue, when the ball goes bit higher than your feet, knees and legs. By using chest, you can normally make the ball stop and bring it under your control. It generally falls in front of you and thus giving you afresh chance to carry on with your feet.
Use of Head: Usually for headers. Sometimes, the ball goes even higher than your chest and you have to use your head to tap the ball. Important to note, you can also use your head to score a goal.
NOTE: It's not recommended for kids to perform headers since it can cause serious injuries to your head
2. Passing the Ball
Second in importance are the passing skills in soccer. Brilliant passing skills help a team have control over the ball, assist in scoring, and ultimately help your team win crucial games.
Types of Soccer Passes

It's not mandatory to pass the ball to your teammates, you may pass it as per situations.
a). Direct Passes: The first pass in soccer, you would love to learn, is the direct pass. You ought to pass the ball directly to your teammates with caution so that it must reach your opponent sooner and easier.
b). Passes to Open Spaces: Passing the ball into space is a significant technique in football. This pass is made when your teammate is running. You must predict the direction and speed of both; your teammate  opponents.
c). Long Passes: A long pass is also used in soccer. It takes place when you intend to make the ball pass longer distances on the field. This pass entails firm kicks so as to make it possible to reach desired destinations.
d). Backward Pass: At times, you need to pass the ball in backward directions. This techniques is predominantly applied in professional soccer.
Note: Practice, timing, power, and precision are quintessential elements for brilliant passes.
3. Dribbling
Dribbling is an act of propelling the ball, to an intended direction, by repeatedly tapping it, with your both feet, all through the way.
In simple words, dribbling is just running with the ball towards a designated direction. Dribbling is considered one of the most tactful and productive skills in soccer.
4. Use Both Feet
You must learn using your both feet if you want to be an excellent dribbler. Usually, you need to use the inside, or instep, of your foot when moving in a specific direction.
You can also learn how to use outside or inside of your foot in order to divert the and deceive your opponent.
5. Having your Head Up
You must be looking in front while taking the ball all along. In case, you kept your head down for looking at the ball while dribbling, you would be unable to spot defenders of opponent team as well as your teammates.
6. Shielding, Changing Directions and Faking
While dribbling you can simultaneously shield the ball, change its direction, and fake kicks so as to fool your opponents.
If you have acquired these skills, you are a wonderful dribbler like Cristiano Ronaldo, Lionel Messi, Neymar etc.
7. Shooting
The crowd as well as players go berserk when a goal is scored. If you play as a striker or an aggressive midfielder, you must learn how to shoot the ball.
Shooting and passing seem similar in style but are quite different from each other. Passing seems delicate and less forceful.
It takes place among teammates, while shooting is absolutely aggressive which goes towards the goalpost after beating the goalkeeper.
Note: A striker must not, at any stage, hesitate to take up the chance when he has one.
There are typically two major types of shots that you should learn to play.
The ground shot and the volley shot.
a). Ground Shot: The most usual shot played in soccer. Ground shot, as it's self-explanatory, remains on the surface of the ground.
Accurate positioning, formidable balance, and a forceful strike are of vital for for playing a well-directed and exquisite ground shot.
b). Volley Shot: Volley shot is played in the air from the pass. When a ground shot seems impossible, the stickers rely on this shot.
This shot is quite difficult to play but very productive to earn a goal since this shot becomes quite unstoppable for the goalie.
Soccer Rules For Kids



Soccer is a quite simple, entertaining and flexible game when it comes to the kids playing it.
It's not necessary to make this game complex for the kids and make them confuse. It's all about making it convenient with straightforward and easygoing rules for them so as to make it fun for them.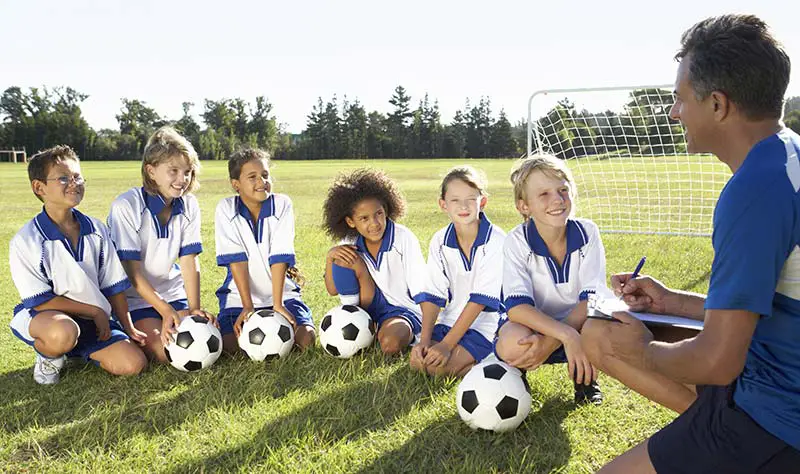 Let's now discuss it's simple rules for kids:
Ten Basic Rules of Soccer For Kids
Following are the basic 10 most important rules of soccer for kids.
1. Objective of Game

The basic objective of this game is to score more goals than your opinion.
2. Team Composition
It's played between 2 teams. The rule for the composition of teams for kids depends on age; the lower the age, lower the number of players.
It can be as low as 6 players in each side and as higher as 11 players in each team. However, each team must have equal number of players.
3. Duration
Duration of play for kids range from 15 to 30 minutes halves with a 7 to 10 minutes for mid break.
4. Size of the Field
The total size of the field for kids stands flexible relying on the age factor of players. It should, however, be rectangular in shape.
5. Size of the Ball
Size 3 (23-24 inches circumference) ball is used by 8 years old kids.
Size 4 (25-26 inches circumference) ball is used by 8-12 years old kids.
6. Substitution
In competitive or international soccer, three substitutions are permitted. A substitute replaces an active player, who must not enter the game after his substitute has entered. However, in kids soccer, there is flexibility.
7. Start of Game
Similar to international soccer, the game is started after the ball gets kicked by one of the players of toss winning team, standing in the middle of the ground, in circle. While other players holding their designated positions.
8. Goal
When the ball, being kicked, crosses the goal line and enters in goalpost, fixed on opponent's side, this is declared a goal. The team having scored maximum goals wins!
9. Out of Bounds
In soccer, the ball is said to be out of bounds, when it completely trespasses the goal lines and goes beyond the boundary line.
10. No Hands
The most important rule of soccer is not to use your at any cost.
Frequently Asked Questions Soccer Rules

1.  Why is it called Soccer?
The word "soccer" came in vogue, about 200 years ago, after the formation of "association football" in Britain.
Soccer is just a nickname of association football. When this sport flourished across the whole of Atlantic, Americans tagged it with their own name FOOTBALL in early 19th century.
2. Why do you Normally Get a corner kick in Soccer?
A corner kick is awarded to restart the game from where the ball just went past, and was declared out of bounds by the referee.
In simple words, this is a way of restarting the game. Each corner is positioned at corner positions. It's the place from where a free kick or shot is taken by an attacking team against a defending team, in case the ball has gone out of play over their goal line after being last touched by one of defending team's players.
3. Who officiates the Game of Soccer?
Simple answer to that question is a referee. In soccer, the on field match official is known as the referee.
He, being an absolute authority, officiates the game in an organized way and remains there, on the field, until the match is over.
He is supported by other officials during the match, each of them having specific responsibilities to perform.
4. What is offside rule in Soccer?
An attacking player is declared offside, if he is on a position that is, unlawfully, ahead of the ball when it is played. This position lies within one's opponents' half or we can say the attacking zone.
5. What is Out of Bounds?
In soccer, the ball is said to be out of bounds, when it completely trespasses the goal lines and goes beyond the boundary line.
6. Delay of Game in Soccer?
In every game, there is a rule to avoid delaying tactics applied by the players. Similarly in soccer, it is forbidden for the players to take the ball in their possession for more than specific time after they have scored a goal.
Players are not allowed to touch the ball. If they touch once, they are served with warning and if they touch it again, they might be served with a yellow card that might result in a red card that means a complete departure from the game.
7. What is an indirect handball?
Generally, a direct kick, in soccer, comes from a specific contact foul or hand ball. Anything else is indirect kick.
A penalty kick becomes a contact foul or hand ball after being touched (with hands or arms) by the defending team standing in the penalty area. A handball can be intentional (sometimes) unintentional (mostly).

Conclusion
Having read, all the detailed rules & regulations of soccer, you must be feeling wonderful and crazy about this super sport, soccer.
It is definitely a wonderful and an aesthetic sport to play. We wish you best of Luck for a fine Football play ahead.