Whether you are participating in car racing or bike racing, the main goal is to reach the endpoint, right? But what's fun in that if your team has no charm or element of entertainment?
If you want your racing team to capture everyone's attention, then you need a fun team name-a name that brings a smile to everyone's face as soon as they hear it.
Trust me, a mainstream or serious name will take you nowhere.
If you really want the audience to support your team, then make sure that you choose a funny name. No one remembers a team with a boring team.
Choosing a funny team name is the best way to stand out and rule any game.
If you manage to find one hilarious name, then there are high chances that people will remember your team more than the serious ones.
Funny Racing Team Names List
In this article, we have listed 60+ racing team name suggestions that are hilarious, fun, and appropriate for any game. Feel free to choose any name that tickles your funny bone.
But if you also have some funny ideas in mind and want to use them in your team name, then check out the guidelines at the end of this article for fresh ideas.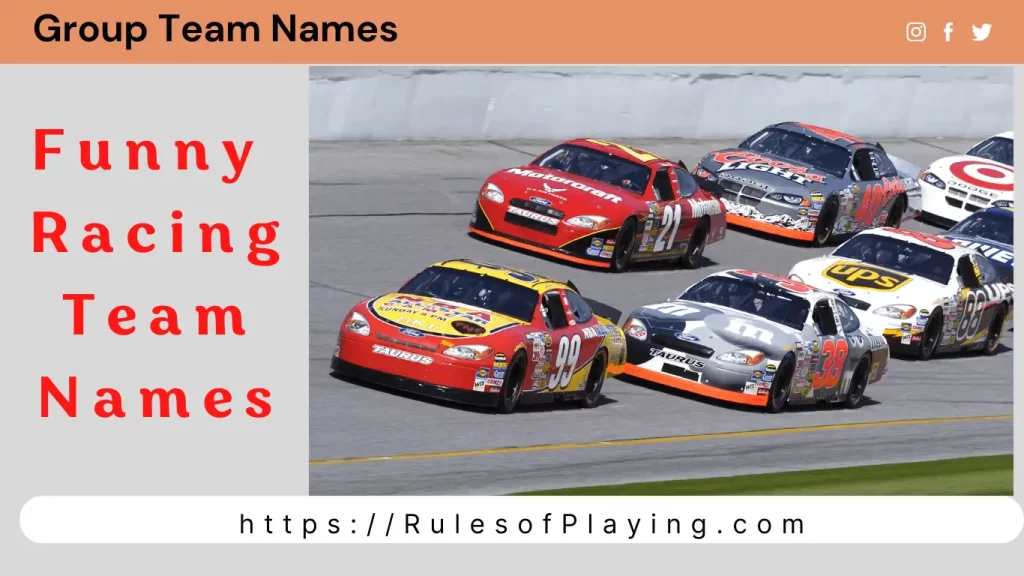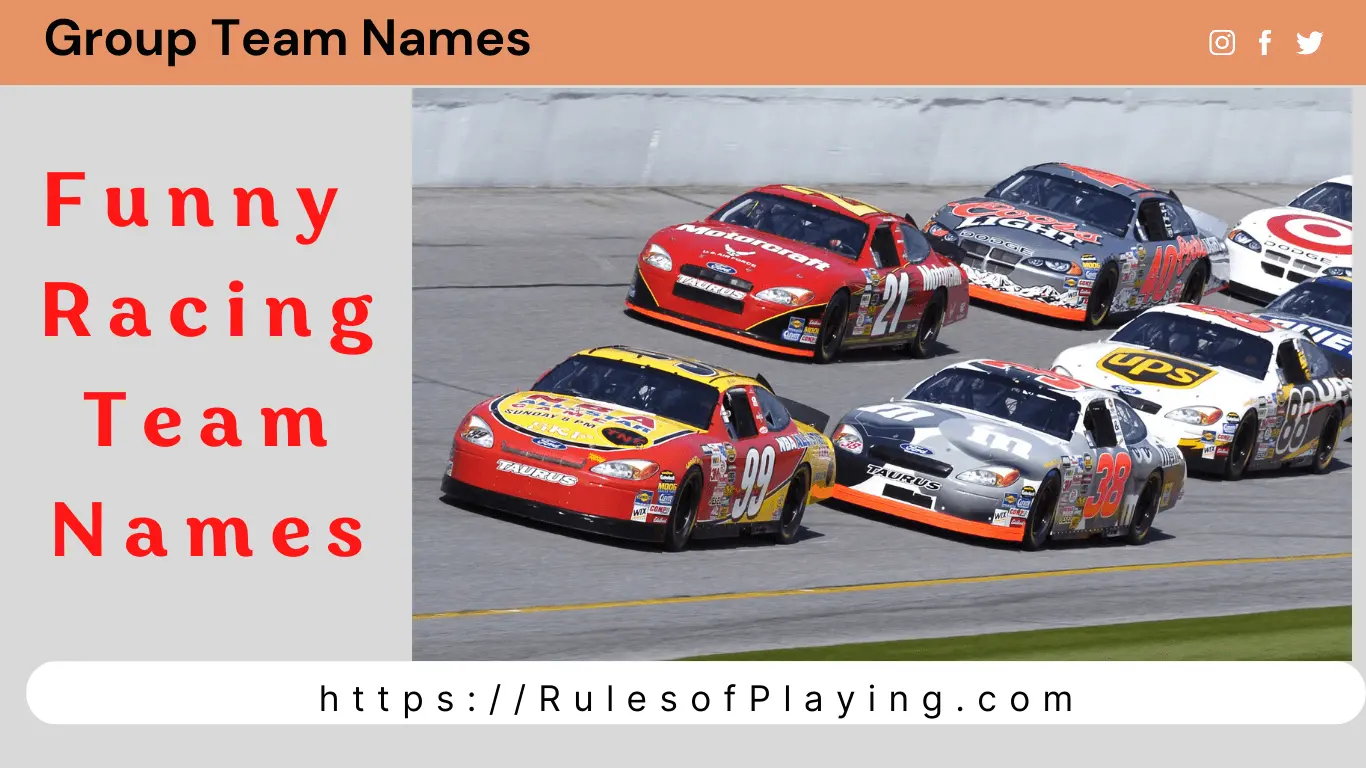 Here are some hilarious racing team name suggestions that will definitely make you chuckle:
1. Brake Dancers.
2. Track Lords.
3. Track Monsters.
4. First Timers.
5. You Snooze, You Lose.
6. Not Another Lap.
7. Get Set Rest.
8. Smokin' Tires.
9. Not Doing This Again.
10. You Cannot Match Us.
11. Racing The Sun.
12. Wheels Attack.
13. Lap Dancers.
14. Cannonballs.
15. Bone Crushers.
16. Ghost Riders.
17. Cereal Killers.
18. Charged Up.
19. Adrenaline Rush.
20. Slow & Steady.
21. Snail Racers.
22. Racing Madmen.
23. Windy Sliders.
24. Low Battery.
25. Red Bull Gave Us Wings.
26. Drive Girls.
27. Crazy Riders.
28. Stunt Car Racers.
29. The Fallen Angels.
30. Powerhouse.
31. Local Celebrities.
32. Night Walkers.
33. Lazy Speedsters.
34. Riot Makers.
35. The Bullies.
36. Ultimate Losers.
37. Where's The Finishline?
38. The Track Boys.
39. The Bad Kids.
40. Born Losers.
41. The Phantoms.
42. Now You See Me, Now You Don't.
43. Tragic Wheelers.
44. The Savages.
45. The Last Picks.
46. Strategy Zone.
47. Always Spinning.
48. The Tackle Box.
49. Road Rangers.
50. The Troll Kings.
51. We There Yet?
52. Brake Attack.
53. Britney Steerings.
54. Clutch If You Can.
55. Runaway Princesses.
56. Dead Speed.
57. Troublemakers.
58. Baby Got Track.
59. Lazy Ninjas.
60. The last Pacers.
61. Chicks With Kicks.
62. Neither Fast Nor Furious.
63. A Running Joke.
64. Young & Breathless.
65. Pumped Up Chicks.
66. Faster Than Internet Explorer.
67. Track Models.
68. Slow Motion.
69. double Threats.
70. Mean Machines.
Guidelines to Create Funny Racing Team Names
If you want to create your own team name and have a lot of hilarious ideas in mind that reflect your racing team in a more personal way, then use these guidelines to create a funny team name: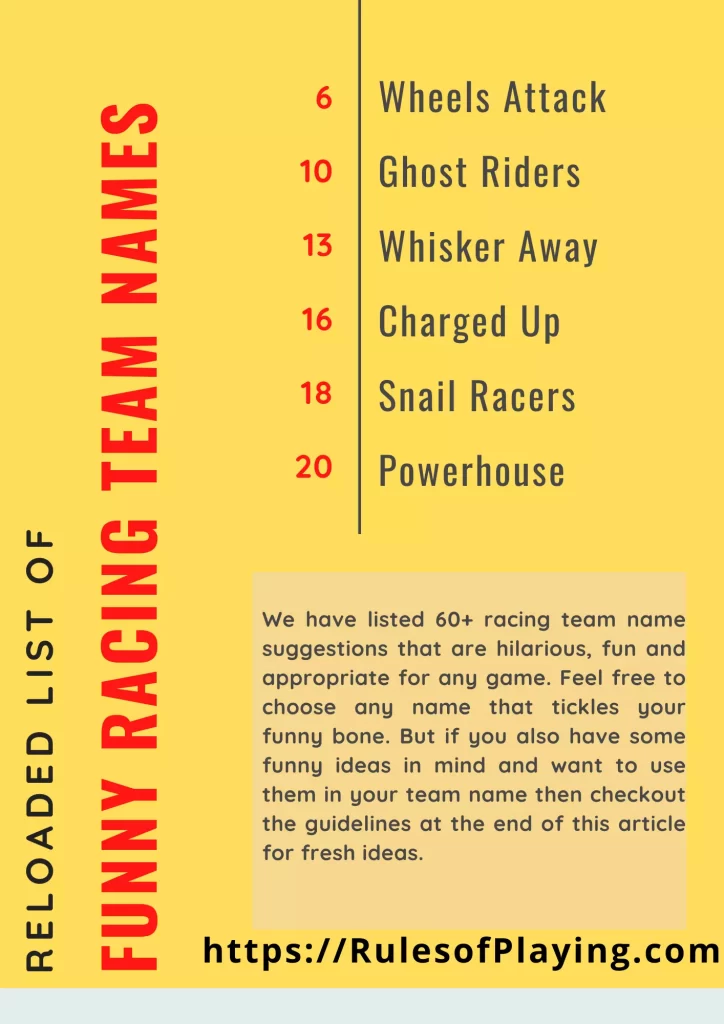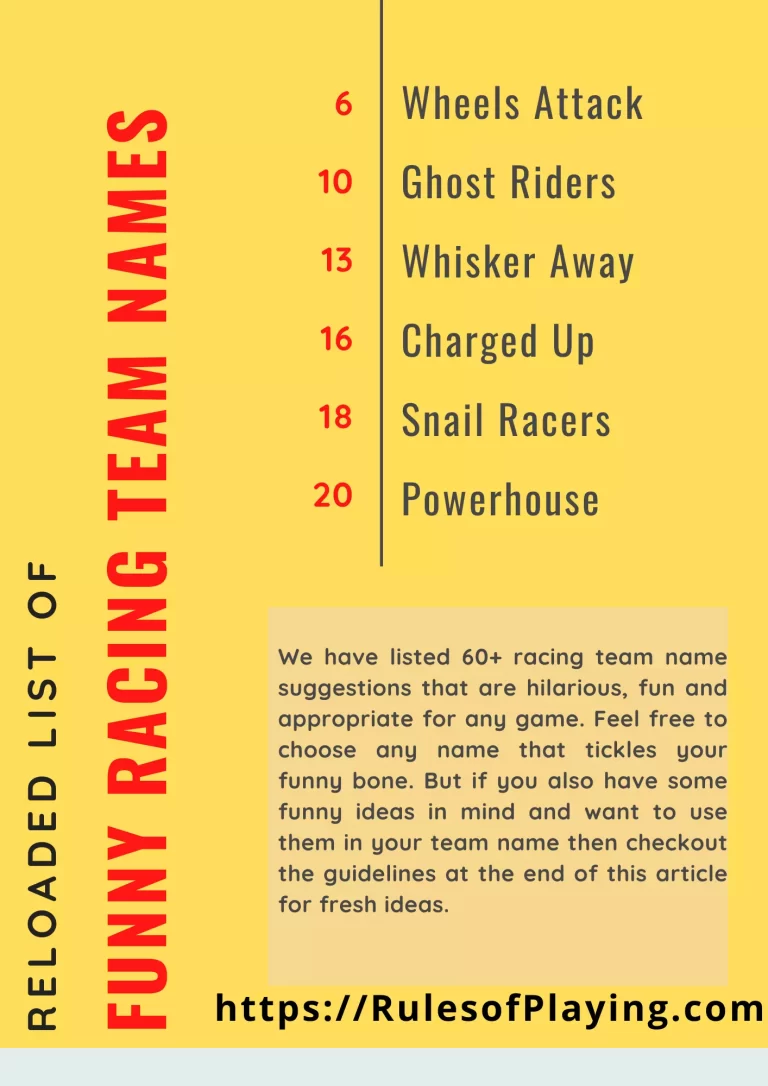 1. Be Creative:
Humor is the best way to make anything attractive and catchy. Also, while creating names, do not copy others. This way, your team will lose its charm.
Stay original and think creatively. Use puns, jokes, or even if you guys have any inside jokes, then add them too.
A little humor never goes wrong. In fact, it will make your team the star of any game in terms of fun, uniqueness, and creativity.
2. Take Inspiration:
The best way would be to take inspiration from your favorite racing/action movies or comics. Make a list of your favorite action movies or serials, and then incorporate them into a team name.
It is not necessary that you have to choose names that are related to the game you are playing.
If you and your team members have anything in common or if there is any phrase or word that you guys use the most, then you can also create a name using those words.
Just make sure that the name you are choosing is capable enough to capture the attention of everyone.
4. Use Alliteration:
Using alliteration is the best way to make any name epic. If you are out of ideas and stuck after writing one word, then search for words that start with the same letter as the first word.
For example, Racing Rebels, Steady Speedsters, etc.
Conclusion
Racing team names are meant to be humorous. The funniest name becomes a separate competition itself that everybody fails to compete with.
Hopefully, now you have a wider range of options to choose from. These names will surely make you stand out in every race.