No doubt, cats are the best animals ever. If you are a cat lover, then you know how much they make our lives better by giving us companionship and the fluffiest cuddles.
So, this list is for all cat lovers out there. If you are so in love with your cat, then why not go for a name that shows how much you adore her?
Whether you are competing in sports or participating in trivia, these names are perfect for any event. So, if you are tired of looking for ideal cat team names, then do not worry because we got your back.
Cat Team Names | List of Clever, Funny, Cat-Themed Puns, Cat Team Names Ideas 
This list includes all cat-related words and puns that will definitely bring a smile to your face. Go ahead and choose any name that you can relate to your cat.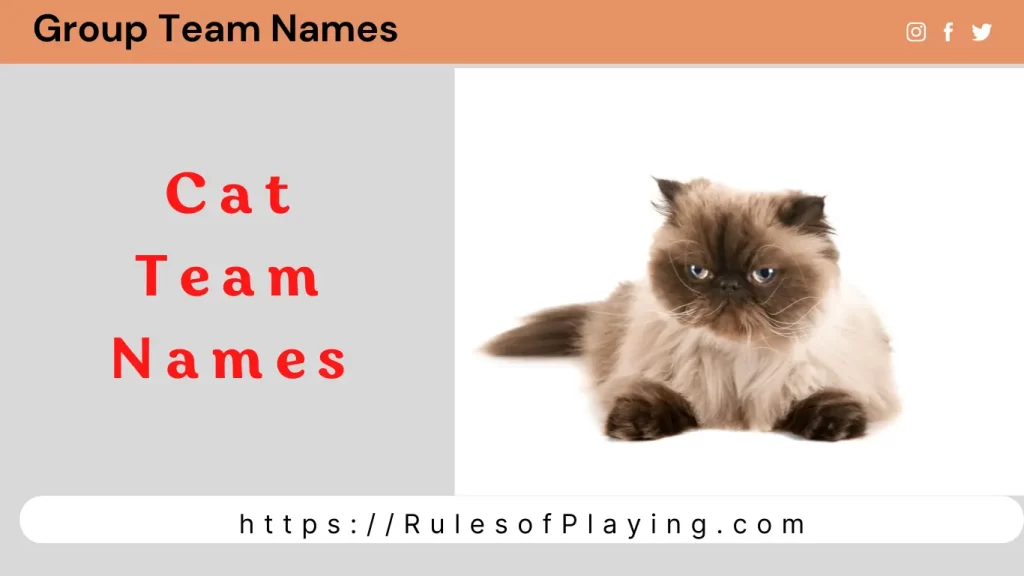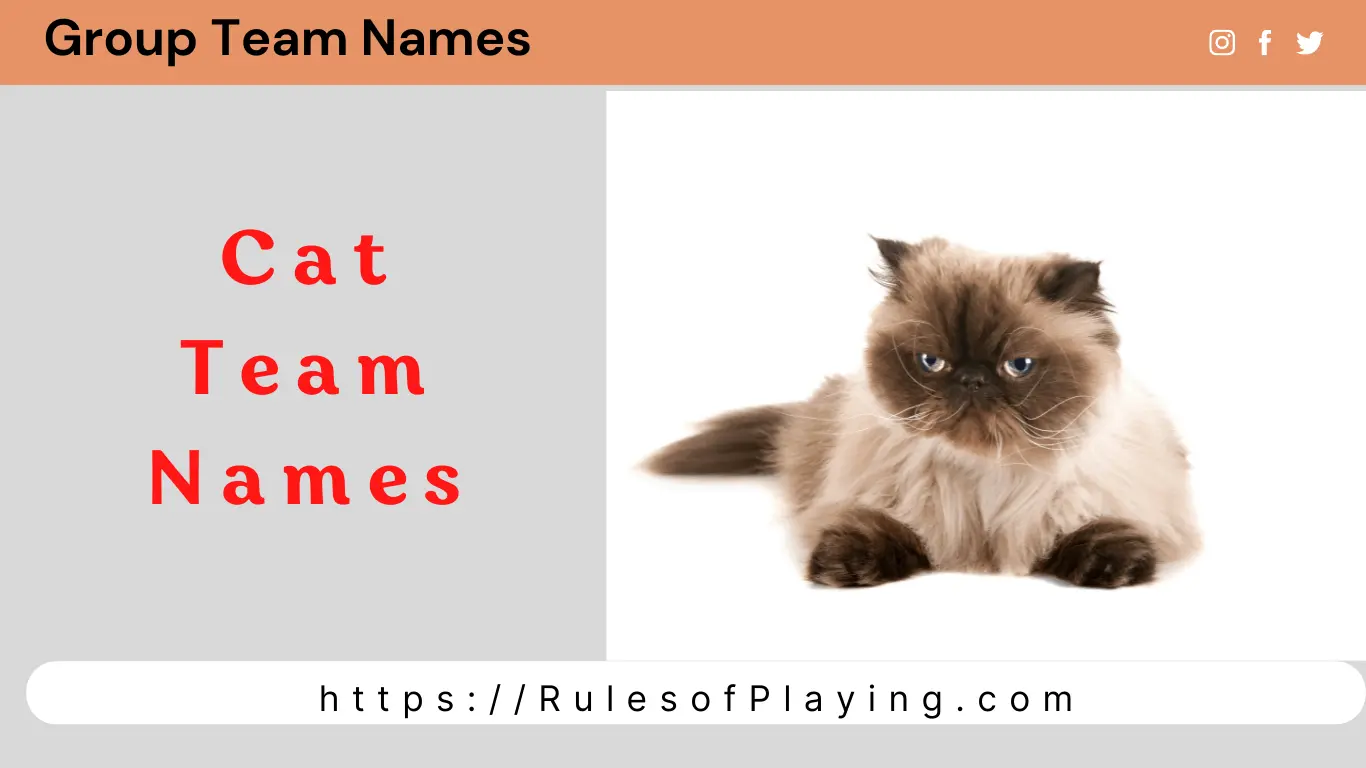 We have also listed some guidelines at the end of this article, so if you also have some ideas in mind, then use those guidelines to create a unique team name. Here are some claw-some name suggestions for you:
1. Best Fur-rends.
2. Claw Enforcement.
3. Puss In Boots.
4. Staying Paw-sitive.
5. Meow Meow Combined.
6. Mousehunt.
7. Meow-tivational Team.
8. Cats From Outer Space.
9. Little Mewmaids.
10. Whisker Away.
11. The Aristocats.
12. We Got Nine Lives.
13. Awesome Clawsome.
14. Wild Cats.
15. Two Evil Eyes.
16. Turbocats.
17. CAT-astrophic Storm.
18. Uncover Kitties.
19. Scaredy Cats.
20. Purrrifiers.
21. The Rawr Force.
22. Little Munchkins.
23. Furrball Wizards.
24. Fierce Cats.
25. Black Cats.
26. Tom & Jerry Alliance.
27. The Purr-fect Cats.
28. PAWsitive Vibes Only.
29. Pet & Pat.
30. The Great Catsby.
31. Hisss-tory Makers.
32. You have Been Punned.
33. Meow Or Never.
34. Cat-has-trophy.
35. Crazy Cats.
36. Furever Together.
37. So Fur So Good.
38. Mission Impawsible.
39. Claw-some Strategists.
40. Copycats.
41. Benjamin Cats.
42. Paws & Claws.
43. Cats Overboard.
44. Alley Cats Alliance.
45. Jungle Cats.
46. Siberian Cats.
47. CATitude Princesses.
48. Glamourpuss Dolls.
49. The Furballs.
50. Claw-less Beauties.
51. Grumpy Tails.
52. The Darn Cats.
53. Texas Wildcats.
54. Cat Band.
55. Ragdolls.
56. Persian Cats.
57. Showcats.
58. The Pussycats.
59. SophistiCATed Af.
60. Lucky Pussies.
61. The Fortunate Cats.
62. Careless Whiskers.
63. The Cat Show.
64. Whiskers Of Trouble.
65. Purrfect Strategists.
66. Stray Cats.
67. The Fast & The Furriest.
68. Slaying Cats.
69. Cat Me If You Can.
70. Tails Of Terror.
Guidelines to Create Cat Team Names For Your Squad
Creating Your own Cat themed team names is super easy. It involves taking a few simple steps.
Below are some guidelines that will help you to create your own cat-themed team name in no time: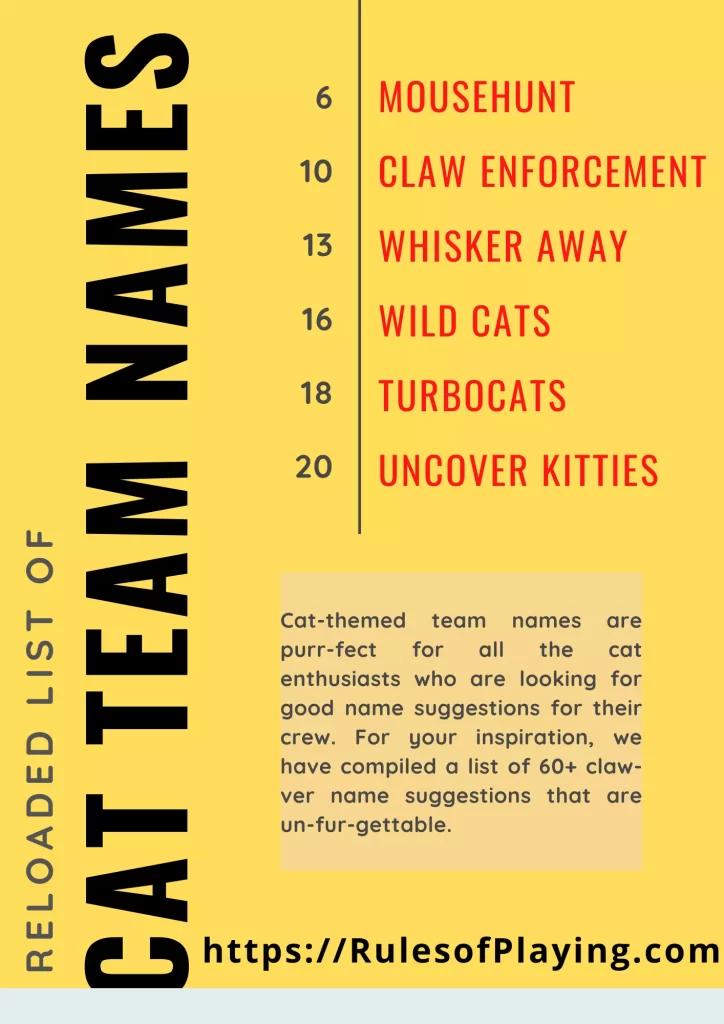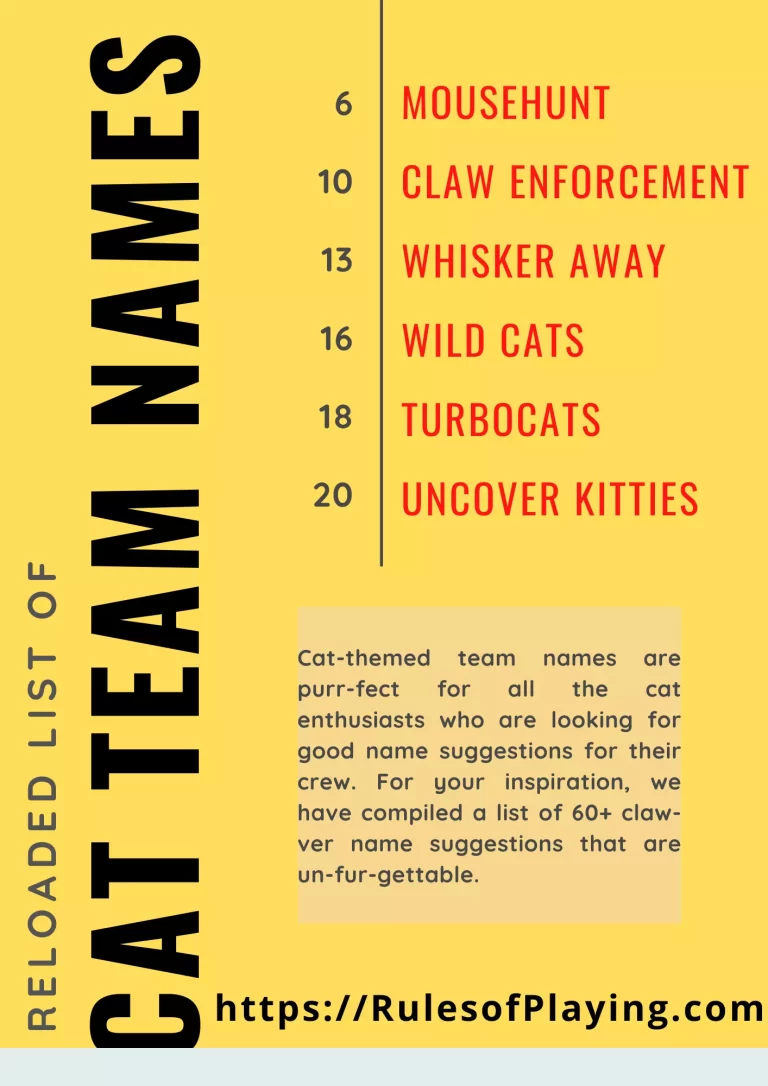 1. Use Cat-Puns:
Cat-puns are the best. It is the perfect way to create unique names and the best way to cheer your team up.
If you pay attention, you can create fun names from every word. For example, Paw-some sisters, We are purr-fect etc.
2. Use Famous Cats For Inspiration:
Think of famous cats from famous movies, characters, or stories, and then create a unique name by changing the words slightly. You can also add a descriptive word to it to create a unique name.
3. Use Your Favorite Cat Stories:
If you and your friends are cat lovers, then you must have so many epic stories that happened with you and your cats. Use your favorite memories with your cats, and then incorporate them into a team name.
4. Take Suggestions From Your Friends:
You can also take suggestions from your friends and use them as an inspiration to create unique names. You guys can also change your name to the name of the cat you all know.
For example, if your team has four members, then you can use your cats' names to create your name. For example, Lizzie, Sissy, etc.
Conclusion
We have tried to write all cat-themed names and puns that will definitely cheer you up even if you guys are feeling low. So, what are you waiting for?
Finalize a name from the above list and raise the bar by bringing some interesting puns that are unique and different from other teams.