Believe it or not but your team name is your team's first impression. When you enter the stage, your team name is the first thing that everyone in the crowd is going to hear.
This is the time when the audience is going to decide whether you are worth cheering for or not. No one will cheer for your team if your name is not outstanding and impressive.
Half of the fun of the game comes up with creative and hilarious team names. So, make sure to choose your team name wisely.
Each name in this list is unique and has not been taken yet. We are sure that these names will surely get you in the mood for your trivia night.
However, if you are interested in creating your own team name and looking for some guidelines, then read the tips at the end of this article.
These tips will help you to create your team name in no time.
Trivia Team Names Ideas List | Unique, Funny, Creative, Powerful Trivia Names

We have created a list of trivia team names under different categories, so it will help you to choose a name according to your interest. In this article, we have listed:
Funny Trivia Team Names

A funny team name not only makes everyone in the crowd smile but also boosts up your team's spirit to perform better and better.
We have written some funniest names in this list, from puns to jokes that will definitely tickle your funny bone.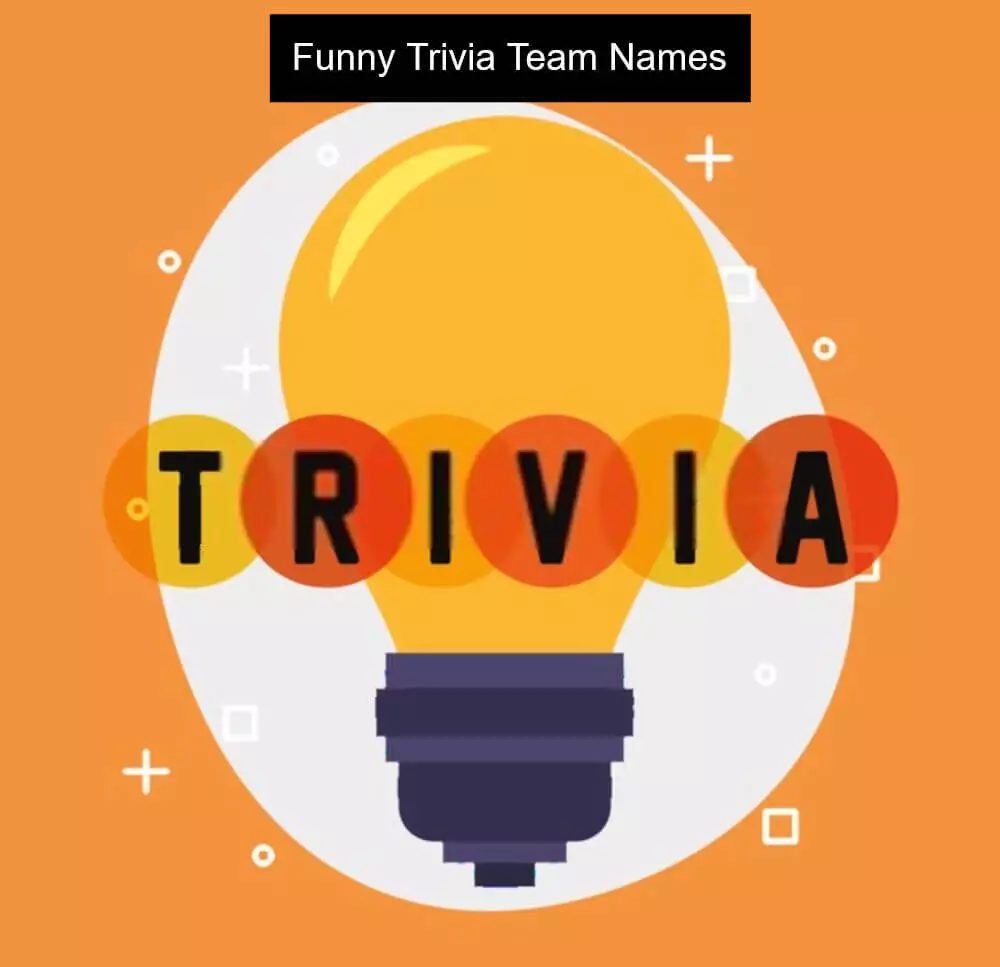 Drunk Lives Matter.
The Lame Ones.
Certified Losers.
Got 99 Problems But Trivia is on top.
Slow Learners.
Epic Disasters.
Illegitimate Children.
Smelly Cats.
Trivia Khalifa.
Confused Ones.
Clueless.
Scrambled Eggheads.
The Fault In Our Answers.
Related Post: 100+ Powerful CSGO Team Name Ideas for Your Squad
Best Trivia Team Names

Trivia is a serious game and requires a lot of knowledge to win. But another thing that will make your team impressive is the best team name.
The best team name not only shows your team's creativity but also makes your team stand out among others.
So, we have written some best options for you in this list. We are sure that your team is going to shine in the room with these names:
Department Of Right Answers.
Smarter Than The Fifth Graders.
We Win 99% Of the Time.
Point After Point.
Slay Bombs.
Raising The Bar.
Einstein's Army.
In First Place.
Smartness Overloaded.
The A-List.
Masterminds.
Team Not To Be Underestimated.
Too Smart To Lose.

Good Trivia Night Team Names

A good trivia name that suits you and your team can be as tricky as the trivia questions.
Sometimes, you search for hours on internet and still can't find anything that relates to your team.
So, we have written this list that you are definitely going to like for your team.
Over The Top.
Trivia Troop.
Nerd Community.
Dream Team.
In The Know.
Peak Performers.
Trivia Champs.
Geek Force.
Nerd Club.
We Know It All.
Smarties.
Nerd Herd.
We Never Lose.
In It to Win It.
Pub Trivia Team Names

Imagine you are all set to ace this trivia night at a local pub with your friends, and you have prepared well for your challenge.
The only thing left to worry about now is a trivia team name, but in the heat of the moment, you are unable to think of any perfect name.
Yeah, we know it can happen. To prevent you from this situation, we've come up with names that are perfect for your pub trivia team. Choose any name and make your game more fun and exciting.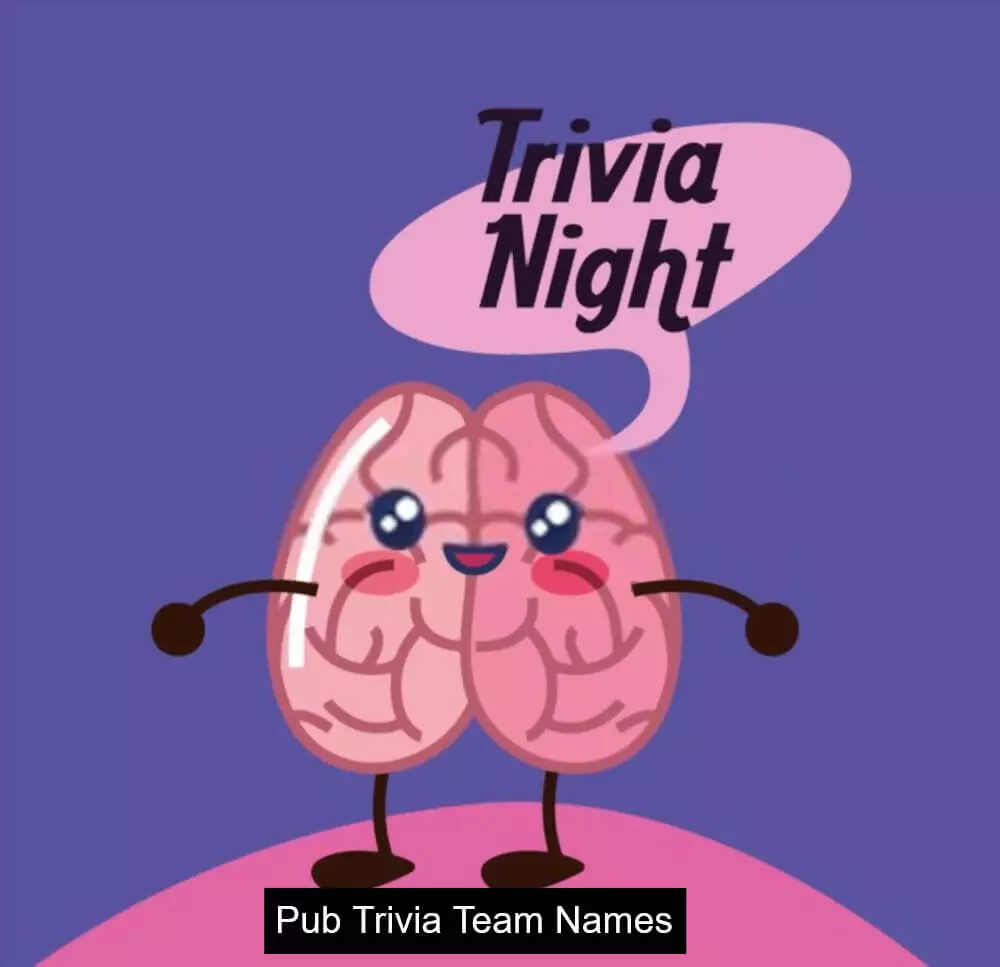 BeerMates.
Vodka Is The Real Winner.
Read About Disadvantages of Drinking, Gave
Reading.
I'll Beer Right Back.
Beer Pressure.
Tequila Mockingbirds.
Pukers.
No Beer, No Trivia.
SotallyTober.
Drunk, Slow, And Clumsy.
Beer Improves Our Mind.
Triviaholics.
Beer Is Our Spirit Animal.
Top Cool Trivia Team Names
We have listed some top suggestions for you, and we are sure that these names are surely going to make your night.
So, even if you do not win first prize, you can feel proud knowing that your trivia team name was cooler than others.
Superiority Complex.
Designated Winners.
Where's The Competition?
Born Winners.
Trivia In Style.
Hot Alert.
Beauties With Brains.
Looking Better Every day.
You Hate Us Cuz You Ain't Us.
Haters Back Off.
Showstoppers.
The Only Intellectuals In The Room.
Enjoy Second Place.
We Got This.
Funny Clever Trivia Team Names

A funny and clever team name not makes your opponent nervous before competing with you but also makes you the smartest one in the room.
So, here is the list of some funny and clever trivia team names to show how sharp-witted your team is:
Periodic Table Dancers.
Mirror Mirror On The Wall, We Are The Smartest Of All.
Trivia Master Gogo.
Toxicated Brainiacs.
We Hate Buzzer.
Stable Geniuses.
Try To Beat This.
Ouija Board Told Us Answers.
Intel Inside, Mental Outside.
Wisecrackers.
Test Eagles.
Creative Witty Trivia Team Names

If you are looking for creative and witty trivia team names that no one would think of, then this list got you covered.
Pick any name from this list to make everyone envy and impressed.
50 Shades Of Smartness.
Your Dad Probably Warned You About Us.
Scholars On The Loose.
Wikileaks But We Don't.
We Let The Dogs Out.
Tangled Up In Trivia.
Google Geeks.
Let Me Quiz Slowly.
Quiz flix& Chill.
Think Before You Leak.
Smarty Pants.
Google Graduates.
Winsanity.
Angry Nerds.
Trippin' For Trivia.
Booze Cruisers.
Trivia On My Mind.
Clever bots.
Trivia Team Name Ideas; Bar, Music Crazy Friends Trivia Team Names
Here are some additional suggestions that are perfect for any bar, music, friends, and crazy team.
Pick any name from this list and get ready for your kick-ass performance on trivia night.
College Dropouts.
The Brewsual Suspects.
Whiskeypedia.
Shrek Trivia.
Trivia Now, Party Later.
Bros Before Hohoho's.
Smarty Pints.
Let's Get Quizzical.
Babies Night Out.
Could This Trivia Be Anymore Better?
Bar Flies.
Drink, Party, Win Trivia.
Quiz Us Baby One More Time.
Gettin' Quizzy With It.
Points to Consider while Finding a Good Trivia Team Name
Creating your own trivia team name is not a difficult task. In fact, brainstorming ideas with your team members is much more fun.
We have listed some points in this list. Do read them all for a head start.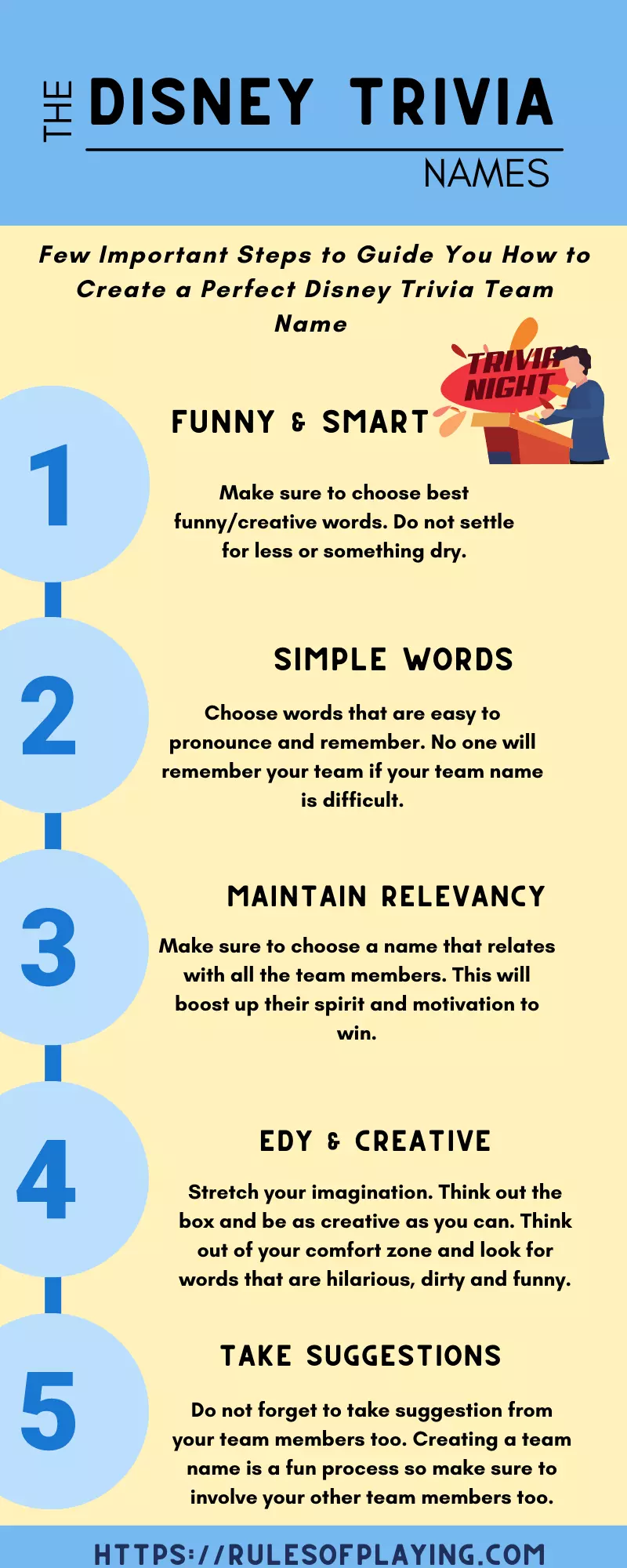 1. Choose Smart Words:  Make sure to choose the best funny/creative words. Do not settle for less or something dry.
2. Add Puns:  The best way to create a hilarious team name is to add puns. Puns make any team name interesting.
3. Keep It Simple:   Choose words that are easy to pronounce and remember. No one will remember your team if your team name is difficult.
4. Make It Relevant:   Make sure to choose a name that relates to all the team members.
This will boost their spirit and motivation to win.
5. Make It Edgy:  Stretch your imagination. Think out of the box and be as creative as you can.
Think out of your comfort zone and look for words that are hilarious, dirty, and funny.
6. Take Suggestions:  Do not forget to take suggestions from your team members too. Creating a team name is a fun process so make sure to involve your other team members too.
Related Post: Powerful Leadership Team Name Ideas for You!
Conclusion
We have tried to list creative and funny names in this list that are perfect for every age group. Feel free to steal any name.
Always remember, a good team name does not guarantee you win but trust me, it will surely remain in your opponent's mind for a long, long time.
So, choose any name from this list and get ready to shine on the stage.