Even if you are not into history, you still might be familiar with famous outlaws like Jesse James, Sam Bass, and Billy The Kid. So nostalgic, right?
Western history is full of historical stories that give you plenty of inspiration for your posse name.
The posse name is your identity, and it defines your attitude and personality when you play online.
The game gets more exciting if you involve your friends too. Besides, Posse games are getting so much attention nowadays, especially Red dead, Cowboy gang, and Wild west.
If you are also looking for some amazing posse names, then this is definitely your spot.
Cool Posse Names List | Funny, RDR2, Powerful List
One good thing is that Posse and bandit groups are not supposed to follow any kind of rules while choosing names, other than this one that they cannot choose a name that is already in use.
So, you are free to choose whatever you like and get your creative juices flowing. Your posse name can be serious, funny, long, short, in short, anything that you like.
For your inspiration, we have listed 66 cool names that will make your posse unique and memorable.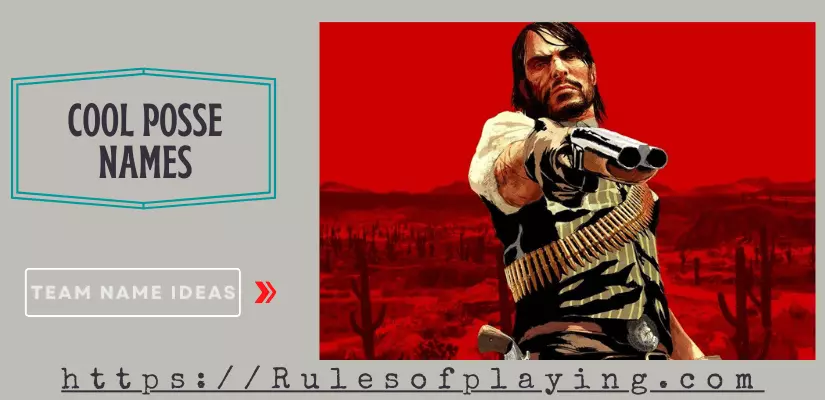 The article is full of fun and good name suggestions for your Wild West Gang, Red Dead Redemption squad, and Cowboy Gang. Feel free to pick any name to show everyone how good your posse is.
However, if you still cannot decide on one final name and want to come up with your own name, then check out the guidelines at the end of the article for some amazing ideas.
Funny Posse Names
Every game gets interesting if you are playing with your squad. The best way to make your game more fun is by choosing a hilarious posse name.
A funny name not only helps you to take all the attention but also attracts other players towards your posse. Below are some hilarious suggestions that will make everyone in your posse smile throughout the game.

1. Django Unchained.
2. Bad Company.
3. Crying Machos.
4. Law Breakers.
5. Sleepover Bandits.
6. Wet Bandits.
7. Loot Gone Wrong.
8. Black Lungs.
9. Partners In Crime.
10. Law And Lawless.
11. The Gallnipper Pigs.
12. The Crybabies.
13. Sandsnakes.
14. Killers Of Sunflower.
15. Unregulated Crew.
Related Post: 100+ Popular KPOP Group Names for your Squad
RDR2 Posse Names
Red Dead Redemption 2 is the best action-adventure game. If you are new to the game and thinking of starting your own posse, then the best way to make your posse memorable and fun are to choose a unique name.
A lot of old west gangs created a long-lasting impression on American History.
You can take inspiration from these famous outlaws to intimidate your opponents. Below are some suggestions that you can consider trying:

16. Warriors Of Seven Rivers.
17. Wildcards.
18. Skyhigh.
19. Black Death Camaraderie.
20-The Chaotic Rebels.
21. The Outsiders.
22. Bunch Of Wilds.
23. No Principles.
24. The Lost Boys.
25. Black Vipers.
26. Triple Frontier.
27. The Drug Kings.
28-Mad Dogs.
29. Thugs Society.
30. Cold-blood Battalion.
Good Posse Names
Choosing a good posse name is the most important decision that should be taken wisely.
Not only does it give you a unique identity, but it also helps you to grow into something more than just sitting and playing on the couch all day long.
For your inspiration, we have also listed some good name suggestions that will definitely set a good impression on your crew.

31. Freebirds.
32. The Grand Dual.
33. The Power Rangers.
34. Moonshine Bandits.
35. The Long  Riders.
36-  G.O.A.T.
37. The River Vixens.
38-The Gentlmen.
39. Three Musketeers.
40. The Sundance Kids.
41. Gold Posse Patrol.
42. The Fearless Paladins.
Wild West Gang Names
Bandits from Wild West Gang are the most famous outlaws in the world. In the past, they might have been known as criminals, but now, many of them are remembered as heroes.
If you are also inspired by Wild West and want to create your own iconic gang, then what would be the better way than to take inspiration from your favorite outlaws? And for that, you can consider the following suggestions:

43. Midnight Express.
44. Banished Brothers.
45. Bandits Of Black Hills.
46. The Wildest Bunch.
47-Bloodbath And Beyond.
48. Blond Brothers.
49. The Six Joanquins.
50. Dodgecity Gang.
51. By Hook Or By Crook.
52. The Rustlers.
53. The Roughboys.
54. Daylight Gunslingers.
55. Money Heist League.
Related Post: 44+ Design Team Names for Creative Creation
Cowboy Gang Names
The craze of posse and cowboy gang is so huge that in every game, you are going to see unique and epic posse.
If you also want your cowboy gang to be the best among the rest, then you need a good name. The following list will help you to create an attractive and intimidating gang.

56. The Lone Rangers.
57. Kill Or Be Killed.
58. High Five Gang.
59. Death Knows No Time.
60. Lone Star Cowboys.
61. Gang Of Innocents.
62. The Revengers.
63. Black Jack Gang.
64. The Red Hand Gang.
65. City Slickers.
66. Urban Cowboys.
How to Create Cool Posse Names? A Creator's Guide
If you do not want to use any of the suggestions listed above, then use the following tips to create your own  posse name:

1. Take Inspiration From History: If you are not that much into history, then a quick web search will solve your every confusion.
You will find so many inspirations from famous outlaws like Old West and Gold rush. History is full of true historical stories that will give you plenty of fresh ideas.
2. Use Your Own Name: Adding your name in a creative way is the best way to create a unique name. For Example, someone with the last name Badger could use a name like 'Badger's Nest.'
3. Take Inspiration From Pop Culture: While searching, we found that many posse names are inspired by pop culture. You can also take inspiration from your favorite movies, shows, songs, or lyrics. This will help you to gather a wide list of options.
4. Be Creative: While choosing a posse name, make sure to choose creative words. There are no rules regarding how a posse name should be, so you have the freedom to choose whatever name you like.
Related Post: 45+ Spring Team Names for Happy Mood
Conclusion

A lot of you guys want to look the best and most savage in the game, but you do not realize that your posse name has much more power than you think. If you manage to find out a perfect posse name, then you not only create a lasting impression in the game but also make your opponent nervous. That is why we have tried to write the best suggestions for you. Hope you like them!