Five-a-side is like a mini football but not as easy as you think it will be. While forming a five-a-side team, there are a lot of things that need to be completed first starters; you need a lot of practice and then get suitable kits.
Then there comes the interesting part-finding a perfect team name to go by.
You might consider it an easy task, but high chances are that you are going to spend hours on the internet to find a memorable name for your team.
Five Side Team Names for Your Squad
Finding a good team name is a task that needs serious consideration, as your team will be stuck with it for the whole tournament.
Luckily, you do not need to spend hours on the internet now trying to find an ideal name. We recommend you to give this list a try.
We have listed 60+ name suggestions that will surely take your game to the next level.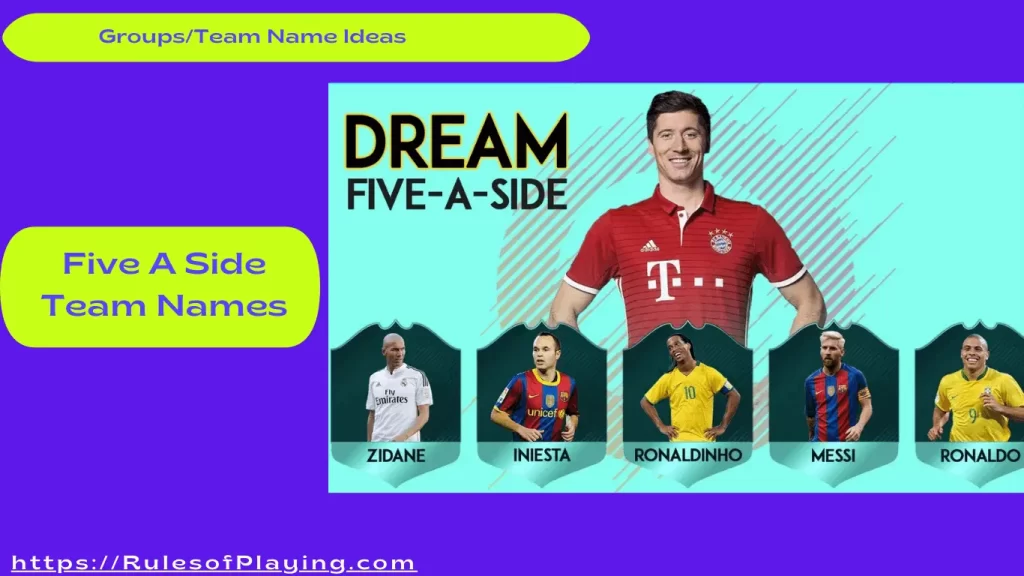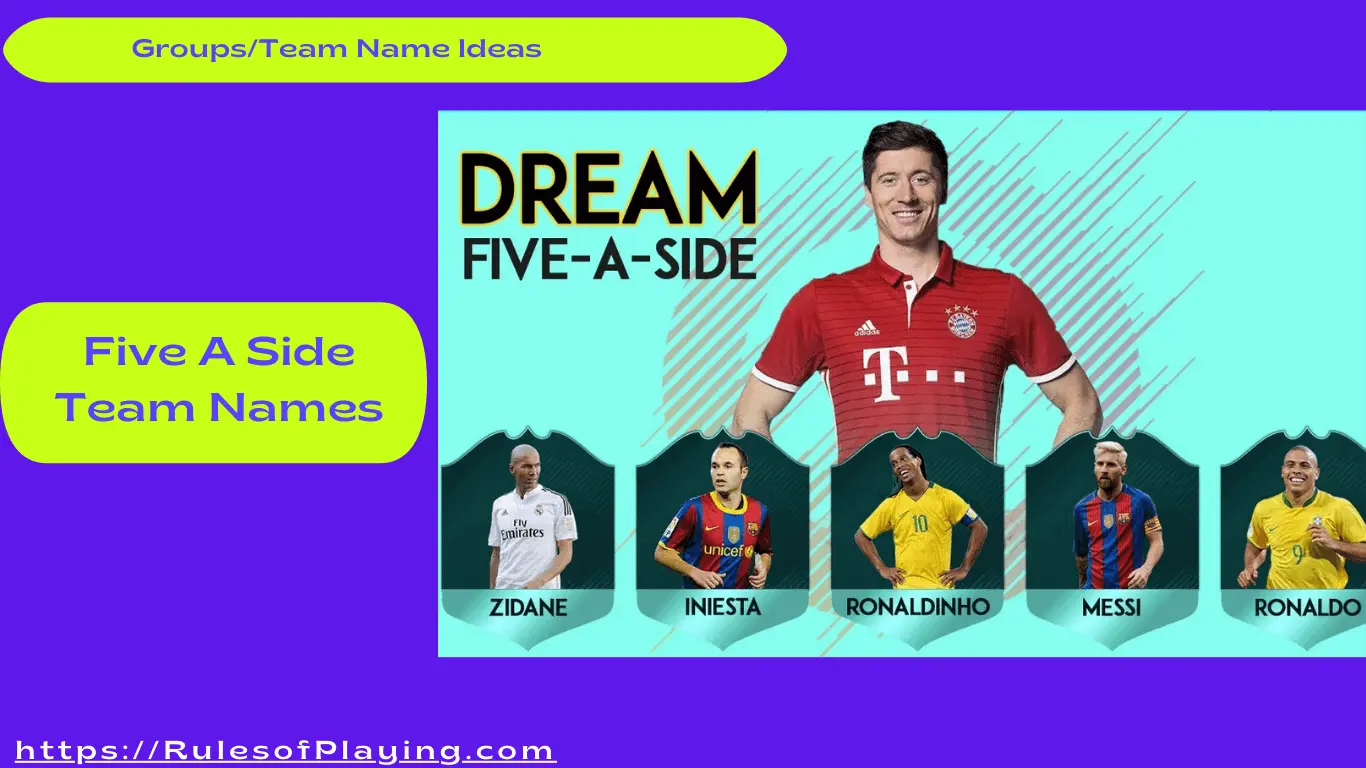 This list includes fun, strong puns, and humorous suggestions. To top it all off, we have also listed miscellaneous crackers that your team is surely going to enjoy.
1. Kickin' & Chillin'.
2. Five Men Army.
3. Kicks To Remember.
4. Puns Intended.
5. All We Do Is Win.
6. The Best Moves
7. Bad Balls.
8. We Rollin', They Hatin'.
9. The Wild Gang.
10. Mini Power.
11. Kicking It.
12. Kicks Don't Lie.
13. Little Giants.
14. Thunderstruck.
15. The Damned United.
16. We Set The Trends.
17. Just For Kicks.
18. Never Give In.
19. Speed Leopards.
20. Penalty Kings.
21. Undertones.
22. The Rookies.
23. Straight Goal.
24. Ball Busters.
25. The Booze Squad.
26. Wild Kicks.
27. Unstoppable Attackers.
28. Rush Hour.
29. Savage Instincts.
30. Keep Counting.
31. Goal After Goal.
32. Deadly Hawks
33. Bending It Like Beckham.
34. Fantastic Five.
35. Hattrick Champs.
36. Knuckleheads.
37. Out Of The Way.
38. Habitual Winners.
39. Peak Performers.
40. Flawless Kickers.
41. Ball Crushers.
42. Crazy Pitches.
43. No Kicks Intended.
44. Jawbreakers.
45. Keep Calm & Kick On.
46. Kicks Of Fire.
47. Wild & Furious.
48. The Underdogs.
49. Effortlessly Amazing.
50. Screwballs.
51. Kicks Of Doom.
52. Golden boys.
53. Manchester Divided.
54. The Finishers.
55. Zero Vision.
56. Kicking Like A Rockstar.
57. The Magpies.
58. Blind Five.
59. Kick Instincts.
60. Five Pack.
61. Death By Thousand Kicks.
62. Ass Kickers.
63. The Bruise Gang.
64. Megafive.
65. Heavy Kickers.
66. The Misfits.
67. The Kicktators.
68. Kick Thrills.
69. Five Deadly Sins.
70. Five Offenders.
Tips For Creating Your Own Five a Side Team Names
Keep these guidelines in mind to create a perfect team name:
1. Take Inspiration From Your Favorite Players:
The best way to keep your team motivated and focused is by naming it after your favorite professional player. You can use his first or last name or play with words to create unique team names.
Try out several combinations until you create one final unique option.
2. Choose Inspirational Words:
Choose words that you think best describe your team collectively. Whether you win or lose, a good and inspirational team name will always boost your team's confidence and encourage them never to give up.
3. Decide Theme Of Your Team Name:
It will get easier for you to finalize a team name once you decide if you want your team name to sound serious, strong, or humorous.
This will make it easier for you to brainstorm and narrow down your list of options. You are free to decide whether you want a one-word name or to create a short, fun phrase.
4. Take Suggestions From Your Team Members:
Come up with a shortlist of ideas and then ask your team members to add their opinions. Take a poll of your team members, find out which words inspire them, and then create a name using those terms.
Conclusion
The above-listed names are everything that your team needs right now to become better players.
Hopefully, you will find a name from the above list that fits your team perfectly.
These names will surely prompt your team members to give their utmost in the game.