The 1990s is remembered as a decade of peace and advancements where we all made new friends, new dance moves were born, and fast food got bigger.
The internet, Google, Photoshop, Text Messaging, PlayStation, and Mp3 players are just a few of the inventions that were created in the 1990s. It is the best decade to take inspiration from.
Whether you are given the 90s theme, or you just love the decade for its iconic events and are planning to join a trivia night, then this place is for you.
We have written 44 epic and nostalgic trivia team suggestions to show your affection for the decade.
90s Trivia Team Names [ 90s Themed, Music, Trivia, Classic Rock ]
From pop culture to classic fashion trends, the 90s is full of fantastic inspirations to name your trivia team after.
So, we did detailed research and compiled all the iconic moments of the 90s to create this list for you. You will definitely find all your favorite 90s inspirations in this list.
However, if you are interested in creating your own team name, then check out the guidelines at the end of this article for some amazing ideas.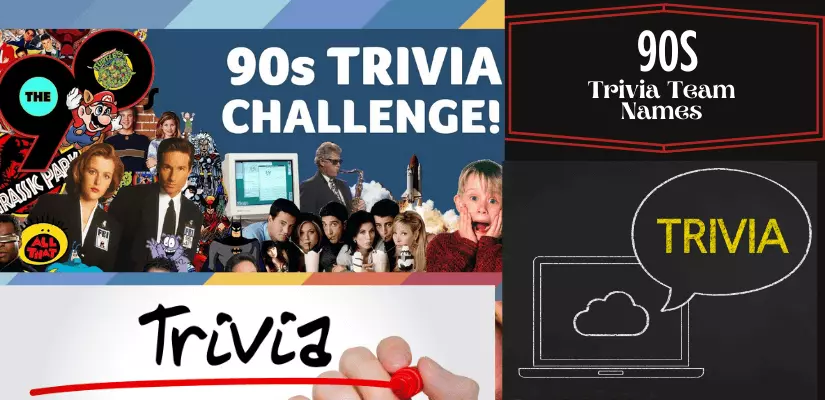 Here are some iconic and classic name suggestions from the 90s.
1. The Rugrats:    Famous 90s cartoon tv series.
2. F.R.I.E.N.D.S Forever:    In reference to the famous series 'Friends'.
3. 110 Percent:    Giving their best.
4. Super Mario Force:    Famous 90s game.
5. Gonna Make You Sweat:    Good luck to their opponents.
6. Clueless One:    They have no idea what's going on.
7. Talk To The Hand:    Rather than giving a strong statement to your competitors, you can throw this 90s phrase.
8. Joey Triviani:    In reference to Joey Tribbiani.
9. How You Doin'?:    The iconic catchphrase of Joey.
10. Take A Chill Pill:    90s way to tell your friends to chill out.
11. The Trivia Girls:    Like the Spice Girls.
12. Trippin' With Trivia:    In reference to the famous movie 'Trippin'.
13. The real O.G.:    An acronym for an original gangster. Can be used for people who are incredible.
14. Eat My Shorts:    The most popular phrase of the 90s and another way to say 'kiss my butt'.
15. The Losers:    Too honest.
16. Nothing Compares 2 Us:    For the over-confident ones.
17. Barbie Girls:    But this is not a barbie world, and it is not wrapped in plastic.
18. Slammin' Dudes:    A phrase that describes someone who is attractive.
19. Talk To The Hand:  Giving a clear response to the opponents.
20. Fly Chicks:    Back in the days, fly meant 'pretty'.
>>>> Similar Read: 44+ Design Team Names on the List
21. The Slap Bracelet Pals:    The famous 90s accessory every kid had.
22. Smells Like Teen Spirit:    It sure does.
23. Home Alone Kids:     90s famous movie.
24. That's How We Do It:    Showing the competitors how trivia is played.
25. Totally Buggin':      The slang you use when you are freaking out.
26. My So-Called Trivia:    In reference to 'My so-called life.'
27. The Bangs Girls:    A common hairstyle in the 90s.
28. The Backstreet Boys:    A famous band formed in 1993.
29. Nine Inch Males:    In reference to Nine Inch Nails.
30. Slaying In Plaid Clothing:    A look that everyone in 90s loved to carry.
31. The Temple Guards:    From the movie 'Legends of the hidden temple.'
32. The Beepers:    Before people had cell phones, they had pagers.
33. The Trivial Elmos:    Elmo was the favorite toy of every kid in the 90s.
34. The Quizzards:     Like the wizards.
35. The Spice Girls:    A famous girl group of 90s.
36. The Beanie Babies:    It was crazy how obsessive kids became over beanie babies in the 90s.
37. Dazed And Confused:    Iconic movie of the 90s.
38. The Ninja Turtles:    In reference to Teenage Mutant Ninja Turtles.
39. Richie Rich Squad:    In reference to the favorite movie of every kid, 'Richie Rich'.
40. Goosebumps:    The best horror fiction for kids ever written.
41. The Blair Witches:     In reference to the movie 'The Blair witch project'.
42.Getting' Quizzy Wit It:    In reference to the song 'Gettin' Jiggy With It.
43. The G-shocks:     In reference to popular Casio watches.
44. The Macarena Movement:      The pop dance that got famous in the 90s.
Guidelines to Create Your own 90s Trivia Team Names
We have listed some ideas from which you can get the best inspiration to create your team name:
1. Movies: 90s was the era of best classic movies.
You can take inspiration from famous movie titles, iconic scenes, quotes, phrases, and moments to create your team name. Examples include Home Alone, Terminator, Toy Story, and Rushmore.
2. Songs: 90s time period gave us some most amazing and iconic songs. No matter how old we get, listening to these songs is always a happy vibe.
You can take inspiration from your favorite 90s song. For example, Baby Got Back, Smells Like Teen Spirit and My Heart Will Go On.
3. Television Shows: Some of the 90s tv shows are still loved today. Shows like Friends, The Nanny, and Twin Peaks are the best to take inspiration for your team name.
4. Fashion: 90s fashion was very diverse and colorful. You can take inspiration from 90s fashion trends to create unique names.
From casual looks like baggy jeans and flannel shirts to formal looks like skater dresses, you have plenty of dressing styles to take inspiration from:
5. Famous Events: The 1990s saw Los Angeles Riots, Bosnian Genocide, Launch of Hubble Space Telescope and much more. Search for the events that happened in the 1990s, and you will get plenty of amazing ideas.
>>>> Also Read:  51+ Actually Funny Healer Team Names for You
Conclusion

There are lots of significant world events and fashion trends to name your team after, which everyone will instantly recognize as relics of 1990.
However, if you are out of ideas then you know where to go for best 90s name suggestions.
We cannot guarantee you will win in the trivia round, but we can assure you one thing with these names, your team will be the only one ruling the game.