Since Halloween is over and now it is time for Thanksgiving, you might have started your preparations for this exciting day too.
And now, when the weather is getting colder, what better way to spend quality time at home than by organizing various activities to make your Thanksgiving epic?
Thanksgiving is the most exciting day of the year when you get to spend quality time with your friends and family.
The freshly made cranberry sauce, smoked turkey, and mashed potatoes make the day much tastier. The day is celebrated with a wide variety of activities like Trivia and Turkey Trot.
These activities get more interesting when every team has its own identity and name.
Thanksgiving Team Names | Best Turkey Trot, Trivia, 5K Race Group Name Suggestions!
A clever team name is the most important aspect of Trivia and Turkey Trot. A team with no extraordinary name looks dull and boring.
To make your Thanksgiving memorable, we have listed 44 fantastic name suggestions for you. These names will be perfect for any activity. Feel free to take a look and see if you find any name that fits the personality of your team members.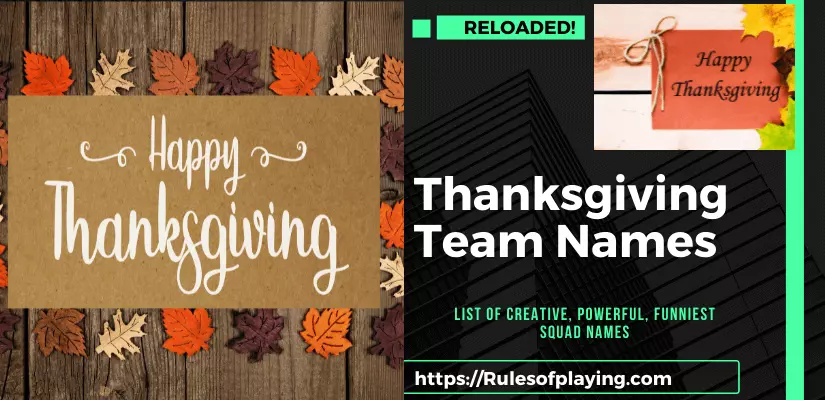 Here are some epic team names to make your thanksgiving more exciting and fun:
1.50 Shades Of Gravy:    Oh, and these shades of gravy has a better vibe than the original novel, right?
2. Easy As Pie:    No task is difficult for them.
3. The Squabblers:    Well, they argue a lot.
4. Just Joshin':    Be careful; there will be pranks.
5. Shopping Shenanigans:     The only thing that makes them excited for Thanksgiving.
6. Wishboners:     They gotta make this count.
7. Eat, Drink & Have Cranberry:    Just don't get too sauced.
8. Keep Calm & Gobble On Yeah, because this turkey might not be here tomorrow.
9. Pies And Thighs:    Their only preferences.
10. Mashed Potatoes Movement: What's Thanksgiving without mashed potatoes?
11. The Spice Girls:     Undeniably hot.
12. Team Turkey: Who doesn't love Turkey?
13. Taters Gonna Tate:    And haters gonna hate.
14. The Jam Force:   This force is ready to take everyone out.
15. The Gravy Gang:    Gravy has no competition.
16. The Gobblers:    Biggest foodies in the room.
17. Hot Stuff:  You won't be able to handle this much hotness.
18. Desert Lovers:    You know where to find them.
19. Potatosapiens:      Newly discovered species.
20. Angry Birds:    Can't blame birds for being angry, especially when there is an annual Turkey purge going on, right?
>>>> Interesting Read: 150+ Cool Modern COD Clan Names
21. We Cran Do It:    Yes, you can.
22. The Apple Pies:     Too delicious and sweet.
23. The Yummy Winners:    Winning is their passion, and they look luscious every time.
24. Turkey Time:     Winter season is Turkey season.
25. Turkey Stuffing:     It is all about the flavor.
26. Stretchy Pants:    Gotta make room for more food.
27. Pour Some Gravy On Me:    Some people prefer sugar, but they prefer gravy.
28. English Trifle Clan:    Hope they have not taken inspiration from Rachel's Traditional English Trifle.
29. Shut Up And Serve Turkey:    No time for gossiping.
30. Thighs And Chest:     Naughty But Nice.
31. Win Or Lose, We Booze:    That's the spirit.
32. Thanksgiving Pants Clan:    Taking inspiration from the best, Joey Tribbiani.
33. Connectedness:    Gathered together with grateful hearts.
34. Love, Laugh and Eat:    How a thanksgiving should be.
35. Gotta Eat All:    Leftovers are for quitters.
36. The Hot Shots:    Everyone wants this bunch.
37. Tradition Keepers: Keeping The Tradition alive.
38. Only Here For Pie:    At least they are honest about it.
39. Tequila And Turkey:    The perfect combo.
40. Team Spirit And love:    After all, that is what thanksgiving is about, right?
41. Better Dressed:    Looking good is important after all.
42. Grateful:     Thankful & Blessed.
43. Gobble Till We Wobble: Once they start eating, there is no going back.
44. It's All About The Baste:     After all, it is all about taste and moisture.
Guidelines to Create Thanksgiving Team Names
Make your Thanksgiving more fun by creating a name using the following guidelines:
1. Find A Delicious Team Name: What's your favorite part of thanksgiving? I bet it is the food, right?
You know all the mandatory dishes on thanksgiving like pie, turkey, mashed potatoes, and cranberry sauce.
So, why not take inspiration from your favorite meals to create a tasty team name? It will surely make your name look captivating and delicious.
2. Use Humor: Thanksgiving is the most exciting day of the year, so do not go for a serious and formal name. Add humor, and use jokes or puns to bring more excitement to the room.
3. Think About Your Favorite Thanksgiving Memory: Do you have any special word, phrase, or event that is meaningful to you? You can take inspiration from that.
Make sure that the words you choose are related to Thanksgiving.
4. Use Common Interest: Make a list of things that you think are common between you and your team members.
Think about your team members and write down the words that come to your mind. This will help you to create an interesting and memorable team name.
>>>> Read Also:  100+ Star War Team Name Ideas
Conclusion

Thanksgiving is a time to relax and spend quality time with your loved ones. No matter the activity or any event, your team name should be fun and festive to create a fun atmosphere in the room.
After all, Thanksgiving is all about having fun, right? So, make sure to choose a name that brings a smile to everyone's face.
And for that, we believe the above-listed names will come in handy.