Same old boring team names are a past thing. Nowadays, team members in every call center try their best to come up with a name that makes their team stand out among all other teams.
A good team name plays an important role in building a strong and cooperative team. It also reflects the experience, management skills, and personality of the team members.
A team name is the main thing that sets a team apart from other teams.
Call Center Team Names | Professional, Funny, Unique & Creative Call Center Squad Names
Finding a good team name should be teamwork. Everybody should participate in deciding what their team will be called.
But, if you and your team members are confused and having trouble finding some good ideas, then below are a few ideas that you can use.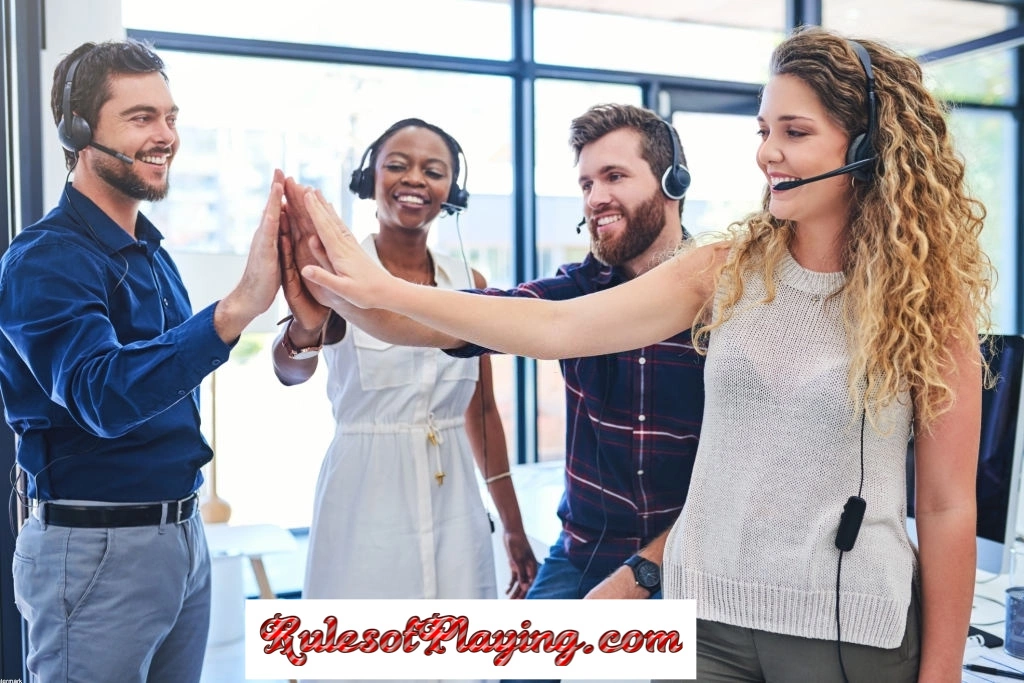 We have tried to write to more than 50 options for you in this list. Feel free to pick any name from this list.
However, if you are interested in creating your team name, then we have also written some guidelines at the end of this article to help you brainstorm some fresh ideas.
Professional Call Center Team Names
Your goal should be to come up with a name that is trendy, professional, catchy, and creative.
Whether you believe it or not, your team name heavily influences customers' perceptions.
A creative and professional team name can make people more likely to build trust in your team. So, here are some creative team name suggestions for you:
Dial It Up.
Clarity Desk.
On The Line.
Query Experts.
At Your Service.
Working Ladies.
Without Interruption.
Problem Solvers.
Non-stop Connection.
Men At Work.
Good Talkers.
Genius Minds At Work.
Reliable Callers.
Customer Care Experts.
Related Post: Powerful Ark Tribe Names Listed
Funny Call Center Team Names
Working in a call center is a tough gig. There is constant workload and pressure.
You might not think of it as a glamorous job, but it is a good way to make a living. However, you can do one thing to make your job environment light and friendly, and that is by choosing a funny name for your team.
A hilarious team name is the best way to lighten up your mood whenever you feel low during a hectic day.
This will not only boost your team's morale but also make their bond stronger. So, here are some hilarious name suggestions for you:
Irrelevant Talkers.
Out Of Service.
Dramatic Geeks.
Brains On Vacation.
The Quackers.
Creepy Callers.
Call Droppers.
Say Again?
The Talking Dead.
Worst Case Scenario Experts.
Confused Lunatics.
Net Surfers.
Poor Connection.
Unique Call Center Team Names
There are so many call center teams around you, but you will see that only some of them are more famous and memorable than others.
That is because their name is unique and epic enough to make their team stand out among others.
If you want a unique team name but can't come up with good ideas, then do not worry because we have done this work for you.
The Wire Theory.
Lost In Calls.
Call Charmers.
Macho Voices.
Call Chronicles.
Callers In Demand.
Game Of Phones.
Unheard Voices.
Call Of Duty.
Mind Ignite.
Cell Wizards.
Chill Zone.
Feedback Forces.
Charming Voices.
Beard Swag.
Lost In Calls.
Good Call Center Team Names
A good team name is the best way to build team morale and unify all people who do not have much experience.
That is why we have listed some good team name suggestions in this list which will not only have a lasting effect on the workplace but also make the team work like a family.
Active Listeners.
Hooked On Calls.
In The Lead.
Smooth Talkers.
Help Desk Heroes.
The Dream Team.
Always Available.
Cell Phone Warriors.
Supportive Squad.
All Ears.
Active Desk.
Support systems.
How to Find Call Center Team Name?
Here are some tips which will help you to create your own team name:
1. Think Inspiration From Your Company:  Think about the terms and rules of your company. Think about your workplace and use terms related to your job.
2. Think About Your Team Members:  What comes to your mind when you think about your team members? What is their personality?
Are they all late comers? Are they all jolly? What is the common thing in all members? Make a list of all the words that come to our minds after thinking of these questions.
This will help you to come up with a unique team name.
3. Do Not Use Inappropriate Words:  Your call center team name should be appropriate and professional.
You can also use some light humor to bring a positive attitude to work but make sure that your humor should not cross lines.
4. Take Suggestions From Your Team Members:  A brainstorming session with your team members is a good way to get unique and different ideas.
This way, your team members will also feel valued and honored.
Related Post: Unique Research Group Names For You!
Conclusion

Your team name is your first impression. It can make or break the impression of your team. That is why we made sure to write unique and best suggestions for you.
We hope that these lists will help you to decide on a unique name for your team. Feel free to choose any name that suits your team.