Bowling is the most played and admired game. You can play this game individually too but there is no fun in that. You enjoy the game more when you play it in a team.
Now tell me, what fun is a bowling game without a funny team name? A team name is as important as your practice for bowling.
Your name should be hilarious enough to make everyone in the room smile when it is shown to screen.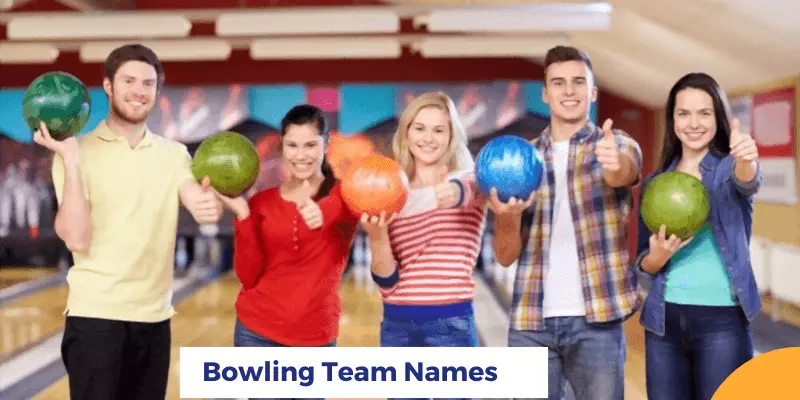 The only that will differentiate your team from others is your sense of humor and your creativity in your name.
That is why we have listed some of the funniest suggestions for you that will not only make you laugh but even your opponent too.
Also, if you are interested in creating your own team name to show your creativity, then read the guidelines at the end of this article; these tips will surely help you to create a hilarious team name.
Funny Bowling Team Names For You

The best way to make your name more amazing than others is to choose a funny team name.
Choosing a funny team name not only shows how creative and intelligent you are, but it also makes everyone smile.
So, here is the list of funniest team names that will make your funny bone tickle:
1. Can't believe it is not gutter:    They still can't believe that they hit in the right direction.
2. Not meant for this:    Clearly, bowling is not their thing.
3. Noobs and Nerds:    This is surely not their place.
4. Hard Luck Today:    Not just today. Luck is not in their favor since God knows how many matches.
5. Evil Force:    Expect Evilness from them.
6. Born to lose:    Applause on their consistency.
7. Strategic Failures:    No matter how much they try, they always end up losing.
8. Boone and Snooze:    The only two priorities in their life…and sadly, bowling is not either of them.
9. Elf Bowling:    A group of short people.
10. Gutter gang:    They have to learn a lot.
11. We love to cheat:    At least they are honest.
12. Gutterlicious:    Landing in gutters…with confidence.
13. Split Personality disorder:    So sorry to hear about that.
14. We have got balls:    Their team name says it all.
15. Gutterballs:    Even the other team will be sorry for you.
16. Misrabowl team:    A group of dejected people.
17. We came, We bowled, We lost:  Extra points for playing honestly, though.
18. A league of extraordinary losers:    Experts of losing every game.
19. Incrediballs:    Classy and amazing.
20. Screaming Ninjas:    You should better get out of their way.
Related Post: Powerful Softball Team Names For Your Squad!
Best Awesome Throwball Team Names
You might think that all the best bowling team names are taken out! Nope! we have taken the pain for you and have found the bowling team names on screen that are yet to be taken!
21. Got Balls?:    Yeah, tell me about it.
22. Benchwarmers:    Just here to sit and gossip about everyone there.
23. Missed Strikers:  Not enough trained to make a perfect shot.
24. A team of Disasters:    Their team does nothing except create chaos in the Bowling Arena.
25. The Jesus Rolls:    Everyone is envious of how precisely they knock down all pins on the first roll.
26. The Bowl Job:    You can tell; they are pretty good at this.
27. We don't give a split about this:  Never going to worry about winning,
28. Drunken Warriors:    Their bodies just cannot work without drinking.
29. Irritable Bowl Syndrome:    You will see a lot of running toward the bathroom.
30. Wasted Potential:    Lack of motivation and determination.
Powerful Bowling Team Names Ideas
Take a look at these only left powerful names for your bowling teams! These names stand for victory on your side!
31. Drop and Shock:    Shocking all those watching.
32. Three holes going to strike:  Go for it.
33. They see us bowlin', they hating':    Kill them with your game style and bury them with a smile.
34. Team Cheaters:    If it does not get caught, it is not cheating.
35. Furious Balls:  Some very angry balls.
Good Bowling Team Names Suggestions
The best and most popular name makes your team noticeable. A crazy, raunchy and creative bowling team name makes your team play for the victory.
Take a name that might sound silly, weird, or common but make it perfect and professional
36. Gutter Ball Genius:    They love to throw balls in gutters a little too much.
37. Pinsanity:    They just came back from a mental asylum.
38. Just Practicing:    Not ready to face real challenges yet.
39. Bowlers never die:    Yeah, they just end up in gutters.
40. Clever cheaters:    If it doesn't get caught, it is not cheating.
41. Bruised Rollers:    This team won't look the same after trying so hard to score.
42. Who lets the bowls out?: No idea, who, by the way?
43. Un-bowl-ievable Strikers: It's amazing to see their performance.
44. Split Ends:    You need a hairdresser urgently.
45. Gutter gang:    Their balls find their way to the gutter.
46. Anonymous idiots:    Yeah, it is better to stay anonymous with this name.
47. Pint-sized Pinsters:    For petite group.
48. Who Gives a Split?:    We do, we do.
50. Rock and roll:  They know how to strike with swag.
Related Post: Powerful Throwball Team Names that You Must Read!
Cool Creative Bowling Team Names Suggestion
If you wanna play cool and want the victory on your side? Play with cute, great, catchy, and inspiring bowling team names.
These names would add spice in your team's spirit, elevate it and make you play like a pro.
51. Striking PINomena:  They have an impressive record in bowling.
52. Funky Strikers:    Their striking technique is quirky like theirs.
53. Leave  no pin standing:  Not gonna rest until they hit all those pins.
54. Untidy Bowlers:  No place for them.
55. 99 problems and bowling is one of them:  You can do nothing for them except feel sorry.
56. Absolute Zero:  Their score on screen remains the same before and after the game.
57. My ball is in the gutter:    Should we feel sorry for them?
58. Mean machines:  They do not mind playing unfair too.
59. Bar after bowl:  Their today's schedule.
60. Gutter Cleaners:  A good time to clean the gutters.
61. Pin Heads: It's funny how they have so many strategies in their little mind.
62. Chatterboxes on roll:    They just love to gossip all the time.
Badass Bowling Team Names For Boys & Girls
Ever looked for bowling team names that are badass? Yes! a badass name stands for power. A wonderful, powerful team name is what you must have for winning!
63. I'm lost in Istanbowl:    A wordplay on the song "I'm lost in Istanbul".
64. Pin Drop Silence:  Because the pros are here.
65. No Lane, No Gain:    Who let these noobs play?
66. Three Hole Wonders:  How they should be playing.
67. That's how we roll:    Yeah, watch and learn.
68. Dropped Bowls:  They really can't help themselves.
69. Team Bloopers:    Watching them play is no less than a comedy show.
70. Chasing the balls:  Poor souls trying hard to make a shot.
71. Nutter Gutter:  They love to strike balls in the gutter.
72. ROLLing on the floor laughing:    Everyone is, after seeing their performance.
73. Hit and Pray:    The only strategy left now.
Guidelines; How to Have Your Own Bowling Team Name?
We know team names are very important in order to represent your team in a unique way.
Creating a funny team name is the best option you can choose for your team. If you also want to create your team name by yourself, then do not worry about that.
Creating a funny team name is very easy. Just read these guidelines to get clear if you have any questions.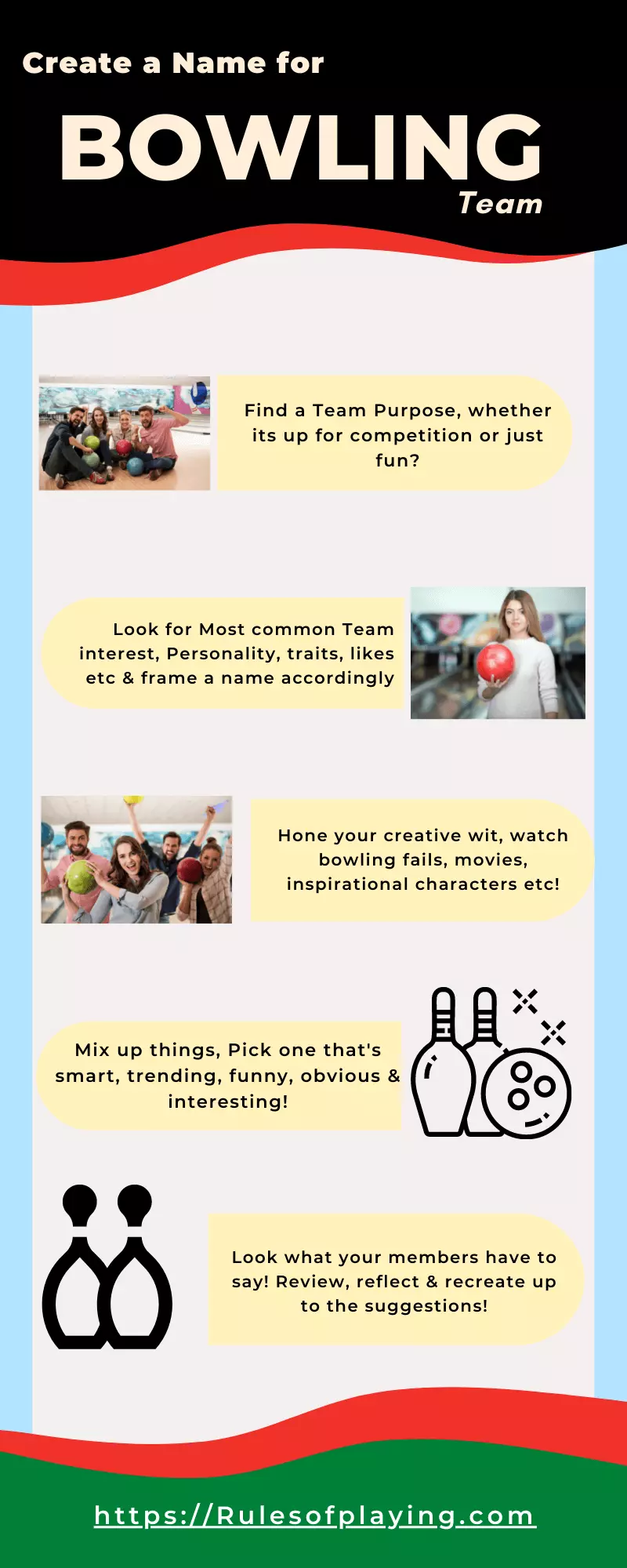 1. Purpose of Team:  Choose a name according to the scenario. Is your team going to a competition, or is it just a fun team game with your friends? Create your name according to that.
2. Character of Team Member:  Look at your team members and think about what is common in them. You can choose a name according to the personality of your team members,
For example, if most of the players in your team are new, then you can go with the name "The Mighty Noobs" or something more like it.
3. Watch hilarious Bowling Fails:  Do you have any epic memory of your friends when you all were bowling?
You must add that in your team's name too. In this advanced time, where everyone loves to make stories, you must have a hilarious video or memory of your friends.
These memories will become an inspiration for you to choose a name.
4. Take Suggestions from Friends:  Taking suggestions from your friends is the best way of brainstorming.
You can always talk about these things over dinner or a drink -Trust me, Drunken ideas are the best ideas.
Also Read: Tetherball Rules & Regulation | How to Play
Conclusion
Bowling is a fun game, and a hilarious team name adds more fun to it.
That is why choose your team name wisely because your name should look unique and funniest among the rest when displayed on the screen.
Also, if you create your own team name, then do not forget to share it with us too.