The Fortnite Clan Name, whatever you choose, should be short (three or four letters), famous or clever.
As Fortnite mission is to kill all your antagonists and survive till the end to win it. A powerful, battle-inspired Fortnite clan Name helps you to survive the game and reach the leading rank.
The best way to stand out among other competitors is to choose a funny and unique name that will not only make your team interesting but also make your team shine among others.
If you want to create a name by yourself, then do not forget to check our guidelines too below the list.
Fortnite Clan Names Ideas | List of Names
Sometimes, it gets difficult for every member to come up with a perfect clan name. They cannot decide what name is best for their clan.
If you are also having the same confusion and looking for the best, cool, funny, and unique Fortnite clan names, then you are in the right place.
We have arranged a huge collection of names for you to choose from.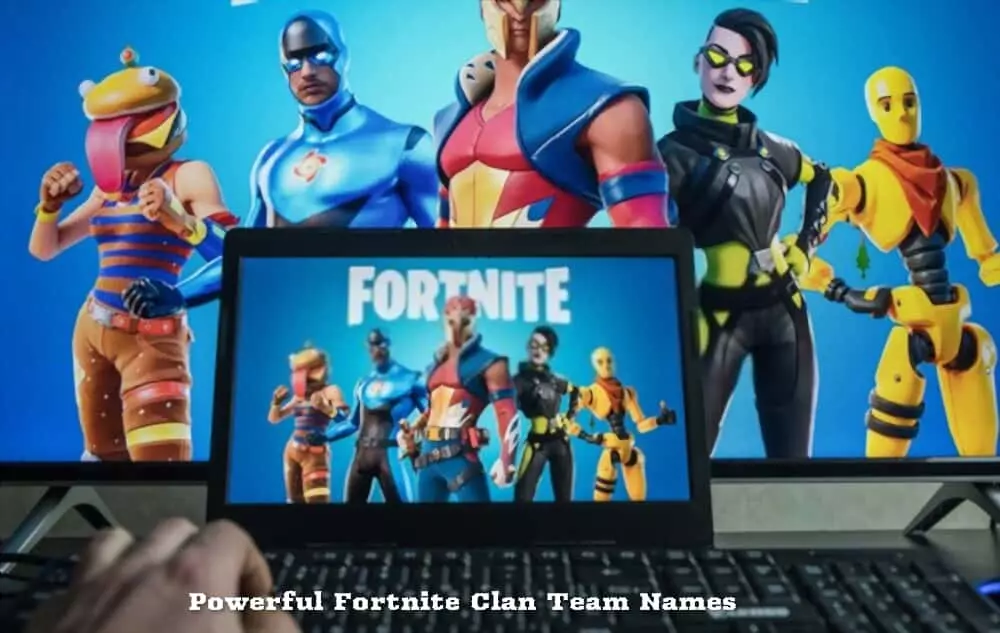 Funny Fortnite Clan Names
Everyone remembers a clan that has a humorous and epic name. If your clan name is funny, then you automatically gain the attention of the audience.
That is why we have arranged a list of funny team names for you to help you in your decision-making:
1. Crack Heads: They are a wild, crazy, and constant source of entertainment)
2. Freaksters:  Nothing is normal about their clan
3. Punners & Gunners:  They will destroy your team with their minds and skills
4. Nerds Herd:  It would be a foolish decision to judge them by their name
5. Drunken Killers:  Good way to deceive the opponent
6. Bot killers:  They prefer to land on the safe side and kill bots to survive till the end. Kind of a smart move, no?
7. Assaulters:  Shoot down all opponents
8. Nameless Clan:  What is in the name, right?
9. Cereal Killers:  Psychopaths with humor
10. Abusement Park:  Oooopss! They believe in violence
11. Mean Looters:  They won't even spare your clothes
12. Legendary Noobs:  A good name to make your opponent believe that you know nothing about the game
13. Hideous Thugs:  Beware of these looters
14. Famous Noobs:  They want to deceive their opponents with this name
15. Braindead Zombies:  They are highly motivated to kill their opponents, and it is hard to kill them
Related Post: Powerful Viking Clan Names For Your Squad
Three Letter Clan Names
16. The Fab Clan:  Too fabulous to lose
17. The Game Changers: The game will not be the same after their entry
18. The Trouble Makers:  You can expect anything in this game
19. The Smartest Squad:  They are really smart
20. Hide & Seek Lovers:  They prefer to play defensively. As we know, slow and steady wins the race, right?
21. What's in the name?:  After all, choosing a team name is mainstream for them
22. Hunks and Punks:  They are going to steal this show
23. The Chosen Ones:  They are confident enough that they will win
24. Eye For An Eye:  They will cause their opponents to suffer more
25. The Ultimate Champions:  They know nothing except winning
26. Kung Fu Killers:  This clan is the real deal and known for trickery and quickness
27. The Deadly Shooters:  They will not miss their shot
28. Expect No Mercy:  They will hunt you down surely and hurt you without any pity
29. Gods of Undead:  Getting rid of them won't be easy
30. Shot shooters:  They believe in killing their target in one shot
31. Legends of Risks:  Not afraid to try new strategies and moves
32. The Walkie-Talkies:  They love to gossip during the game
33. Devils of Destruction:  They are going to create chaos in the game
34. Your Worst Nightmares:  They will even stalk you in your dreams
Four Letters Powerful Fortnite Clan Names
Following are the shortlisted Four lettered Fortnite Clans Names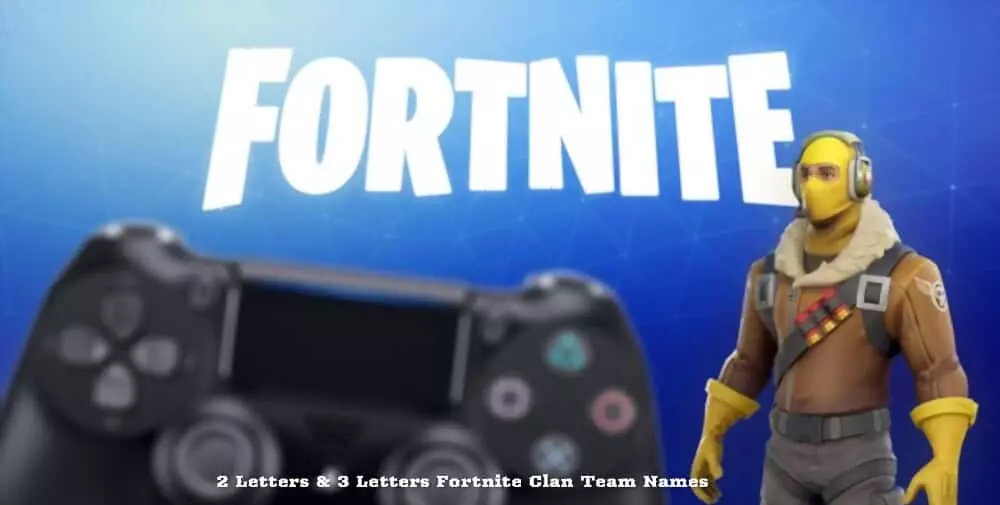 35. Champions of Seven Seas:  Definitely going to terrify their opponents with
36. Lords of the game:  They have every skill to win the game
37. Kill, Steal, No deal:  Killing their opponent is a piece of cake for them
38. The Fault in our Clan:  Maybe, they have some trust issues in their clan
39. Bad boys Squad:  They do not follow any rules
40. Win or lose, We still booze:  They are just here for fun and no violence
41. Kings of this game:  They already consider their team as winners
42. In it To Win it:  They are going to ace the game
Related Post: 100+ Space Themed Team Names For Your Squad
Cool Fortnite Clan Names
Try these cool clan names to show everyone that you are not just strong but cool and smart too:
43. A plus team:  They do not consider any grade less than A to be perfect
44. Awesome Blossom:  They are proud of their clan
45. Drastic Bombastic:  They are fully confident about winning the game
46. Game Gurus:  The pros of the game are here
47. Elite Warriors:  They are the boss of this game
48. Clueless Killers:  They do not have any idea about what is going on OR maybe that is what they pretend to be
49. The Charmers:  They know how to get what they want
50. Slay & Flay:  They slay when they play
51. Victorious Secret:  They know how to play dirty
52. Frontline Warriors:  They will always lead in any fight
53. Clan Breakers:  Keep your clan away from these guys
54. The Players:  They are legends of this game)
55. Sharp Knives:  They are the fastest and sharpest killers
56. The Slayers:  They slay when they play
57. Rogue Players:  They do not play according to the rules
58. Riot Makers:  They love to create troubles
59. Wild Hunters:  They will definitely hunt you down
60. Wrecking Masters:  The game is now about to get wild
Powerful Fortnite Clan Names
If you are looking for powerful and strong clan names to show your opponent how tough your team is, then this is your place:
61. Beastly Killers:  They are strong enough to wipe your clan out
62. Strategy makers:  They make the best plans
63. The Assassinators:  They want you to know that they are the toughest among others
64. Clan Busters:  Warriors that are highly motivated to get rid of their opponents
65. No regrets:  Their name implies that they do not care about anything
66. Indefatigable Kings:  They do not like to lose
67. The Dream Team:  Everyone will wish to have such a coordinated team
68. Alpha Clan:  The top clan of the game
69. The Defenders:  They know how to protect their clan
70. Anonymous Boys:  They do not believe in a perfect name. They are just here to win
71. Desperate Killers:  They will do anything to win the game
72. The raging vultures:  They will not leave the side of their opponent until he is dead
73. Mission Impossible:  They are not afraid to take any risks
74. The Captivators: Their gaming skills and strategies will hold your attention for a long time
75. Precise Archers:  For those who make accurate shots with bows and arrows
76. The Unstoppables:  You cannot compete with them
77. Immortal Lords: They are confident that no one is smart enough to kill them
78. Brutal Hitters: They know how to get things done their way
79. Evil Dead:  Inspired by the horror movie name
80. Insane Shooters:  You cannot run away from their shot
81. Deadly Warriors:  You should not mess with them
82. Head Shooters:  They aim straight for the head and prefer to kill their opponents in a single shot
83. Suicide Squad:  They are not afraid of anyone
84. No Sympathy:  Expect no mercy from them
85. The Eliminators:  A clan name that says it all
86. Incredible Knights:  They are too good as a clan
87. Night Owls:  They probably spend all their time playing games at night
88. Wild Walkers:  You cannot kill them easily
89. The X-men:  Every member of their clan has unique qualities
90. Daredevils:  Recklessly Daring
91. Swag Mafia:  They have bold self-assurance about their game
92. Merciless Shooters:  They will shoot you without a blink
93. The Dominators: They do not just play game; they dominate it
94. Fiery Beasts:  They have some real team spirit
95. Ninja Assassins:  You should think twice before competing with them
96. Risk Takers:  They are not afraid of challenges
97. Frenzy Shooters:  They will kill you without a blink
98. The Phantoms:  You won't even see them before dying
99. Sniping Lords:  They are trained to kill their opponents from a great distance
100. Dead shots:  They never miss their target
101. Frightful players:  Their name itself is terrifying for the enemies
102. Noobs Clan:  They want you to think that they are new in this game. However, do not judge them by this name
103. Death Machines:  This clan shows mercy to no one
104. Head Shooters:  They love headshots
105. Gun Lords:  They are good with guns and aims
106. Sniping Master:  They do not miss their shot
107. Raging Dragons:  They are furious toward their opponents
108. Uprising Rivals:  The clan your friends warned you about
109. Raging Bulls:  Get ready to fight with the strongest and toughest clan
110. Merciless Shooters:  Think Twice before messing with them
111. Dark Spirits:  They leave no side uncovered and attack from all sides
112. FAB:  Furious Assassin Battalion.
113. Ak47 Clan:  They are masters of guns
114. Upper-Class Assassins:  Elite Shooters
115. Desperado:  They are desperate to win
Similar Post: Best Fire Team Names for Your Squad!
Creative Clan Names
Here are some creative clan names to show everyone how smart your team is:
116. Legendary Noobs:  Nice trick to confuse the opponent clans
117. Unusual Killers:  They know how to kill their opponent in unusual ways
118. FNE:  Fear no Evil.
119. Clueless Shooters:  They want to make you believe that they are not good with shooting
120. Wretched Rebels:  Team of legendary Fortnite players
121. Death Machines:  They destroy everything wherever they go
122. Organic Punks:  They are skilled in explosives
123. Firecrackers:  They are going to explode in the game
124. Radical Terrors:  They are known for ensuing terror in their opponent's mind.
124. The Smart Clan:  They are really smart
125. Insane Shooters:  They will not stop until all the opponent team is dead
126. Null Gang:  Do not consider them weak
127. High Voltage:  Highly dangerous for your clan
128. Total Blockers:  Beware, they will block your chance of winning
129. Wolf Gang:  Strongest clan
130. Killing Pros:  They are professionals in this game
131. Toxic Crew:  They are harmful to your clan
132. Thy Plague:  They will wipe out their opponents like an infectious disease; pretty terrifying, no?
133. Psychic Ward:  Group of all ill-headed people
134. Ruthless Souls:  No pity for opposition
135. Punny Team:  You can expect a lot of puns from their clan
136. The Swarm:  They move into the team
137. Corrupters:  They will win the game by hook or by crook
138. Strategy Makers:  They have the best strategies to win the title
139. Badass Hunters:  They are coming for you)
140. Your Executioners:  They pile up dead bodies wherever they go
141. Thunder Beasts:  Definitely a threat to opponent clans
142. Team Rebels:  Fighting them will be difficult
143. Ghost Riders:  They have supernatural powers when it comes to killing and deceiving the opponent
144. Genius Hunters:  They know how to play and win by techniques
145. Black Shooters:  They seem pretty dangerous
146. Sniping Gladiators:  No one can beat them when it comes to perfect timing
147. Grim Leaders:  They are very serious about winning and getting a lead in rank
148. Fusion Bombs:  Highly energetic to win
149. We Never lose:  Because the other team does
150. The Nerdies:  They are not just good in-game but in studies too
151. Immortal Souls:  Who can kill a soul, right?
152. The untamed ones:  No one tells them what to do
153. The Savages:  Brutal killers
154. Revolutionary Knights:  They will bring a change in-game with their skills
155. Masters Blasters:  They will give you a tough competition
156. The Godfathers:  Give this team the utmost respect
157. Masters Blasters:  They are experts in making a way out through all obstacles
158. Madly Insane:  They are mad to win
159. The Professors:  They are the masterminds of this game
160. The Wanderers:  They are just here for fun
161. The Underdogs:  Do not underestimate them
162. Freaky Fighters:  They have every skill to win the game
163. Your Stalkers:  They will follow you until you are dead
164. Destructive Gangsters:  They will destroy every opponent in their path
165. Blood Bashers:  You will not be able to run too far if they are your enemy
Badass Clan Names
Here are some badass clan names because of which your opponent will definitely think twice before playing with you: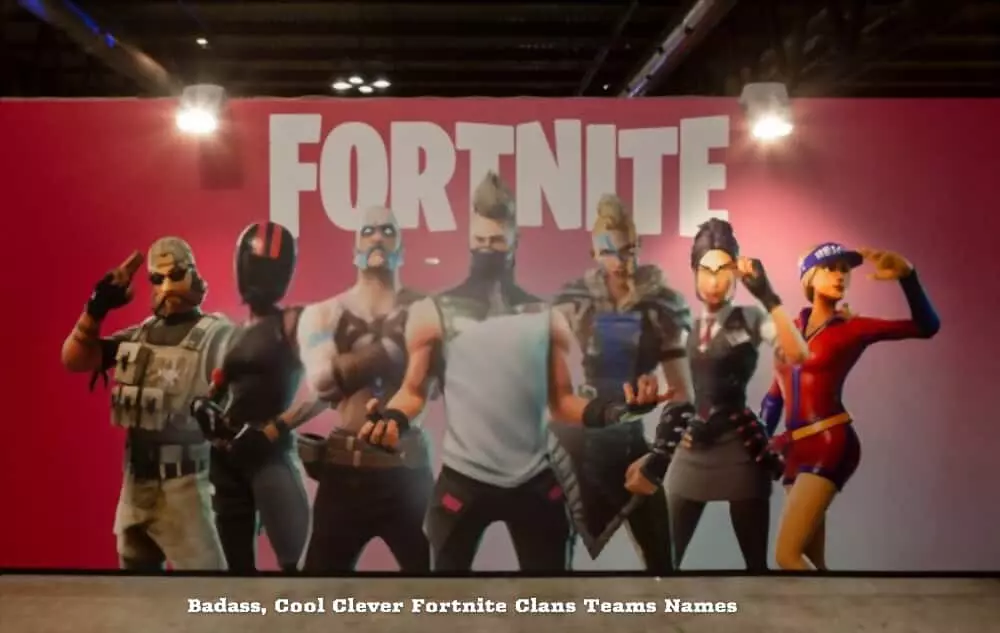 166. Clan Crushers:  Pretty much terrifying
167. The Perfectionists:  No one is better than them
168. The Whisperers:  They are skilled and trained in this game
169. Shadow Hunters:  They are going to hunt your team
170. Furious Fighters:  You should be scared of playing with them
171. The Avengers:  No one can get away after wronging them
172. Headshots Only:  They only prefer headshots
173. Gun Mafia:  They are good with guns
174. Mindless clan:  They do not know any strategies, or maybe that's what they want you to believe
175. Unleashed Predators:  Their clan is going to massacre their enemies
176. Wild Wreckers:  If you want something to be destroyed, then ask these guys
177. Raging Stabbers:  Do not try to beat them, just run
178. Silent Commandos:  Their actions speak louder than words
179. Already a Winner:  They have already considered their clan to be winners
180. Chaotic Crew:  Get ready for disorder in the game
181. No.1 Strikers: They know how to make the finishing move
182. Bounty Hunters: They are coming for you
183. End Game: The game won't last too long if their clan is involved in the game
184. Peak Performers:  They surely know how to maintain the best performance
185. Fast and Furious: They know how to keep pace in the game
186. Raging Alphas: Everyone should think twice before messing with them
187. Rule Breakers:  What are rules? They do not need rules
188. The Unknowns: They focus more on the game than a team name
189. The Undefeatable:  They are definitely here to win)
190. Mean Clan:  No one is meaner than their clan
191. Smokey Clan:  They are uncatchable. Who can catch a smoke, right?
192. Fearless Beasts:  They are not afraid of any opponent
193. The Exterminators:  They will destroy everything in their path toward winning
194. The Loners:  They avoid interaction with anyone
195. The Reapers:  The last clan their opponent will see before getting killed by them
196. United Warriors:  Their unity is their strength
197. The Conquerors:  Nothing is difficult for them
198. The Storm Bringers:  They are here to destroy the peace of the game
Guidelines on how to Create Your Own Fortnite Clan Name?
If you are still confused or want to create a clan name by yourself, then it is very easy.
After all, coming up with an original name with your creativity is much more interesting than searching the internet to find a name.
Just follow these tips to get ideas, and we are sure that you will definitely come up with an epic name for your clan: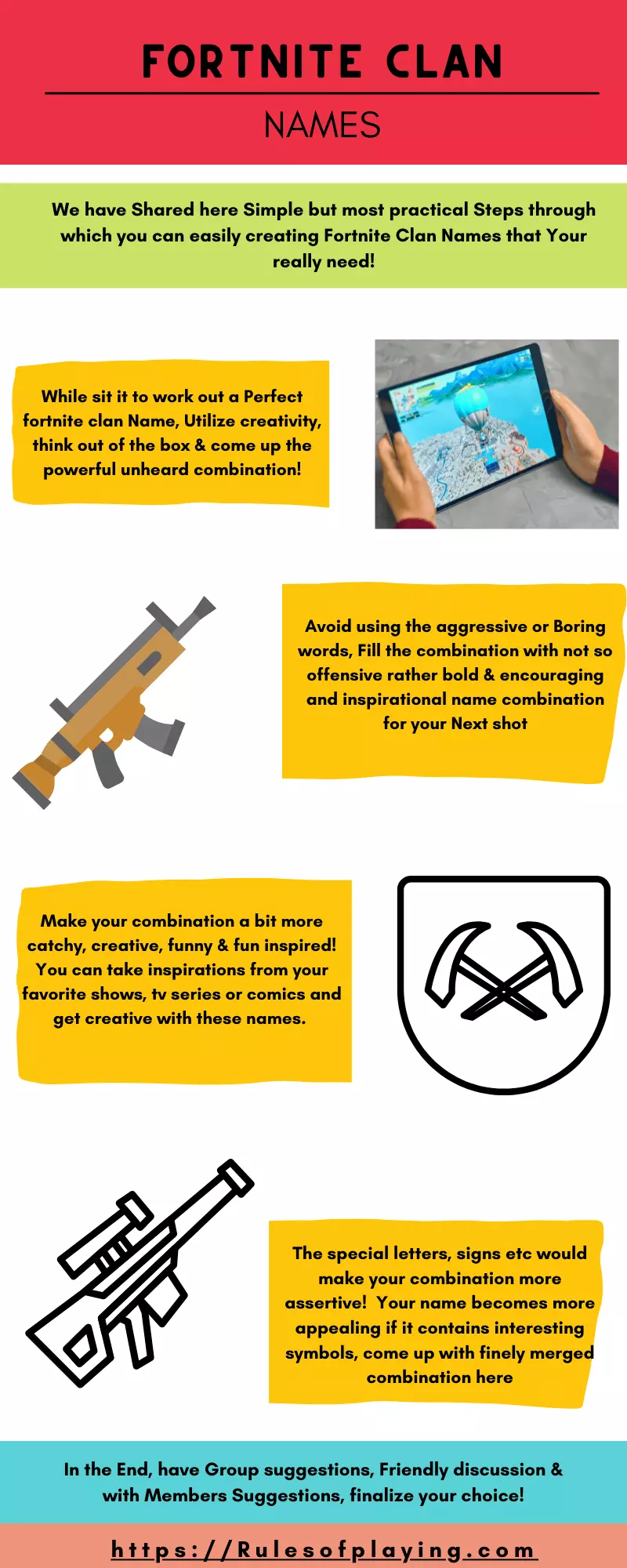 1. Keep Creativity in Your Mind:  When it comes to a perfect clan name, be as creative as you can.
Think outside the box because you need a name that is different and interesting from other clans.
If you have a unique name, then it will automatically get easier for you to gain the attention of other people to join your clan.
2. Don't Go for Aggressive & Boring Name:  Do not choose words that are boring or offensive in any way.
No one will encourage your clan if you have a dull or boring name. Also, do not add words that are offensive to any gender, religion, or race.
3. Add humor or Pun:  You can add inside jokes or puns to make it catchy. You can take inspiration from your favorite shows, tv series, or comics and get creative with these names.
You can also merge these names or alter them into something funny and unique.
4. Use Special Symbols:  You can add special symbols or letters to make your name more catchy and more interesting than the rest of the clans.
Your name becomes more appealing if it contains interesting symbols. Do not forget to take advice from your clan members too.
Make a list of names and consult your members about it. Who knows, they might have the best suggestions too?
Conclusion
Fortnite is an amazing multiplayer game that has engaged every gamer around the world.
If you are also addicted to this game, and you have a clan, but you are out of ideas, then we believe that this article will surely help you out.