Cheerleading is the most fun activity that signifies sports spirit and excitement. You can maximize it with a wonderful selection of Cheer team names!
The best name should itself inspire the cheer and valor in the team.
It is one of the most essential extracurricular activities in high schools and colleges. It is the best part of the sport.
Cheerleaders do not care about any dangers, and they risk their lives just to entertain the audience.
It is more than a sport, and that is why cheerleaders should have a unique and interesting name that makes their team stand out in the crowd.
If you are also in a cheerleading name and searching for options, then you are at the right place. We know how hectic the practice for cheerleading is.
That is why we tried to share your burden by sharing some suggestions in this list. We hope that you will like them.
List of Cheer Team Names with Meaning [ Cool, Creative, Competitive, Funny ]



We have arranged a list of cool team names, funny team names, and best team names that you are definitely going to like.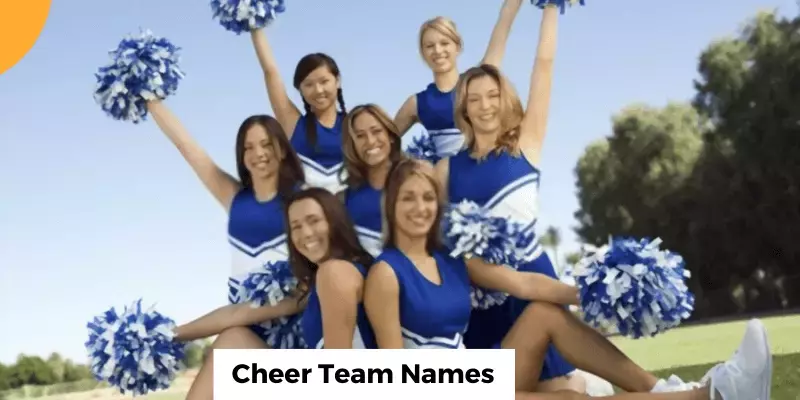 Creative & Cool Cheer Team Names
Here is the list of cool team names to entertain the spectators and elevate your team's spirit:
1. Too glam to give a damn:    Too smart, pretty, stylish, and thriving to care about any negativity.
2. Ponytails:  A cute name for a group of girls who prefer a ponytail hairstyle.
3. Bring it on:    Yeah, let's see what you got.
4. Wildcats:    Get ready to see some real crazy performance.
5. Heavy Steppers:   If cheerleading was easy, it would be called soccer. No offense!
6. Bouncing souls:    If other people cannot match their bar, then they will bounce them right out of the competition.
7. The Savage and The Average:    Clearly, they are savage, and others are average.
8. Let's get loud:  Yeah, scream loud to excite the crowd.
9. Elite Club:    A good name to show your opponent what they are up against.
10. Rock n Roll:  Seeing them perform is another treat to the eyes.
11. You can't sit with us:  Too smart for other teams.
12. Fired Up:    Enough to defeat other teams.
13. The Chosen Ones:  Time to show everyone why they are the best.
14. The Fearless:    Not afraid of any stunt.
Funny Cheer Team Names
Cheerleading is a fun sport, and there are so many ways that you can make it more fun one of them is by choosing a hilarious team name that will not only make your team members smile.
But also make you look the best among others. So, here is the list of funny cheer team names:
15. Dancing clowns:    Their performance is no less than a comedy show.
16. Not Last Position:    It is fine as long as they are not the worst team.
17. Short Cuts:  If the girls of this group are petite, then this is a fun option to go with.
18. Sore Sisters:    Even though their muscles are sore, cheerleading is worth it.
19. Gold Diggers:    At least they are honest about it.
20. Lit' Moves:    Because their performance is on fire.
21. Wasted Potential:  They have got the spirit but not the stamina.
22. Smooth Disasters:  Everyone should definitely watch out for this team.
23. Dropping Bombs:    With their performance.
24. All Pain, No gain:    Clearly, cheerleading is not their thing.
25. We showed up:  Applause for them.
26. Baby Got Back:   Ready to rock the stage with their moves.
27. Screaming Divas:  Everyone, get out of their way.
28. Sisters Before Misters:    They got each other's back.
Related Post: Best Funny Bowling Team Names
Best Competition Cheer Team Names
Here is the list of best cheer team names that will definitely make you the star of the show and make you the center of attraction in the crowd:
29. Twist & Shout:    And get loud.
30. Starstruck steppers:    Because it is not about winning the game, it is about winning the hearts with your performance.
31. Cheer all out:    Or just don't cheer at all.
32. Dancing Divas:    Cheerleading Goddesses.
33. Sparklers:   Their sparkling performance lights up the whole ground.
34. Fusion gang:    A team with a mixture of different styles, dance moves, fashion, and creativity.
35. Beat the Heat:  Bringing the heat and spark to competition.
36. Sun Dolls:    A cute name.
37. Slay all day:    They know how to slay with their performance.
38. The Wild Bunch:   This team name will stick to the opponent's mind forever.
39. Poms to the rescue:    To cheer up the whole crowd.
40. Raising the bar:    Too high for other teams.
41. Rhythmic Thunders:    Watch out for this team.
Related Post: Creative & Powerful Dart Team Names
How to Create Your Own Cheer Team Name
Cheerleading is a very fun sport, and it becomes more interesting if you have a catchy and appealing name.
That is why we have listed some tips for you. These tips will help you to create your own team name.
You might think it is a difficult thing to generate so many names and then come up with a perfect one.
Trust me, it is not. In fact, creating your team name is a much more fun and best option because no one knows your team better than you.
Just read these tips, and you will get ideas with every point:
Use Words with Uplifting Meaning

Use words that have uplifting meanings to cheer up everyone in the crowd. You can start by listing all the motivating words.
You can also search for their synonyms to get a wide range of ideas.
Find Words that describe Your Team in a Good Way.
Use words that describe your team. Think about what is common in the nature of your team members. Are you all sarcastic and jolly?
Is everyone in your group lazy? Does everyone in your group forget their moves easily? What are your team's strengths and weaknesses?
Think about all these things and start writing words that come to your mind when you think about your team.
Merge Words
You can always merge words to make them sound more interesting. Use rhythmic words to make your name more interesting.
You can always choose the best puns and merge them with words to make a hilarious team name.
Feedback from Team Members
Do not forget to take suggestions from your gal pals. After all, there is no point in searching for a name and not taking suggestions from your friends about it.
After suggestions, finalize the name approved by everyone.
Related Post: Funny Black Team Names reinvented!
Conclusion

Cheerleading is a very athletic sport. Even if you do not succeed, just think about how many people you actually made smile today.
The smile and encouragement of spectators are worth any medal or prize.
With these names, we believe that you will surely raise the bar high for other teams.