Gold is a very powerful, stronger, and wealthy color. A Gold team name is surely an appeal and advantage over the competitor!
There are so many words that you can merge with gold color to create a unique and interesting name.
However, we understand that it gets difficult for people to come up with perfect team names because of a lack of time.
We know there are hundreds of options available on the internet, but most of the time, you do not know the meaning of those words and how perfectly they match your team's personality.
You do not know whether these words or ideas go perfect with your 'Gold' theme or not.
Keeping these things in mind, we have arranged a list of unique gold team names, and we are sure that you will definitely find a name here that suits your team perfectly.
Gold Team Names  | God Nicknames | Cool Creative other Names for Golden Teams

We have arranged a list of Creative team names, Cool team names, and Best team names that you are definitely going to love;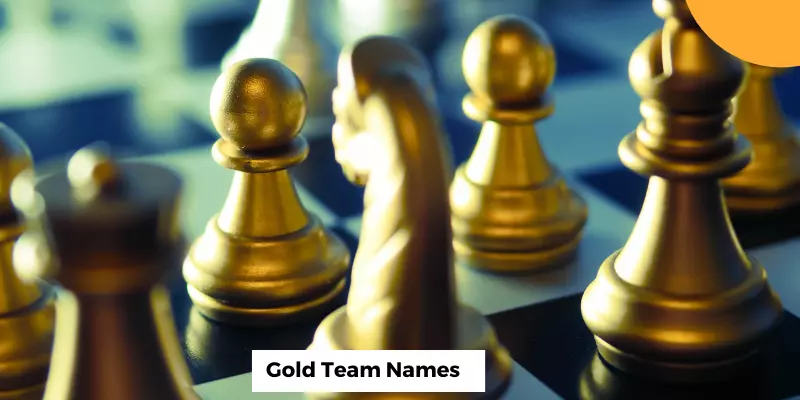 Creative Gold Team Names
Here is the list of creative ideas and the best way to show your team's creativity and smartness:
1. Gold Standard:    Always set a bar with their performance.
2. The Gold pack:    everyone is unique in this group.
3. Goldstreet Boys:    Forget about Backstreet boys; the gold street boys are way smarter.
4. Gold in Style:    This is the trendiest team out there.
5. Gold Diggers: At least they are honest about it.
6. The Golden Bears:    Everyone just wants to hug them.
7. Gold Riders:    For a team who loves bikes……and gold.
8. One Goal: Make Gold: Their goals are pretty much simple and clear.
9. Gold Attack:    The will make history.
10. OMG-Oh My Gold!
11. Golden Swag:    They have just one aim, swag!
12. Chitty Chitty Gold Gold:    A wordplay on Chitty Chitty Bang Bang.
Related Post: Best Cycling Team Names Yet to be Taken!
Cool Gold Team Names | Gold Nicknames

Here is the list of some cool gold team names that will show everyone how smart and fun your team is:
13. Gold Experts:    No one does better business than these guys.
14. The Golden Rage:    Won't be a good idea to make these guys angry.
15. The Gold Club:    They shine wherever they go.
16. Every cloud has a golden lining: According to them.
17. Gold Spirit:    Always in high spirits.
18. Gold-dipped roses: Too cool and delicate.
19. Groovy in Gold:    Fashionable and exciting.
20. Stay Golden: They always give their best and make their mark in everyone's mind.
21. The Golden Magic: And Damn good at this.
22. Golden Girls:    They have unique skills and talents better than their opponent.
23. Chasing the Gold: Just like Chasing the dreams.
24. Gold Rush:    No time to waste.
25. Gold Lads: Funky Fellas.
26. The GoldFathers: The most honorable of all times.
27. Golden Massacre:    They slay when they play.
Best Gold Team Names | Names associated with Gold

Here is the list of best team names that are perfect for any group, and they will surely make your group look the best too:
28. Gold Synergy:   They are always in sync with each other.
29. Golden Folks:   A  team that has known each other for so long.
30. Golden Warriors:    Do not get in the way of this team.
31. Gold to Go: All set to win.
32. Golden Hearts:    The bravest and the kindest.
33. Golden Eggs: They are powerful and lucky enough to ace every task.
34. Golden Eagles: They rise high above us all.
35. Bold in Gold:    Making golden color look cool again.
36. The Gold Force: For them, it is the only way to get things done.
37. Going for the Gold: They love gold a little too much.
38. Golden Gliders: Not afraid of any risk.
39. Gold-Unit: Always giving their best.
40. Golden Lifestyle:    The best lifestyle.
41. 24 Karat Gold: This team is worthy of winning.
42. Golden hawks: They have sharp and focused strategies.
43. Golden Knights:    Not the smartest decision to mess with this team.
Related Post: Funny Water Wars Team Name Ideas
How to Create Gold Team Name?
Creating your own team name is a piece of cake. Just follow these tips in case of any confusion.
After reading these tips, we are sure that you will create your team name in no time.
Take Inspiration from Things that are Golden in Color
There are so many things around us that are golden in color.
Instead of using gold words, you can also use things that are golden in color. For example, Sunflowers, Gold nuggets, etc.
Merge the Word Gold with Different things
You can merge the word 'gold' with so many different animals and objects to create a unique and different name.
For Example, The Golden Eagles, The Gold Force, Golden Hawks, etc. It will not only make your team the dominant one on the ground but also show your opponent that you are not an easy target.
Use famous Proverbs, quotes, or Songs.
If you think with more focus, you will remember that there are so many quotes that we use in our daily life that include the word 'Gold'.
For example, 'Stay Gold' or 'You are worth more than gold.
Also, there are so many songs to take inspiration from, like 'Field of Gold' by Eva and 'Gold Digger' by Kanye West.
You can take inspiration from all these things to come up with unique ideas.
Add Puns or Jokes
You can also merge the word 'gold' with something funny to make it hilarious. For Example, The GoldFathers, Gold on the Loose, etc.
Puns are the best way to make your team name catchy and fun. It will not only boost your team's spirit but also enhance your bonding with each other.
Related Post: Best Powerful Team Names For Your Squad
Conclusion
Gold is a beautiful color that represents strength, power, and wealth, which makes it perfect for creating a unique and powerful team name.
We hope that after reading the above-listed tips, it will get easier for you to create your own perfect team name.
If you like any name from the above list, then do not forget to tell us in the comments section too.