Dart is the most competitive game and can be played by people of every age. It becomes more exciting if you play it in a team.
We have brought you here dart team names that bring certain success to you!
A team name is your team's identity. It not describes your team but also defines your team's strength and unity.
That is why it is very important to have a creative and unique team name. However, it is not easy to choose a name that has not been taken yet.
The internet is full of name ideas, but unfortunately, they are not new because they have been taken by so many teams.
Keeping these things in mind, we have written some names that we hope have not been taken yet.
These names will surely make your team look the best among the rest.
List of Dart Team Names | Funny, Creative, Powerful Dart League Names

We have written a list of funny team names, cool team names, and powerful team names which will make your team members excited and motivated for the game.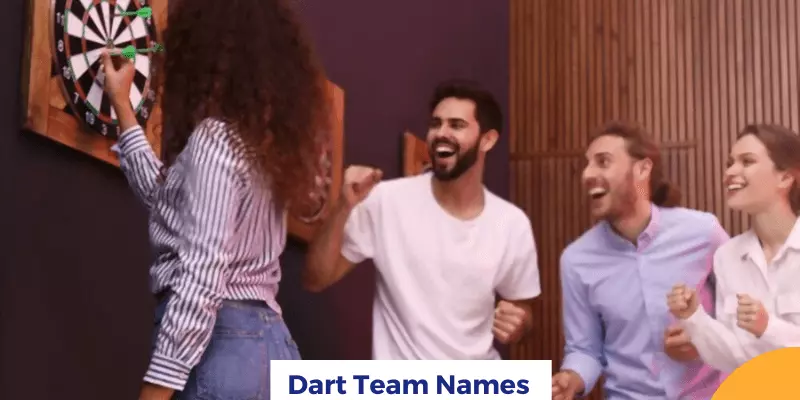 Funny Dart Team Names
Here is the list of funny dart team names that will not only enlighten your mood but also makes you look swanky among your opponents:
1. Chuckers Only:    So easy going.
2. Comedy Central:    Watching their performance is no less than a comedy show.
3. The Clueless:    Blank minds.
4. Score Works:    It is a word for those extra efficient who score more points than necessary.
5. Throw and Pray:    Probably hoping for a miracle now.
6. Panic Club: Getting nervous is their favorite hobby.
7. My drunken team has a Dart problem:    You guys need help immediately.
8. Missed Shots: There is a big difference between where they want the dart to throw and where the dart actually goes.
9. Darty folks:    Playing together for so long.
10. Cracked Heads:   They are always absent-minded, even during games.
11. Just Lucky Today:    Even though they did not practice, but luck is in their favor today.
12. Who Darted?:    Yeah, who did?
13. Rookies of the Year: Their opponent will be so happy.
14. The Aimless:    A proud one.
15. Risky Shots:    No points for trying.
Related Post: Best Selected Cornhole Team Names Ideas
Dart League Names For Tournament

Here is the list of some powerful team names that will not only make your team energetic and motivated while playing in the tournament but also give a clear message to your opponent that you are not an easy target:
16. The League of Matadors:    Experts in hitting the bullseye.
17. Best one of the Best ones:    No one is better than their team.
18. Bomb and Bombers: Pros who only play with heavy and large darts.
19. Whacky Darters:    High hopes for this team.
20. Dartaholics:    Highly addicted to this game.
21. Heavy Strikers:    Their team will make the finishing move.
22. Too precise to fail:    They work too efficiently.
23. Love, Laugh, and Dart:    That is what all friendships should be like.
24. Bull's eye shooters:    Never miss an aim.
25. Never lost, never will:    Because the other team surely will.
26. Throwing nightmares:    Their shots will haunt at night too.
27. Premature Projections: It is used for players who get so excited about a game that they throw the dart before their turn has come.
28. Dart Dazzlers: Their dart skills are highly impressive.
29. The Only Contenders Here:    Because all others are noobs for them.
30. The Dart Mafia:    They are just here to win by any means.
Cool  & Clever Dart Team Names
Here is the list of cool team names that will show everyone how chill your team is.
It makes the match more exciting because, trust me, no name is creative without sarcasm and cold words.
31. Smarty Darty:    Quick and smart enough to win.
32. Perfect Scorers:    Breaking their score won't be easy.
33. The Dart Lords:    They are pros of this game.
34. Six Packs Attack:    A team of fitness champs who is also good at aiming.
35. Watch and Learn:    Their opponent might be envying them.
36. The Dart Forces:    Coming to get you….
37. Trophy Darts:    Accurate in their throws.
38. Today is our day:    They are all set to mark their victory today.
39. Bring it on: They are ready to see some real challenge.
40. Too cool to follow the rules:    These badasses do not need any rules.
41. A Good Group:    In Darts, a good group is a compliment to those who are accurate in throwing their darts.
42. Darty Mafias:    They are a little aggressive about giving and not afraid to pay dirty.
43. Amazingly Perfect: Too much confidence in this team.
Related Post: Best Spikeball Team Names Suggestions
How to Create Your Own Team Name
Creating your own team name is not as difficult as you think. You just need to understand a few points before creating your team name.
We have listed some tips below to help you in creating your own team name:
Connect it with Your Game

Search for the words that you can relate to your game or your team members. You can also add adjectives to make your team name more interesting. For example, Raging Darts and Scoring Ninjas.
These names not only show how much motivated you are for the game but also show how competitive your team is.
Merge Words
Combine your words with something funny and creative to make it more interesting.
Adding puns is the best option to add to your team name. They make your team unique and creative, among others.
Short, Simple & Easy
The too-long name will make your team name boring and dull. What is the point of choosing a name that is not unique enough to grab everyone's attention?
Add Uniqueness
Do not choose a name that is taken by someone else in the past. Your name should be unique to make a good first impression.
Take Your Team Members on the Board
Before choosing a name, do not forget to take suggestions from your team members. Moreover, it will also help you to increase your bonding with each other.
If you do not take suggestions from them, then who knows, you might have to change your selected name in the end if they do not like it. So, have you, team members, on board with every plan.
Related Post: Bocce Ball Team Names for Your Squad
Conclusion
Your dart team name must show your team's dominance, strength, dignity, and skills. We know how much a team name matter to a team.
That is why we have written every name, keeping these things in mind.
We hope that you find a name here that your team loves. If they do, do not forget to share with us too.