Gone are the days when being a geek was considered unhip or untrendy. Nowadays, being a geek is a positive thing and is considered a cool term.
Geek is a term used to define enthusiastic and dedicated people who are passionate about certain things like business, games, science, or any other intellectual pursuit.
If you are also proud of being a geek and want to create a team including your other geek friends, then you definitely need a good team name-a name that describes how passionate and positive your team is.
Luckily, you do not need to spend hours on the internet to find a perfect name because we have written perfect suggestions for you below.
For your ease, we have compiled a list of 60+ geeky team name suggestions after getting inspired by geeky characters from famous comics, movies, and characters that have made being a geek cool thing with their smartness and acuity.
These names refer to things that are especially associated with geeks, like smartness and brilliance.
Geeky Team Names- Techy, Science, Nerdy
Go ahead and feel free to pick any name from the list that you think reflects your team members' geekiness perfectly.
We have also listed some guidelines at the end of this article that will help you to create your own team name if you do not find an ideal name from our list.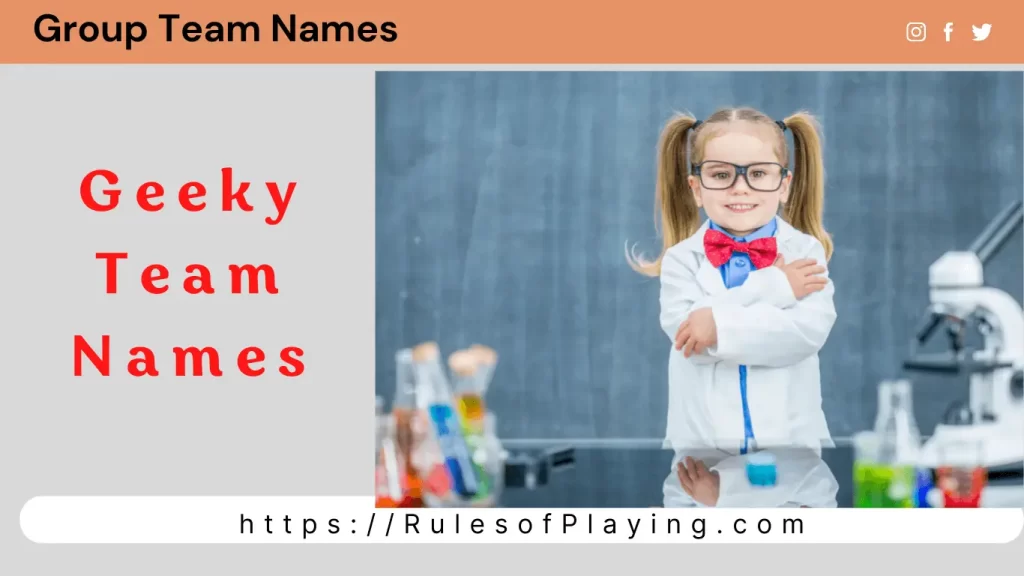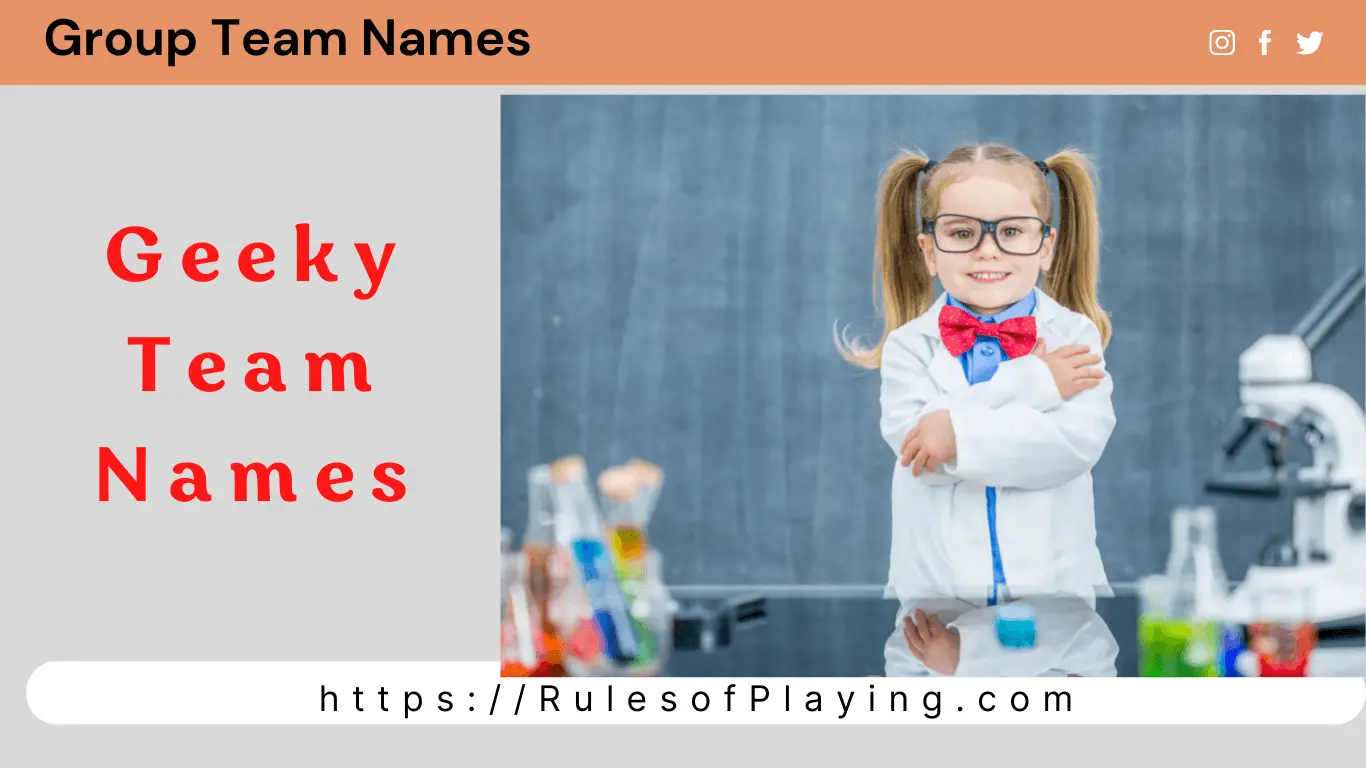 Here are some amazing geeky team name suggestions for you:
1. Geeks Entity.
2. Quick Fix Speedsters.
3. The REAPers (Robotics, Engineering, and Programming).
4. Problem Solvers.
5. The Isotopes.
6. Mind Over Matter.
7. Lambda Lambda Lambda.
8. 2+2=4.
9. Geeks Generation.
10. Genius Minds.
11. Future Is Ours.
12. Nibblers Dribblers.
13. Spam Alert.
14. Geeks Alliance.
15. Quality Performance.
16. Great Geeks.
17. Smartness Overload.
18. Trick Or Geek.
19. Brilliance Brigade.
20. Geeks In Streets.
21. Brain Matters.
22. Smart Minds.
23. Precision Guaranteed.
24. You Can't Sit With Us.
25. Just Awesome.
26. Beyond Geekdom.
27. Geeks In Business.
28. Always Right.
29. Tech Gods.
30. Happy With Books.
31. Intellectuals Inc.
32. Geeks United.
33. The Schitheads.
34. Fuzz Logic.
35. Smart Wits.
36. Tech Experts.
37. The Geek Force.
38. Scholars Squad.
39. Sharp Instincts.
40. Ideas Resuscitators.
41. Rules Definers.
42. Too Smart To Fail.
43. Intellectuals Combined.
44. Geek Is Good.
45. The Conception Committee.
46. Tech Bosses.
47. Brains Behind Operations.
48. The Go-To Team.
49. Pro strategists.
50. Data Devils.
51. Out Of The Box.
52. Leading Developers.
53. Pumped & Ready.
54. Proud Geeks.
55. Geeks On Fleek.
56. Wonderful Weirdos.
57. Dirty Bytes.
58. Geeked Out.
59. Geek Power.
60. Hidden Brilliance.
61. Proud Dorks.
62. Smart Nerves.
63. Geeks At Peaks.
64. Intellectual Posse.
65. Geekstatics.
66. Maths Alliance.
67. Science Is Fun.
68. The Brainier Bunch.
69. Effortlessly Smart.
70. Introverts Society.
Guidelines to Create Geeky Team Names
Below are some guidelines that will help you to create a geeky team name in no time.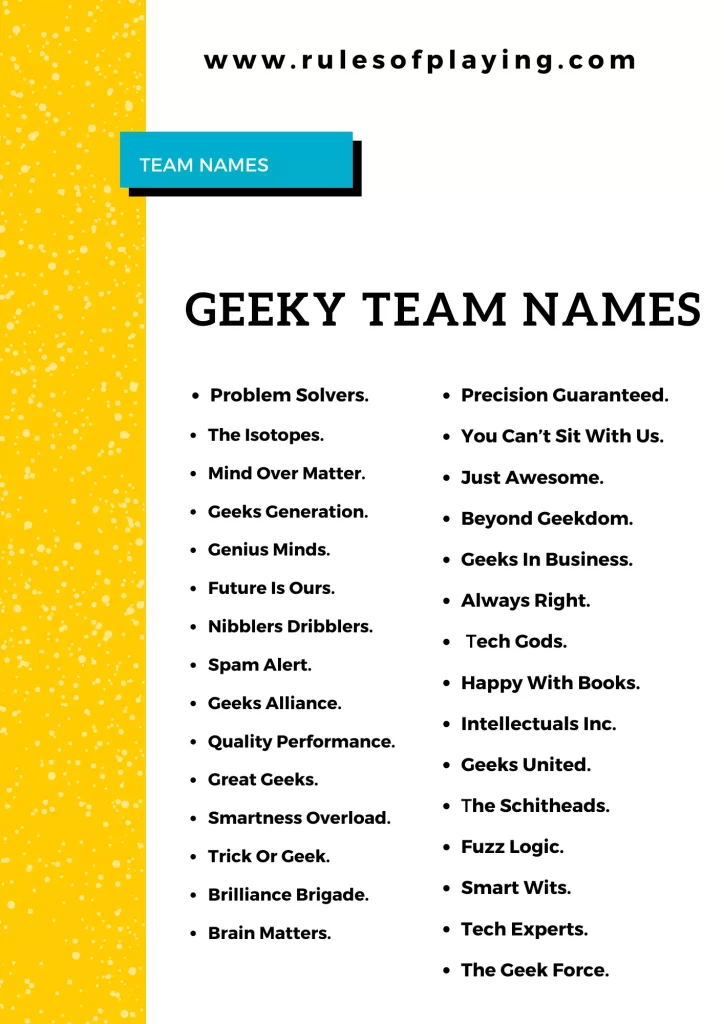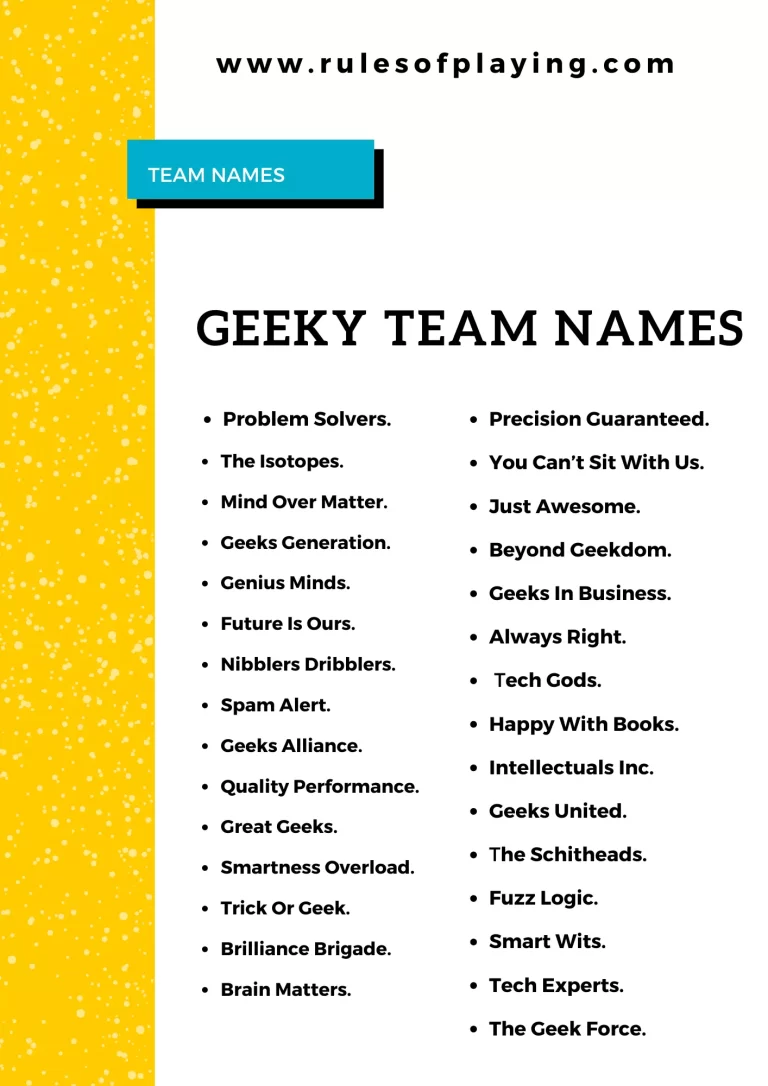 1. Take Inspiration:
While choosing a geeky team name, you can be as creative as you want, and for that, you can also take inspiration from your favorite movies, books, comics, or characters.
Inspiration is everywhere, you just need to focus.
2. Use Your Favorite Topics:
If you guys have any favorite subjects, topics, or even if you share a hobby, then you can take inspiration from these and incorporate them into a team name.
3. Choose Optimistic Words:
Being geeky or nerdy is not a bad thing. It is good that your general knowledge is vast. So, choose words that are positive and motivational to inspire other team members.
It will help you to encourage your team members and make them confident.
4. Be Creative:
While choosing a name, be as creative as you want. You do not necessarily have to choose serious words.
If you guys have a good sense of humor or you share some inside jokes too, then you can choose a team name to show your fun side too.
5. Take Suggestions From Your Friends:
While deciding on a name, do not forget to take suggestions from other team members too. It is the easiest way to get plenty of unique ideas.
Just make sure no one is left out and write down all the suggestions. After that, finalize the one that gets the majority votes.
Conclusion
There you go! we have given you lots of choices here.
Being a geek, you should name your team in a way that reflects your brilliance and beat your competitors, and luckily now you do not have to struggle a lot in order to find a team name as we have already done this work for you.
Hopefully, the above-listed names will help you portray a positive description of your team.