We hope you are all set to rock the stage with your gymnastic skills but wait, have you decided on your team name? If not, then now is the time to finalize one.
Picking a good name for your gymnastic team is as important as practicing.
You can have the best team with efficient team members, but one thing is certain, and that is that if you do not have a good team name, then you are just going to lose your team's charm.
A good team name is the best way to share your team's identity. It conveys a sense of belonging and direction.
If you have a good team name, then you not only get the chance to impress everyone but also get to make your opponent nervous.
There is no limitation to how your gymnastic team name should be. You can either choose a professional name or a casual, funny name, depending on the competition level.
Gymnastic Team Names | List of Powerful Motivational Squad Name Ideas
For your inspiration, we have written 41 gymnastic team names that are perfect for a variety of teams. Feel free to steal any name from the list that you like.
We have also written some guidelines at the end of the article in case you want to create your own team name.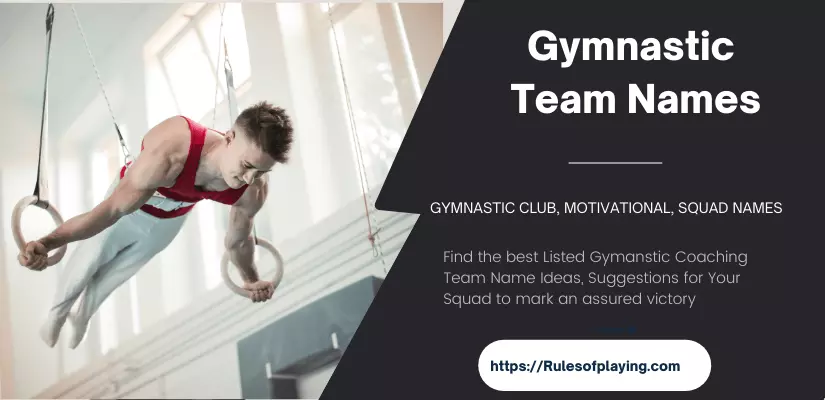 Below are some epic name suggestions for a lit entry in any competition:
1. No Aerial Limit :    Too fast for everyone else.
2. Defying Gravity :    They are unfamiliar with the concept of gravity.
3. Keep Calm & Round Off :    A dynamic turning movement in gymnastics.
4. We Got This :    They came prepared.
5. T Obstakillers :    No obstacle can stop them.
6. Effortlessly Amazing :    They are pretty good at everything they do.
7. Time Wounds All Heels :    Poor Heels.
8. Twisters :    No one can beat them at Twisting.
9. Over The Limit :    They do not let boundaries get them down.
10. The Gym Bombs :    All of them are drop-dead gorgeous.
11. Happy Feet :    In reference to a movie of the same name.
12. Balancing Battalion :    They are amazing at balancing.
13. Gymfinity  And Beyond :    Nothing is more important than gymnastics.
14. The Gymnasts :    Simple and Nice.
15. The Flexible Forces :    No one can challenge the flexibility of this team.
16. Peaceful Warriors :    Just see how peacefully they will destroy their opponent.
17. Flying :    Seeing them feels as if they are flying.
18. It Only Hurts The First Time:   Clearly, they lied.
19. Perfect Landing :Never performed any stunt wrong.
20. Flip &Roll :    That's how they do it.
>>>> Related Post: 49+ Strong Pharmacy Team Name Ideas
21. Going For Gold :    Because coming second is never in their list.
22.No Pain, No Gain:    A golden saying.
23. Gripping Guild :    Their gripping techniques are fascinating.
24. Make It Or Break It :    Highly motivated.
25. The Stretch Society :    Their team is an inspiration for everyone.
26. Peak Performers :    Always giving their 100%.
27. Flipping And Flying :    You cannot keep them down.
28. Landing Legends :    No one can break their record.
29. Gym Chicks :    Hearts flutter when they perform.
30. Extreme Gymnastics :    No one can stop them.
31. Rising Stars :    Say hello to new winners.
32. Wonder Women :    It is amazing to see what these women can do.
33. Be Low Us :   Clearly, they think very highly of themselves.
34. The Bolts :     No  one can match their speed.
35. Head Over Heels :    Gymnastics is everything to them.
36. The Flimsy Worms :    No muscle here.
37. Beat The Heat :    Raising the bar with their performance.
38. Gymnastic Collective : They dominate wherever they go.
39. On Fire :    Things are about to explode.
40. High Flyers :    They aim for the best.
41.All-Rounders:    The best in Gymnastics.
Guidelines to Create Gymnastic Team Name?
Create your own gymnastic team name using the following tips:
1. Choose A Name According To Your Team's Skills:
Think about the top skills of your team members. What is your power? What is your team's forte?
If your team has a particular skill at which team members are pros, then use it in our team name.
Think out of the box and incorporate your team's skills into your team name.
2. Create Name By Using Nicknames:
Do you and your team members have any nicknames? Because that will come in handy while creating a team name.
Another option would be to take the first word from each name of your team members and then make an acronym using the letters.
3. Use Alliterations:
Coming up with a good gymnastic team name should not be boring or hectic. You can make your brainstorming session fun by adding puns, rhyming words, or alliterations. It is the best way to construct a creative team name.
4. Use Motivational Words:
A strong and motivational name will strengthen your team and boost their confidence even during the toughest competitions.
Choose words or phrases that motivate your team members to not give up at any point in sport and in life.
>>>> Related Post: 50+ Hawaiian Team Names on the Record
Conclusion

In order to set your mark, your gymnastic team needs to have a lot of strength, flexibility, coordination, and endurance, but above that, the first thing that will help you to create an amazing first impression is a good team name.
So, get inspired and choose any unique name from the above list to show your strength and dominance in any competition.