Oztag is a non-tackling game similar to touch football. It is the latest craze in recreational sport and gaining immense popularity all over the world.
The game itself is pretty challenging, but another challenging thing is finding a good name for your team.
Since everyone tries their best to come up with a perfect name, it gets difficult to decide on a unique name that makes your team look the best.
Luckily, you do not have to worry about finding the best team name anymore. We have written plenty of suggestions for you in this article.
A team name not only reflects the interest and vision of your team but also shows your confidence.  Light-hearted and fun names usually get more attention from the crowd.
If you also want your team name to be a success, then you need to make sure that your team name contains a fun element to capture everyone's attention.
OZTAG Team Names | List of Super Selected Creative, Catchy Oztag Group Names
We have listed 42 epic suggestions for you below. We hope that you will find a name in this list that fits your team's personality.
However, if you want to create your own team name, then check out the tips below this list for some fresh ideas.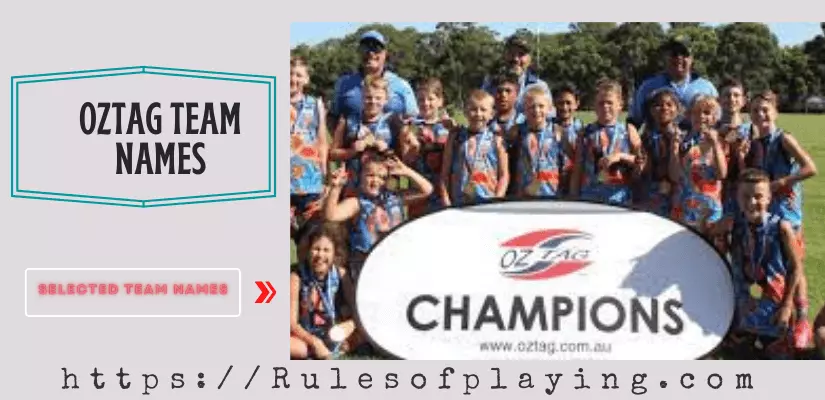 Here are some interesting suggestions that you might want to consider:
1. Tag Machines:    They just can't stop tagging.
2. Go-Getters:    They want it; they get it.
3. Unbeatable Champs:    They have a record.
4. Tag Assault:    They play furiously….sometimes…
5. The Chasers:    You cannot outrun them.
6. Elite Eight:    A classy team.
7. We Play Dirty:    You have been warned.
8. Flying Taggers:    It will be like a jet show.
9. Ball Grabbers:    Better keep your balls away from them.
10. Dodgy Style:   The best style, maybe?
11. Win Or Lose, We Booze:    That's the spirit.
12. The Unstoppables:    You cannot stop them from crossing  the line.
13. True Oztag Champs:    The pros of the game.
14. Serial Taggers:    Like serial killers.
15. The Tagbulls:    The toughest team.
16. The Untagables:    You can try tagging them but won't get successful.
17. Round The Corner:    Yep, that's the strategy.
18. Broken Faces:    Their opponents' faces might look different after the game.
19. The Crybabies:    They get nauseated before any match.
20. Can't Stop Tagging:    They just can't help it.
>>>> Similar Post: 49+ Creative Sorority Family Tree Name Ideas
21. Seven Meters Back Defense:    And pretty good at it.
22. Score Stoppers:    There is no possibility to score if they are competing with you.
23. Inappropriate Touching:    Better don't come in contact with them.
24.Tagnam Style:    Like Gangnam style.
25. Ball Kickers:    This is going to be a painful match.
26. Ninja Taggers:   Deadly Assassins.
27. Scoring Is Our Least Problem:    Easy peasy for them.
28. Skills The Kill:   Pretty lethal.
29. Double Taggers:    They will tag you twice as hard as any other team.
30. The Undertakers:     Their opponents should feel lucky to survive in the game.
31. The Bullies:    This team is a bit mean.
32. Oztag Stars:    They shine with their skills.
33. Don't Stop Tagging:    Never, ever.
34. Bad Intentions:    They play dirty.
35. Dodge Demons:    Their demonic skills will get them victory.
36. Spirited Ones:    All they need to win.
37. Tag Impact:    Their opponents will definitely remember the time when they got lost by this team.
38.  Hit, Don't Quite:    They just won't give up.
39. Beware, Furious Players:    And their attacking mode is on.
40. Tag Police:    And winning is their only policy.
41. The Scoring Boys:    They win with style.
42. Tag Monsters: Not afraid to get a little crazy to win.
Guidelines to Create Your Own OZTAG Team Names
Following guidelines will help you to create an epic oztag team name.
1. Take Inspiration From Movies:
Since there are no rules regarding how you should choose oztag team names, so you have plenty of things to take inspiration from.
You can take inspiration from your favorite movies, characters, or fun phrases and then incorporate them into a team name.
2. Choose A Short Name:
Choose a name that is short and catchy-one that is easy to remember.
3. Do Not Use Offensive Words:
Try to maintain sportsmanship in the game. Do not use any offensive words in your name that might be hurtful to any race, gender or caste.
4. Take Suggestions:
While choosing a team name, do not forget to take suggestions or feedback from your friends too. Sometimes a name that you choose in your mind does not sound much interesting when said aloud.
So, you need to make sure to discuss the name in front of your team members to get their feedback.
>>>> Related Post: 77+ Community Group Names on the Horizon
Conclusion

Oztag game does not have too many complex rules that is why we made sure to take inspiration from all the interesting phrases and movies.
These names will not only help you to gain more supporters but also help your team members to stay motivated during the game. All the names are unique so feel free to steal any name and rock the game.