Church groups provide the best environment to adults to grow in the practices of prayer and bible study and motivate them to serve the needs of the community.
They serve a wider range of purposes, from prayer groups to featured singers.
If you also want to create a church group for adults, then the first thing you need is a good group name.
Your group name is the first thing that is going to capture the attention of adults. It should reflect your vision and goals. It should let people know what they can expect from the group.
People will join your group only if they feel that your group is going to help them to connect with God and grow in their faith.
Church Group Names | List of Positive, Motivational Bible Study Group Names
Keeping this in mind, we have listed 47 motivational, formal and positive group names and tips, too, in case you want to create your own group name.
We have created our list by taking inspiration from biblical verses and quotes from religious speakers. See if you find any name that reflects your goals.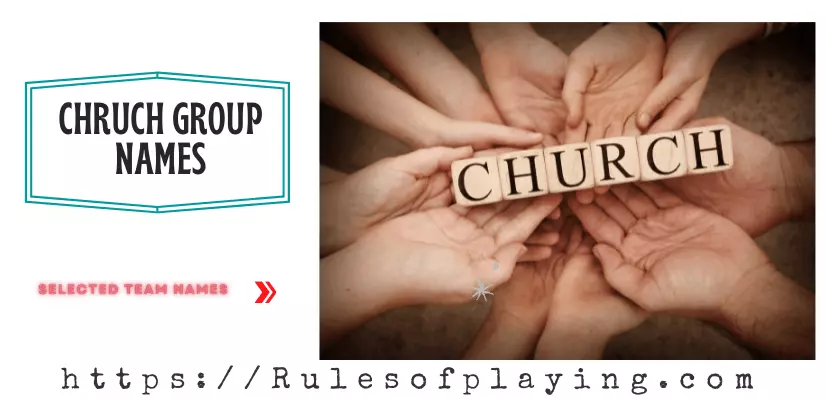 Here are some best motivational name suggestions to take inspiration from:
1. Lighthouse:    Let your light shine.
2.3P:    Love Lord, Love People.
3. Together We Can:    There is nothing they cannot achieve with unity.
4. EDGE: every day God Encounter.
5. CIA:    Christians in action.
6.Conquerors:    Victory is in Jesus.
7. Jesus Followers:    Simple and Decent.
8. The Power Of 3D:    Dedication, Divination, and Determination.
9. Sole Purpose:    They all have one purpose.
10. Ambassadors:    Spreading the message of Christ.
11. High Spirited:    Bringing up everyone's spirits.
12. Delivering Hope:    Showing guidance to His followers.
13. Resuscitators:    Bringing dead souls to life.
14. Guided By Him:    Who can get lost when Bible is here?
15. God's Glory:    Showing His light to the dark world.
16. Love For Jesus:    Love is the most powerful force.
>>>> Related Post: Wiffleball Team Names  Listed
17. The Unstoppables:    They can overcome any obstacle in the way.
18. United Forces:    United to serve the community.
19. Disciples Of Truth:    Only following the right path.
20. Make Peace, Not War:    A true inspiration.
21. One Goal-Serve Lord:    Keeping thing simple.
22. Enlightened:    Shining all the way.
23. Energized:    High In Spirits.
24. Jesus Tribe:    The unity of this tribe is greater than a family.
25. Exodus:    Escaping from the darkness.
26. The Gospel:    They have all the guidance they need.
27. Merging With God:    More of Him, Less of us.
28. Infinite: Never-ending love for Christ.
29. Overflow:    Because of His love.
30.P.O.D:   Place of discipleship.
31. Reconciled:    God has reconciled us.
32. Pathfinders:    Finding the path of life together.
33. Rejoice:    Happiness is in serving the Lord.
34. S.O.S:    Saving Our Souls.
35. CSF:    Christ's special force.
36. Firm In Faith:    All eyes on God.
37. Doing The Right:    Getting on the right track.
38. The Center point:    Jesus is our center.
39. Soul Fuel:    Giving peace and energy to the soul through His guidance.
40. United:    As one in Christ.
41. Taking U-turn:   Turning back to Christ.
42. Be The Light:    For all adults who prefer love over anger.
43. The Bible Troupe:    Jesus Army.
44. S.W.A.G:    Saved with amazing grace.
45. Desiring Truth:    For adults who are seeking truth.
46. Unwavering Faith:    Their faith cannot be shaken.
47. The Voice:    Giving voice to His teachings.
Guidelines to Create Church Group Names
Create your own church group name using the following guidelines:
1.Consider Your Group's Purpose:
A church group is different than a social group. You need to make sure that the tone of your name is appropriate to reflect your group's vision and mission.
For example, if your group is focused on overcoming challenges, then your name should be optimistic. For example, we shall overcome this, victory is ours.
2. Choose A Decent And Simple Tone:
Make sure to choose words that are unique and easy to remember. This will help you to attract potential members.
3.Decide Who Is It For:
Is your group for youth adults only? Is it for senior citizens and parents? Is it for women only? Keep the details of your group in mind because this will help you to narrow down your list of options.
4. Set The Tone:
Since the group is for adults, your name does not necessarily have to be too formal, you can choose any name that is light-toned, unique, and inspirational.
>>>> Related Post: 50+ Extra Cool & Funny White Team Names
Conclusion
A good church group name helps the members to feel closer to group fellow members and promote the group to those adults who are also looking for guidance.
That is how much power a group name holds. So, make sure to choose a best name to capture the attention of adults.
Do not worry if you have fewer members in your group right now, a good name will eventually do its charm and attract more people to your group.