Rocket League is a vehicular arcade-style soccer video game that is liked by people of all ages. Before you play, a must-needed thing is a rocket league name combination for your squad!
The thing that makes this game more exciting is that you can choose a competitive name too for your team.
It also means that you need a name that is different and better than your opponents.
That is why we have created this article to make your game time much more exciting and interesting.
We have listed team names under different categories, so it will be easier for you to choose any name that fits your team's personality.
We have arranged a list of Funny, creative, Powerful rocket league tags and club names for your squad to make your gaming experience exciting.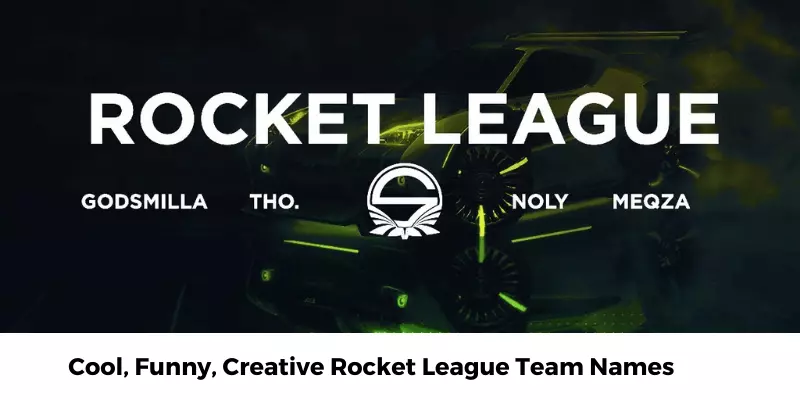 Funny Rocket League Names



Here is the list of funny team names that will even make your opponent smile and make your gaming time fun and hilarious:
1. Hitting You:    And it might be on purpose….Sorry but no, sorry
2. Scorers gone mad: They become a different person while playing.
3. The Booze League:    A few drinks before the game is fine, no?
4. Hardly a Player:    They are not built for this.
5. Wasted Potential: The worst team you can think of.
6. Multiple Goalgasms:    An old classic which is still going strong.
7. Lost in Space:     They often get confused about where to shoot the ball.
8. Low Expectations:    They probably have given up on their team.
9. Noobs combined:    Go easy on these first-timers.
10. The irregulars:    Nothing about them is normal.
Cool  & Creative Rocket Names

Here is the list of cool team names to show everyone that your team is smart enough to make extraordinary moves and shots:
11. The Awesomistics: They are awesome, and they know it.
12. Don't Blink:    Until you win.
13. SocCars on the Loose:  Careful with this team; many do not survive in front of them.
14. Nutmeggers:    Well aware of dribbling techniques.
15. Wheeling Wizards: They do the best soccer tricks.
16. The flying Jets:  They always give the best competition to remember.
17. High Octane:  Never losing their momentum.
18. Never losing Control:  No other team is as rich in skills as they are.
19. Kick Time:    At least they understand the basic concept of soccer.
20. Mean Riders:    Not the nicest bunch.
21. The Pro Stars:    Old players of this game.
Related Post: Powerful Fantasy Basketball Team Names Listed!
Best Rocket League Club Names

Here is the list of powerful rocket league club names to make your team energetic and show your opponent that you are not an easy target. This is your game, and you are going to nail it.
22. In Control:    The game is always in their control. Scorers went mad:
23. The Drifters: Pretty good at this.
24. The Daredevils:  Not afraid to take any risk.
25. Nitro League: Impressive.
26. Attackers on the loose:    They never stop attacking and scoring.
27. Speed Legends:    They are ten times faster than any other team.
28. Revved Up:  Excited and Energetic.
29. Turbo power:    They play on a whole other level.
30. Goal Strikers:    They only have one thing in mind.
31. Damage mode on:    When they play, the other team runs in fear.
How to Create Your Own Rocket League Names

If none of the ideas listed above suit your team's personality and you want to create your own team name, then keep the following tips in mind.
These tips will surely help you to create a unique team name.
Take Inspiration from Soccer Terms or Vehicle Terms
The best step in creating your team name is to take inspiration from the words that are related to soccer or vehicles.
You can also take inspiration from your favorite soccer players and combine them to form unique names.
You can use any pro player's name to add spice to your team's name. For example, Ronaldo's Army and Messi's Club.
Add Unique Words
Make sure to add words that are unique and fun. Boring team names will make your team less exciting.
If you are not coming up with smart words, then you can search for synonyms of the words related to the soccer field.
This will help you to find some unique and creative words that will be new to everyone.
This game has different modes. You can use those modes and merge them with something fun to create an exciting team name.
You can add puns or inside jokes, too, to make your name creative and unique.
Simple Words
Do not complicate your name by adding difficult words. It will make your name less appealing.
The majority of people will not even read your team name properly if it is complicated. That is why use words that are simple, fun, and unique.
Take Senior's Suggestions

Have a discussion with your friends. More minds will generate more ideas. Ask them to write down every name that comes to their mind they think about the term "Rocket League".
Use these words as your inspirations to come up with something unique and interesting.
Similar Read: Powerful Politically Incorrect Fantasy Football Team Names
Conclusion
Rocket League is an interesting game, and choosing a creative team name makes it more exciting.
That is why choose your team name wisely. Always remember that You cannot improve your rocket league if you do not try new skills and think outside the box.
We hope that after reading these tips, you will come up with so many ideas.
So, what are you waiting for? Create your team name and start playing. The Field is waiting!