A perfect dodgeball team name is too crucial for victory in hands! The only thing you need to worry about is choosing a good dodgeball team name to make your team look interesting and entertaining.
The number of fans to support you during the game only depends on your team name because no one likes to support a team with a boring name.
That is why your team name should be creative and unique enough to grab everyone's attention.
For team name's ideas, there is no better option than the movie "Dodgeball- A underdog story." This movie has the best team names that you can use for inspiration.
In this article, we have listed some best options for you after taking inspiration from the movie that you are definitely going to like.
List of Dodgeball Team Names | Funny, Powerful
We have arranged a list of Funny, Cool, and Creative team names. So, go ahead and pick a name that suits your team's personality.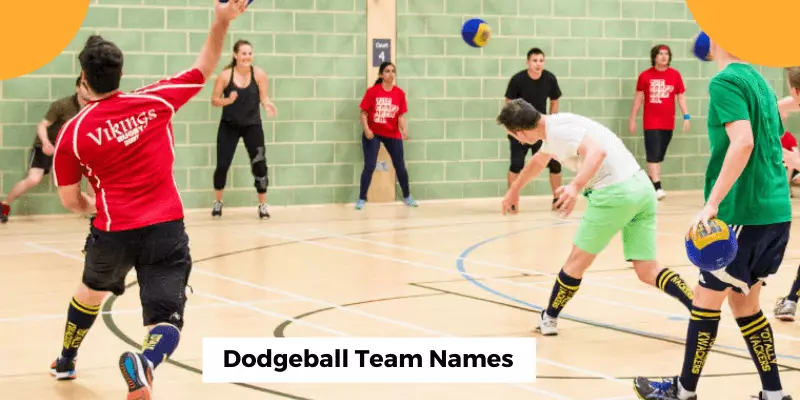 Funny Dodge ball Names

Dodgeball is a fun game. That is why your team name should also reflect a spirit of fun and joy. So, here is the list of funny team balls to tickle your funny bone:
1. She-Mullets: The most unattractive hairstyle you are going to see.
2. Dodging and Trolling:    They just love to trade insults.
3. Clown Punchers: Best would be to stay away from them.
4. Ball Busters:    The ball won't be the same after the match.
5. MILFS:  Definitely for an adult team.
6. Ball-a-rama:    Things get a little dramatic when they play.
7. Crotch Shooters:    Now you know what you need to protect.
8. Moose Knuckles:  A team from 'Dodgeball'.
9. It's taking part that matters:    It surely does.
10. Aiming For chubbiest:  Because bigger ones are easier to hit.
Best dodge ball team Names
11. Dodgeball Bloopers:    A team that was not meant for dodgeball.
12. Ball of Duty:  From the game series 'Call of Duty.
13. Broken Noses:    Their opponent's face might look different after the match.
14. Gutter Minds:    They just can't stay focused on the game.
15. Oddballs:    Not a normal team, you'll see.
16. Yetis:  A group of hairy people.
17. My Ball, Your Face:  This is going to be a painful match.
18. Chargin' Donkeys:  They might kick you in frustration too.
19. Ballsanity:    They just broke out of the asylum.
20. Mean Machines:    From 'The Longest Yard.
Related Post: Powerful Fantasy Basketball Team Names
Cool Dodge-ball Team Names
21. Don't Hit Me:  Cry Babies spotted.
22. The Underdodges:    Wordplay on 'Underdogs'.
23. The Muppet Show:    It is so hard to take this team seriously.
24. The Fault In Our Ball:    The only excuse they have after losing.
25. Ball Survivors:    Wordplay on 'Soul Survivors'.
26. Dodging Divas:  Everyone loves to watch this team.
27. Catch Happens:    Yeah, get over it.
28. Dodge Dynasty:  Rulers of this game.
29. The Ball Attack:  They just never stop attacking.
30. Lumberjacks:  From the movie 'dodgeball.'
Good Dodgeball Names

Not everyone prefers aggressive team names, some prefer cool names too. If you are one of those, then this list is for you.
31. Skillz that kills:    They got some serious skills.
32. Ball of Grace:  They play so smoothly.
33. Thunder Force:  There's a storm outside when they play.
34. Mulchers:  They are going to mulch right through the other team.
35. Hit, Hit, Boom:    That is one explosive team.
36. Purple Cobras:  The antagonists in the movie 'Dodgeball'.
37. Flying Cougars:  Another team from the movie 'Dodgeball'.
38. Beast balls:  Those balls are never going to miss the target.
39. Balls and Dolls:  Instead of playing with dolls, these girls are here to beat you.
40. Crafty Dodgers: Their skills in dodging are pretty amazing.
Clever dodgeball Team Names
41. Kamikazes:  They are not familiar with the concept of losing.
42. If You Can Dodge a Wrench:    A quote from the movie 'Dodgeball'.
43. Average Joes:  After the protagonists from the movie 'dodgeball'.
44. We're the Dodgers:    From the movie 'We're the Millers'.
45. Difficult Targets:  Not an easy target to mess with.
46. Game Over:    For another team.
47. Las Vegas Police:   A team in the movie 'Dodgeball'.
48. Chitty Chitty ball:    After the movie 'Chitty Chitty Bang Bang'.
49. The DodgeFathers:  Can get out of any difficult situation.
50. That's How We Dodge:    Watch and learn from this team.
Best dodgeball Team Names for Boys & Girls

Creative team names are sharp-witted, pun-filled, and interesting. A creative team name is the best way to show your opponent how smart and quick-witted your team is.
So, here is the list of creative team names for you:
51. 5 D's:    The basic strategies of dodgeball are Dodge, Duck, Dip, Dive, and Dodge
52. Dodge of the day:    They can dodge your ball all day.
53. Cleveland Indians:     From the movie 'Major League'.
54. Ballarina's:  Every move they make is so classy.
55. Read our Lips:    Because they say 'we will win'.
56. The Flyballers:   The other team would be left wondering, 'how did they do that?'
57. Third Time's a Charm:    A winning record.
58. Lucky Dodges:  The luck is in their favor today.
59. Never stop believing:  Never!
60. Dodge After Dodge:    After dodge after dodge.
61. Do You Even Dodge Bro:    Because they have no time for newbies.
Creative Awesome Dodgeball Team Names
62. Dodge Magic:    Their mind is full of tricks.
63. Game of Dodges:    A simple way to describe dodgeball, no?
64. Let's Dodge:    Addicted to Dodgeball.
65. The Big Dodge Theory:    After the show 'The Big Bang Theory.
66. Alive and Dodging:  Prevalent and very active.
67. Dodge for your Life: As you run for your life.
68. The Dodging Stones:    After the band 'The Rolling Stones.
69. Spare No One:    Obliterate all the opponents.
70. The Fastest Dodges:    Too fast for the eyes to see.
71. The Hopping Queens:    They just love to jump around the whole time.
How to Create Your Own Dodgeball Team Name?
Creating your own team name is super easy.  Just follow these tips to get some ideas, after which it will get easier for you to think of the best team name.
Create Name according to the Personality of Team Members
Your team name should reflect the personality of your team members.
While thinking of ideas, think about your team members. Ask these questions to yourself, like, what is the nature of your team members?
Are they all funny who just love to joke around all the time? Are they lazy who loves to spend all day doing nothing?
Do they get pretty aggressive during the match? Think of all these questions and write down the words that come to your mind after thinking about your team members.
Take Inspiration from Movies
There are so many movies that are based on dodgeball. One such classy movie is "Dodgeball-
A true underdog story"; you can take inspiration from the teams in this movie. Also, there are so many other movies that you can use for inspiration.
You can use those movies and merge them with terms that are related to dodgeball to come up with a creative name.
Take Feedback
After listing down all names, send them to your team members for contribution and approval because feedback is very important.
Take suggestions from them and then finalize the one that everyone likes.
Related Post: Political Fantasy Football Team Names
Conclusion
There are so many ways to use your dodgeball team names creatively.
All you need is focus and some inspiration. And for inspiration, you can always count on this article.