Since the day guys discovered how much chaos they could leash on their best friends by attacking them with paintball, there has been no end to this game. It is the most popular non-traditional sport played all around the world.
Paintball is a game that does not need an introduction, but if you are playing it, then your team definitely needs one.
A perfect team name is very important for your group otherwise, it will get pretty difficult for you to create fear in your opponent's heart with a name like 'Paintball pros,' 'Revolution,' or something equally silly.
Your team name should say something about your group. It should be relevant, creative, and fun. You will lose your charm if your team does not have a good name.
But do not worry if you are not able to come up with unique ideas because we have already done this work for you.
List of Paintball Team Names | Funny, Awesome, Cool & Powerful
In this article, we have listed 69 cool, funny and awesome name suggestions to make a grand entry in the field. Always remember that a cool team name means cool team members.
It immediately grabs everyone's attention. That is why each name written below is hilarious and cool enough to bring a smile to everyone's face.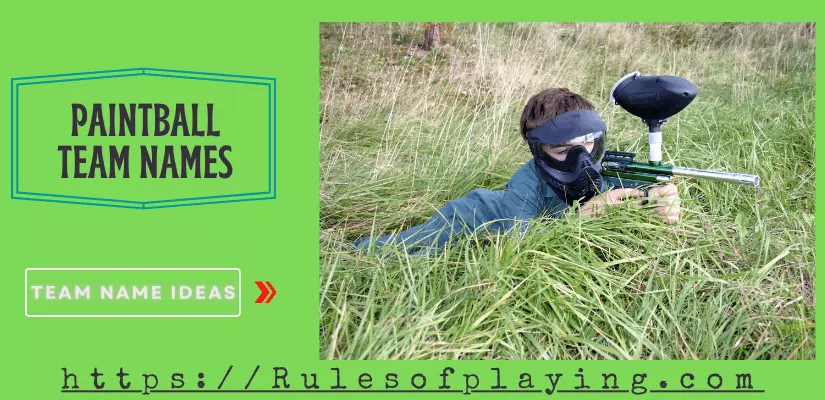 However, if you want to create a team name by yourself for your beloved team, then check out the guidelines at the end of this article for some fresh ideas.
Cool & Funny Paintball Team Names
Don't you want your team name to look the best among all when it is pinned to the scoreboard? Every good team starts with a cool name.
Without that, you are just a regular team of players with nothing extraordinary. For your inspiration, we have written some cool and hilarious suggestions below that will make your team shine in the field
Pick any name to create a cool impression on your opponents.

1-Bruised Bros.
2. We Are Colorblind.
3-Paintball Junkies.
4. You are Out.
5. Balls Of Duty.
6. Messy Splashers.
7-Unleashed Forces.
8. Paint Bombs.
9-Colorful Balls.
10. Comin g For You.
11. Click, Click, Out.
12. Noob Attackers.
13. Splat Squad.
14. Splash Army.
15. Ball Busters.
16. Fools With Guns.
17-Loaded With Balls.
18. Unstoppable Force.
19. Bomb Attack.
20. Only We Are Cool.
21-Gingerheads.
22. We Bruise Easily.
23. The Dirty Pack.
Also, Read 51+ Wiffleball Team Name Ideas for Your Squad!
Funny & Awesome Paintball Team Names
Choosing an awesome name is very important to reflect your team members' spirit and boost their confidence to stay in the game till the end.
You can make your team name more fun by adding humor. No one likes to cheer for a team with a dull name.
So, make sure that your team name is fun and exciting. Below are some suggestions that you can use for your inspiration.

24. Spray Painters.
25. Splat At First Sight.
26. Knights Of Badassdom.
27. Deep Impact.
28. Dumb And Still Holding Guns.
29. Aggressive Gunmen.
30. Peace Destroyers.
31. Lost Boys.
32. Death By Paintball.
33. Geeky Blinders.
34. Gotcha!
35. It is True-We, Suck!
36. No Mercy.
37. Out Of Control.
38. Red Balls.
39. Battlefield Warriors.
40. Paintball Massacres.
41. This Means War.
42. Peace Was Never An Option.
43. Disordered Army.
44. Wet Painters.
45. Hide For Your Life.
46. Chaos Makers.
Best Paintball Squad Teams
Nothing is off-limits when it comes to choosing a name for your paintball team. You just need to make sure that your team name is unique enough to impress everyone.
Below are some suggestions that we believe will create a long-lasting impression on everyone in the field. Feel free to pick any name that you think fits your team perfectly.

47. Knights Of Splat.
48. Time To Paint.
49. Splat Boys.
50. Splat On Spot.
51. Special Effects.
52. Crazy Paint Guys.
53. Splat Masters.
54. Sharpshooters.
55. Locked & Loaded.
56.Splat Time!
57. Splat n Run.
58. Multiple Targets.
59. Shooting Stars.
60. Backstreet Boys.
61. Ready, Steady, Attack!
62. Paintball Warriors.
63. Silent Yet Deadly.
64. Watch Out.
65. Time To Paint.
66. YOLO.
67. Pink Painters.
68. Wolfgang.
69. The Flamers.
Also Read: 65+ Weird & Well Trained Teachers Team Names
How to Make a Paintball Team Name? Tips & Guide
Starting your own paintball team is very simple. Just read the following steps to clear all your confusion:

Ask Your Friends:  If you want to take your game to the next level, then the first place to start your search for team members would be to ask your friends. 
Take baby steps. Do not expect to get pro and internationally known instantly. Take your time and form a group that gives you the same level of commitment.

Post Flyers:  Make your team known. Post flyers, wear the same brand uniforms, and choose the same color. The more professional you look, the more everyone on your team will get motivated to win the game.
After this, choose your banner and make sure to make it big enough to be seen from a distance. Take pictures with it and post them on social media. Be proud of your banner and stay united under it.

Schedule Regular Practice:  Now that you have formed a group, it is time to start practice.
Paintball might look like a fun game, but it gets pretty challenging on the battlefield. So, make sure that you are well-prepared for it.

Have Fun:  Do not stress yourself out while practicing. The main purpose of the game is to have fun and spend quality time. Without that, there is no reason to play the paintball game.
How a Good Paintball Team Name Must Look Like?
Create your own epic team name using the tips below:

1. Choose A Name According To Your Team's Favorite Color: Have a brainstorming session with your friends and decide on one color that everyone likes.
After finalizing one color, add a descriptive word to it to create a unique team name.
For a descriptive word, you can take inspiration from your favorite animals, places, or characters. For example, Black Panthers, Pink Dragons, etc.
2-Describe Your Team: What comes to your mind when you think about your team? Make a list of words that describe your team as a whole. You can use these terms or turn them into an epic phrase to create an awesome team name.
3-Take Ideas From Other Teams: We are not asking you to steal other team names but looking at other professional team names will give you fresh ideas.
You can also take individual words from their team names and combine them with new words to create a unique team name.
4-Take Suggestions: Do not forget to take ideas from your paintball team members too. After discussing, finalize the one which everyone agrees on.
Related Post: 74+ Beachbody Team Names Listed
Conclusion
Paintball is not just a game; it is the best way to enhance your bond with your close ones.
Where paintball creates an atmosphere of excitement, having an epic team name also makes your game exciting.
Choosing a name that reflects your entire squad not only connects you more with your team but also creates a good impression of your team.
That is why we have tried our best to come up with unique ideas. Hope you like them!