Teachers are the most influential and important people in our life. Their actions are always a guide to students.
If you are a teacher, then you know how important it is to motivate and encourage your students to create a significant impact on their academic performance.
As important as it is for teachers to guide students, it is also important for them to have a good connection with colleagues.
Talk to them, support them, and if you are in a team, then choose an interesting name for your team to foster a sense of unity and friendship among the team.
List of Teacher Team Names | Funny, Cool, Weird & Powerful 
Choosing a good name for your teacher team helps you to work together with unity for the betterment of the education system and professional development programs.
It also helps to form a unique bond where you can always help each other in course guidance.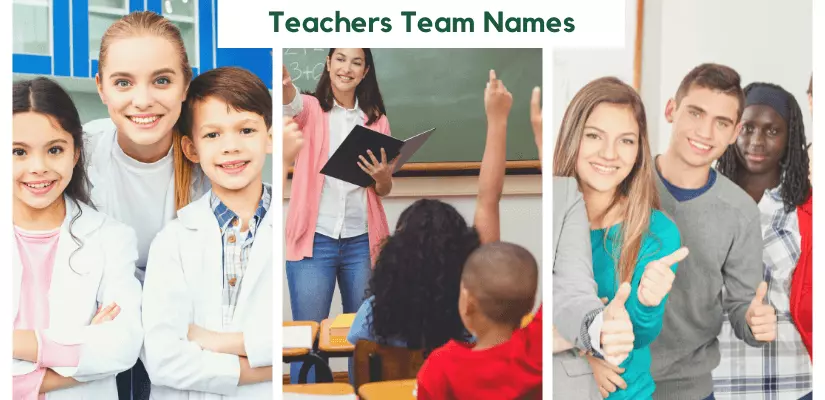 If you are also looking for name suggestions for your teacher team, then this is your place.
We have written 65 cool, creative, and funny names that will make you smile throughout the day. These names are the best way to show everyone how smart and creative your team is.
But if you want to create your own teacher team name, then check out the tips at the end of the article for some fresh ideas.
Teacher Teams/Group Name Ideas
A good name is important for a team's success. It makes your group stand out among other teams. It also shows your potential and capabilities.
Below are some suggestions that you can use to make your teacher team look the best.
1. Passion For Purpose.
2. Geniuses Combined.
3. Divergent Thinkers.
4. Every Student Matters.
5. Timely Teachers.
6. Ambitious Group.
7. Confidence Builders.
8. Making It Count.
9. The Educators.
10. Emphasis On Learning.
11. High In Spirit.
12. Curriculum Collaborators.
13. Thinkers Club.
14. Problem Solvers.
15-Spell Society.
16-Knowledge Station.
Cool & Creative Teacher Name
No doubt, teaching is a stressful and tiring job, but you can also make it interesting by choosing a creative name.
A cool and creative name motivates and gives positive energy to your group. We have listed some suggestions for you below that will create an atmosphere of fun and excitement.
17. From ABC To Algorithm.
18. Academic Rockstars.
19-Acute Angle Alliance.
20. Unlimited General Knowledge.
21-In This Class, It Matter Why Someone Bought 65 Watermelons.
22. The Vowel Movement.
23. Actionable Application Alliance.
24. Brainstorming Brigade.
25. Great Minds Think Alike.
26-Sigma Rules.
27. Never Stop Achieving.
28. Sharpened Pencil Pals.
29. The Masterminds.
30. Better Self, Better World.
31. Proton Patrol.
32-May The Metaphors Be With You.
33. Meeting The Criteria.
Funny Teachers/Professor's Names
Though teachers may seem strict, they also have a fun personality. Below are some hilarious name suggestions that you can use to show how fun you can be.
These names will surely make you smile, especially when you get tired from all the work.
34. Professor Danger.
35. Miss Leading.
36. Mr. Chips.
37-Mr. Doublechin.
38. Miss Measure.
39-Mrs. Hamburger.
40. Miss Alignment.
41. Mr. Large.
42. Mr. Cross.
43-Professor Snape.
44-Mr. Bookworm.
45. Miss Figured.
46. Mr. Horseman.
47. Mrs. Sick.
48. Mr. Skeleton.
49. Mr. Riddle.
50-Professor Dumbledore.
Also Read: 33+ Extra Cool White Team Names Listed
Weird Teacher Team Names

It is totally okay if you are looking for team names that are weird. Seriously! We are not judging. Someone's ridiculous can be someone's unique.
If you and your team members also like to do experiments and prefer something unique, then this list is for you. You will definitely like these unusual and weird names.
51-Empty Brains.
52. Total Embarrassments.
53. Fantastic Losers.
54. Nutheads.
55. Crash test Dummies.
56. The Trumps.
57. Snooze Army.
58-Exclusive Zone.
59. Catastrophic Alliance.
60. Crushing Grades.
61-The Dark Horses.
62. Cough-Cough.
63-Champions Of Weirdness.
64. Irrelevant Ones.
65. Mighty Chucks.
A Certain Guide on How to Create Teacher Team Names
Create your own teacher team name using the tips below:
1. Take Inspiration:  Why is teaching your favorite profession? What do you love the most about your profession?
Do you love to organize your classroom and guide the students? Take inspiration from the things that you love in your profession. This will help you in the selection of words.
2. Be Creative:  Do not choose boring names for your group. Choose creative and positive words to inspire your team.
If you find a certain word too mainstream, then you can also search for its synonyms on the internet to create a unique name.
3. Focus On Knowledgeable words: While creating a team name, make sure to focus on knowledge and learning to show your team's vision.
It will also motivate your team members to work with full devotion to their profession.
4. Keep It Unique:  Make sure to choose words that are unique but easy to remember. Lengthy names will just make your group look dull. Also, a short name is easy to understand and remember.

Similar Read: 90+ Funny Police Names Listed!
Conclusion
A name plays an important role in portraying your team's vision and skills.
A boring name not only fails to capture attention but also makes your team look unmotivated and less energetic.
That is why we have written unique and interesting suggestions that you can use to make your team shine in the whole school.