Last Updated on March 10, 2022 by admin
Since PUBG is a competitive and strategic game, choosing a simple and dull squad name does not do justice with it. Choosing an interesting name for your squad is very important to set your mark in the game. Though this will not enhance your gaming skills but surely help you to portray a strong impression in front of your opponents
Playing and fighting for survival with your squad definitely makes the game exciting, and having an epic squad name doubles that excitement. To make your gameplay more interesting, we have listed 150+ epic name suggestions with meanings for you. Feel free to choose whatever name you think fits your squad perfectly.
Pubg Squad Names List | Best, Powerful, Dangerous, Pubg Squad Team Names for Guys, Girls, Tournament 2022
Do you want your squad to have a unique identity among other players? If yes, then checkout this list for some best suggestions. These names will definitely create a long-lasting impression on your opponents.
1- Universal Threats:    They are not in danger, they are the danger.
2- Deadshot:     Shoot down everyone who oppose them.
3- Habitual Winners:    Winning is their habit.
4- Blackfire Beasts:    Too tough for everyone.
5- Death Warriors:    Always escaping death.
6- Armed Alliance:    They came prepared.
7- Blackhole:    No one can get out of this hole alive.
8- Tricky Minds:    It is amazing to see how much they use their minds in the game.
9- Sharpshooters:    They never miss.
10- Venomous Beasts:    Too poisonous for enemies.
11- Bigshots:    They shoot the impossible shots.
12- Pro Robbers:    Their main goal is to rob everyone.
13- Sudden Death:    You cannot escape this squad.
14- Invisible Kill:    They are so fast that you won't even get to see what killed you.
15- Thrashers:    There is a big mess in the game whenever they play.
16- Royal Blood:    Highly organized knights.
17- Hit List:     No one can escape if they are in this list.
18- Wild Wreckers:    Creating chaos everywhere.
19- Black Knights:    No one is more honorable.
20- The Conquerors:    When they play, victory is granted.
21- Sniper Lords:    No one handles snipers better than them.
22- Mass Destruction:    Destroying everything in sight.
23- Apocalypse:     When they unite, no one is safe.
Best Pubg Team Names
Your team name shows how precise and pro you are in the game. That is why we have some best team name suggestions that will make a good impression of your team and also take your team's confidence to next level.
24- Sturdy Soldiers:     They are extremely strong and solidly built.
25- Pro Gunners:    No one is better than them.
26- Blackstorm:    Wiping out everyone in sight.
27- Empowered Gladiators:    No one has power except their team.
28- Pubg Strikers:    They make the finishing move.
29- Deadeyes:    All you see here will be darkness.
30- Observant Forces:    All focus on the game.
31- Destructive Virus:    Leaving no one alive.
32- Man up:     Up for anything.
33- Dothraki Tribe:    The true warriors.
34- We Flock Together:     A squad who stays together, wins together.
35- Gunslingers:    Guns experts.
36- The Godfathers:    They deserve utmost respect.
37- Rifle Bullets:    They are about to go bang.
38- Hefty Knights:    Too strong and vigorous.
39- Blockcry Crushers:    Need something destroyed? Ask them.
40- Pubg Force:    And they have a mission to accomplish.
41- Headshots:     They kill in one shot.
42- The Daredevils:    Not afraid to take any risk.
43- Wild Walkers:    They cannot be killed easily.
44- Braveheart:    The boldest ones.
45- X Men:     Each guy has unique skills.
46- Scatter Escapists:    Pros in dealing every situation.
Pubg Squad Names for Girls
Who said Pubg is only best for boys? We have seen girls playing Pubg better than majority of the boys. And, if a girl squad is playing then there is no way anyone can beat them easily.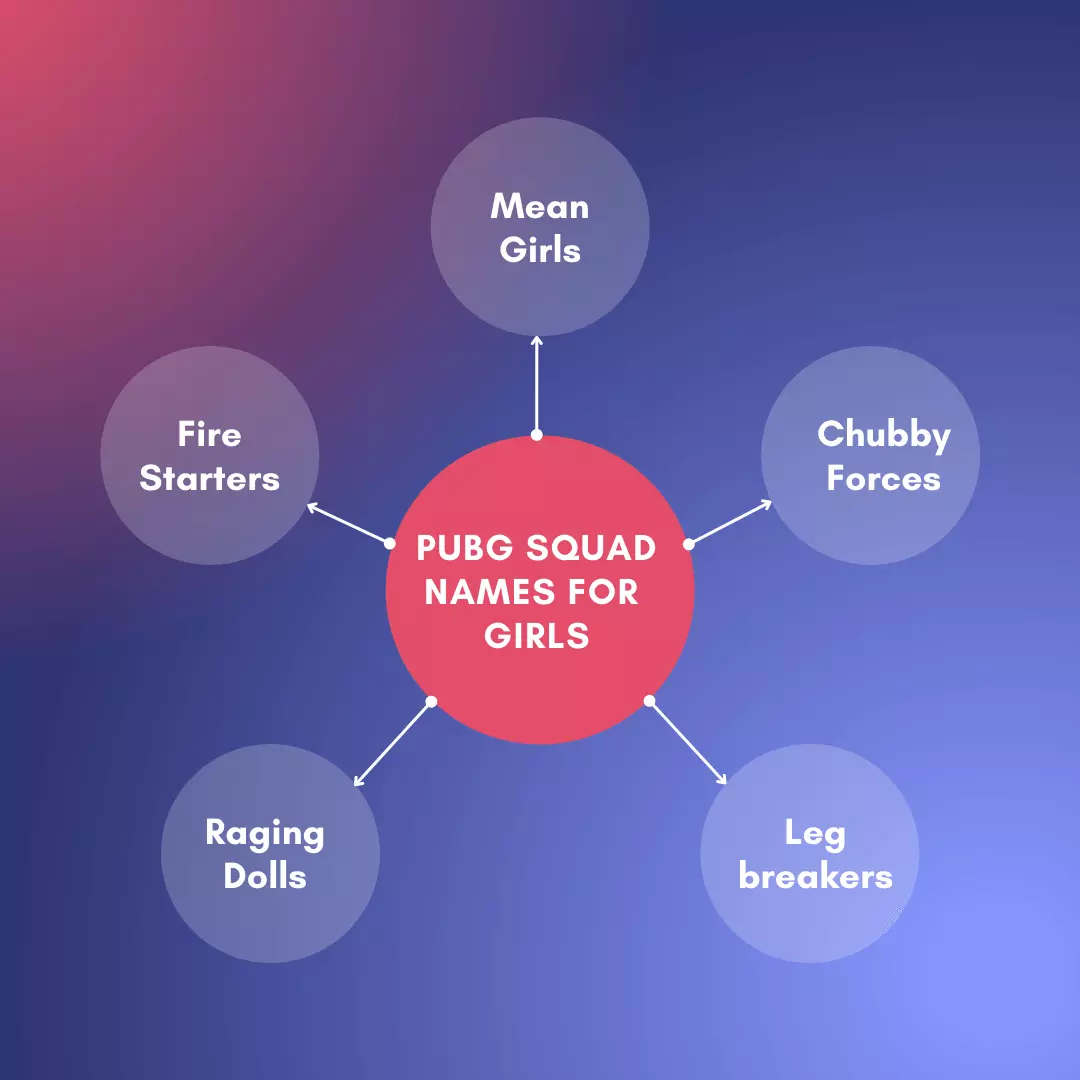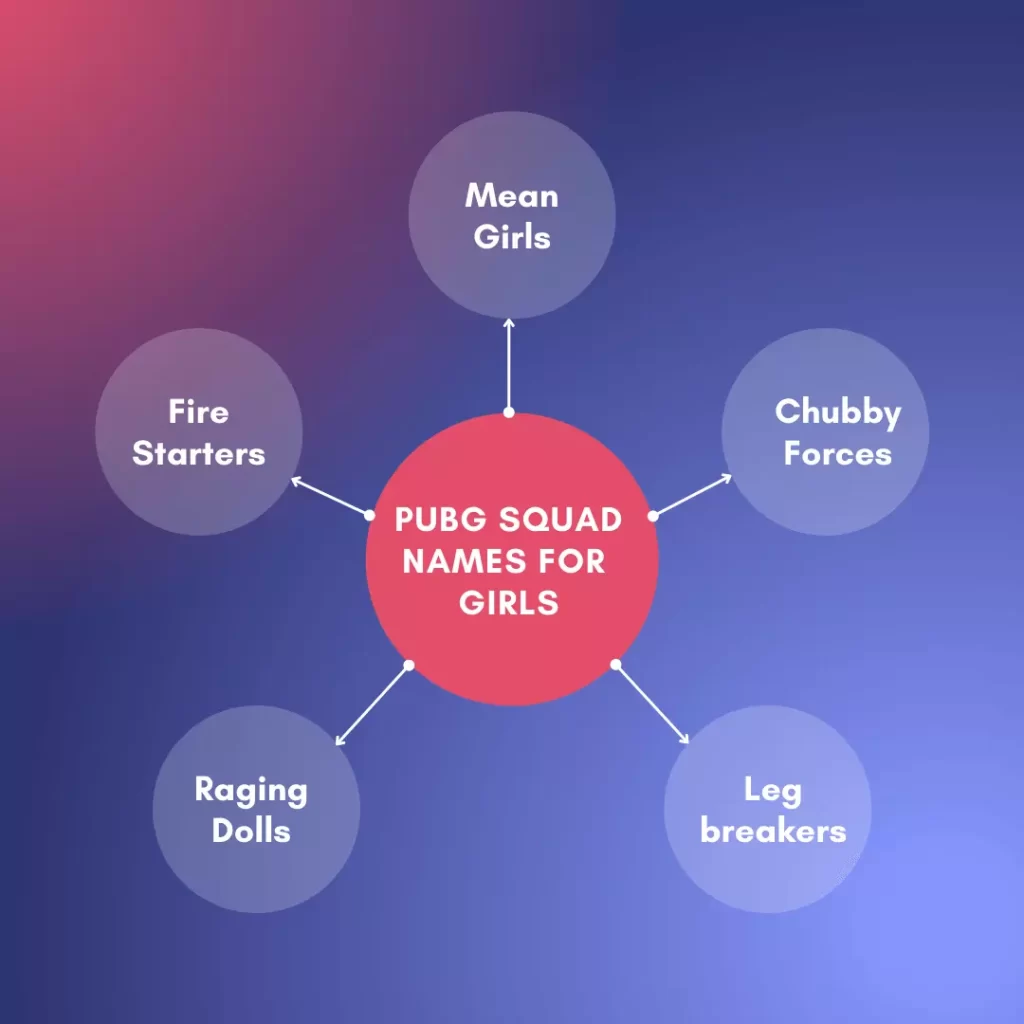 So,  below are some amazing and stylish names' suggestions for all the gal pals to make their gameplay more interesting.
47- Free Flies:    Untameable.
48- Backstreet Girls:    Forget backstreet boys, these backstreet girls deserve more hype.
49- Chicks With Kicks:     Underestimating them would be a bad idea.
50- Drop Dead Gorgeous:    They set the standard.
51- Mean Girls:    Their words hurt more than any machinery.
52- Fire Starters:    The actions these girls take bring the whole house down.
53- Girl Power:    No one can challenge this power.
54- Sisters Before Misters:    Always prioritizing each other.
55- Super Girls:    The real heroes.
56- Charlie's Angels:    A kickass group of ladies.
57- Savage Queens:    They live without rules.
58- Chubby Forces:    Too cute to be taken seriously.
59- Nasty Beaches:    Do not mess with them.
60- The Feminists:    They know how to make their own path.
61- Badasses:    They do not take crap from anyone.
62- Born Strong:    No less than anyone.
63- Supergirls:    There is nothing they cannot do.
64- The Ladybirds:     Delicate and sweethearts.
65- Raging Dolls:    Do not get fooled by their cuteness, they are ill-tempered.
66- Venomous Beaches:    Too much of them is dangerous.
67- Hazardous Kitties:    Unpredictable and dangerous.
68- Rightful Queens:     The deserving queens.
69- Sugarbabies:    Sweet and tasty.
70- Leg breakers:    Be careful getting too close with this bunch.
Guys Pubg Squad Names
It does not matter how many games you have played with your squad, the excitement  and hype is always there when you guys play, right?. To make this bond much stronger, checkout this list of amazing squad name suggestions. These names will surely make your gameplay more interesting and fun.
71- The Jackal Tribe:    Wild & strong.
72- Brewmasters:    They just love to drink together.
73- The Brocode:    No one can break this bond.
74- AWM Kings:    You cannot beat the team who is expert in this most brutal bold action rifle.
75- Ultra Power:    They are unbeatable together.
76- Bulletproof Boy Scouts:    Blocking all bullets aimed at them.
77- The Strangers:    The real OG no one knows about.
78- Disastrous Tribe:    They cause destruction wherever they go.
79- Slayers:    They slay when they play.
80- Groza Gangsters:    They got special skills.
81- The Maniacs:    They are a little unpredictable.
82- Deadly Shooters:    Injurious for health.
83- Selfish Soldiers:    They get mean in the games
84- Cool Club:    They are always calm and composed while playing.
85- Undead Gods:    You cannot kill them.
86- Kill, Steal, No Deal:     Making precise kill is too easy for them.
87- Strategy Masters:    They make the best strategies.
88- Only Pros:    All others are noobs.
89- Addictive to Winning:    Winning is their hobby.
90- Kings Of Kings:    They rule the game.
91- Odd Hooligans:    They love to create troubles.
92- Unstoppable Amigos:    You cannot compete with friends who play and slay together.
93- A-class Assassins:    Masters of guns.
>>>>>> Similar Post:  Endless List of Pubg Boys Team Revised!
Cool & Funny Pubg Squad Names
The best and remember-able squad names are one that are original and unique and there is no better way to make your squad name standout than choosing a cool and funny name.  A funny name is the best way to create a long-lasting impression of your squad. The best thing about having a squad name that is cool and funny is that it really generates hype in your squad. So, without making any delay, let's start.
94- Tequila Mockingbirds:    Better close your ears.
95- Pubg Specialists:    Pros of the game.
96- Remand Room:    Their team will haunt you for a long time.
97- Cheek Clappers:    It would be wise not to get too close to them.
98- Zombie Zone:    Better not to come in the way of these monsters.
99- Tit For Tat:    Peace was never an option for them.
100- Hide And Seek:    That's how they prefer to play.
101- Corona Variants:   And everyone is equally dangerous.
102- Thug Life:    They really raised the bar with their gaming skills.
103- Hapless Shooters:    Poor ill-fated guys always miss their target.
104- Run For Life:    Their only task during the game.
105- No Sleep Squad:    How can you expect to win from a team who plays night and day?
106- Nasty Tribe:    Better stay away from them.
107- Hopeless Warriors:    They have probably given up on gaming.
108- Armed Noobs:    Always prepared for challenges.
109- Piece Makers:    Anyone messing with them will end up in pieces.
110- Noobies Choosies:    Noobs by choice.
111- The Relaxin' Rhinos:    They are no less than bots.
112- Badass Hunters:       They know how to brutally exterminate the opponents.
113- Risky Shots:    They goal is to shoot and pray.
114- Trollers:    They just love to mock others.
115- Blood Bashers:    Their enemy will not be able to run too far.
116- Ruthless Gunners:    Shooting down everyone who oppose them
Dangerous Powerful Pubg Squad Names       
If you want to dominate the game then the first thing you need to do is to break the confidence of your opponent and that is only possible if you choose a powerful name. Below are some dangerous and powerful squad name suggestions that will definitely make your opponents terrified and nervous.
117- Trigger Time:    They like guns too much.
118- Vindictive Forces:    Beware! they hold grudges.
119- Body Collectors:    And yours is next…
120- Eye For An Eye:    Better watch out for this team.
121- Silent Killers:    Their opponents won't even get the chance to see what hit them.
122- Blood Thirsty:    Hungry to kill.
123- Apache Street:    Too violent.
124- Insane Shots:    Their shots are unbelievably precise.
125- Hungry Wolves:    And they are hungry for chicken dinner.
126- Collision Course:     Better not to cross this team.
127- Evil To The Bone:    Not an ounce of goodness left in them.
128- Brutal Force:    These badasses know how to win by using force.
129- Revengeful Beasts:    No one can get away after doing wrong to them.
130- Merciless Assassins:    They will kill you in a blink.
131- Numb Hearts:    They have no emotion.
132- Motionless Enforcers:    They make the rules here.
133- Cruelty Zone:     No mercy here.
134- Demonic Domination:    They do not just play, they dominate every game.
135- The Perpetrators:    They won't even mind going for violence when it comes to winning.
136- Vengeful Spirits:    They love to see their enemies suffer.
137- Swarm:   Wiping out every enemy in their path.
138- Toxicators:     Extremely harmful for other squads.
139- The Barbarians:    They will make your gameplay miserable.
140- The Nonredeemable:    You will never see them doing a good deed.
>>>>>>> Related Post:  Are Girls Powerful in Pubg? Read how
Pubg Tournament Squad Names
If you are playing in a tournament with your squad then the first thing you need to do is to choose your squad name wisely. If you have a strong and commanding name then people playing against you will see you as a threat and they will lose their confidence while playing. So, if you want everyone to be afraid of facing your squad then checkout this list for some best ideas:
141- The Rebels:    Playing to bring down the ruling class.
142- The Escapists:    Skillful enough to get out of any situation.
143- The Infinity:     Forever Winners.
144- Furious Gaming:    When they play, they play aggressively.
145- Battlefield Lovers:     They love to fight and win.
146- Rapid Ninjas:     Too fast and smart for other players.
147- The Phantoms:     Now you see them, now you don't.
148- Spectacular Strategists:     They plan the best strategies.
149- Fierce Brotherhood:    Tougher than everyone out there.
150- Energy Band:    Energetic 24/7.
151- Rapid Ammunition:    They have huge expertise in guns.
152- Enraged Lords:    Not a good idea to make these guys angry.
153- Killer Variants:    Everyone will suffer.
154- Jedi Knights:    The best players in whole tournament.
155- Chillin' & Winnin':    Making it look so easy.
Guidelines for Creating Pubg Squad Names
Still cannot find perfect name for your squad? Do not worry, below are some guidelines that will help you to create your own squad name.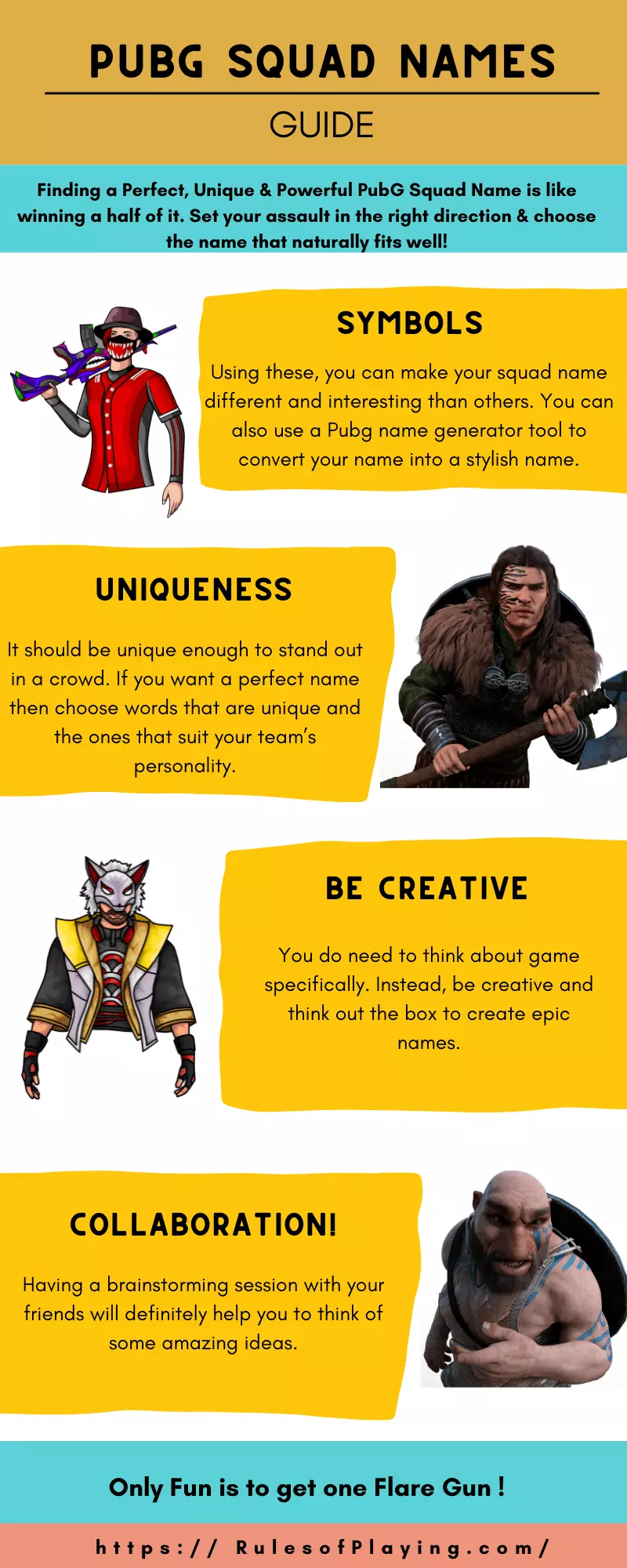 1- Add Symbols Or Special Characters: In Pubg, stylish symbols and characters play an important role. Using these, you can make your squad name different and interesting than others.  You can also use a Pubg name generator tool to convert your name into a stylish name.
2- Choose A Unique Name: Your name should have a vision and a mission. It should be unique enough to stand out in a crowd. If you want a perfect name then choose words that are unique and the ones that suit your team's personality.
3- Be Creative: While thinking about a name for you squad, you do need to think about game specifically. Instead, be creative and think out the box to create epic names.
4- Brainstorm Ideas With Friends: All Pubg enthusiasts are always full of ideas. Having a brainstorming session with your friends will definitely help you to think of some amazing ideas.
Conclusion
Choosing a good name for your squad is the most important thing to do because your squad name has the power to create a strong impression on other players. If you also want to rule the game then make sure to choose an intimidating name and for that, we believe the above listed suggestions will definitely come in handy. Hopefully, now you will not have to dig deeper to find a best Pubg squad name because we have already done this work for you.