Pubg has become a regular part of players' lives. Right now, Pubg is the most played game all around the world.
It is especially getting popular among young boys who try their level best to increase their rank and gameplay. However, another thing that every guy worries about is choosing the right name for his character.
Everyone wants his name to be more unique and stylish than the rest of the players. To help you all, we have arranged a list of 150+ name suggestions that are cool, epic, powerful, and funny.
A classy and unique name attracts eyes and creates a strong impression of a player on the battlefield. So, without any further delay, swipe down and choose the best name that suits your persona.
But, if you think none of the following names suits your personality, you can create your own name.
Check out the guidelines at the end of this article for some fresh ideas that will get your creative juices flowing.
Funny Pubg Names For Boys
In the world of PUBG, where everyone wants a powerful and dangerous name, why not go for a name that is funny and makes everyone smile during the game?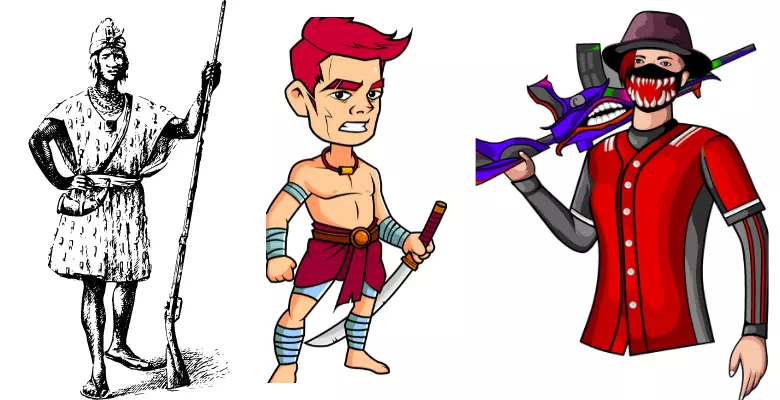 This is a good way to stay in the minds of other players for a long time. So, below are some funniest name suggestions to show your creative and funny side.
Additionally, don't forget to check our Master List of Pubg Squad/Team Names Revealed in 2022
1. The dork:    Expect him to be terrible.
2. UPPERCASE Guy:    There is going to be the use of a lot of obscene languages.
3. Mishits:    This guy never shoots where he is supposed to.
4. Sotally Tober:    Not so sober anymore.
5. Nerdling:    Young nerd at your service.
6. Trashtalker:     Conversation won't be smooth with him.
7. Lazy Assailant:     Does not believe in using much energy.
8. Charged Up Minion:    Probably wants to divert the attention of other players with his cute name.
9. Laughter Bot:    Just came to chill.
10. Drama King:    Too much drama here.
11. Crackhead: Would be the worst idea to have an argument with him.
12. Troller: Just loves to tease others.
13. Inaccurate Shots:     Do not worry if you are playing against them.
14. Unstable Maniac:    Never makes any sense but still plays crazy.
15. Chick Magnet:    And proud.
16. Vixen Grumpy:    Bit bad-tempered.
17. The Known Looter:    Everyone knows how much this guy loves to collect loot.
18. Punny Potato:     Expect a lot of puns.
19. Benchwarmer:    You probably won't see much action from his side.
20. Local Celebrity:    Everyone knows him.
21. Cereal Killer:    Totally harmless.
22. Empty Head:    No brain, no problem.
23. Chubby Monkey:    Fat and ape-like.
24. PsycHOTic Killer:    A killer who is also a hot-deadly combo.
25. Procrastinator:    Do not expect much running and killing.
Cool & Powerful Pubg Names with Symbols
In the race of stylish and cool PUBG names, symbols play an important role. Using these, you can make your game name different and cooler than others.
After doing all the hard work, we have written the best powerful name suggestions with symbols that you guys can use in the game. Here you go!
26. Th3 StRik3R:    The one who makes the finishing move.
27. Th3 Bo$$:    Everyone gives him respect.
28. Storm BRing3r:    Everything is so peaceful before he shows up.
29. The C|-|@mpI()n:     You'd probably have to give up on your dreams of winning if this guy is playing.
30. I|\|c()gniT():    No one knows what he is capable of.
31. X-tr3|\/|3:    When he plays, he plays with all energy.
32. Th3 Inf|u3nc3R:    He starts the trends.
33. CH@||@ng3R:    He knows how to bring a challenge to the game.
34. TOp Pl@y3r:    No one plays better than him.
35. V3|\|O|\/|:    Too dangerous for others.
36. B@D BOy:    Rules do not apply here.
37. D@r3d3vil:    Not afraid of any competition.
38. Fi3ry D3vI|:     He got real spirit.
39. G.O.A.T:    Greatest of all times.
40. Sp3||bind3r:    He compels attention.
41. M@$t3r Mi|\|D:     No one can figure out his gameplay.
42. K|/|oCKouT KI|\|G:    He knows how to kick his opponents from the tournament.
43. U|\|deRco\/3r @g3nt:     He got all techniques.
44. $tr@ig|-|T $hOOt3r:    He never misses any target.
45. G3ntl3 D()n:    He might not be that gentle.
46.  Ov3rpow3r3d:    Too overwhelming for other players.
47. Gu|\| M@$t3R:    Handles every gun with perfection.
48. Br@\/3|-|3@RT:    The boldest one.
Th3 O<<uPi3r: He takes what he needs by force.
49. M@n On Mi$$iOn: He has real goals.
50. AK-47:    He got real firepower.
Unique Attitude Pubg Names for Boys
Choosing a unique name for your game is the most important thing to do because your name has the power to create an impact on thousands of other PUBG players.
As a gamer, you surely want a unique and attention-grabbing name that shows your dominance over the game.
So, below are some unique attitude name suggestions for you.
51. Mean Guy:    No one is meaner than him.
52. Gamer Of The Night:    All others are noobs.
53. Gunslinger:   Oh, he loves his guns.
54. Undefined:   No one knows the limit of his skills.
55. The Bad Kid:     The kid your parents warned you about.
56. Anonymous:    What's in the name, right?
57. Street Brawler:     He loves to engage in noisy fights.
58. Lethal:    Small dose of him is dangerous.
59. Superior Force:    A force above anyone.
60. Mad Man:    It would be dangerous to make him angry.
61. Real O.G:    The only original gangster in the field.
62. Maxforce:    Always giving his best.
63. Uncontrolled:    He has no control over his winning aggression.
64. Disguised Soldier:     No one is more honorable.
65. Untouchable:    Killing him would only be possible in your dreams.
66. Pulverizer:    Angry and strong.
67. Wild Stallion:
68. Sensational Silencer:    Works without making any fuss.
69. Special Force:    You just cannot compete with this force.
70. Upper-Class Assassin:    He aces anything on the first attempt.
71. One Man Army:     He does not need an army to win; he is enough for everyone.
72. Phantom:    Now you see him, now you don't.
73. The Rebel:    He lives without rules.
74. Stormwind Warrior:     Vaporizing everything in sight.
75. Speed Demon:    You cannot catch up with this guy.
Killer Danger Pubg Names For Boys
Below are some dangerous and killer name suggestions that will make your opponents fear you on the ground.
Those who are playing against you will certainly consider you as a pro player and a threat when you will go to play the match after using any of these names.
76. Bulletproof:    It would take more than a bullet to beat him.
77. The Eradicator:    Knows how to finish the competition.
78. Sniper Master:    The Pro gunner.
79. Angel Of Apocalypse:    Bringing destruction on a catastrophic scale.
80. The Dominator:     He rules every game he plays.
81. Grim Reaper:    And he is coming for you.
82. Raging Bull:    Won't be a good idea to cross his path.
83. God Of The Undead:    You cannot kill the undead.
84. The Punisher:     Death would be easy for his enemies.
85. Death Warrior:    Has fought death many times and he is not afraid to fight it one more time.
86. Non-Stop Attacker:    Shooting everyone who opposes him.
87. Cold-blood Warrior:    He won't even think twice before slaughtering you.
88. Blood Basher:    Kills after kills.
89. Dark Spirit:    His gameplay will probably haunt you in your dreams too.
90. Sludge Assault:    Things are going to get dirty.
91. Insolent:     Not the right guy to start a conversation with.
92. Evil Born:    Not a little bit of goodness is left in him.
93. Blood Hunter:    And he is thirsty for blood.
94. The Beast:    Gets too wild in the field.
95. Creepy Creature:    Everyone fears him.
96. Toxic:    Very harmful for other players.
97. Blood Writer:     Probably gonna write his victory stories with his enemies' blood.
98. One Shot Destroyer:    He'll destroy your whole game in a single shot.
99. Merciless Shooter:     Probably has no heart.
100. Skull Crusher:    Anyone pissing him won't end well.
Unique Stylish Pubg Names for Boys
You must have seen during your game that some players display unique and stylish names that are amazingly distinctive. These stylish names always create a better impression.
If these names also fascinate you and you are wondering how to get these posh names, then you are at the right place. We have listed some creative and stylish names below that are unique and not taken yet.
101. ÊVÎŁツĐÊÁĐŠHØȚ:     These guys are too evil.
102. ☆H3@dHunt3R:    His one shot, and you are out.
103. ★彡[ᴛʀᴏᴜʙʟᴇᴍᴀᴋᴇʀ]彡★:    Wherever they go, trouble follows.
104.  ꧁๖ۣۜƤhaήtØm꧂  :    Magical skills.
105. 亗 Ꭲᴇʀᴍɪɴᴀᴛᴏʀ ✓:    They know how to finish the competition.
106. ◤CaͥƤtͣiͫ๏n◢:      The best one on the field.
107. Uŋstoppaʙʟe:    No one can stop this force.
108. Fɪɴᴀʟ乂Sᴛʀɪᴋᴇ:    They make the finishing move in every game.
109. DÊÅTH :') STRØKE:     His face would probably be the last thing his opponents will see.
110.H ¥ Đ R A ツ ₦ ł ₦ J A:     Trained warrior.
111. Bɘttɘʀ:    Better than anyone in the battlefield.
112. Fɩʛʜtɩŋʛ Mʌcʜɩŋɘ:    Non-stop kills.
113. Coɱpɭɘx Sɭʌƴɘʀ:    You cannot reach this guy's mind.
114. Dɘstʋctɩvɘvɩʀʋs:    A virus that is gonna erase everyone's existence from the game.
115. Mƴstɘʀɩoʋs:    Too complex for other players.
116. Dʌŋgəʀou'x:    Player of danger.
117. ★彡[ɢᴜɴ ʟᴏʀᴅ]彡★:     Best gunslinger in the game.
118. Iήsͥⱥnͣeͫ₭ ɨllǝ℞:    No one will be left alive.
119. M@rk$M@n:    Excellent at shooting.
120. D@RK✧⎠⎠乡✧BL@DE:       Everyone's life is at stake.
121. Iήsͥⱥnͣeͫ°:    Mad for winning.
122. BLaCkツPANTHER:       Too tough and intimidating.
123. Oʋtɭʌw:    Rules are meant to be broken.
124. ΞBad@$$Ξ:    Never compromises on winning.
125. BŁΛCKŠTØŔM:       Don't cross this path.
Best Pubg Names for Best Friends
Two is always better than one, and there is no way one can lose if he is playing with his best friends. To take this bonding to the next level, we have listed some amazing name suggestions for all the best friends out there.
A classy pubg name is one thing but personalizing your name, including your best friends, hit differently. So, below are some amazing suggestions for you and your friend to dominate the game.
126. Rifle Kings:    Weapon pros.
127. Shadow Killers:    Bringing chaos wherever they go.
128. Blackfire Beasts:    Facing them would be a bad idea.
129. Best Amigos:    The best pals.
130. Brutal Bullets:    They take the game too seriously.
131. Alpha Beasts:    When they play together, they become stronger.
132. Outlaws:    Laws are not for them.
133. Crazy Asses:     Expect brass behavior.
134. Revolt Spirits:    High in spirits.
135. Braindead Zombies:    You cannot argue with these monsters.
136. The Brocode:    Do not try to break this code.
137. The Strangers:    A bit unpredictable.
138. Infectious Warriors:    Too harmful for everyone.
139. Deadlife Demons:    Who can defeat this demonic power?
140. Hurricane Forces:     Going to wipe everyone out.
141. The Survivalists:    The ones you will see surviving till the end.
142. Jawbreakers:    The faces of their enemies won't look the same after.
143. Masterminds:    They have razor-sharp minds.
144. Aggressive Winners:    Their anger is legendary.
145. Fire & Ice:    They balance each other.
146. Team Priceless:    Their bond is so precious.
147. Bad Omens:    Bad sign for other players.
148. Bro Support:    They'll always need their bros.
149. Straight Shooters:    The best accurate shots you will ever see.
150. Complex Strategists:    No one can understand their game strategies.
151. Squad Up:    Ready for any fight.
152. Long Shots:    Known for shooting precisely from huge distances.
153. Mad Kings:    They got savage instincts.
154. Sharpshooters:    Perfect aim.
155. Better Together:    Sorry but these friends are just better than everyone.
Pro Tips for Creating Your Own Pubg Name
Creating your own PUBG name is not that hard. All you need is an active mind and basic tips. Check out the following tips for a head start.  Not only guys, but Pubg Players list for girls in 2022 must have been on your fingertips.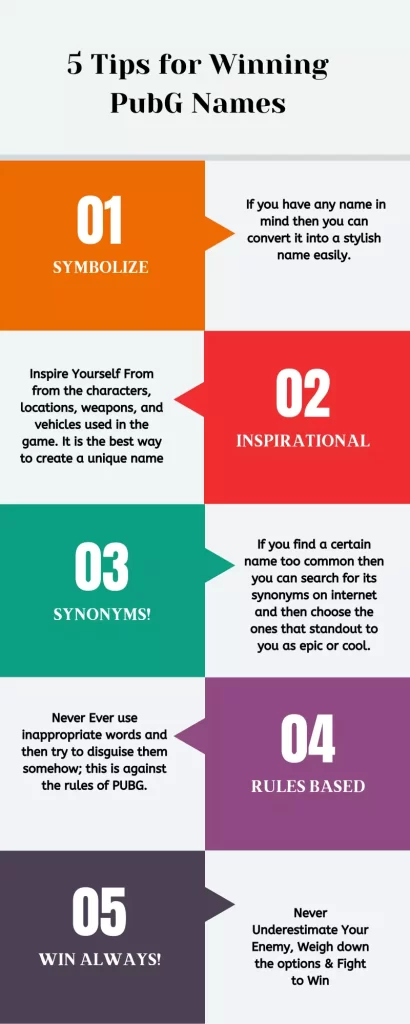 1. Add Symbols Or Characters:
Adding symbols or special characters is the best way to make your name distinctive.
If you have any name in mind, then you can convert it into a stylish name easily. You can also use a name generator tool to get some amazing ideas.
2. Take Inspiration:
You can also take inspiration from the characters, locations, weapons, and vehicles used in the game. It is the best way to create a unique name.
You can also take inspiration from your favorite action movies or actors to create an interesting name.
3. Keep Rules In Mind:
Do not use any inappropriate words and then try to disguise them somehow; this is against the rules of PUBG. Use non-offensive words that are not rude to any person in the community.
4. Use Synonyms:
If you find a certain name too common, then you can search for its synonyms on the internet and then choose the ones that stand out to you as epic or cool.
Conclusion
Pubg is not like any regular game for guys. It is an intense win or loss situation for them where everyone wants to win and get a higher rank.
If you also want to be a winner, make sure to choose your name wisely. You already get close to winning if you make your opponent nervous, and for that, a strong name is very important.
Hopefully, the above-mentioned names will help you to get the highest rank on the PUBG battlefield.