No doubt running, swimming, and cycling are difficult sports, but what if they all are combined in one game?
You can imagine how challenging the sport can get. Each year thousands of players sign up for triathlons and practice for months to compete in this sport.
Every team tries its best to set a record in the game. However, all this struggle goes to waste if a team has no identity.
Imagine practicing the whole year to win, but when you reach the ground, you get no recognition.
Pretty embarrassing, no? This will happen to your team as well if your team has no identity. That is how much important a good team name is.
Triathlon Team Names For Your Squad | Funny, Clever, Awesome- List 2022
Happy teams are more creative and productive, and that is only possible if you make them feel equally important in the team. A good team name gives your team members a sense of pride and belonging.
It helps them to connect with one another and show their dedication to the game.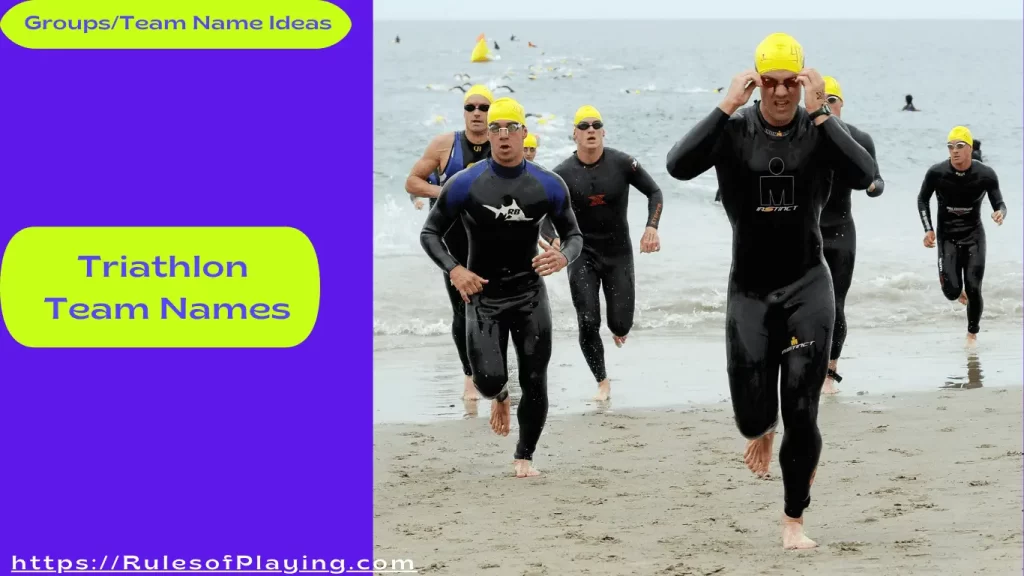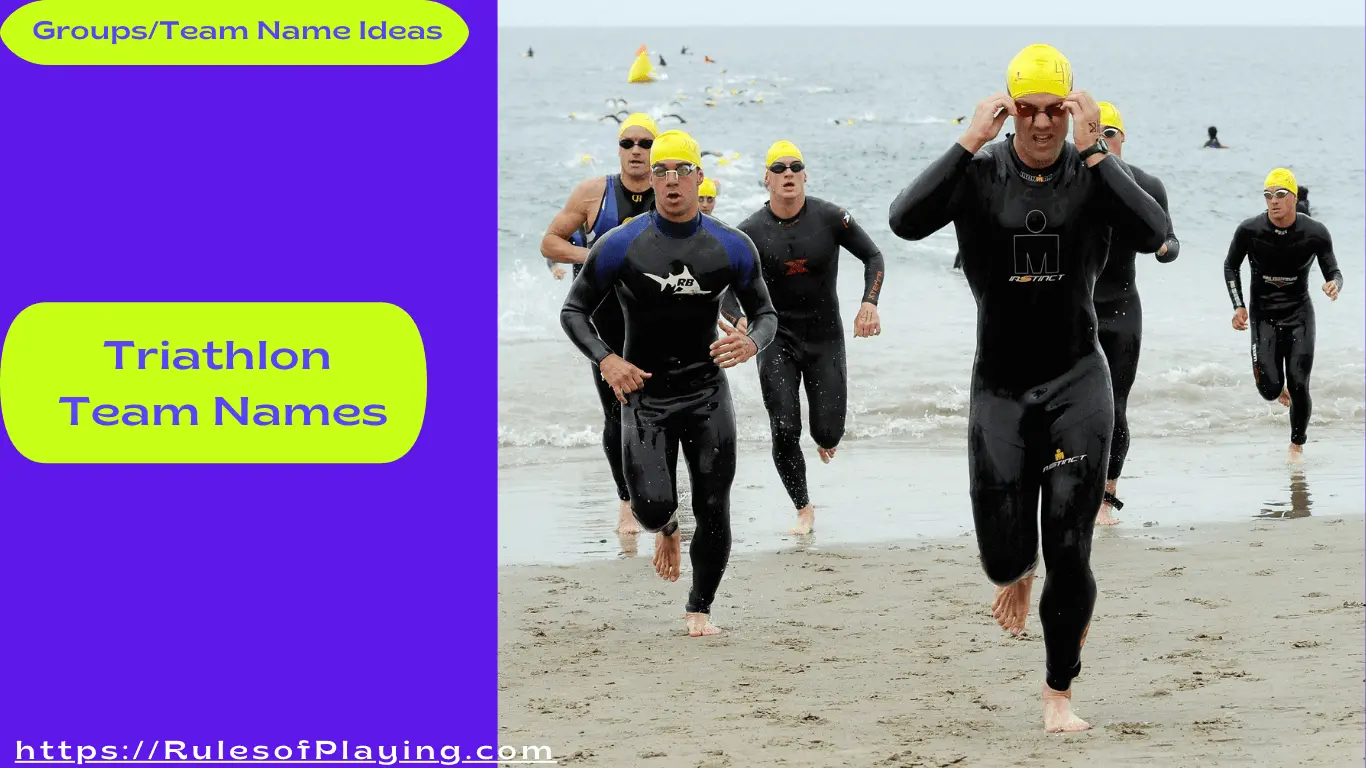 For your inspiration, we have listed 60+ triathlon team name suggestions. Some of them are wicked, some are smart, and some are hilarious. Hopefully, you are going to find a perfect name in this list that reminds you of your team.
1. We Are Triathletes.
2. Breaking The Limits.
3. The Finishers.
4. Tri-Power.
5. Water Lilies.
6. Moving Forward.
7. The Chasers.
8. Tri Not To Lose.
9. Born To Tri.
10. Dangerous When Wet.
11. Yeezy Boost.
12. The Tribrids.
13. Feet Power.
14. Tri-Chicks.
15. Rock A Tri Baby.
16. Speed Crushers.
17. Win Or Die Tri-ying.
18. Thirst For Win.
19. Been There, Done That.
20. Splash, Rush & Drag.
>>>> Read Also:  " Best Funniest March Madness Team Names "
21. Fabulously Fast.
22. Restless Species.
23. Towards The Finish Line.
24. Worth A Tri.
25. Done For The Day.
26. Call Us A Cab.
27. Wtf- Where's The Finishline?
28. Unmatched Competition.
29. Bi & Tri-Curious.
30. Multiple Threats.
31. Holy Threesome.
32. Tri-Wildness.
33. The Ultimate Speedsters.
34. Victorious Gang.
35. Speed Was Never A Problem.
36. The Thunder-guys.
37. Tri-ple Trouble.
38. The Trifected Crew.
39. Tri-ying For The Win.
40. Soul Survivors.
41. Long Distance Relay-tionship.
42. This Is Gonna Hurt Tomorrow.
43. Untired Souls.
44. Happy Paces.
45. Unbelievably Fast.
46. The Pacemakers.
47. Chillin' &Bruisin'.
48. Wild Strides.
49. Covering Distances.
50. Tri-ple Sweats.
51. Any Time, Any Pace.
52. No Pain, No Gain.
53. The Blisters Alliance.
54. Every Mile Matters.
55. UndeFEETed Champs.
56. Tri Brotherhood.
57. Hardcore Tri.
58. Lazy Sluggers.
59. Up For The Win.
60. Crashing Obstacles.
61. Going Miles.
62. Charlie's Tri-Angels.
63. Sweating It Out.
64. Tri-ppin' &Chillin'.
65. Tri-Sexuals.
66. The Misfits.
67. Tough As Nuts.
68. Tri Is The Way.
69. Breaking Barriers.
70. Tri-ple Threats.
Guidelines to Create Your Own Triathlon Team Names
If you have some ideas that you wish to use in your team name, then read these guidelines that will help you in creating a unique team name using those ideas:
1. Keep It Light-Hearted:
Though motivational team names are great, it is not necessary that you have to choose a serious name; in fact, funny names get quick attention.
A funny name will surely make your team members have a good laugh long after the end of the race. Make a list of words that you find funny, or see if you can create puns about swimming, running, or cycling.
2. Take Inspiration From The Game:
If you are participating in Triathlon, then high chances are that you already know about the obstacles that you are going to face in the race.
Take inspiration from the courses or the obstacles and merge them with descriptive words. This will help you to create a unique team name in no time.
3. Choose Motivational Words:
Keeping your triathlon team motivated is the key to success. Since triathlon includes three difficult tasks, so it gets pretty challenging.
That is why everyone in your team needs that extra push to get going, and a good team name is the only way to provide that motivation.
So make sure that you choose motivational words to keep your team energetic during the whole task.
4. Take Inspiration From Your Team Members:
Ask you, team members, to come up with words that describe them best as runners, racers, and swimmers. Get creative and use uncommon words to create unique team names.
This will help you to get a variety of options. After that, ask your team members to vote for the one they like and then finalize the one with the majority votes.
Conclusion
Since triathlon is a sport that includes three tasks; cycling, swimming, and running, so you can get an idea of how challenging the game can be.
So, in order to push your team to perform their best, you need a great team name. A good name reinforces positivity and even becomes a mantra for a team that helps them to stay motivated in the sport.
So go ahead and make your choice wisely to ace any competition.