While looking for team names, we often explore different sources. Be it serials, comics, movies, or famous characters, there are many ways to find a team name.
But, have you ever thought that the animal kingdom can help you too in this matter? Nowadays, animal-inspired names have become wildly fashionable for teams.
Bears, Lions, Sharks, Wolves, and Hawks are reaching the top for team name suggestions.
Animals can be a good inspiration if you are stuck on team names. Each animal on this planet has special qualities; some are known for their strength, while some are known for their speed and intelligence.
The best way to show that your team acquires such traits is by choosing an animal-inspired name for your team.
Choosing such strong and smart names not only enhances their exceptional capabilities but also encourages them to stay strong during any challenge.
Animal Team Names Suggestions | Best, Powerful, Funny & Wild
So, if you are an animal lover, then an animal-inspired name is the perfect choice for your team. For your inspiration, we have listed 60+ animal-inspired team names that portray strength, intelligence, and speed.
Choose any name from this list that you think fits the traits of your team members. If you also have some ideas, then check out the guidelines below this article to incorporate your ideas into a team name.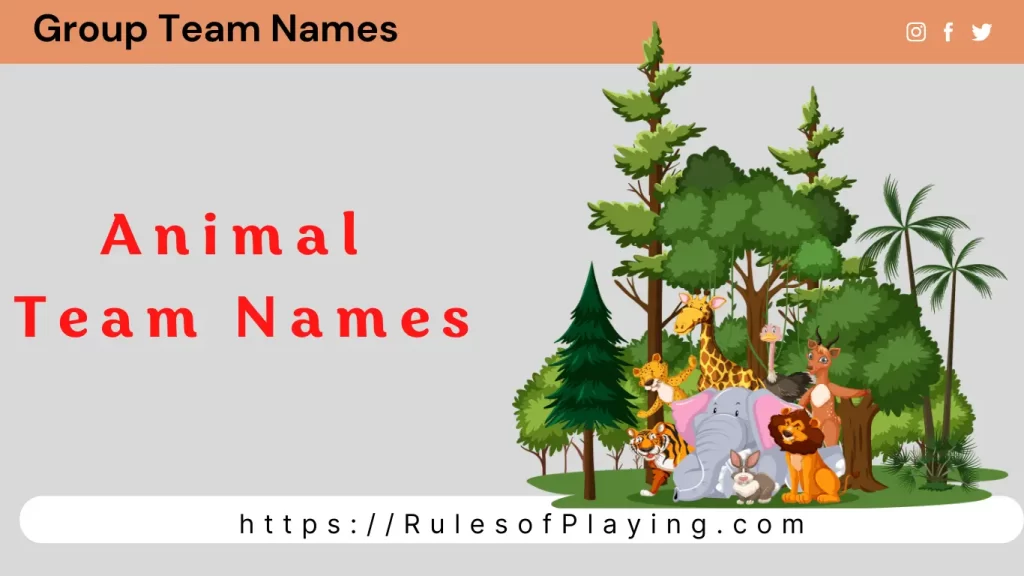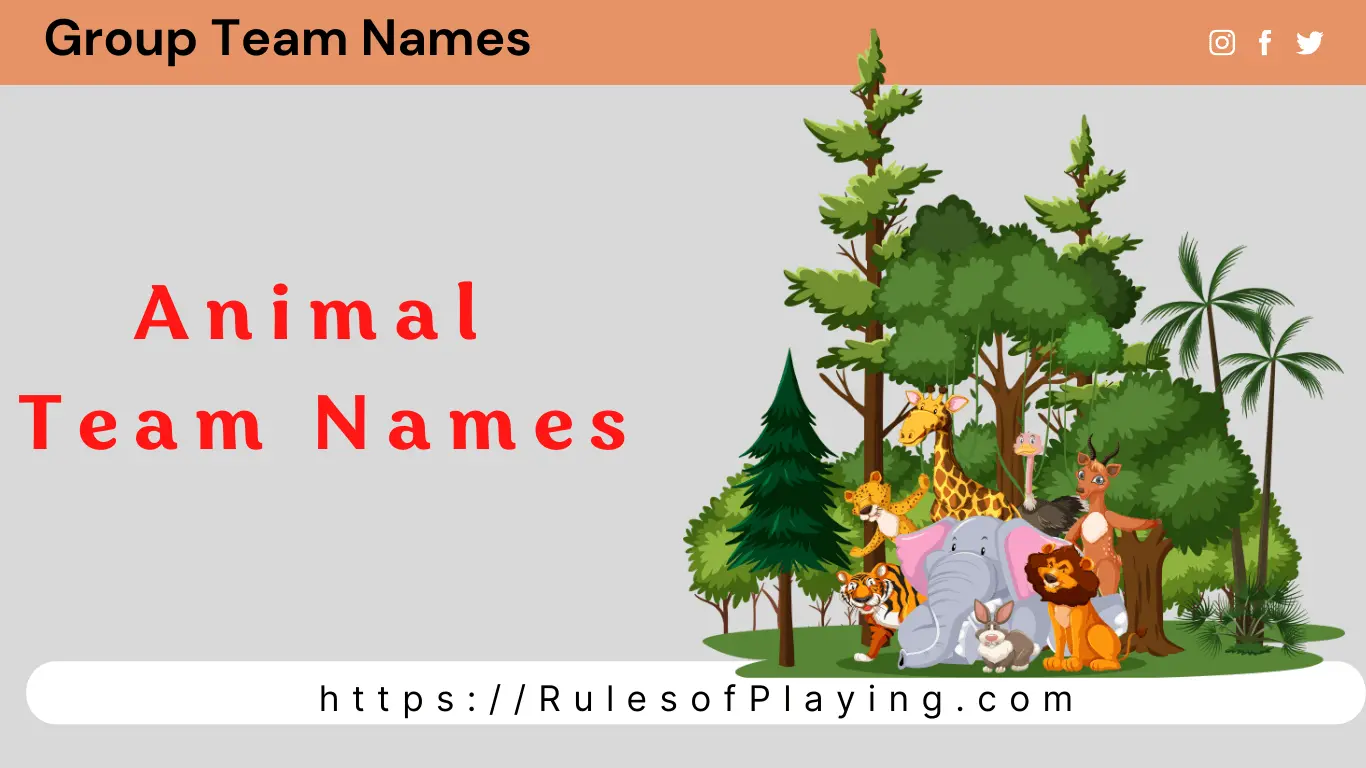 The following suggestions are perfect for your wild team:
1. Lazy Pandas.
2. Wild Stallions.
3. Lion Kings.
4. Unbeatable Jaguars.
5. Smoking' Hot Bears.
6. Black Birds.
7. Alligators Alliance.
8. Hungry Apes.
9. Snakes Attack.
10. Galactic Birds.
>> Read Also:   " Clever Catchy Cat Themed Cat Team Names List"
11. White Fangs.
12. Kung Fu Pandas.
13. The Chunky Monkey.
14. The Lone Wolves.
15. Chicken Legs.
16. Wild Beasts.
17. Peaceful Doves.
18. Wise Pandas.
19. Cross Dressed Pandas.
20. Blue Whales.
21. Tiger Express.
22. Scary Scorpions.
23. The Naughty Chicks.
24. Goose Bumps.
25. Daring Sparrows.
26. Ferocious Predators.
27. Jumping Penguins.
28. The Mad Monkeys.
29. Ugly Ducklings.
30. Wild Tooth Huskies.
31. Dinosaur Wrath.
32. Delta Ducks.
33. Space Invading Monkeys.
34. Whispering Cows.
35. Lazy Lobsters.
36. Fire Breathing Dragons.
37. Goofy Geese.
38. Saber-toothed Tigers.
38. Wildcats.
39. Mountain Lions.
40. Poisonous Anacondas.
41. The Cranky Bears.
42. White Dolphins.
43. Paws & Whiskers.
44. Dancing Giraffes. 
45. The Very Hungry Caterpillars.
46. The Sheep-Pigs.
47. The Velveteen Rabbits.
48. Hunting Eagles.
49. Cats In The Hat.
50. Pawsitive Cats.
51. The Big Bunnies.
52. Hawk Eyes.
53. Flying Pigs.
54. The Pussycats.
55. Drunken Sea Horses.
56. Pink Pigs.
57. The Roaring Lions.
58. Little Lambs.
59. Creepy Crawly Spiders.
60. Dying Cats.
61. The Wild Swans.
62. Holiday Armadillo.
63. The Considerate Crocodiles.
64. Evil Ducks.
65. Jiggling Jellyfishes.
66. The Mighty Octopus.
67. The Ponytails.
68. Tortoise & Hare.
69. The Wolf Family.
70. Sagacious Elephants.
Guidelines for Creating Your Own Animal Team Names For Your Squad
Finding a perfect animal squad name is the combination of certain skills and a few necessary look-ups. For our readers' ease, we have created a guideline. These guidelines will help you to generate fresh ideas:
1. Take Inspiration From Animal Life:
There are so many animals that, if you do not know. Any of them can work best for your team name.
If you are out of ideas, then search a list of animals all around the world for ideas.
2. Use Your Favorite Animal's Characteristics:
You must have a favorite pet that you adore a lot. Take inspiration from him, write down his activities that you love and his adorable features and incorporate these into a team name.
3. Use Terms Related To Animals Activities:
Though you can use the simplest terms to avoid complicated names, you can still consider looking to animal activities for epic ideas.
Hobbies like dog surfing, pouncing, and obedience trials have unique terminology that can use as inspiration to create epic names.
4. Use Thesaurus:
Sometimes it gets challenging to spend hours on the internet trying to find a good team name. So, a thesaurus can be of great help to expand your options and take inspiration from so many options.
For example, a search of creatures will most likely bring up more than 50 options, including mammals, vertebrates, varmint, crawlers, etc.; you can ye these terms to create names like "The epic vertebrates" or "The fastest creatures."
Conclusion
Being an animal-lover, I know how much you would want your animal-inspired team name to be perfect.
Hopefully, the above-listed suggestions will make a good and strong team name.
Trust me, the animals won't complain about why you have named your team after them do feel free to choose any name that you like and show everyone how unique your team is in every way.