Spartan race is a great way to challenge yourself to push beyond your limits. It is an obstacle course racing in which you have to cross every hurdle to win the first position.
However, a more important thing after signing up for this race is a good spartan racing team name.
Your team name is your identity as whatever is like funny, cool, best, etc. That is why it is very important to choose the right name for your team.
Spartan Racing Teams Names | A List of Funny, Catchy, Cool Spartan Racing Team Names

We have arranged a list of funny, cool, and powerful team names that will surely make your team stand out among the rest.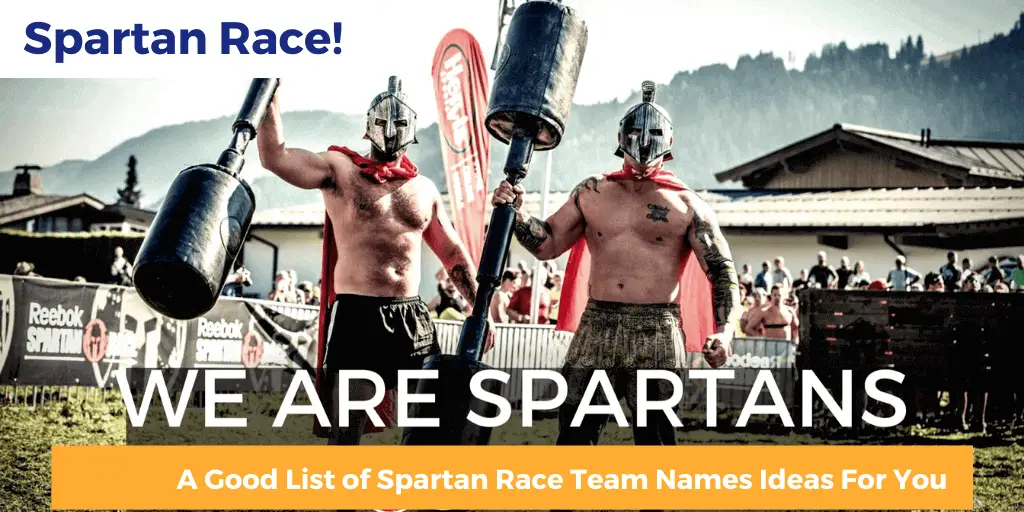 If you still find it confusing, then you can check our guidelines at the end of this page, which will definitely help you to create your own team name.
Funny Spartan Racing Team Names

Here is the list of funniest team names that will release the stress of race and make your team smile throughout the competition:
Whether playing mud, rail, or trail with funny pit people, here you go is the best list of funny spartan racing team group names for you.
1. Tired Feet:    They are new to this race, and now their feet are quite unhappy about it.
2. Race now, Moan later:    All day long but right now, winning is more important.
3. Break time:    This team is always trying to catch up with the rest.
4. Straight off the bed:    Do not worry about this team.
5. Miserable Spartans:    They are probably among those which Leonidas refused to take to the war.
6. Done for the Day:    Already tired.
7. Happy Mudder Funkers:    Say that aloud, and you will surely like it.
8. Dirty Burpees:    Who said to fail one obstacle?
9. Are We There Yet?:    No, keep running.
10. We Give Up:    Too soon?
11. Make this stop:    They just want to go home now.
Related Post: Cycling Team Names for Next Competition!
Cool Best Spartan Racing Team Names

Here is the list of cool team names to show everyone that you are not afraid of any challenge or hurdle. You are the pros of this race, and you need to show it through your team's name.
12. Coming in first:    That is the confidence that every team should have.
13. Burpees don't stop us:    Anything to win.
14. Chasing the dreams:    Winning the race was probably their utmost dream.
15. Racing in heels:    Too cool to wear sneakers.
16. Say No to Burpees:    Yeah, no more burpees.
17. Racers gone wild:    Probably too much on their first race.
18. Rough n Tough:    Too much practice has made them tough.
19. Reckless speedsters:    they might be good in the race, but they are rough and disoriented.
20. Hurdle Proof:    The pros of the race.
21. Came here with Spartans' spirit:    Forget winning against them now.
22. Muddy run: The sneakers they wore before the race was not the same at the end of the day.
Best Powerful Spartan Racer Team Names Ideas

For angry marathon mud racer spartan players, we have listed your best spartan race team name to undo all obstacles to run for winning.
23. No Limits:    No distance is too much for them.
24. Thunderous Spartans:  Gods of this race.
25. Powered Up:    They can race all day without any problem.
26. Team No surrender:    They never have, and they never will.
27. Born to race:    They do not find any other activity better than this.
28. Thissssisss Sparta!!:    From the movie 300.
29. Tough targets:    They are surely a tough competition.
30. Conquering the obstacles:    They are ready to own the ground in every race.
31. Leonidas' army:  Some real fans of The movie "300."
32. One more obstacle:    Not afraid of any hurdles.
33. Run to burn: It's never too late to burn that extra fat.
Related Post: Powerful Running Team Names for Your Team
Tips on how to Create Your Create Own Spartan Racer Team Name
Spartan race is a fun challenge, and a good team name makes it more interesting. If you want to create our own team name, then we totally appreciate this.
No one knows your team better than you, so we have full confidence in you that you will create a name that is more unique and more interesting than others.
Just follow these tips to help you in brainstorming. It will get easier for you to think about options after reading these tips:
Think about the Challenges
Search about the challenges and obstacles that you will face during the race. Think about how important it is for your team to win the race.
Think about how excited you are for this race. Put all your confidence, excitement, and worries into words.
Try to merge words to come up with something unique and interesting because it will help you to make your team smarter than the rest.
Keep it Simple

Your team name should be short, simple, and easy to understand. Your team name sets your identity, so choose a name according to the nature of your team members.
Do not add unclear words that make no sense. No one will remember it if your team name has no proper message.
Take a Team Poll

Teamwork plays an important in creating a dream team. Taking suggestions will definitely help you in your search for the best team name.
Who knows, they might have some great ideas too that you will love.
Finalize One Word
Your finalized word should be creative and unique enough to make your team stand out among the rest. Your chosen name should fit the team as a whole.
Also Read: How to Play Hedbanz Game
Conclusion
Do not get confused about finding a perfect team name. Do not spend hours on the internet to find a name either.
If you want to create your own team name, then just read these tips and trust me, you will get more creative ideas than those given on the internet.
Also, if you like any name from the above list, then do not forget to tell us in the comments section.