If you are leading a running team, then you must know the importance of having a super powerful running team name.
A nice selection of team names always gives extra confidence to your team and makes it more amazing than other teams.
However, choosing an ideal team name is certainly not an easy task. Sometimes, people search through the whole internet and still cannot come up with an ideal team name.
That is why, to save you from the stress of finding a perfect team name, we have compiled a list of the best team names.
So, whether you are running to promote a healthy lifestyle, improve your health condition, lose some fat, release stress, or in a competition, then we got you covered.
We have arranged names under every category that will match your purpose.
If you like to create your own names, then it is also not a difficult task. Just check out our guidelines at the end of this page for brainstorming.
We believe that these tips will surely make you capable of creating some creative and unique names.
List of Running Team Names For Next Championship!

We have arranged a list of funny team names, creative team names, and cool team names that will make your team more unique and interesting than the rest.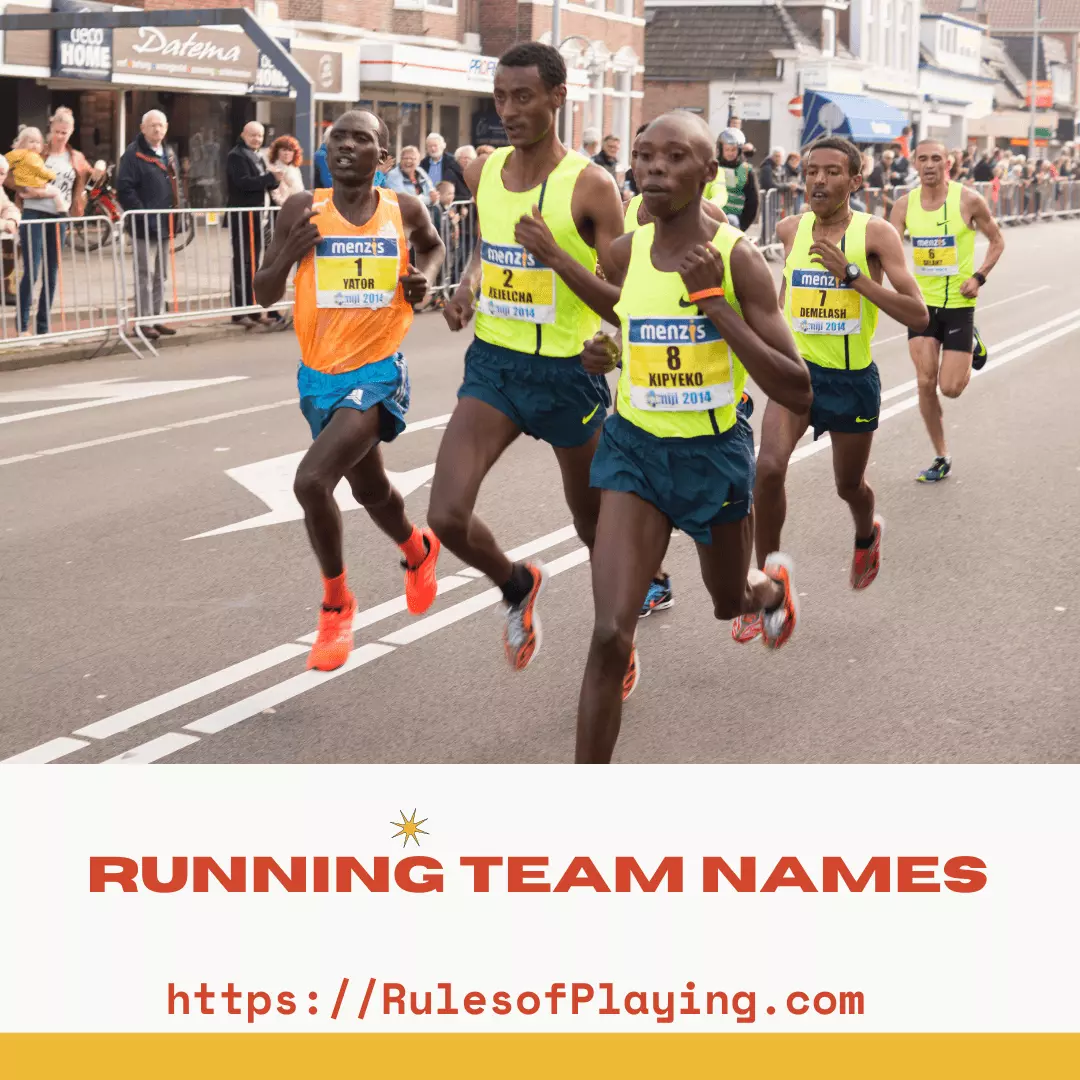 Funny Running Team Names

Names are the reflection of a team's personality. So, if your team members are jolly and hilarious, then go for a funny name from this list:
1. Seems like fun but not:  They are already tired of running
2. Run now, Moan later:     Winning is more important for them than sore muscles
3. Team Busters:     They know how to get rid of their opponents with their performance
4. WTF-Where's the Finish:    This name pretty much describes our feelings when we run
5. Speed bummers:    Don't judge them by the name
6. Faster than snails:     That is a relief, no?
7. Running just like we run from responsibility:     We can assume how fast they must be
8. Too run to drunk:    Heavy drinkers here
9. Miserable legs:     They get tired easily
10. Call 911:    Because they have fired up the track with their performance
11. Keeping Up with the Runners:     Extra points for efforts??
12. Runners Punners:     Running with lots of puns
13. Liar, liar, legs on fire

14. Time will heel:     Hope so
15. Undertrained but overconfident:    Probably their first race
16. Granny Legs:     For runners who run like grannies
17. The running dead:     Alive & running…but doomed
18. Sore soles:     Painful feet, but who cares
19. Call a cab:     Give them a break now
20. Running because Uber cancelled:    Give them points for being honest
21. Naptime at the Finish line:     Do not disturb them
22. Straight off the bed:     Newbies here
Related Post: Unique Cycling Team Names For You!
Creative Running Team Names

Here is the list of creative team names to show everyone that you are not such strong as a team but creative as well:
23. The Jog Fathers:     Kings of the race
24. Talk less, Run more:     They are highly dedicated to running
25. Gathering Momentum:     They are just getting started
26. Track Warriors:     A great motivational team name
27. Unleashed Beasts:     Competing them won't be easy
28. Eyes on the track:     They are highly focused in the race
29. flyin' Sprinters:     You cannot catch up with the energy of this team
30. The Ultimate Champions:     They do not even remember the last time when they lost
31. The Jaguars:     Fastest animals here
32. Runners Gone Wild:     They become different species on tracks
33. From fat to Finish line:     For those who are trying to lose extra fat
34. Steel Legs:     They have very strong legs, and they are not afraid to make correct use of them
35. One more Mile:     They never give up
36. Without limits:    Their speed has no limits
37. Ostrich legs:     No one can match the speed of an ostrich, right?
38. PaceMakers:     They know how to maintain their speed
39. Scrambled Legs & Bacon:     This is a play on a breakfast dish
40. The Bolts:     Definitely a tough competition
41. The team who learned to fly:     no one can match their energy and enthusiasm
42. No Limits:     No distance is too much for them
43. East, run, sleep, repeat:    OF you cannot think of anything else, I think this would work
44. The Game Changers:     They can make any match unpredictable with their performance
Related Post: Unique Spartan Race Team Names for Next Competition
Cool Running Team Names

Here is the list of cool team names to show everyone how calm and interesting your team is:
45. Laced up:     They are all set to compete
46. Game on:     The only thing they care about is running
47. Fast & Furious:     They have unimaginable speed
48. Runners of the day:     They are already winners in their own eyes
49. Eyes on the prize:     They are here just to win
50. Crazy Sprinters:    They are fast, and they know it
51. Rhythmic feet:     A multi-talented team
52. 50 shades of training. 
53. The Flash:     No one can match their speed
54. Crazy Runners:     They are passionate about running
55. Catching up with clouds:     Their team runs so fast as if they are practically flying
56. The Over takers:    They will catch up and overtake you in the race
57. Catch up if you can:    You cannot catch up with the speed of this team
58. Super Feet:    Running makes them happy
59. Bar Raisers:     They know how to set a bar with every performance
60. Energetic Speedsters:    They never get tired of running
61. Run now, Brag later:    Agreed. No one should brag too much before their performance
62. Getting rid of laziness:    For a team that is trying to stay fit
63. The Run Around:    They are here for a race and some fun
64. Road Models:     If they run every day, they are surely my role models
65. Forty 'n fit:     A great name for people who love to run even in their 40's
66. Ibu-Pro-Fun:     Running is fun, but you might need ibuprofen after that
How to Create Your Own Running Team Name?

Creating your own team name is very easy. So, if you are not satisfied with the names and want to create something of your own, then read these tips on how to come up with a unique name:
Take Inspiration

Take inspiration from your favorite tv shows, movies, or comics to come up with a name.
List down everything that your team members have in common, like what is the main aim of your team, what you people like the most, what your hobbies are, etc.
Keep Creativity in Your Mind

When it comes to a perfect team name, be as creative as you can. Think outside the box because you need a name that is different and interesting from other teams.
However, whatever name you choose, make sure to keep it simple because no one will remember your team if your team's name is complicated or complex.
Add humor or Puns

Your name should be catchy enough to gain the support of spectators. You can use puns or inside jokes to come up with a unique name.
Don't Use harsh words.

It is okay to use challenging words for your opponents but avoid the use of terms that might hurt someone's feelings.
For example, you should not use any terms related to age, gender, or religion. Also, avoid the use of offensive words because you might use your fan following.
Get Feedback
After making a list of all the names that you think are okay, discuss the names with your team members and seek their suggestions.
Sometimes suggestions help a lot in creating something unique and interesting.
Also Read: Professional Soccer Rules for Kids
Conclusion
Even if you do not want to use the above-listed names, we are sure that they will definitely serve as an inspiration for you to create something of your own.
Do not forget to check out the guidelines and tell us in the comments section about your new team name.