Playing throwball! Add spice, fun, and creativity with 39 throwball team names that are excellent, powerful, and chosen to bring certain success to your team!
Throwball is an exciting game that is played between seven players on both sides. It is similar to volleyball but much more thrilling and dynamic.
This sport is no doubt too exciting, but another exciting thing is to choose a name for your throwball team.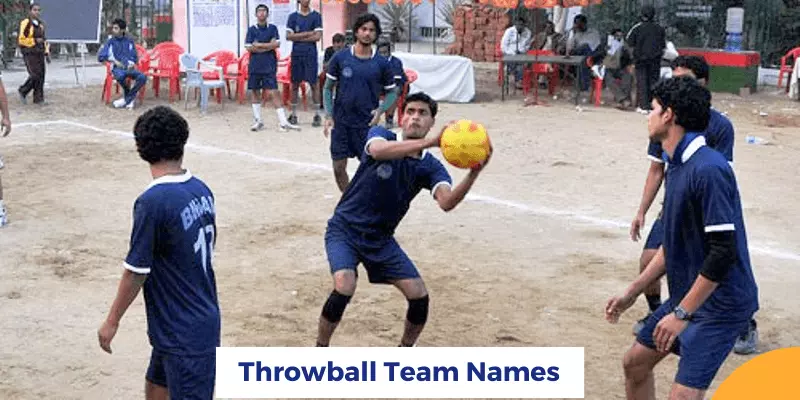 As we all know, the most exciting part for everyone in every sport is choosing a team name.
Unfortunately, people search the whole internet looking for an awesome team name and still can't find anything up to the mark.
A team's name is something that just doesn't say what you do, but it says who you are. A team's identity shows the real purpose and mission of the team.
So, with a strong team identity, there ate higher chances of team's high spirit and unity
List of Throwball Team Names | Funny, Powerful, Unique, Creative Throwball Team Names



We have written funny team names, cool team names, and powerful team names that you are definitely going to like:
Funny Throwball Team Names

Funny team names make your team more interesting. Spectators will not cheer for your team but also talk about your team with their friends.
So, here is the list of funny team names that will make you smile:
1. Ball Grippers:    You might wanna stay away from them.
2. Should have practiced: Good start.
3. Sweaty socks: Yukh!
4. Court Violation:    They just don't care.
5. Not in the face:    Such crybabies.
6. Bloopers in court:    Their team is nothing but an embarrassing error.
7. My ball, your face:    This is going to hurt.
8. Should have said no to this:    Too late now.
9. Slacking off in 3..2..1:    They are on the extreme level of laziness.
10. Any points for showing up?: Only relying on that now.
11. Attention Seekers:    They are the center of attraction in every game.
12. Throws survivors:    Probably too much pressure on their first match.
13. All Boozed-up:    Yeah, cause this was more important.
Related Post: Mexican Team Names Listed
Cool, Creative & Catchy Throwball Team Names

Time to show your opponent why your team is the best by choosing a cool team name.
It not only makes your team look the smartest among other teams but also shows a fun side of your team.
So, here is that list of cool team names that your team members are going to love:
14. Catches Win Matches:    They are well familiar with this concept.
15. It's Show Time:    Get ready to see some heavy throws.
16. Unballievable:    They always perform incredibly.
17. Play Hard, Party Harder: The best rule of this team.
18. Flying Fellas: Their opponent can only try to match their level.
19. Setsy Strikers:    They know how to play with style.
20. That's how it is played:    Yeah, learn from them.
21. 3-second madness:    Total time in which ball has to be thrown after being caught.
22. Kinky Sets:    Probably, the finest kind of sets.
23. Keep calm and throw on:    Because panicking surely won't help.
24. Say hello to the new champs: That's the confidence.
25. Get, Set, Throw:    Fully focused on winning.
26. CourtBreakers:    Always coming up with new strategies.
Powerful Throwball Team Names
A powerful team name shows how competitive your team is and why your opponent should think twice before competing with you.
So, here is the list of powerful team names to make your team the dominant one in the field:
27. Mission clean Sweep:    Highly motivated for an overwhelming victory.
28. A case of Throws:    The only illness that will lead them towards winning.
29. Watch and Learn:    Well-practiced and super confident.
30. Out of your league: No one is up to their level.
31. 7 Deadly Sins:    Unfortunately, all are here in court.
32. Velocity Strikers:    Get ready to see some real speed.
33. Trick Shots:    Won't be easy to analyze their moves and tricks.
34. The Mighty Catchers:    There is no way there are going to drop the ball.
35. Big Dudes with scared shoes:    watch out for this team.
36. Within our grip:    Never let the ball drop.
37. Project Overpower:    Definitely superior in strength to their opponents.
39. Court Rulers: If they are playing, no one's gonna notice another team.
Related Post: Powerful Cheer Team Names for Victory Cheer!
How to Create Your Own Throwball Team Name

You can easily create your own team name. In fact, it will be much easier for you because you will know your team members much better.
Just read these tips that will solve every confusion in your mind.
We believe after reading these tips, you will definitely create a unique team name in no time.
Why Make Your Own Name
Keeping these things in view, we did not want you to worry about the stress of finding a name too.
We have already done this work for you. In this article, you will find so many options under different categories.
Make it Unique
A team name must be unique, and in order to do so, we can merge beautiful but simple words to make a unique name.
Make it Catchy

Choose words that are interesting and fun. Adding puns is the best option to make your name catchy and interesting.
Add Images

The team name shows the characteristics of the team, so if we associate pictures with team names, it will leave a good impact on your team on others.
For example: if a team's name is Leopards, we can also add an image of the leopard.
It shows clearly that the team members are too fast to catch, so another team will know the competition that they are about to face.
Listen to Your Team Players
Every individual in the team can suggest a good name if he has some great idea in his or her head.
So, taking suggestions from other team members is a great way to create just a good but much better and interesting name.
Also Read: Crokinole Rules & Strategies to Play with
Conclusion
A good team name adds a spark to a team. It makes a good first impression.
That is why you should be very particular about choosing a team name. If it is not good, then your might lose your fan's support too.
So, do not forget to take some time out from your practice and check out these names. Share them with your team members to boost up their spirit too.