White is the most decent and elegant color in the world. It represents goodness, innocence, peace, and positivity.
So, if your team has been assigned the white color theme, then trust me, you are going to rock the game.
Though white color represents light and innocence on the negative side, it also represents coldness and emptiness.
There are so many ways to use white in your team name-like white mold, the name may sound funny, but it can be quite dangerous.
This is the best way to deceive your opponents. They might perceive you as newbies or rookies when you are actually tough and ready to beat them.
Everyone prefers to be in the team that has the coolest and funniest name that everyone is envious of because it makes people chuckle.
White Team Names List | Cool Creative & Powerful
It does not matter even if you lose. The audience will not remember the winners; they will only remember the team, which leaves the coolest impression on the ground. Your team name is your identification.
With a good team name, you do not need to explain the purpose of your team because your name already does that.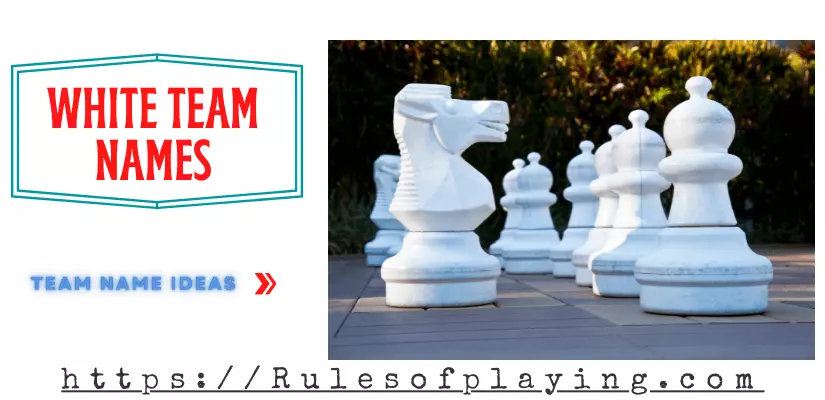 Keeping this in mind, we have arranged some cool, funny, and powerful suggestions for you that will surely create the best impression on your team.
We have also added some guidelines at the end of this article, so if you want to create your own team name, then do check them out.
Cool Funny White Team Names
To keep the game vibe light and fun, we have listed some cool and funny name suggestions below.
These names will surely make your opponents laugh and keep the atmosphere friendly throughout the game. Go ahead and take a look at these names and see if any of them tickles your funny bone.
1. Ice-cold Villains.
2. Marshmallows.
3. Sour Milk.
4. White Lab Coat Society.
5. Boiled Eggs.
6. Snowballs.
7. Cracked Coconuts.
8. The Albumens.
9. Banana Milkshakes.
10. Snow White And Dwarfs.
11. Rotten White Beans.
12. The Polarbears.
13. White Bunnies.
14. White Lies.
15. WhitePaintings.
16. Toilet Papers.
Related Post: 50+ Spring Team Name Ideas!
Good Powerful White Team Names
A good and powerful team name plays an important role in the mental transformation of players. A good name builds the confidence and a positive attitude among team members.
It also creates a strong impact on your opponent. So, we have listed some good and powerful name suggestions for you below to intimidate opponents.
17. Moonflowers.
18. White Pearls.
19-White Tigers.
20. White Alliance.
21. White Dragons.
22. White Hawks.
23. Shades Of White.
24. Peaceful Spirits.
25. Tulip Troop.
26. White Knights.
27. White Tulips.
28. The Snowflakes.
29. White Lions.
30. Furious Seagulls.
31. White Forces.
32. White Magic.
33. The Icebergs.
How to Find White Team Names
Do not worry if you still cannot decide a name from the above list. You can also try to create your own team name.
We have listed some guidelines below that will definitely help you to create an interesting name:
1. Take Inspiration 
From snowmen to polar bears, there are so many things that are white in color.
A white-themed team name does not mean that you should start every name with the word 'white'.
You can use anything that is white in color. For example, snow, swan, dove, etc.'
2. Use Unique Words
Make sure that the name you choose is unique and different from other teams. There is no point in choosing a name that is not creative enough to attract the attention of the audience.
3. Use humor
Get creative and play on words or turn an inside joke into a funny team name.
To find a name that makes everyone laugh, make sure to add your team members too in the process and then finalize the funniest one among all.
Make sure that the name you choose is hilarious enough to bring a smile on everyone's face.
4. Use Phrases that include white
Phrases like 'White Supremacy', and 'White hope' can also be used directly or as an inspiration to create a unique team name.
You can also take ideas from books or famous quotes that include the word 'white' and then use the ideas to create extraordinary team names.
Also Read: 70+ Cooking Team Name Ideas For You
Conclusion

White is such a decent and elegant color. By choosing a good white team name, you can show everyone how creative and smart your team is.
You cannot control your fate, but one thing that you can control is choosing the right name for your team.  So, make sure to choose a team name wisely because it can make or break your day.
You can send a strong message to your opponent through your name. You can show the unity and power of your team through a name.
That is why we have tried our best to come up with unique and amazing team names that will make your group shine in the ground.