101 Cool Clan Tags [ Unique, Creative, Powerful Clan Tags Ideas ]
Clan tag is a prefix which appears in a closed square bracket and it is attached to a player's name. Every clan has its own cool clan tag so it also gets easy for a person to find the clan he is looking for by using a clan tag. It also plays a very important role in portraying a clan's first impression.  Therefore, it should be unique and creative.
Clan Tag Ideas | Unique, Cool, Funny, Creative Clan Tags
We also have listed some ideas for you that you are going to like. So,if you are new in the gaming world and looking for ideas then this article is for you. We have listed Three Letter, Four Letter and Five Letter cool clan tag ideas, so you can choose any tag that fits your clan's personality.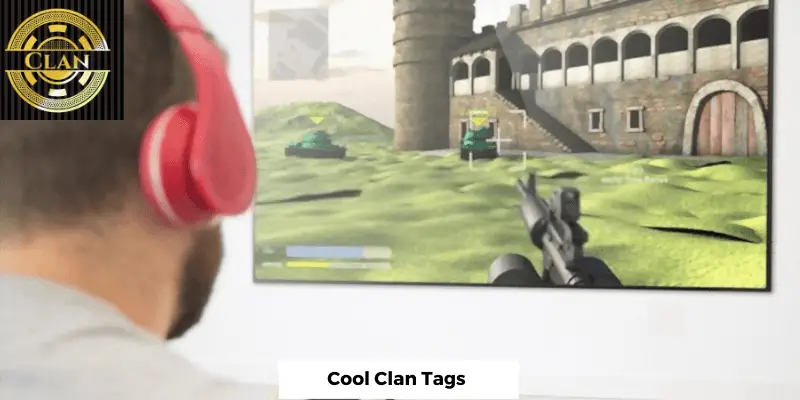 Three Letters Cool Clan Tags

Here is the list of three letter clan tags that we find interesting:
1-WOW:   Weird And Wonderful.
2-BEG:   Big Evil Grin.
3-ACE:   A Cool Experience.
4-MMM:   Maniac Mad Men.
5-GOG:   Gang Of Glory.
6-HIP:   High In Performance.
7-ESS:   Elite Sharp Shooters.
8-WTF:   Where's The Finish?
9-BLT:   Better Looking Tycoons.
10-CFY:   Coming For You.
11-TWP:    The Wolf Pack.
12-ANI:   Age Not Important.
13-GFI:   Going For It.
14-SUP:   Straight Up Perfection.
15-TTS:   Three-Toed Sloths.
16-NON:    Now Or Never.
17-GUR:    Grown Up Rebels.
18-AMC:   All Men's Club.
19-DOF:    Disciples Of Funk.
20-THD:   The Hot Dawgs.
21-TEM:   The Extreme Masters.
22-CFW:   Country's Future Weapons.
23-DNU:   Do not Underestimate.
24-NGU:   Never Giving Up.
25-DIM:   Daring Insane Monsters.
26-RIP:   Rest In Peace.
27-BOC:   Battle Of Chaos.
28-DND:   Do Not Disturb.
29-ART:    Advanced Rebellious Tricks.
30-ESF:   Extra-Special Forces.
31-GIP:   Good In Performance.
32-UTS:   United Terrorist Squad.
33-BYE:Broken Youth Enemies.
34-AOD:    Angels Of Death.
35-TWC:   The Wolf Clan.
Four Letters Cool Unique Clan Tags

Here is the list of four letter clan tags that are unique and creative:
36-PHAT:   Pretty, Hot And Tempting.
37-BORN:   Best Of Rebellious Ninjas.
38-ASAP:    As Soon As Possible.
39-SOAP:    Sons Of Angry Parents.
40-GOAT:    Greatest Of All Times.
41-YOLO:   You Only Live Once.
42-IYFB:    In Your Face Bitches.
43-KOBK:    Kill Or Be Killed.
44-LONG:League of Noob Gentlemen.
45-WIFI:   Wisdom In Future Instincts.
46-HEAT:   Had Enough At This.
47-NPNG:   No Pain No Gain.
48-BYOB:   Bring Your Own Balls.
49-SEXY:   South Eastern Xtreme Youth.
50-FEET:   Finishing Every Enemy Twice.
51-B33R:Beer.
52-NERD:   Nobody Ever Really Dies.
53-NYOB:   None Of Your Business.
54-APPS:    Assassin Power Performance Stunts.
55-BFTB:    Black Flag Tea Baggers.
56-POOP:People Of Ordinary Perspectives.
57-PORN:    Power Of Ruling Noobs.
58-BEST:    Bad Enemy Shooting Tribe.
59-STFU:   Special Training Fighting Unit.
60-REAP:   Rival Elite Alliance Power.
61-FEAR:    Face Everything And Rise.
62-TCTC:    Too Cool To Care.
63-BTTB:   Bad To The Bone.
64-MAGA:    Mature Adults Gaming Association.
65-MORM:    Men On Rebellious Mission.
66-AAPA:    Advanced And Powerful Assassins.
67-LOST:    League Of Supreme Team.
68-AK47:    The Best Gun.
69-RSVP:    Rebels Showing Violent Performance.
70-STOP:Sit, Think, Observe and Perform.
Five Letter Best Clan Tags

Here is the list of five letter clan tags that fit every clan perfectly:
71-HAWKS:    Human Assembly With Killing Soldiers.
72-BOATS:    Best Of All Times Squad.
73-TBOTB:   The Best Of The Best.
74-SOAPS:   Special Operations, Assassination, Protection Squad.
75-TREND:The Real Extremist Noisy Desperados.
76-AUBIF:    Attacking Under Bridges isn't Fair.
77-SMART:    Specific, Mean, Assassin, Rebel and Tyrant.
78-GROSS:   Generic Rebellious Organization of Stereotypical Snipers.
79-NFANS:    No Fear And No Sympathy.
80-TEAMS:   Together Everyone Accomplishes More Scores.
81-TFOTD:   The Fate Of The Dead.
82-MOTSS:   Members Of The Same Sex.
83-VEGSQ:   Vegan Squad.
84-RTBSH:   Raising The Bar So Much.
85-OB4AZ:   Only Built For Arizona.
86-TFOTC:   The Flight Of The Conchords.
87-THCMH:   The Happiest Crew Members Here.
88-GAFMT:   Get Away From My Team.
89-HTKYA:    Here To Kill Your Ass.
90-SWATS:   Special Weapons Assessment Training Skills.
91-FAKES:   Forces Assigned to Kill Every Soldier.
92-SAGAS:   Scoring Above Great Assassinating Squads.
93-TOTRT:   The Ones That Run Things.
94-SWOTS:   Strength Weakness Observing Tactics Squad.
95-SOUP:    Super Group.
96-LIONS:   Living Insane Outlaw Nation Squad.
97-CODES:   Criminals Of Dead Eerie Society.
98-RYANO:   Rip YA A New One.
99-SOULS:   Society Of Undead Lost Spirits.
100-LATTE:   League of Anonymous Terrifying Tribe Elite.
101-REBEL:   Rebellious Exquisite Brave and Elite Leaders.
How to Create a Cool Clan Tag
We have  listed some tips for you after which we believe that it will get easier for you to create your own clan tags.
Get Inspiration

You do not have to specifically use words that are related to battle or war. You can use any word that you find interesting and that includes your favorite things too.
Look up for Words

Look up for words that are three letter, four letter and five letters. You can also search for words on online dictionary and make a list of all the words that you find interesting.  If a word that you like is shorter or longer than the required letters then you can use the spellings in different ways or remove the vowels to fit the limit.
Base Your Clan tags on Your Favorite things
Make a list of all the things that you love. That includes your hobbies, your favorite food, favorite pet, favorite color etc. Make a list of things and use their first letters to create your clan tag.Your clan tag should basically reflect your clan's mood. So, think out of the box and be as creative as you can.
Use your First, Middle & Last Names

You can also use your name to create a cool clan tag. Use the First, middle and last letter of your name to create a clan name.
Conclusion
Every clan tag that we have listed is unique and not been taken yet. We have high hopes that you have found the clan tag in this list that fits your clan. If you have any more suggestions then do not forget to share them with us in the comments section.