What is more fun than a duo group? Obviously, a trio group. A group of three people is surely more fun and exciting than a party of two.
The most exciting part about having a group is choosing a trio name.
Trio names are a fun way to represent your gang in a unique way that differentiates your group from others.
However, it takes extra effort to find three perfect names for each of your friends.
Trio Names | Trio Names For Pets, Dogs & Cats, Male & Female, Trio Names For Boys & Girls, Famous & Funny Trio Names List



If you are also stuck on the same problem and having difficulty finding perfect trio names that fit your gang, then this is surely the right place for you.
We have arranged lists of every category for you, which will help you in the selection of trio names.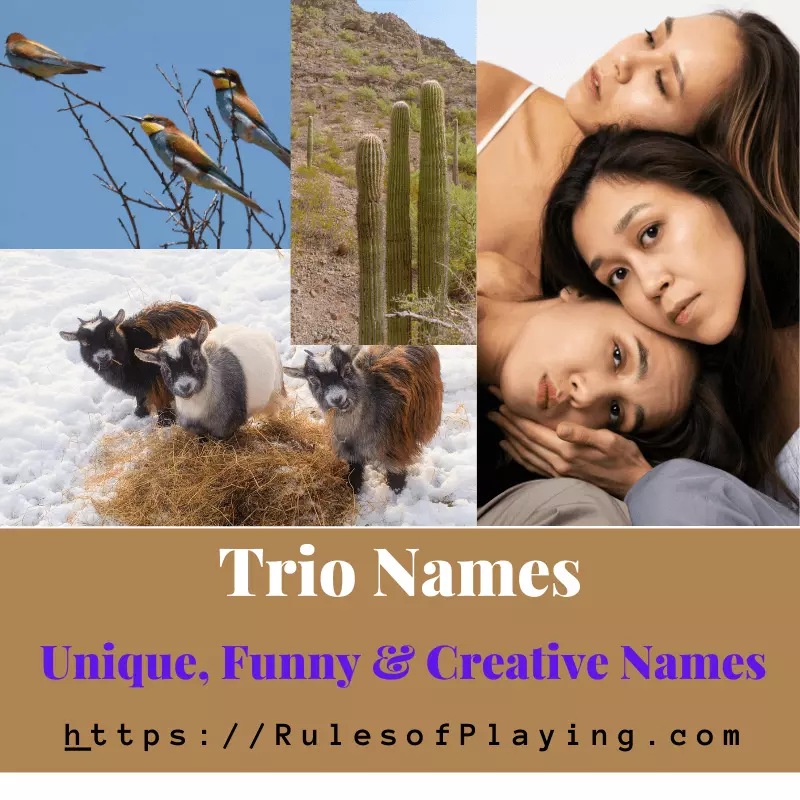 Hopefully, you will find your ideal name here.
If you are still confused and want to create something of your own, then do not worry because we have also written guidelines for you at the end of this article which will help you to create your own trio names.
Similar Read: 500+ Funny Team Names Rewritten From Sky!
Trio Names Reloaded
If you have a workgroup, best friends' group or a chat group that includes three people, then choosing a trio name to represent your small group is always fun and interesting.
However, it might seem difficult to choose a specific name that separates you from another group.
If you are also looking for the best trio names, then;
we have arranged some suggestions for you that you are definitely going to like
Trinity of Awesomeness.
The golden Trio.
Triple Troubles.
The three stooges.
Awesome, Blossom & Possum.
Twisted three.
Three trouble makers.
The good, The bad, The wise.
Alpha, Beta & Gamma.
Fantastic three.
Three tragedies.
The best trio names occur naturally. You can get the best ideas in any funny situation.
Do not try too hard to make perfect names. Just think about the best scenarios of your life that relate to your friends and choose names according to that.
Trio Names For Pets
What is better than two pets? Obviously, more pets!!! I personally believe that there is nothing more relaxing and fun than having lots and lots of pets at home.
We have listed some suggestions for you that you are definitely going to love:
Sneaky, Cheeky & Freaky.
Poser, Poker & Joker.
Peanut, Butter & Jelly.
Snap, Pop &Crackle.
Dumbo, Mumbo & Jumbo.
Cutie, Beauty & Spooky.
King, Queen & Jack.
Shorty, Snorty & Sporty.
Joey, Marky & dee dee.
Tic, Tac & Toe.
Sunny, Bunny & Honey.
Chunky, Funky & Spunky.
While choosing a name, make sure to choose a name that is interesting as well as easy. An easy yet interesting name makes it easy for your pet to remember it.
It will be easy for him to recognize his name, and he will run towards you after hearing it even if you are across the park.
Trio Names For Girls
We become friends with so many people in our daily life, but there are only two or three friends with whom we really connect.
These are the friends who always stay with us no matter how hard any situation gets. They do get on our nerves sometimes, but we also cannot live without them.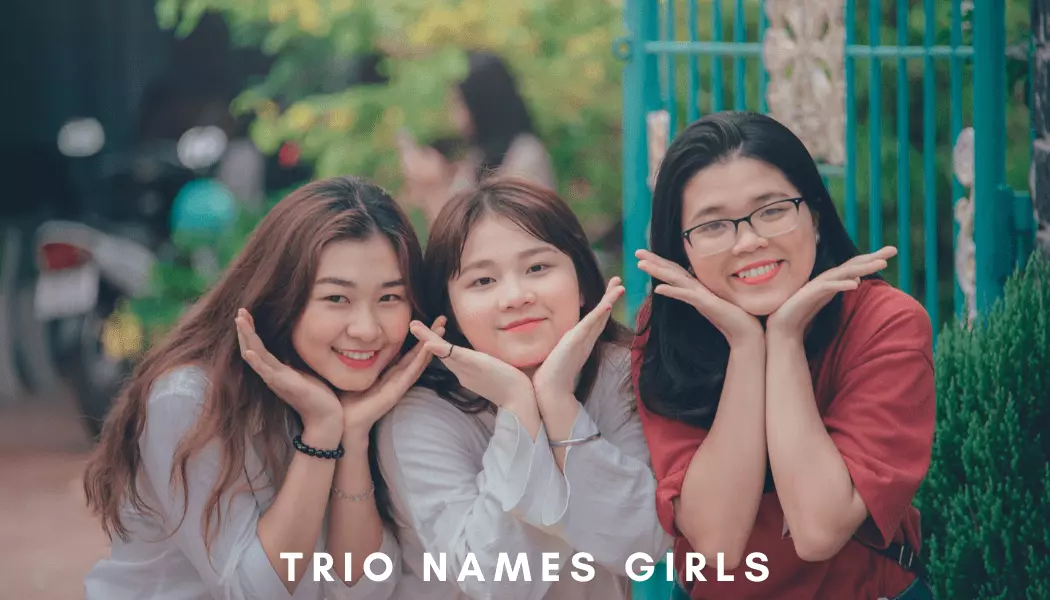 If you also have such friends in life, then you definitely have thought about giving your bond a specific name to differentiate your and your friends from other people.
Here, we have arranged a list of best suggestions for you to choose from:
Dorky, Sporty & Shorty.
Knucklehead, Chucklehead & Bufflehead.
Winkie, blinkie & Pinkie.
Lilly, Milly & Chilly.
Bubbles, Blossom & Buttercup.
Inkie, Pinkie & Twinkie.
Rose, Lily& Jasmine.
Micky, Nicky & Ricky.
Sleepy, Sneaky & Freaky.
Jolly, Dolly & Molly.
Moody, Nerdy & Snoopy.
Pixie, Dixie &  Twixie.
We hope that your girl gang will surely love these names. You can also create your own names.
Just think about what is the main hobby or habit of your friends and create a name that specifically fits their personalities.
Similar Read: Very Unique Family Feud Teams Name Ideas
Trio Names for Dogs & Cats
Dogs and cats are a constant source of entertainment for us. After a tiring day at work, these cute little animals are the only ones who bring a smile to our faces.
We can never get tired of keeping them as our pets. These two adorable animals are surely our best friends.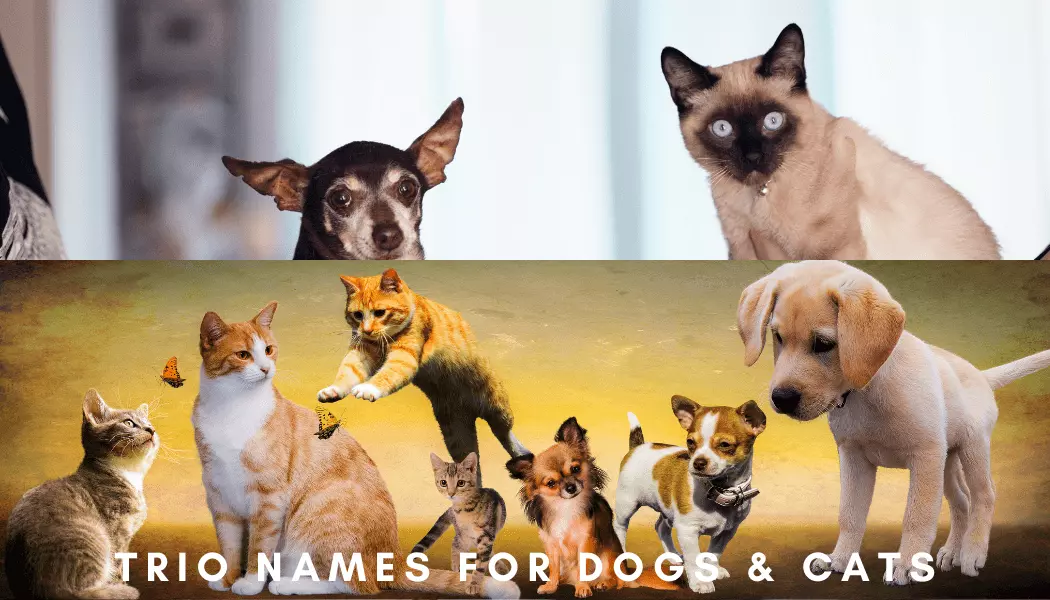 To help you in deciding, we have arranged a list of best suggestions for you:
Marky, Sparky & Snarky.
Milo, Muffin & Donut.
Woofy, Goofy & Doofy.
Bubble, Double & Trouble.
Tugger, Snugger & Hugger.
Snoopy, Spooky & Scooby.
Roofus, Doofus & Goofus.
Doodle, Noodle &Poodle.
Cutey, Clumsy & Cupid.
Pepper, Pebble & Peach.
Benny, Lenny & Jenny.
Simba, Tigger & Mufasa.
Whether you are choosing names for your dog or cat, they should fit their personality. You can name also name them according to their behavior.
Hopefully, you will find your right name on this list. If you do, do not forget to tell us in the comment section.
Good Trio Names
A group of three is always the best. However, finding a trio name that is unique and fits your personality is difficult.
A good trio name depends on what you and your group have in common, what your interests are, and how much you adore each other.
Three Best-teas.
Inseparable three.
Three Sea-sters.
Peanut, butter & Jelly.
The three musketeers.
Winer, Miner & Diner.
Pros before bros.
April, May & June.
Three Amigos.
Lilla, Milla & Ella.
Mona, Luna &Crescent.
The three jewels.
The best and good trio names are the ones that are easy to remember but also something that makes your group unique among others.
These trio names will surely make you stand out among others. If you are still confused, then you can also create your own names. Don't forget to read our guidelines below for more help.
Famous Trio Names
Sometimes, it gets so confusing to come up with one unique name. Now imagine the struggle of finding not one, not two, but three different, unique and interesting names for a trio group.
It gets pretty confusing to choose three names that are best in terms of uniqueness and entertainment.
The best solution to this confusion is to choose names based on famous trios from your favorite shows or movies.
We hope these names will help you in decision-making:
Joey, Chandler & Ross (Friends)
Bubbles, Blossom & Buttercup (The Power puff girls)
Bella, Edward & Jacob (Twilight)
Phil, Stu & Alan (The hangover)
Curly, Larry & Moe (The three stooges)
Huey, Dewey & Louie (Duck family)
Lucky, Dusty & Ned (Three Amigos)
Drake, Josh & Megan (Drake & Josh)
Fatso, Stinky, and Stretch (Casper-The Friendly Ghost)
Mike, Robbie & Chip (My three sons)
Jimmy, Tommy & Henry (Good fellas)
Ash, Misty & Brock (Pokémon)
There are so many famous trios, but the above-listed ones shine above the rest in terms of fun, humor, friendship, and entertainment.
You can also get inspiration from your favorite movies or books and create your trio names.
Trio Names for Female
Who does not want interesting names for their groups and not just any, but interesting and creative ones? However, it gets quite difficult to find the best trio names that suit all the members of your group.
To choose a trio name, you need to decide a common theme your friendship is based.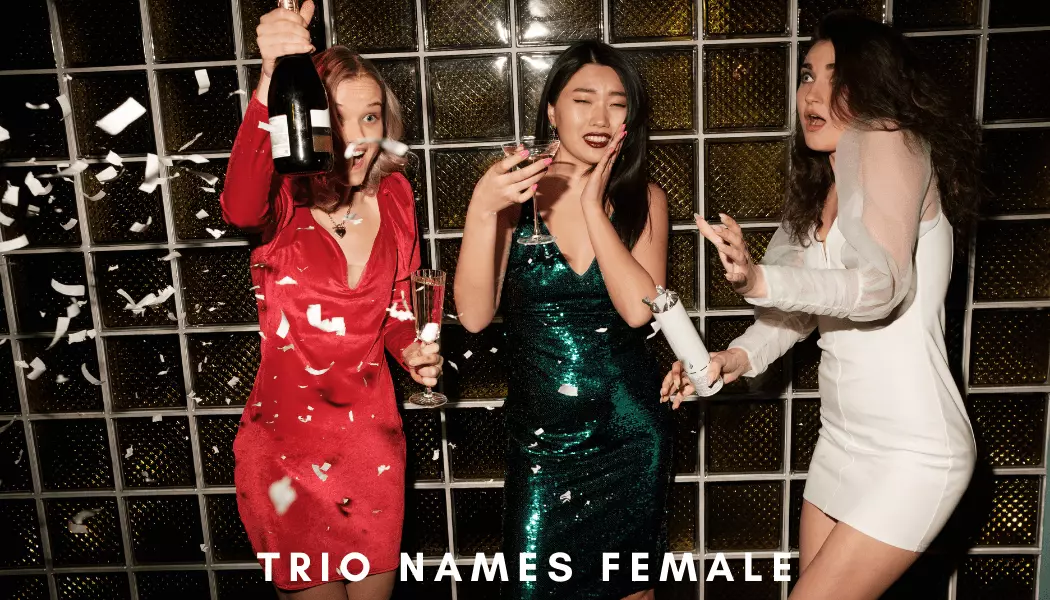 Keeping in view, we have arranged a list for you that will definitely make your gal pal smile, and they will love these suggestions:
Cherry, Peach & Olive.
Anne, April & Leslie.
Aurora, Ariel & Anna.
Ruby, Pearl & Opal.
Rose, Lily & Daisy.
Alexie, Lexi & Meggie.
Grace, Prudence & Hope.
Jane, Jean & June.
Nicky, Ricky & Emily.
Mary, Beth & Anne.
Winnie, Minnie &Ginnie.
These names are for sure creative and best for all females. You can also create your own name, and if you do, do not forget to share it with us too.
Similar Read: Cheer Team Names to Cheer with Victory!
Guidelines for Creative & Unique Trio Names
Trio names make your group more exciting. No one remembers a group that does not have an extraordinary name.
That is why your group name should be funny, unique, and interesting enough to distinguish your trio from other groups.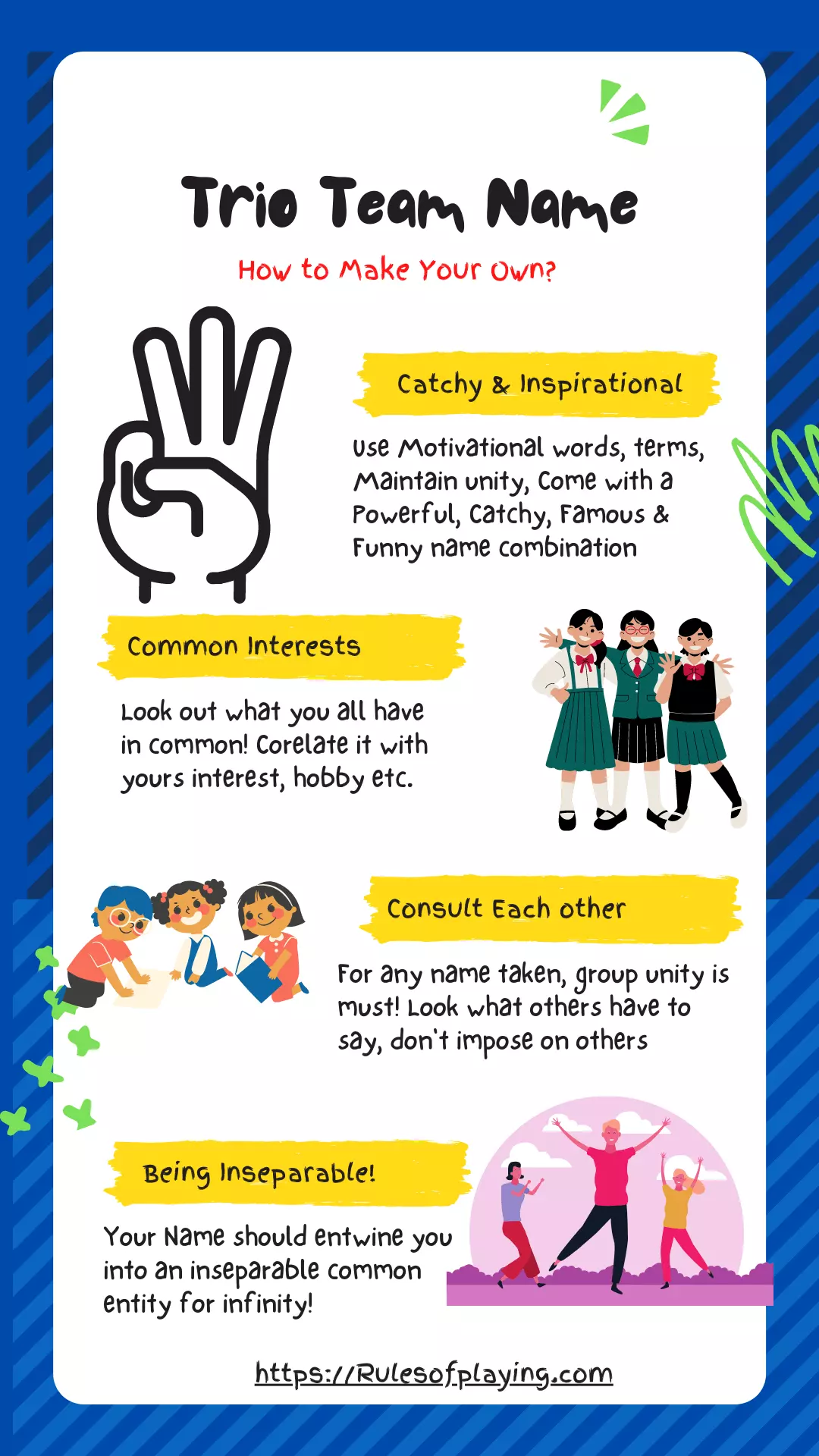 Creating a unique and different name is not a difficult task.
We have written some guidelines for you that will clear your confusion and help you to create your own names:
Get Inspiration from different places.
You are surrounded by so many things to take inspiration from. You can draw inspiration from your favorite shows, movies, comics, or songs.
You can also take inspiration from the above-listed names and try to merge them with something funnier that comes to your mind.
Find a Common Interest
Just think about the personality of your group members. What do you people have in common? What are your likes and dislikes? Are you all gamers?
What are your hobbies? How do you and your group spend their free time? Is your group nerdy, crazy, or geeky?
Use your group's personality and list all the answers, and try to merge them in unique ways.
If you have a favorite activity or food place that you love, then you can add that in the name too.
If everyone in the group is so fond of each other that you love to spend each moment together, then you can name your group "Inseparable three."
Keep it Simple
Do not create complicated words or names.
Try to keep your group name simple and unique. Sometimes, people take ordinary names and try to make them unique by spelling them differently that does not make sense to other people.
If you want to create a unique name, then try to keep it simple so that it gets easy for everyone to remember.
Add humor & Pun
The best type of name is the one that makes everyone in your group smile.
Add humor or pun in your name because a name based on humor will always remind you and your group how much you people like each other and how much you enjoy the company of each other.
Take Suggestions from other Members
The best thing is to take advice from other members of your group too. List down all the possible names that come to your mind and discuss them with your friends.
There must be some ideas in their minds too. Choose words that describe your group perfectly and then add or merge funny words into it.
Most importantly, do not let anyone criticize or discourage your group name. If your group name makes your group happy, then it is the perfect choice for you.
Conclusion
Hopefully, you must have so many ideas right now.
Try to list them down and discuss them with your friends to finalize one name that everyone in your group likes, and do not forget to tell us in the comment section.