For a group of four people, being four best friends or otherwise, one clear, powerful quartet team name is more than mandatory.
Whether you are working in a group of four or looking for a group name for your friend's circle, having a good team name makes the most out of every experience.
A good group name not only enhances your bond with each other but also highlights your group wherever you go.
List of Group Names for Four People | Famous Fours, Popular Names for 4 People



We have arranged a list of Funny, Cool, and Best squad names for four people that you and your group members are definitely going to like.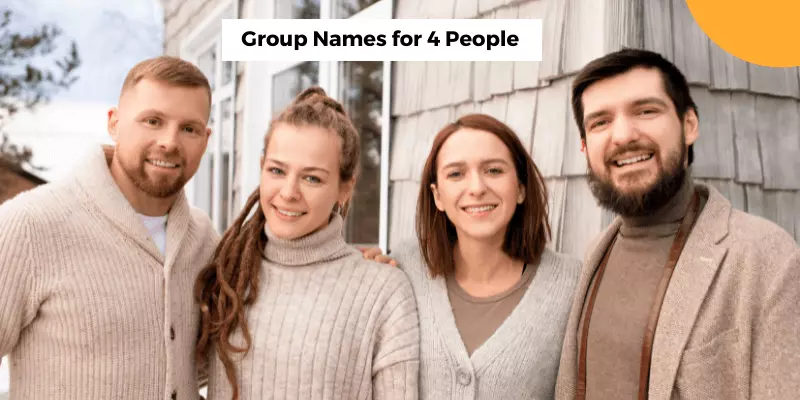 Funny Group Names for Four People

Having a funny group name automatically makes every situation fun and calm. So, here is the list of funny group names to make you and your group smile.
1. 2 Idiots, 2 Geniuses:    A well-balanced team.
2. Wholesome Foursome:  Fun all the way.
3. Lame 4:  No one can beat their record when it comes to Lameness.
4. Four More Shots Please!:  Booze always comes first.
5. 4 Maniacs:     They are a little unpredictable.
6. BBC 4:    They are experts in things that no one cares about.
7. Error 404:    Always getting into trouble.
8. 4 Heads are better than one:    Mathematically speaking, it is true.
9. 4 Slobs:     A good idea would be to hold your nose around them.
10. 4 Idiots:  Always doing stupid things.. together.
11. Stinky Four:    Stay at a good distance from them.
12. 4 Inches:  So small?
13. Four-ced Together:  So tired of each other but still can't live without each other.
14. The Four-nitures:     They just sit around all day.
15. 4 Clueless:    Blank minds.
16. 4 Girls, 12 cups:    And still standing.
17. 4 Monkeys:  Always jumping into each other's space.
18. Fourgasm:    There is a lot of excitement when they are together.
19. 4 Clowns:    No one can stay serious in this company.
20. Quad life Crisis:    They always have some kind of trouble in their life.
Related Post: Funny & Unique Group Names for 5 People
Famous Group Names for 4 People

A cool group name shows how fun and energetic your group is. So, here is the list of cool group names:
21. The Quad Code:    And never breaking it.
22. Oh! My Quad
23. Too cool 4 You:   No one can beat this coolness level.
24. Four-bidden Fruits:  Outlaws.
25. Mean Girls:  At least they are honest about it.
26. Four of a kind:  Very Similar.
27. Four Seasons:    Spring, Summer, Winter, and  Autumn.
28. Four Kings:    They might not be very gentlemen, though.
29. Fun-tastic Four:  Their group is so much fun.
30. Two Square:  Equals Four.
31. Four-most: Everyone is equally important in this group.
32. Tetra Talents:  Everyone has special talents.
33. 4 Degrees:    Too cool for other groups.
34. The Good, The Bad, The Funky and The Ugly:     Pretty explanatory.
35. Four Directions:     North, South, East, West.
36. The Four Points Gang:    After the famous New York Gang.
37. The Four-Fathers:    Perhaps the most honorable.
38. Four-Leaf Clovers:  Lucky for each other.
39. Bros Be4 Hoes:  No one can come between this bond.
40. The Four Musketeers:  They are very closely associated
Best Quartet Names for Four Friends

Here is the list of best group names to show everyone how much your value your friends and how important they are to you:
41. 4 Hearts, 1 Beat:    They follow their hearts together.
42. Friends FOURever:  What else do you need?
43. Four Glow:    They shine wherever they go.
44. The Tetra Power:  No one knows where you get this much energy from.
45. Game of Four:  They will show you how it's played.
46. The Quad Squad:  Always there for each other.
47. 4 Chambers:  Just like the heart's 4 chambers work together, their bond is no less than that.
48. The Fantastic Four:  One fantastic group.
49. 4 Queens:   Bow down.
50. The Tetra Crew:    Nice and Simple.
51. Four Gospels:    Matthew, Luke, Mark, and John.
52. Four Amigos:  The best friends.
53. The Four Elements:    Each one is equally important.
54. Un-four-gettable bond:  And no one can break this bond.
55. Four Lions:  Too strong for others.
56. Together Forever:    Made for each other.
57. Four Hunks:     Macho men.
58. Fab Four:  They are fabulous, and they know it.
59. Friends 4 Life:    And nothing will get in their way.
60. Be-four and After:    Staying together in every situation.
How to Create a Group Name for Four People
Creating a group name for four people is not as difficult as you think. Just follow these guidelines, which will help you in brainstorming some ideas: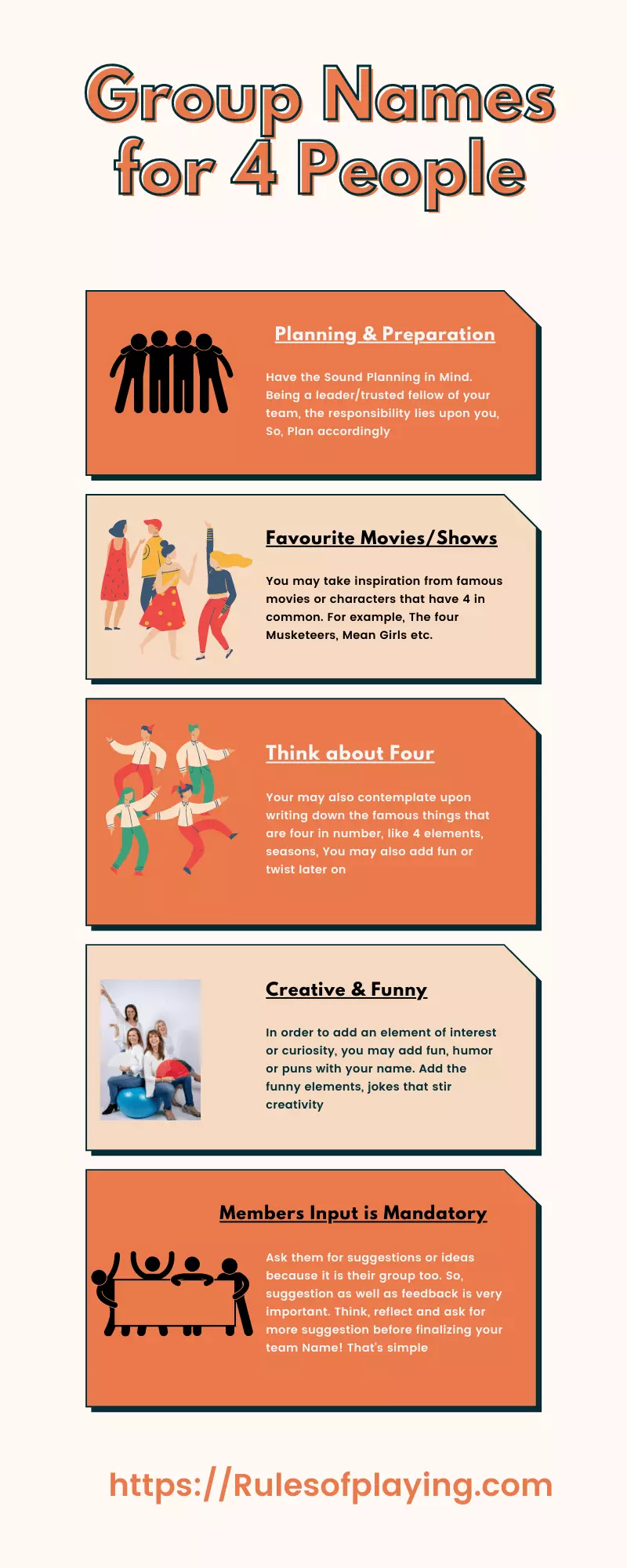 1. Take Inspiration from Movies & Shows:  You can take inspiration from movies and shows that begin with the number four.
If a specific movie has four famous friends, then you can also use them in your group name. For example, The four Musketeers, Mean Girls, etc.
2. Think about Things that are Four in Number: The best way to create a group name for four people would be to write down the things that are four in number.
For example, The four elements, four seasons, etc. After writing those names, you can add creative or funny twists to them to create a unique name.
3. Add Puns or Alliteration:  The use of puns or alliteration is the best way to make your group name shine.
Your group must have some inside jokes too. Add those jokes creatively too.
4. Take Suggestions from Your Group Members:  Include your group members in this process to. Ask them for suggestions or ideas because it is their group too.
So, suggestion, as well as feedback, is very important. After taking ideas, shortlist ideas and then finalize the one which everyone likes.
Related Post: 100+ Powerful Cricket Team Names for Your Squad!
Conclusion
A group of four is always the best group, and choosing the best name makes it more exciting. Your group name is your first impression; that is why we have listed the best group names in our article.
If you have liked any, then do share with us in the comments section.