Mirror mirror on the wall….Need a team name better than all? Well, we cannot promise you a magic mirror, but one thing that we can make a promise about is that you are going to find team names here that are better than all.
Disney has played an important role in making our childhood awesome. Since our childhood, Disney has been a constant source of entertainment.
From animated to action series, Disney has produced more than 120 feature films. In short, it has played a major role in shaping our childhood.
When it comes to finding perfect Disney trivia team names, there is no shortage of content.
From Snow White to Frozen, there are plenty of options for creating Disney trivia team names. You must have so many ideas going on in your mind too.
We have also compiled a list for you, including some of our favorite movies. Hope you like them!
Disney Trivia Team Name Ideas | Disney Themed, Funny & Cool Trivia Names for Groups/Squad

We have listed some suggestions under different categories, so it will get easier for you to find a name of your choice. In this article, we have listed the following categories:
Disney Inspired Trivia Team Names
Every Disney fan has that one special movie that he never gets tired of watching. Every movie that Disney created has a special message.
Since childhood, we have been inspired by these movies. That is why you are going to love this list because we have listed some amazing Disney-inspired names here.
These names are definitely going to make your team shine in the room.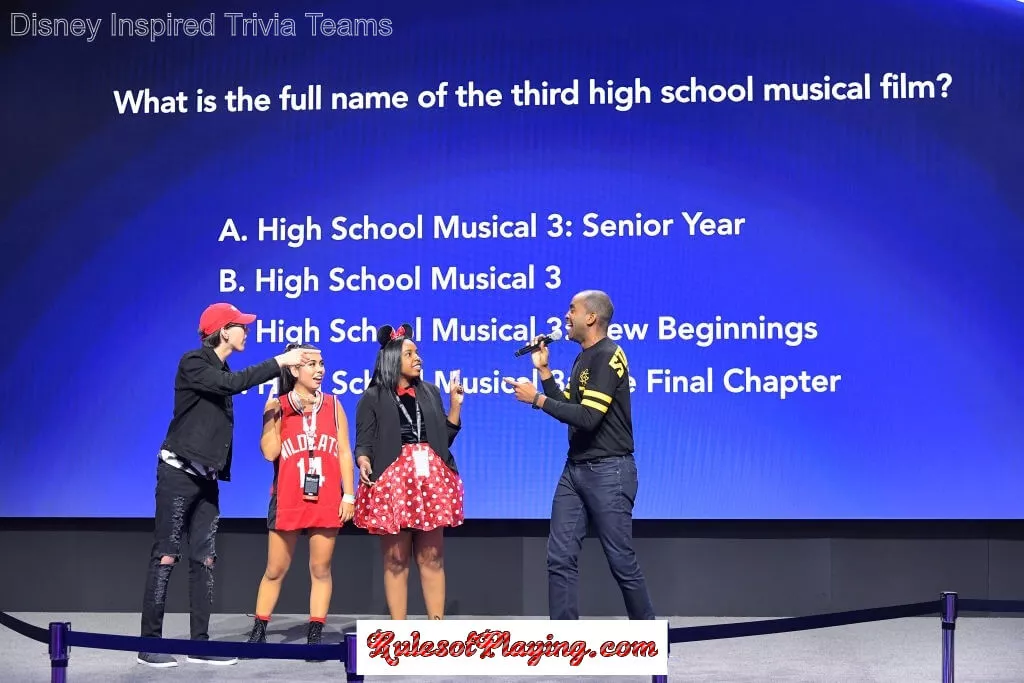 The Fairy Godmothers.
Flying Carpet Crew.
Abu Alliance.
Alice In Trivialand.
Hakuna Matata.
Happily Ever After.
Finding Answers.
Ariel's Sisters.
Taco Belles.
The Charming Princesses.
Related Post: Powerful Trivia Team Names Listed
Disney Themed Team Names
Your team name is your team's representation. Choosing an epic name is the best way to show everyone your creativity and make fans.
When it comes to Disney-themed team names, there are plenty of inspirations for you to take ideas from.
We have listed some amazing suggestions for you in case you are out of ideas.
Enchantresses.
Trivia Kings.
Sleeping Beauties.
Wonderland Heroes.
Incredibles.
Peter Pan's Army.
Beauties And The Beasts.
Walt Quizney.
Flynn Force.
Andy's Toys.
Funny Disney-Themed Team Names
We have spent our childhood laughing at the funny characters in Disney movies. No matter how old we get, we can never get bored of those characters.
In this list, we have combined those characters or some funny scenes with puns. These hilarious team names are definitely going to make everyone smile in the room.
Can't Let It Go.
Absent-Minded Professors.
We Are All Mad Here.
Bad Hair Day.
Maleficent Meanies.
Genie Told Us Answers.
Cinderella's Step Sisters.
Surrounded By Idiots.
Graduates From Monster University.
Ugly Ducklings.
Evil Queens.
Good Disney Nicknames
Everyone's childhood was different, but one thing common among us all was the enchanting world of Disney. Not only do we have favorite movies but favorite characters too.
Even now, there are so many characters that we are still obsessed with. These characters just feel like family now.
If you are also obsessed with these characters, then this list is for you. We have listed some unique and good Disney nicknames in this list. These nicknames will definitely bring back your memories.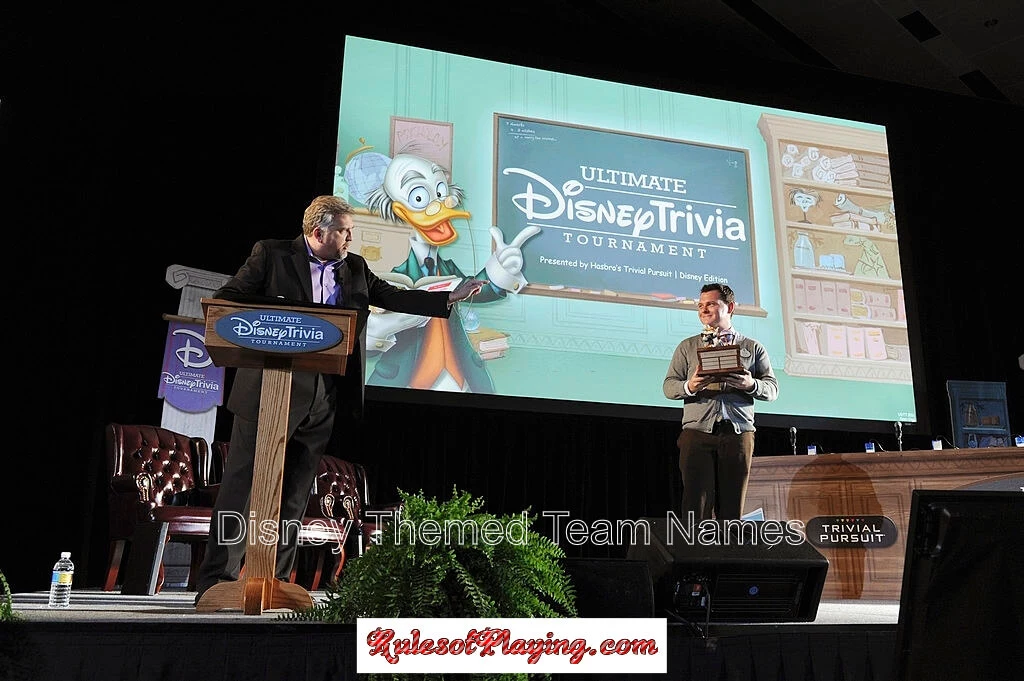 Bambi.
Daisy.
Minnie Mo.
Buttercup.
Mittens.
Tinker Bell.
Anna.
Tiana.
Winnie.
Diana.
Points to Consider While Choosing a Disney Trivia Team Name
Creating Disney trivia team names is so easy. You must have so many ideas in your mind too.
Just consider these points while choosing a Disney trivia team name to make sure that your name is the best among others.
1. Take Inspiration: Take inspiration from different Disney shows, and then name your team after your favorite Disney character.
2. Do Not Use Offensive Terms: Do not use inappropriate or offensive words. That will portray a bad impression of your team.
3. Use Words Related To Disney: What comes to your mind when you think about the word 'Disney'? Use those words in your name. For example, Snow, Magic, Princess, Stars, Fairies, etc.
4. Add Puns: Add puns to make your name epic and unique. No one will forget your team if your team name is hilarious enough to make them smile the whole time.
5. Take Suggestions: Take suggestions from your team members too. They might have some amazing ideas too.
Related Post: Unique Vampire Clan Names Ideas For Your Squad!
Conclusion
Disney films have indeed made our childhood experience amazing. While writing these names, I am also feeling nostalgic.
I have tried to cover all the famous movies in this article. These amazing names are definitely going to make your team look the best among the rest.
If you also have some suggestions, then do share them with us in the comments section.