In modern society, K-pop has become a culture that has attracted teenagers from all around the world. The unique thing about K-pop groups is their names.
There are so many famous K-pop groups like Seventeen, Red Velvet, BTS, 2NE1, etc. These names might look quirky and strange, but they have deep logic behind them.
For Example, 2Ne1 means 'To Anyone. These types of names not only gain attention from the audience quickly but also creates a unique image of the group.
Kpop Group Name | Kpop names, Co-ed Kpop groups Name Ideas

If you are also thinking of making your own K-pop group, then another thing that you should think about besides practice is a strong group name.
Luckily, you do not need to struggle hard and spend hours on the internet to search for a perfect name because we have already done this work for you.
We have arranged a list of Creative, Cool, and Best K-pop group names that will help you to attract audiences from all around the world in no time.
Each name in this list is unique and has not been taken yet. So, feel free to steal any and rock the stage with your name and performance.
However, if you are interested in creating your own group name and just need a head start, then check out the tips at the end of this article. These tips will help you to create your own group name in no time.
Kpop Fan Names
Here is the list of creative Kpop fans team names that will attract more and more audiences to your group:
1. The Plug:    A group with the best vibes.
2. Soul2Soul:    Their music will touch your soul.
3. Pentagon:    For a group of 5 people who are skilled in all five areas of music, including dance, vocal, teamwork, music, and talent.
4. Wild Cats:    Bold and Fierce.
5. TWICE:    It means they catch the attention of the audience twice, once with their eyes and then with their music.
6. Astro:    Means Star.
7. Fusion Girls: Every girl in this gang is unique.
8. 3 AM:    That's the time when people get emotional and sensitive. This group's aim is to feature songs that will touch your heart even in that time.
9. The Legacy:    A group full of living legends.
10. Music Therapy:    Their music will always make your feel better.
11. Eum-ag Divas:    Goddesses of music.
12. Insanity:    Pretty wild and playful.
13. 5OAK:  5 Of A Kind.
14. 7Virtues:    Too good to be true.
15. Synergy:    Always in sync with each other.
16. BFFs:    For a group who are best friends forever.
17. RO53Y:    pronounced as Rosie. Best for a group of 5 members.
18. XoXo:    Sending love to all their fans.
19. K-pop Breathers:    A group who lives for music.
20. 24/7:     It means that their music will be stuck in their fan's minds 24/7.
Related Post: Unique Indian Dance Group Name Ideas
Kpop band Names | kpop dance Group Names
Here you with popular, untaken yet, funny K-pop band name suggestions.
21. Achievers:  They believe they can achieve so much more through their music.
22. V5:    Voice of 5 people.
23. Gravity:    They know how to attract the audience with their music.
24. Triple H:  Hip Hop Hurray!
25. Knock Knock:    Making an entry in the industry with their talent.
26. F1H2OH:    From one heart to another heart.
27. Ignited Spirits:    They have a fiery spirit that never dies.
28. High 5:  For performing amazing every time.
29. Dream High: They are not going to stop at any point.
30. Diversity:    Their music is loved by fans from all over the world.
31. Heart Strings:  Their hearts are connected with their fans.
32. Infinity:    There is no end to their creativity.
33. GOG:  Girls Of Glory.
34. UNA1:   United As 1.
35. Bang On:    They always give their fullest on the stage.
k-Pop Girl Group Name
Following are the best ever recommendations of 4, 5, or 7 members k-pop girl group names suggestions including k-pop female duo ideas on the list!
36. C'estsi bon:    It means that their music is so good.
37. GIG:  Girls in Glamour.
38. 5 Minutes:    Maximum time for a song is 5 minutes, and this group aims to do their best in every minute.
39. Yin Yang:    They balance each other.
40. TTM:  To The Maximum.
41. Big Bang:    Making an impact in the industry with their music and banging dance moves.
42. 2G2A:    Too Good and Too Amazing.
43. See Ya:    See you again.
44. BTL:  Beyond the limits.
45. Girls' Generation:    Its time for girls to take over the world.
46. Powered Up:    Their energy level never goes down.
47. T-ara:    The crowned girls.
48. M4M:  Mad For Music.
49. Bich:    It means The Light in Korean.
50. KIPS:  Korea International Pop Stars.
K-pop Boy Group Names
Following the most popular and untaken yet K-pop boy group names suggestions
51. Once More:    They are pretty sure that their fans will keep asking them to perform more and more.
52. Triple T:  Together, today and tomorrow.
53. The Sweet Effect:    Their music combinations will leave a lasting impression.
54. OTE:  On The Edge.
55. PatiSonyeo:    In Korean, it means Party Girls.
56. Rebels In Heels:    Rebellious and bold ladies.
57. MXM:  Mix n Match.
58. The Goldilocks:    Everyone in this group is blonde.
59. TNT:    They are going to explode the stage with their performance.
60. AfterShocks:     The impact of their songs won't leave for days.
61. The Golden Child:    They believe in leading the K-pop industry for the next century.
62. Cowgirls:    With a matching outfit too.
63. OW:  One Way.
64. Jeonseol:    The legends.
65. 2H2H:  Too hot to handle.
66. On Cloud 9:    They are always hyped up for their performance.
67. AMGirls:    Ambitious Girls.
68. GIKONS:    Global Icons. C is replaced with K to represent Korea.
69. 7H1B: 7 Hearts, 1 beat.
70. E'Last:    Everlasting.
K-pop Band Names | Cool dance Group Names that aren't taken Yet

Here is the list of some cool group names that your  fans are going to love:
71. Wanderers:    For those who are lost and carefree.
72. Illegal:   With the dopest music.
73. TPG: The Passion Girls.
74. Pop Stars:    Entertainment all the way.
75. Pop Jigglers:    They also enjoy dancing to their own music.
76. NeomuMeosjin:    Too cool.
77. Royalty:    Girls who sing with Queen B attitude.
78. CSC:    Crazy, Sexy, and Cool.
79. Bubblicious:  Excited and charming.
80. Wa$$ Up:      What's up, fans?
81. Black Fire:    Blazing hot.
82. Ponytails:    Their signature style.
83. Imagination:     Their music gets you in an imaginary world.
84. Hippie Chicks:    Fun all the way.
85. Picture Perfect:  This group looks and sounds perfect together.
K-pop Stage Names
86. Millennials:   Also called Generation Y.
87. Krazy Pop:  Their music is crazy!!
88. TGTGD:   Too Glam To Give a Damn.
89. Party Animals:    They are the life of every party.
90. Powerpuff:    A cute girl band name.
91. I4YOU:    Saying 'I love you to all their fans.
92. Revolution:   A group that refines the meaning of K-pop.
93. Superiority  Complex:    They are sorry for giving very tough competition to other bands.
94. OTTD:  Outfit Of The Day.
95. Chaos:   Destroying the floor with their beats and music.
96. Queen Bees:  When it comes to music, they are the dominant ones in this field.
97. Charmers:    They have very engaging and attractive voices.
98. K-pop Idols:    They are amazing.
99. Wonder Girls:    It is amazing how much astonishing their music is.
100. High Society:   They have got class.
101. LunaChicks:    Luna means moon.
102. Most Wanted:    Everyone loves them.
103. Mad Mistresses:    Pretty wild and crazy.
How to Create a K-POP Group Name; Few Practical Steps
Creating your own K-pop group name is an easy peasy task. Just read these tips for some ideas. We are sure that after reading these tips, you will create your group name in no time.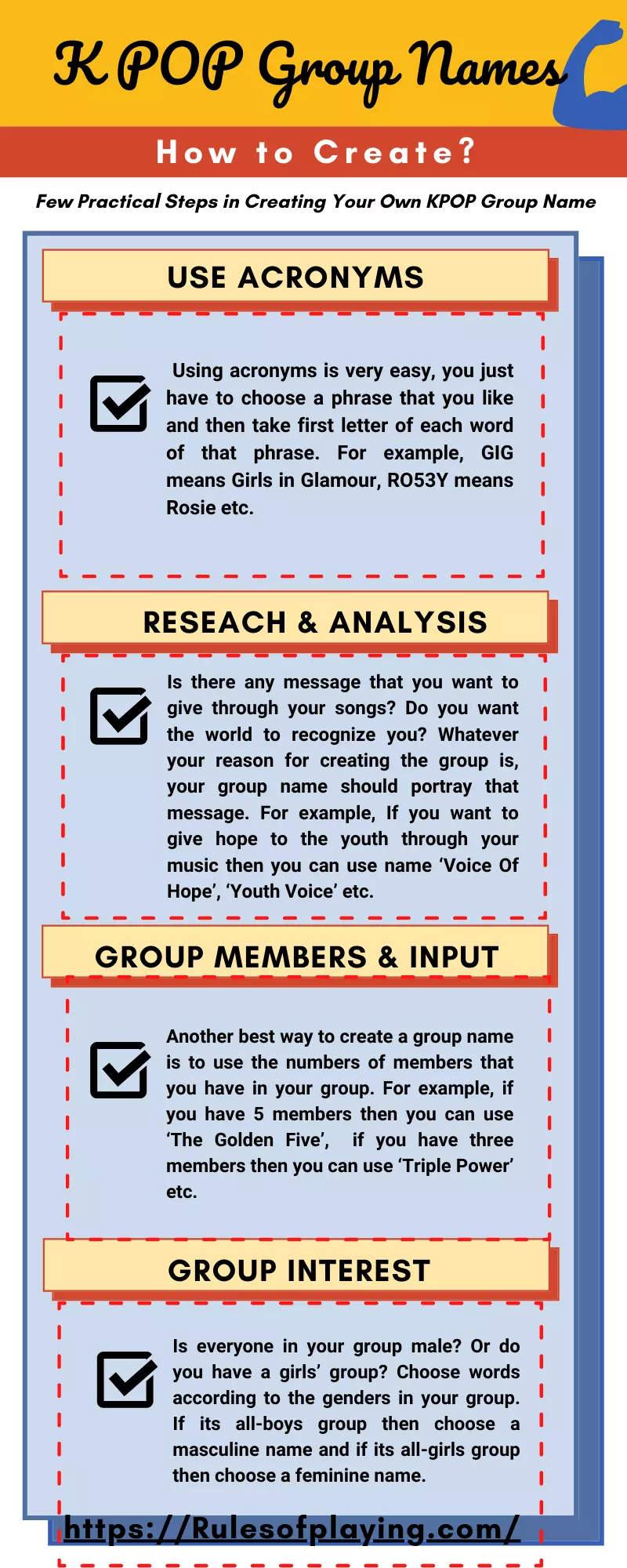 1. Use Acronyms: Acronyms are very common in the K-pop industry. Almost every K-pop name that you see online is based on acronyms.
Using acronyms is very easy; you just have to choose a phrase that you like and then take the first letter of each word of that phrase. For example, GIG means Girls in Glamour, RO53Y means Rosie, etc.
2. Think about the Research behind Making the Group: What is the reason behind making this group? Is there any message that you want to give through your songs?
Do you want the world to recognize you? Whatever your reason for creating the group is, your group name should portray that message.
For example, If you want to give hope to the youth through your music, then you can use the names 'Voice Of Hope', 'Youth Voice' etc.
3. Think about how many/ Group Members You have: Another best way to create a group name is to use the number of members that you have in your group.
For example, if you have five members, then you can use 'The Golden Five'; if you have three members, then you can use 'Triple Power' etc.
4. Do You have Specific Gender in Your Group? Is everyone in your group male? Or do you have a girls' group? Choose words according to the genders in your group. If it's an all-boys group, then choose a masculine name, and if it's an all-girls group, then choose a feminine name.
5. Take Suggestions: In every step, do not forget to involve other group members too. They are also part of the group, so make sure to ask for their suggestions too.
Who knows, they might have better ideas too? After listing down all the names, ask everyone for feedback and then choose the one which everyone agrees on.
Related Post: Powerful Theme Names For Teams
Conclusion
You do not necessarily need a group name with perfect and deep meaning. Choose any name that gives your group happy vibes.
And for positive names, you can always count on our articles. All the names written in this list are positive and enthusiastic.
So, if you have found your perfect name in this list, then do not forget to tell us in the comments section.