In the game, one of the trickiest tasks is to find a suitable basketball team name.
Obviously, whatever choice you make should be the best and truly reflected by your team in relation to being;  cool, creative, or funny.
And in other cases, your name should the best youth, intramural, and inspirational basketball group name.
If you are also stuck in the same situation and looking for some inspiration to name your basketball team, then look no further.
In this article, you will find so many options under different categories. So, if you are looking for funny, cool, or creative names, then this is your place.
We assure you that you will definitely find a name in these lists that will work for you.
If you still find it confusing, then you can check our guidelines at the end of this page, which will definitely help you to create your own team name.
List of Basketball Team Names [ Cool, Funny, Intramural, Youth, Girls, Kids BB Team Names ]



We have arranged a list of funny team names, powerful team names, and cool team names, and we are sure that you will find an awesome team name under these categories.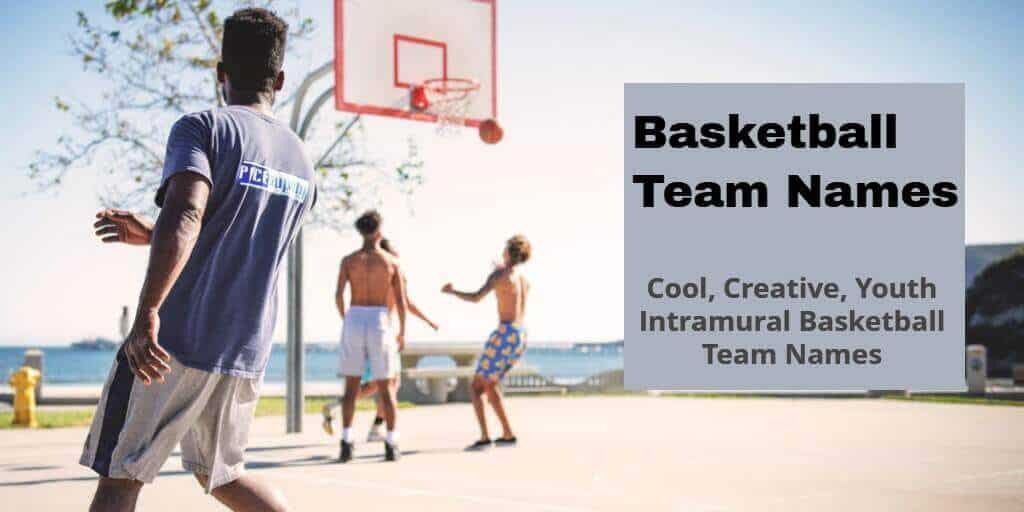 Intramural Basketball Team Names
If you and your team members have hilarious personalities and you love to joke around, then you are in right category.
Here is the list of funny team names that will definitely make everyone in your group smile:
1. Sore Sisters:    Probably gonna need a lot of rest after this game.
2. Shut Up & Bounce No time for talking.
3. The Mishits: They will throw the ball in every direction except the net.
4. Cookie & Kareem:    In reference to Kareem Jabbar.
5. Where's my curry?:    A reference to Stephen Curry [ Best AAU Name! ]
6. Break Time:    Always in need of a break.

7. Sneaky Chicks:    Fun all the way.
8. The Brew Crew:    Probably gonna have a drink after the game too.
9. Dunn and Dusted:    In reference to Kris Dunn.
10. Flying Hoopsters:   Some Super-girls here.
11. Dribbleicious:    Tasty [ A Cute basketball Team Name ]
Related Post: Powerful Golf Team Names For Your Team
Youth Basketball Teams Names
12. Shortcuts:    Best name for petite girls.
13. Who needs Practice:   Bit overconfident, no? [ Best street basketball team name ]
14. Backbenchers:   They might not be good in studies, but when it comes to sports, they are amazing.
15. Score Breakers:  No score is enough for them. [ A Unique BB Team Name ]
16. Players of the Day:    They have full faith in their team.
17. Laced up:    They are ready to take you down [Best Basketball Team Name]
18. The Dribbling Machines:   Watch and learn from this team.
Girls Basketball Team Names

Here is the list of powerful team names to show everyone why you are tough competition and why they should think twice before competing with your team:
19. Boss Ladies:   They rule this game.
20. Dribbling Queens:    Queens of the game. [ A cool name ]
21. Wild Hitters:    Watch out for this team [Funny Name ]
22. Awaiting tough challenges:   Because all other teams are just a warm-up for them.
23. Bar setters:    They are going to raise the bar high for their opponents.
24. Dribbling Souls:  Undistracted and Focused ones. [ Creative 2K Basketball Team Name ]
25. It's Showtime:  They are all set to show their skills. [Hood team Name ]
26. Super Chicks:    They are here to show off their powers.
27. Court Rulers:    Dominators of this game.
28. Death at Net:    If I were you, I'd be scared of this team.
Cool, Funny, Creative Basketball Team Names

These cool team names will surely make your team unique among others. No one will forget about your team for a long, long time.
29. Bunkers & Dunkers:    Class bunkers but game pros. [ Best for Traveling]
30. Chicks with a shot:    They know how to make their move.
31. She Devils:    Not in a bad way, though.
32. Dunk after Dunk:    Not an easy target.
33. We Rule, Others Drool:    Their performance speaks louder than words.
34. Pony Tails:    Such a cool name and the most used hairstyle in sports. [ Best Little League Name ]
35. Dunk-in donuts:    Girls who have immense love for donuts and basketball.
36. Hoops! Did it again.   [ Sweet & Cute Name ]

37. Sassy Sistas:    They are sexy, and they know it.
38. Ingles all the way:    In reference to Joe Ingles. [ Pickup BB Name }
39. Game of Throws:    Fans of 'Game of Thrones.
40. The Hot Shots: They are hot, and they know how to make their shots. [A Clever BB Name ]
41. KAT lovers:    In reference to Karl Anthony Towns. [ Rec BB Team Name ]
Related Post: Cool, Funny & Powerful Volleyball Team Names for You
Guidelines on How to Create Your own Basketball Team Name
Creating a team name is not too hard. All it takes is brainstorming and a good amount of your time.
Read these tips, and you will definitely get a clearer idea of what you have to do to make your own creative team name.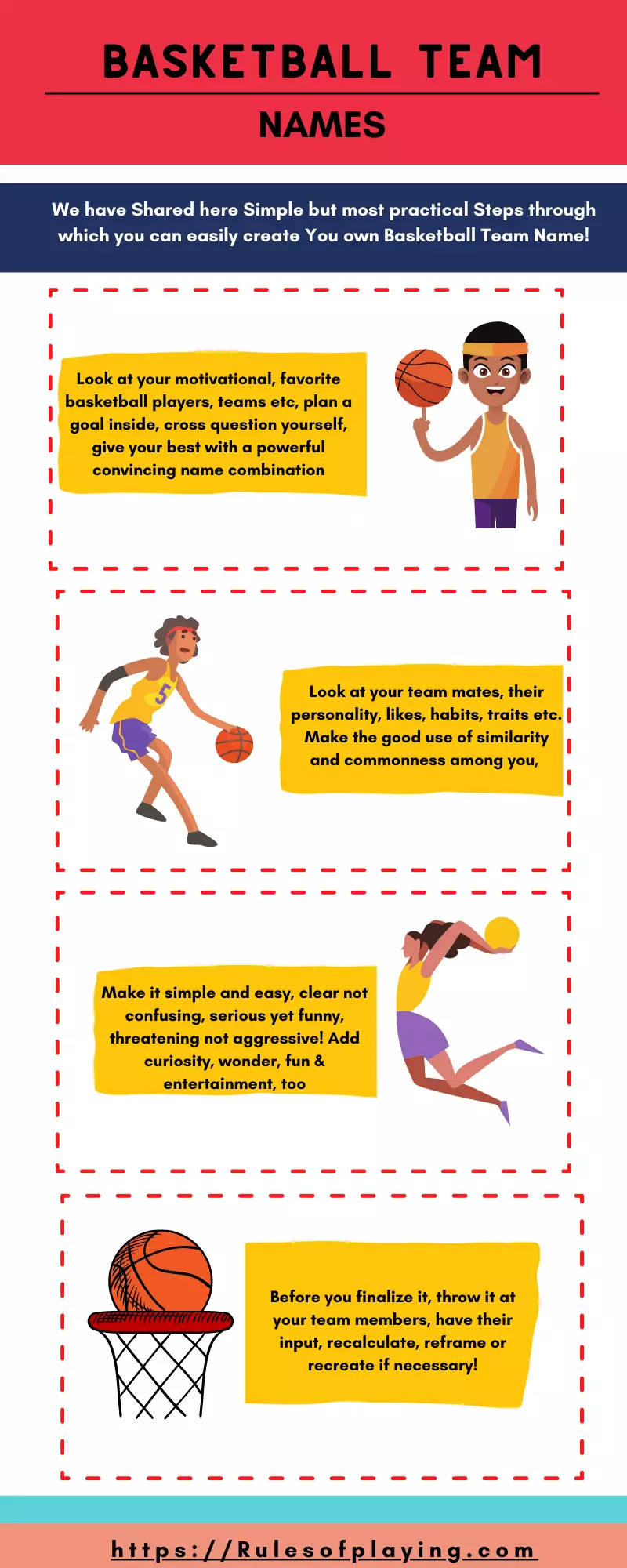 1. Get Inspiration:  You can get inspiration from your favorite basketball teams or players.
Also, ask yourself, what are the goals of your team, what type of name is best that everybody will love, what message do you want to convey through your team name and what are your requirements that you want in your name.
Once you get the answers to these questions, it will get easier for you to shortlist some ideas.
2. Say it in Your Name:  Choose a name that tells about your team's personality.
For example, if everyone in your team has a jolly personality and you people love to joke around all the time, then you should go for a funny team name.
3. Keep it Simple & Easy:  If you check our list, then you will see that we have tried to list all the names in a simple but unique way.
They are neither complex nor difficult. You should also choose a name that is simple and easy to remember because if you have a complex team name, then it would b impossible for spectators to remember it.
4. Finalize it by Feedback from Others:  Once you are done with writing all the possible names, discuss them with your girls.
Shortlist the ideas with discussions and come up with a final team name.
Similar Post: Powerful Running Team Names For Your Squad!
Conclusion
A good team name not only inspires your team members but also enhances your bond with each other.
It also conveys a message to your opponents that you are not an easy target.
We hope this article is of great help in your decision-making. If you have found your ideal name, then do tell us in the comments section.