Every trivia team deserves an outstanding name. When it comes to trivia team name ideas, you need something that is unique as well as creative.
And for that, the best option is to name your team after your favorite Marvel characters.
Your team name is the first thing people are going to hear, so make sure that it is creative enough to create a lasting impression.
Make sure to choose an epic name to let everyone in the challenge know why they should think twice before competing with you. Marvel movies are always appealing to the audience.
Their superheroes are a constant source of entertainment for people all around the world.
You can take inspiration from any of your favorite Marvel movies or character that you think can indicate the specialty of your team members.
Marvel Trivia Team Names | MareVel Themed, Super Hero, Avenger Squad Names List-2022
Marvel movies are known for their epic storyline and comical witticism, so after taking inspiration from the famous movies, we have listed 60+ Marvel team names that a true Marvel cannot help but fall in love with.
Feel free to pick any name for your next trivia show that you think matches your team's personality perfectly.
We have also listed some guidelines at the end of this article that will help you to create your own Marvel-inspired team name in no time.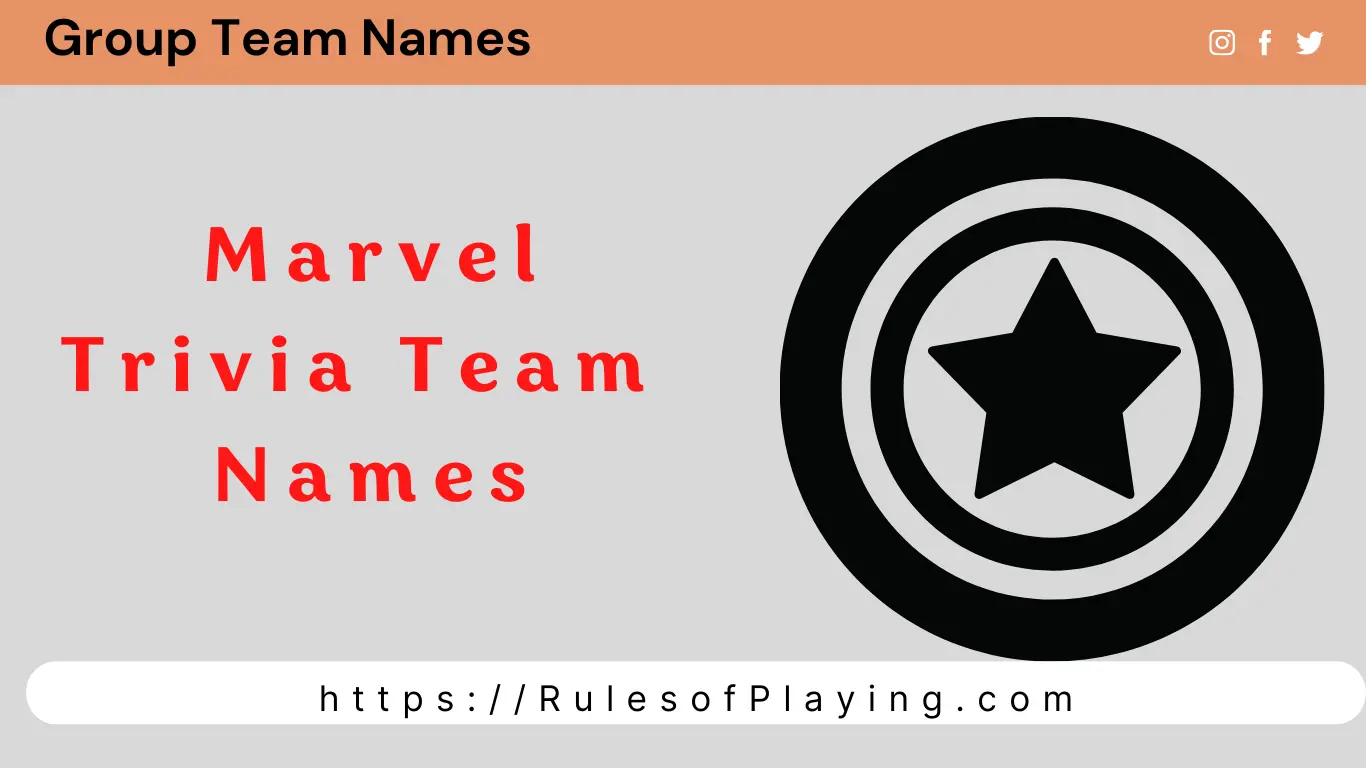 Here are some amazing team name suggestions for all Marvel fans:
1. Power Pack.
2. Savage Avengers.
3. Evil Groots.
4. The A-Team.
5. The Midnight Sons.
6. Cosmic Champs.
7. Gen X.
8. The Incredibles.
9. Thanos Army.
10. The Mutants.
11. League Of Extraordinary Gentlemen.
12. X-Factor.
13. Geniuses, Billionaires, Playboys, Philanthropists.
14. Guardians Of Knowledge
15. Trivia Force
16. Doctors Strange
17. We Are Always Right
18. Trivia Pandas
19. The Defenders
20. The Trivia Knights
Read Also:  " Relay Team Names that are Funniest, Clever, Triathlon "
21. Thunderbolts
22. Puny Gods
23. Team Venom
24. Tha-Knows Quest-ions.
25. Thor's Whores
26. Points Mania
27. Eternal Winners
28. Dark Phoenixes
29. Fantastic Four
30. Extraordinary X-men
31. Eternal Winners
32. Wild Pack
33. Mega Morphs
34. Dream Team
35. Super Minds
36. Legion Of Winners
37. We Are Groot
38. We Can Do This All Day.
39. Black Panthers.
40. Endgame.
41. Hawkeyes.
42. No Strings On Us.
43. Supreme Squadron.
44. The Spectrals
45. Hulk Smash
46. Wild Cats
47. Secret Defenders
48. Drunk Stable Forces
49. We Are Inevitable
50. Lok-I Know All The Answers.
51. The Future League.
52. Super Legion.
53. Age Of Ultron.
54. Power Rangers.
55. Wakanda Forever.
56. Scarlet Knights.
57. Galactic Avengers.
58. Birds Of Prey
59. X-Men Force
60. The Gamorons
61. Revengers Assembled
62. Mew-Mew
63. Powerful Primes
64. Assguardians Of Galaxy
65. Multiverse Of Intelligence.
66. The Supreme forces.
67. Black Widows.
68. Friends From Work.
69. Trash Pandas.
70. Marvel-ous Champs.
Guidelines to Marvel Trivia Team Names
Create your own Marvel team name using the following guidelines: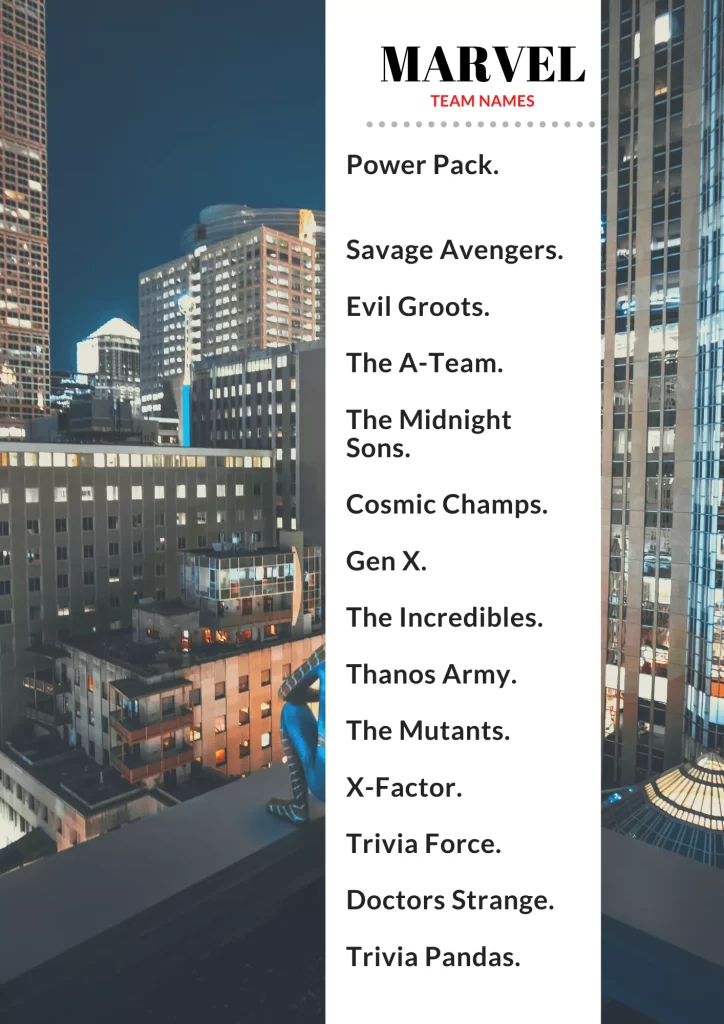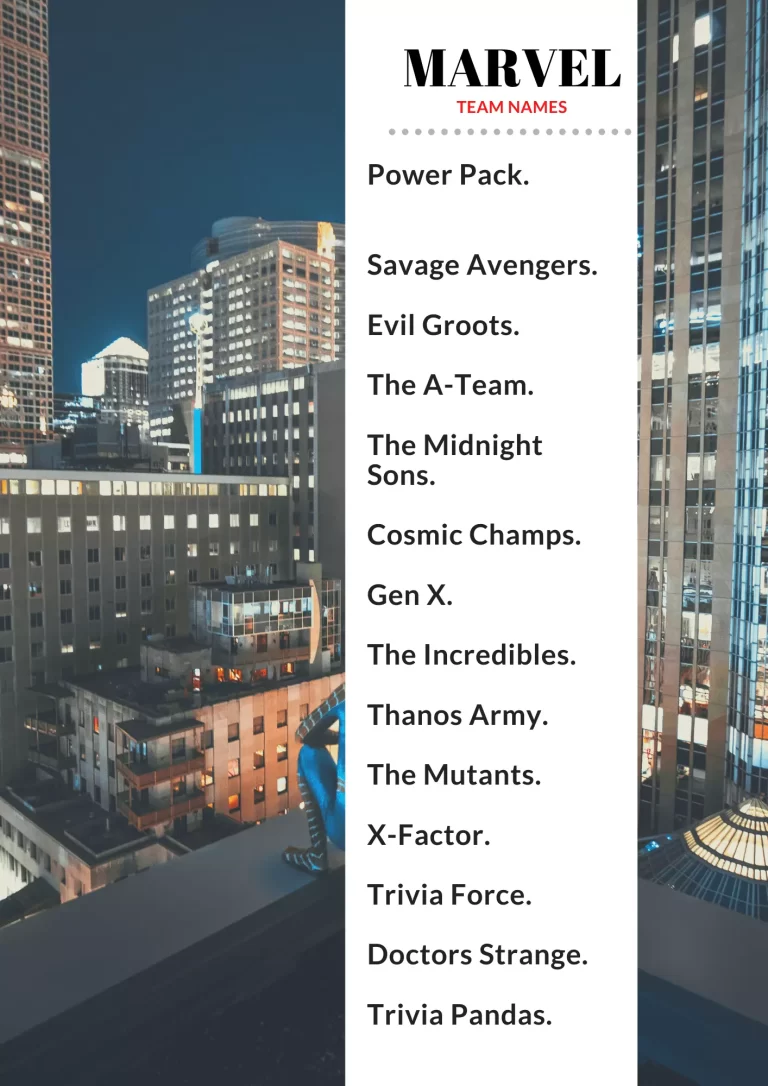 1. Take Inspiration From Your Favorite Marvel Movies:
If you are a huge Marvel fan, then you must have seen all Marvel movies.
Take inspiration from those movies to create unique team names. Think of any famous scenes or moments and incorporate them into a team name.
2. Use Your Favorite Marvel Character:
Is there any Marvel character that you admire the most? From Iron Man to Captain America, there are so many famous Marvel characters that have made their mark in our minds.
Take inspiration from your favorite Marvel character and use his dialogues, skills, and powers to create a unique team name.
3. Use Marvel Quotes:
Marvel's movies are famous for their epic storylines and phrases. Use these famous one-liners to create team names.
If you cannot think of any, then browse the internet, and you will find plenty of cool Marvel quotes there.
4. Take Suggestions From Your Friends:
If everyone on your team is a huge Marvel fan, then it would be best to ask for their suggestions too.
Ask about their favorite characters and scenes and then use them to create team names. In the end, finalize the one that gets the majority votes.
Conclusion
A Marvel-inspired team name will definitely make you and your team motivated and energetic.
We have done all the tough work; now, all you need to do is think of the best specialty of your team members and then decide on a name on the basis of that.
Trust us when we say that you will go pretty high with these names.