Looking for brown team names to match your uniform? Do you like the brown color so much that you want to create your team name using this color?
Or are you assigned with this color? In any condition, we got you covered.
Brown is a color that has so many shades, and each shade has its own charm. However, it gets pretty confusing when you have to use this color in your team name.
You want a name that merges well with the brown color but also one that shows how great and unique your team is.
Keeping everything in mind, we have arranged a list of brown team names under different categories and with meanings so it will get easier for you to choose a name that fits your team's personality.
List of Brown Team Names | Brown Color Inspired Team Name Ideas

We have arranged a list of Funny team names, Cool team names, and Best team names that you are definitely going to like.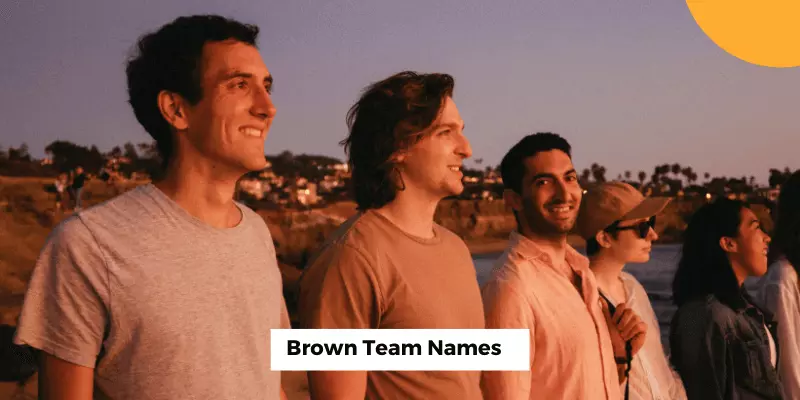 Funny Brown Team Name Ideas

Here is the list of funny team names that will not only make your team members laugh but also make everyone admire your sense of humor and creativity:
1. Brown Bread Crew: Diet-conscious people.
2. Couch Potatoes:    Their lazy ass can sit on the couch for hours without doing any work.
3. Walnut Club:   A team of smartasses.
4. ManChestNut United:  A wordplay on the Soccer team.
5. Insert Poop Emoji Here:  Describing their performance in emoji.
6. Game of Browns:  Powerful.
7. Bro-wnliness:    Bros who are always there for each other.
8. Potato Heads:  A conversation with this team will not be intelligent.
9. Greasy Dishes:  They just love the greasy stuff.
10. Peanut Butter & Jelly:  Too sweet.
11. Moose on the Loose:  Delicious.
12. The Fudge Club:  Everyone's favorite team.
13. Nutella For life:    For all the chocolate lovers out there.
Related Post: Purple Team Names Relisted!
Cool & Creative Brown Inspired Team Names

Here is the list of cool team names to make your group look the best among others in terms of fun, creativity, and uniqueness:
14. Brown Town:     With a matching team outfit.
15. Coffee Bean and Tea Leaf:    They just can't start their day without coffee.
16. The Brown and the Beautiful:    For the Fashion Crew.
17. The Hawt Dogs:    Everyone wants this bunch.
18. Brown Chicks:    Beautiful.
19. Autumn Leaves:    Pretty but destructive.
20. Mean Browns:    Not the nicest bunch to mess with.
21. Chocolaty Boys:  They are usually the center of attraction in every match.
22. The Bear Club:  Too cute to be taken seriously.
23. Cinna-win Sticks:  The only option for them is to win.
24. 50 Shades of Brown:  A team with a mixture of different races and styles.
25. Better than Chocolate:  A little overconfident.
26. Evil Brown:    Expect some evilness.
27. Brown n Beautiful:    They have got some class.
Brown Color Names | Team Names associated with Brown

Here is the list of best team names that will suit every team and make your team stand out among the rest:
28. Wild Brown Bulls:    Angry and Strong.
29. Mud Dogs:    None of them is afraid to get dirty to win.
30. Desert Canyons:    They do not just survive; they flourish.
31. Brown Power:  And no one can stop this force.
32. Desert Storm:    Coming to get you.
33. Lionesses:    The Queens of the Jungle.
34. Brown in Trend: No one can stop them.
35. Brown Rebels:  They can cause an uproar.
36. Brown Hats:    These hats are a symbol of business.
37. Brown in Style:    In style 365 days of the year.
38. Wild n Brown:    Lethal for another team.
39. Brown Belt Fighters:    Watch out for this bunch.
40. Brown Thunder:     When they play, another team usually runs with fear.
Related Post: Creative Orange Team Names Relisted
How to Create Your Own Brown Team Name
If you want to create your own team name, then we believe that this article will be of much help to you.
After reading these tips, you will definitely create your own team name in no time.
Take Inspiration from Brown things.
There are so many things that are brown in color.  For example, chocolates, trees, animals, etc.
You can take inspiration from those things. So, if you do not want to directly use the word 'brown' then you can also use the things that are brown in color to create your team name.
For Example: Moose on the loose, The Fudge League, The Chocolaty gang, etc. I am sure that after reading this point, you will get so many new ideas about things that are brown in color and can be used to create a perfect team name.
Combine Word 'Brown' with Animals or objects
You can also combine the word 'brown' with animals and objects to create a unique and appealing name.
For example, Brown Bears, Brown Eagles, Brown Hats. You can add these words to show how courageous and energetic your team is.
Use shades of brown in Your Names
Brown is not just one color but a blend of other colors. It has so many shades like beige, chestnut, sand, cocoa brown, etc.
You can also use these shades in your team name. Using a specific shade will make it easier for you to create a more accurate and interesting name.
Simple & Clear
Keep your team name simple and clear. There is no point in finding complicated words because no one will remember your team if your team name is difficult and unclear.
That is why choose names that are fun and easy to remember.
Related Post: Best Creative Gold Team Names For Your Squad!
Conclusion
Brown is a beautiful color, and using its different shades in your team's name will surely add spark to your team.
We hope you like the names mentioned above. If you also have some amazing team names to add, then let us know in the comments section.