The Guild system is similar to the clan system in which players join a guild to form an alliance, and then they play against opponents.
Unfortunately, with the rise in the number of online players, the most exciting and interesting guild names are getting taken away.
Finding a perfect guild name is not easy now, especially when you are looking for a hilarious and funny one.
So, if you are wondering where are you going to get a hilarious name, then do not worry because you are at the right place.
We have written plenty of options for you in this list that is unique and hilarious. So, feel free to steal any that tickles your funny bone.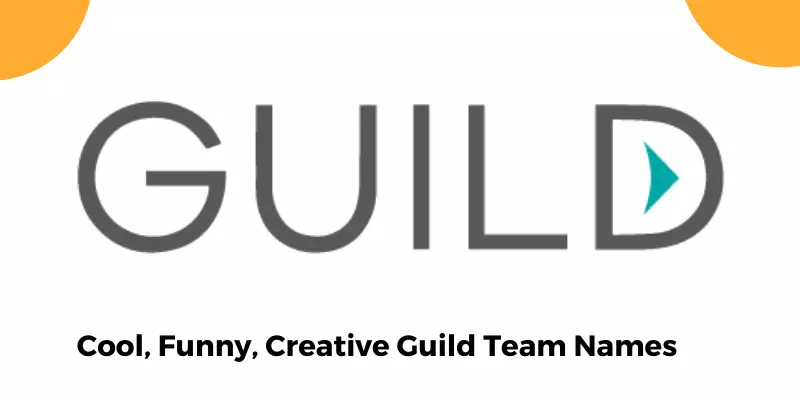 Vow Awesome Guild Names

Here is the list of funny guild names that will not only make you smile but also make you calm in stressful stages:
1. Team Bubble Hearth:  A trick through which anyone can teleport away from any threat in the game.
2. The Contortionists:  An entertainment group who can twist their bodies into unnatural positions.
3. Hopeless and Dopeless:  Won't end well for them.
4. God, Please Help:   Only hope they have.
5. The Crybabies:    They cry about everything.
6. Stinking Bombs:   Keep a good distance from them for your own good.
7. Couch Kings:   They just sit around all day.
8. Atrocious:    Horrifyingly wicked.
9. How I Set Your Mother:   Do tell.
10. Girls Gone Wow:   For a group of girls who love to play Wow.
Ancient Guild Names
11. Left My Gf For Wow:   They have set their priorities.
12. Immoral Killers:   Lacking morals.
13. Mug Shots:    Handsome Thugs.
14. Slay Station:   They kill violently.
15. Noble Badasses:   Do not expect anything good from them.
16. Hairy Backs:    No shame here.
17. Armor Is For Amateurs:   Too overconfident.
18. Noob Ninjas:   At least they are trying.
19. Ctrl-Alt-End:   Cool but Destructive
20. Om Nom Nom Nom:   Tasty.
Related Post: Powerful Nerdy Team Names in the List!
Best Guild Names
21. Chicks With Kicks:   Do not underestimate these girls.
22. Shortcuts:    Best for girls who are petite.
23. We Eat Babies:   Satanic cult.
24. We Leave The Lid Up:   I bet they do it on purpose.
25. Pinkies Twinkies:   And they go well together.
26. Bloodlust:    Hungry for blood.
27. Basterds Disguised As Soldiers:   Bunch of harmful dudes.
28. The Test-eagles:   Say that aloud, and you will get it.
29. Game Over:    They love to play the online games a bit too much.
30. The Never Learning Network:    Blank minds.
Guild Rank Names
31. Young Tarts And Old Farts:    People of every age are welcome.
32. Round bellies:    They are fat and chubby.
33. Amateurs:   Go easy on them.
34. Bitter Frenzy:    In the state of hysteria.
35. Crazy Ash Criminals:   Ungentlemanly behavior can be expected.
36. Drama Club:   There is always some drama going on in this team.
37. Nothing But Kicks:   And do not expect anything more either.
38. Diseased Cats:   Lethal cats.
39. Piece Makers:   They believe in making pieces and not peace.
40. Infamous Butchers: Another team would probably end up in pieces.
Thieves Guild Names
41. In Your Face:   For the other team.
42. Protectors Of Virginity:   Dirks who are trying to make a difference.
43. Refrigerator Invaders:   Always in search of food.
44. Beep Beep I'm a Jeep:  High much?
45. Allies in Wonderland:   They are smart when it comes to strategy making.
46. Smelly Club:   They never said they were clean.
47. Isle Of Misfits:   Don't know what they are doing here.
48. Public Scratchers:   Still, they have no shame.
49. Your Girlfriend Stalks us:  These overconfident peeps think that all ladies want them.
50. TheRapists with a space:   Ladies, Beware.
Dauntless Guilds Names
51. Ash Alliance:   They just can't stop staring.
52. Children Of Injustice:   They are not familiar with the concept of fair play.
53. Lazy As Hell:   Laziness on a whole different level.
54. Twinkle Twinkle Little W***re:   Naughty but nice.
55. Go Hard or Go Home:   There is no in between.
56. Fat Children Are Hard To Kidnap:   Well-said.
57. Trash Club:   They can talk trash continuously.
58. The Douchbags:   Do not expect much action from them.
59. Open Zips:   They always forget that.
60. Moose on the Loose:   Yummiest.
Related Post: Couple Team Name Ideas
Injustice 2 Guilds
61. Gang of Fear:   You will find them hiding somewhere.
62. Victorious Secret:   They know how to play dirty.
63. Disgraceful Assassins:  A useless enemy.
64. We Know Nothing:   Noobs spotted.
65. Mental Brotherhood:   Psychopathic bromance.
66. Too play to Drunk:   And too drunk to spell.
67. Get a Life:   They really do need to.
68. Pissed Off Ninjas:   It would be better to get out of their way.
69. The Vagabond:   People who wander wildly everywhere.
70. Hardcore Fighters:   Men with great guts.
Good Guild Names
71. Gnomes on the loose:   Better get out their way.
72. She-Mullets:   They badly need a salon session.
73. Cereal Killers:    Psychopaths but harmless.
74. The Slobs:   Keep a distance from them.
75. Worthless Wolves:   They are of no use.
76. Elves Gone Wild:   Mythical creatures with an extended lifeline.
77. Sinning Royalty:  Masters of doing sins.
78. Bag Of Nuts:  Do not expect anything normal.
79. Womb Winners:  Winning since birth.
80. Holy Ramen Empire:    Ridiculing representation of Holy Roman Empire.
Unique, MMO Guild Names
81. Sweaty Pants:  A shower would be a good idea, no?
82. Dysfunctional Alcoholics:  Now you know why they suck.
83. Abortion Survivors:  They are going to achieve a lot in life.
84. The Oculists:  They steal everything through their eyes.
85. Six Inch Males:  They sound quite average.
86. Nose Pickers:  Who does not like a good pick?
87. I Have Candy, Get In The Van:  Good strategy but an old one.
88. Beer Makes Active:     It definitely does.
89. SotallyTober:    Yeah, we can see that.
90. Itchy, Sweaty And Sexy:  None of these words match together.
Elite Dangerous Guilds
91. Series Of Misfortunes:     Trouble always finds its way.
92. Chilling With My Gnomies:  They may seem sweet, but they are pretty feisty.
93. Hoes Before Bros:  We can see the love of brothers here.
94. Beer Pressure:    That's too much pressure.
95. Natural Disaster:  Causing trouble wherever they go.
96. Booze On First:  Some drinks before game ain't bad, right?
97. Ghouls Gone Wild:  You can't reason with these monsters.
98. The Alcoholic Force:  They never miss any opportunity to get drunk.
99. Savages:    They do not follow any rules.
100. Ninja Bunnies:  Too cute to be taken seriously.
101. Bashers:    They physically assault others.
How to Create Your Guild Names
You can create a totally original and funny guild name by keeping the following tips in mind:
Take Inspiration From Other Guild Names
If you are out of ideas, then you can take ideas from other guild names too.
It will give you a better idea of what you want in your name. Also, looking at those names will also help you brainstorm new ideas.
Be Creative
By this, we mean that write all your ideas on a piece of paper. Write down all the thoughts that come to your mind when you think about the game or other players.
It will help you in brainstorming some unique and creative ideas.
Look into the specifics of Your Game.
You can create a guild name by taking a common game term and then merging creative words with it. You can add puns or exciting terms in it to form a hilarious phrase.
Look up Words Related to War
Look up words that are related to 'war' or 'battle'. You will find unlimited synonyms of these words on the internet.
You can combine those words with funny terms to create a funny guild name.
Try Guild Name Generator
Name generators are so fun. You can find so many name generators on the internet.
Just search for Guild Names Generator, and you will find so many options on the first page.
With each click, you will see so many options to choose from.
Related Post: Lawyer Team Names Ideas
Conclusion
A funny guild name plays an important role in creating a good impression of your guild. We have listed so many options in this article that fit a range of moods.
That is why we believe that you will definitely find your perfect name here.