A group of six is always the best. It is neither too small nor too big. Besides, what more can you wish for when you have five people to count on?
However, you need another thing to complete your group, and that is a good group name to show everyone how strong your bond is.
If you are on this page, then that definitely means that you are searching for the best group names. Luckily, you are in the right spot.
We have written plenty of options for you to choose from. So, if you are looking for a name for your friends' group, work group, or family group, then we got you covered.
We have listed names under different categories, so it will get easier for you to find a name that fits your group's personality.
However, if you are interested in creating your own group name and looking for some tips then do check out the guidelines written at the end of this article.
List of Group Names for 6 People | Funny, Creative & Awesome Six People Squad Names

We have arranged a list of Funny, Cool, Creative, and Best group names in this article for you to choose from.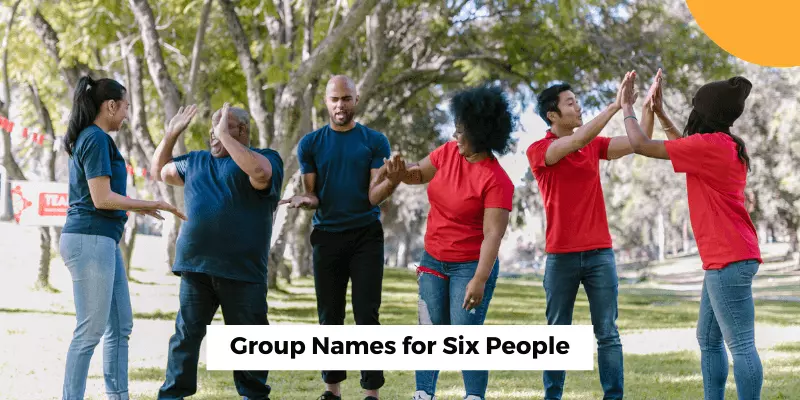 Funny Awesome Squad Names for 6

Here is the list of funny names that will generate chuckles from anyone who hears it:
1. 6 Sloths:    A bunch of lazy asses.
2. Six Misfits:    They do not fit anywhere except with each other.
3. Half-Dozen Crackheads:  They do use their minds…but on special occasions.
4. Six Deadly Sins:    And all are together.
5. Six Packs:  of stomach or drinks?
6. 2+2=6:    Because they say so.
7. Alcoholisix:    These six never miss an opportunity to get drunk.
8. Six Excused:    They always have plenty of excuses lined up.
9. Six Puns:    Expect puns…a lot of them.
10. Hexagonal Crises:    Troubles always find their way.
11. Six Chatter Boxes:    They can go on and on and on.
Similar Post: 55+ Singles Group Names for happy Living
Cool Famous Groups of Six
12. The Ridiculous Six:  This group is not less than a comedy show.
13. Crazy 6:    A bunch of retards.
14. 6 Dyslexics:    They see things differently.
15. 6 girls, 20 cups:    And still standing.
16. Six Maniacs:    They are a bit unpredictable.
17. Six Shorties:    For a group of petite girls.
18. Hella and Hexa Cool:    A group of coolest people.
19. Six Buns:    Most preferred hairstyle of every girl.
20. 6 Peas in a Pod:     They all get along perfectly.
21. Rhythmic Six:    A cool name for a band.
22. 6 Superstars:    Individual winners.
Unique & Famous Team of Six Names

Here is the list of cool group names to show your fun side and show everyone how you slay even in difficult tasks:
23. Six and Bomb:  They might explode.
24. Six Queens:    You better bow down.
25. Six In Style:    365 days of the year.
26. Sexy Sextuple:  Sexy, and they know it.
27. Awesome Sixsome:    Entertainment all the way.
28. Three Pairs:  Double power.
29. Wild Six:    A wild bunch.
30. SlipKnot:  A heavy metal band.
31. Six Crowns:    Each girl in this group is a queen.
32. Sei Bellezze:    It means six lovelies in Italian.
33. Six Miracles:    A group that makes the unbelievable happen.
Related Post: 120+ Facebook Group Names for Lively Socializing
Group Names for 6 Friends

Here is the list of creative group names to show everyone how creative and quick-witted your group is:
34. The Chaotic Six:    Wherever they go, troubles follow.
35. Spunky Six:    Sexually attractive.
36. In Sixness and In Health:    Staying together through thick and thin.
37. Four Plus Two:    Equals six.
38. Six Hearts, One Home:    Their relationship goes way back.
39. Six on Duty:    They hold great pride in their work.
40. Six in the city:    Wordplay on 'Sex and the city.
41. The Central Perk Crew:    From the series 'Friends.'
42. Favorite Six:    Everyone loves them.
43. Sise Glow:    These six shine wherever they go.
44. Hippie Six:    Fun all the way.
Famous Groups of 6 People
45. Sextet:    For a group of musicians.
46. LunaSix:    Luna as in moon.
47. Trio Square:  Better together.
48. Six Shoulders to cry on:    They got each other's back.
49. Six Million Dollar Friends:    A wordplay on 'Six million dollar man.
50. The Runaway Six:    You cannot catch them.
51. Leading Six:    It's all in the name.
52. 6 Smiles:    They face every challenge with a constant smile.
Super Cool Group of 6 | Team of 6 Names

These best group names will not only enhance your bond with each other but also encourage you guys to do more and more better in every task.
So, here is the list of best group names to show everyone how much you people care about each other.
53. Best Six Forever:  Always better together.
54. 6 Senses:  Too smart for every task.
55. Splendid Six:  Pretty Fabulous.
56. Six is Better:  Than any other number.
57. F.R.I.E.N.D.S:    Simple and nice.
58. Six of a Kind: Everyone in this team is unique.
59. Six Folks:  They have known each other forever.
60. Hexagonal Force:   And no one can overcome this force.
61. The Hexa-Code:    No one can break it.
62. The Essential Six:  Everyone is equally important in this group.
63. Priceless Six:    No one can buy this team.
64. Super Six:   When they are together, nothing is impossible.
65. Six Mates For Life:    And no one can come between them.
66. The Hexa Tribe:    Their connection goes way back.
Related Post: 120+ Funny, Cool & Creative Youth Group Names
How to Create a Group Name for 6 People
Creating a group name for six people will be no difficult after reading these tips.
Carefully read the tips because these tips will help you in brainstorming.
1. Consider the Type of Your Group:  You need a name that suits your group's field too. A group name with no link to what you guys do will make no sense.
So, choose words that are group-appropriate. If it is a work-related group, then choose words that are work-related, and for a group of friends, you can use sarcastic or funny words.
2. Take Inspiration:  You can take inspiration from movies or shows. You can also search for famous six-person bands.
You can use those names and merge them with different funny words to create a funny group name.
3. Search for Six in Different Languages:  The internet is full of options. You can search for six in different languages to come up with a unique word.
After searching, merge the words with creative names to make them exciting and unique.
4. Keep it Simple:  Do not complicate your name by adding difficult words. Do not try hard to find difficult words.
Try to look for words that are simple but fun. Your group name is your group's representation, and if your name is too much complicated, then no one will remember it.
That is why go for words that are easy but unique.
5. Take Suggestions:  It is very important to take suggestions from other group embers too. There is no point in choosing a name in which there is no contribution of all group members.
So, ask each member about ideas and suggestions. More minds will generate more ideas.
This will not only reduce your time but also enhance your bond with other group members.
6. Shortest Ideas:  Once you are done taking suggestions, write down all the ideas that you like. This will help you to reach a final conclusion.
Similar Read: 44+ VIP Group Team Names For Your Squad
Conclusion
Every name in this article is unique. If you have liked the above-listed name that what more are you waiting for?
Send these names to your friends and decide which one suits your group the best.