Find here an unbelievably superior selection of nerdy team names that are super funny, cool, and extra geeky.  This selection is gonna add spice to your sport!
In the past, the term 'nerd' used to be a bad thing but fortunately, not anymore. All of us can agree on this that nerds are the smartest people who have wisdom about everything.
So, if you are in a team and you all are nerds, then you should feel proud about it.
A good team always names positive vibes to your team members. That is why you should be very particular while choosing team names.
You need a name that celebrates your team's smartness and intelligence.
That is why we have listed some ideas for you that will definitely make your team stand out among others.
Nerdy Team Names List | Super 99 Nerdy Group or Squad Names to Steal the competition



We have arranged a list of funny team names, cool team names and creative team names that you and your team members are going to love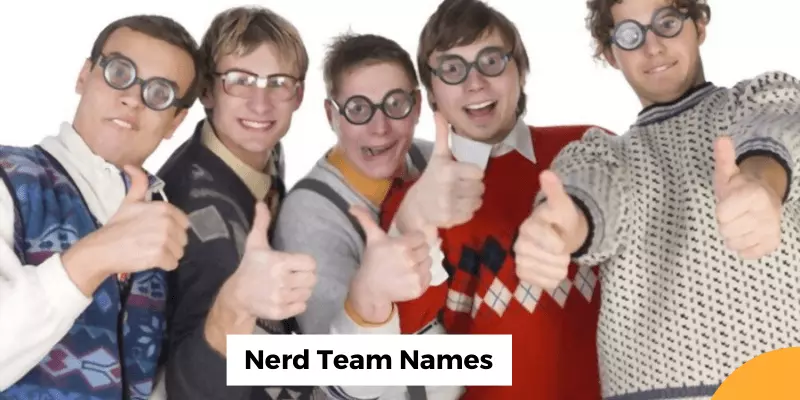 Funny Nerdy Team Names
If all of your team members have a sarcastic or amazing sense of humor, then you can choose a funny name to show the fun side of your members. So, here is the list of funny nerdy team names:
1. Anti-Social Society: Introverts spotted.
2. The League of Extraordinary Guesses: The best part is that their guesses are always right.
3. Forever Half-Life:    Life of Single people.
4. Bag Of Nuts: Entertainment all the way.
5. Superiority Complex: Their skills are better than anyone else.
6. Iodine Pit: Everyone is unique in this team.
7. Luck Had Nothing To Do With It: Yeah, they worked hard to get good results.
8. Awkward Generation:    Too shy and reserved to fit in.

9. Nerds on the loose: A winning team with a great sense of humor.
10. The Book Worms: Probably have engulfed every word by now.
11. Hogwarts Graduates: Let them live in their imaginary world.
12. The Conquerors:    No task is difficult for them.
13. Geek Goddesses:    They rule with absolute power.
14. Rookies of the year: Go easy on these first-timers.
15. Legendary Noobs:    Years of experience.
16. Paranormal Nerdies: Listening to their philosophies looks as if they have some mental issues.
17. Epic Failures: Always causing troubles.
18. Non-stop embarrassments: Don't expect much.
Related Post: Unique Walking Team Names Listed
Geeky Nerdy Group Names
Add some spice to your play with geeky, nerdy group names for your team from the following suggestions
19. Metabolic Disorders: They always have problems different than others.
20. Trash Talkers:    If you are looking for a decent conversation, keep walking away from them.
21. In a complicated relationship with Books: And no one can come in between.
22. Dramatic Ones:    They always find something to complain about.
23. tri-Hards: Never giving up easily.
24. Effortless geeks: They make every problem looks easy.
25. Trend Setters:    Everyone tries to copy them.
26. Whatever's spotless:    Because choosing new clothes every day is pretty tiring.
27. The Idiots: Always messing up tasks.
28. Straight of the bed: Because perfectionists do not need practice, right?
29. Benchwarmers United: All the lazy asses combined.
30. Need Coffee to work: Can't start their day without coffee.
31. Barely Managing: Things are not in their favor today.
32. Oddballs: Strange and eccentric.
33. Late Comers: They are not good with time management.
Cool & Creative Nerdy Team Names
Here is the list of cool nerdy team names to show everyone that you are not just addicted to books; you all are fun in other activities too:
34. Introverts United:    All anti-socials combined.
35. The MegaNerds: You better be smarter than them if you want to win.
36. Just Amazing: There is no other way to describe them.
37. Old and Wise Quackers: They are more experienced than any other team.
38. Joint Efforts:    Getting them higher in life.
39. Yes to the Books:    Never saying no to books.
40. Happy Bookers:    Leave them with their books alone.
41. The powerhouse:    Where all the power is.
42. Geeks in Business: They love to work.
43. Gadgets Experts: Experts in Technology.
44. The Best of the bests: The best in every task.
45. The Go-Getters:    They do not just sit around and wait. They know how to achieve their aims.
46. Your Favorite Nerds: Everyone loves this team.
47. Summit Movers:    They make every impossible thing possible.
48. Book Masters: Everyone knows they always give the right answers.
49. Yes, we can:    Because no task is difficult for them.
50. Long-Term Side Effects: On another team.
Related Post: Funny & Creative Halloween Team Name Ideas
Good Nerdy Trivia Nicknames
Spice up your sport with the suitable selection of a wonderful nerdy trivia nickname for your group or team from the following
51. Wisecrackers:    You can expect a lot of humor in their answers.
52. Read For Speed: They know reading is the key to success.
53. Team Know it All: They are well-prepared for every task.
54. The Dream Team: The team everyone wishes to have.
55. Shining Stars: Someday, this team will run things.
56. Intellectual Factory: Good luck in finding anyone better than this team.
57. BookBlazers: Too creative.
58. Hidden Brilliance: You will see it soon.
59. The Tech Gang:    Always bringing new ideas to the table.
60. Clean Up Squad: Cleaning the opponent from their way.
61. It's all Known to us: Got any problem? Go to them.
62. Too smart to fail:    They work way too efficiently.
63. FlyingAmigos: Coolest friends you have ever known.
64. The Better team:    Sorry, but they are just better than anyone.
65. Achievers:    Their goal is to be the no.1 team.
66. Nerd Quest: In it to win it.
Clever, Powerful Nerdy Team Names for Boys & Girls

Here is the list of creative team names to show everyone how smart and intelligent your team is and why your team is the best:
66. Nerd Force: And they have a mission to accomplish.
67. The Nerd Herd: Working without any mistakes.
68. Full Marks: Full of confidence.
69. Glow club:    They shine wherever they go.
70. Scholars on the loose: A wealth of information.
71. Well-Read Knights: The team you can trust to know about anything.
72. Science Alliance: Science experts here.
73. The Big Bang Theory: Never-ending love for physics.
74. Sharp-Witted Rebels: They notice and understand things quicker than anyone else.
75. Peak Performers: Always giving their 100%.
76. Nerdentical twins: They love each other's company so much that they resemble each other now.
77. Algebra Lovers: Never-ending love for Mathematics.
78. Ingenious Ones: Always coming up with creative ideas.
Nerdy Names for Boys
Stay here to choose one wonderful nerd group name for boys and girls. These names would definitely inspire wonder and inspiration.
79. Beauty with Brain: And proud of it.
80. Classic Heroes: And not just in school, everywhere.
81. Hardcore Nerds: They May look simple, but they have smart brains.
82. Team Knows it All: They set the standard.
83. Well-educated Battalion: They do not believe in anything else but winning.
84. The Smartinis:    Smartest ones in the room.
85. Too Easy For us:    Everything is a piece of cake for them.
86. To Books and Beyond: Their love for books is beyond finite.
87. Stimulated Emissions: Leading them towards victory.
88. Theory of Relativity: Physics nerds here.
89. Studious Ones: Don't argue with this team who spends a lot of their time reading.
Nerdy Names For Girls /Female
Girls' nerdy team names are quite gorgeous, as you see down the list of cool nerd names for girls or females!
90. Team Mathematics: They make the math work for them.
91. Series of Enlightenment: Their intelligence lights up the whole room.
92. Smart Nerves: Too smart for others.
93. Geekolution: Their time has come.
94. Kill them with knowledge and bury them with a smile: That's some serious goals. Gotta watch out for this team.
95. The Fig Neutrons: Highly energetic to win.
96. Brainiacs:    Maniacs with the brain.
97. Knowledge Knights: They are too modest.
98. The Smart Squad: Knowledge in every topic.
99. Sons of Tesla Society:    Always coming up with something new.
Related Post: Powerful Viking Clan Team Names Listed!
How Can You Create your Own Nerdy Team Name?
If you want to show your creativity, then creating your own team name is always the best idea. Creating your own team names is very easy.
If you are confused that creating your own team might take a lot of your time, then you are wrong.
You just have a point to start from, and then you will be creative enough to create your own name.
That is why we have listed some ideas for brainstorming. Read them, and we hope after that, it will get easier for your to create unique names.
Look at Likes & Dislikes of Team Member
If you and your team members have common interests, share the same hobby, has distinctive traits, or if they are a fan of a specific movie or character, then you can always use these things as an inspiration to create a team name.
Use Rhythm
A great way to create a name is to use rhythms or alliteration to make it sound great. For example, Nerd Herd, Sneakygeeky, and Geeky Genius.
These rhymes or alliterations make a name much more interesting and unique.
Shortlist Ideas
Once you have shortlisted all the ideas, analyze them. See if they are simple and easy to remember, easy to say aloud, and different from your competitors.
Remove all those names that are difficult to remember or less interesting.
Always remember that only those names that sound great and are memorable will help you to become the center of attraction in the crowd.
Team Member's Feedback
The best way to finalize your team name is to gather all your team members and ask for suggestions. Make sure no one feels left out in finalizing your team name.
After discussion. elect the name that everyone agrees on.
Conclusion
Being a nerd is not a negative thing. Being a nerd means that you are smart and skillful enough to face any problem in life.
That is why a group of nerds is always the best one among others. We have listed some great ideas for your team.
We hope you like them. Also, do not forget to share your ideas with us in the comments section.