You must be thinking that the mercenary groups are full of violent and greedy people who are only concerned with making money at the expense of ethics.
But, do you know that this is the most common and oldest profession?
Mercenary companies do not have any ties to state or title, they only fight for money. They usually work for private military contractors.
These companies recruit soldiers or those who have experience with weapons to provide services for state or non-state affairs.
Mercenary groups can work for any team. If you are also in such a group and want a good name to define your group, then you are at the right place.
A good name is very important to stand out among other groups. That is why we have written plenty of suggestions in this group which are perfect for any team. Hope you like them!
Mercenary Group Name Ideas | Great, Creative, Funny & Fantasy Mercenary Guild Names Suggestions
In this list, we have written different categories which are suitable for any team. These categories include:
Cool Mercenary Group Names

Thinking of a cool mercenary group name is not easy. You need a name that boosts your group member's spirit, binds you together, and shows your capabilities.
You can also use puns to make everyone chuckle. Whatever your preference is, we can safely say that you will find perfect suggestions in this list that are suitable for every group.
Feel free to steal any name that you like.
Undying Defenders.
Desperados.
Heart Throbs.
One Shot Killers.
The Serpents.
Rebel Security.
Slaying Warriors.
Night Walkers.
Raven Claw.
Shady Characters.
Hitmen.
Winter Raiders.
Insurgents.
Blacklisted.
Violent Society.
Related Post: Fierce Evil Organization Team Names Listed
Mercenary Guild Names
Mercenary groups have been gaining a lot of attention in recent years. They are hired because of their skills and training.
Mercenaries guilds are quite powerful and can be found in various cities and traveling various places.
They consist of mercenaries and mercenary heavies following a mercenary captain.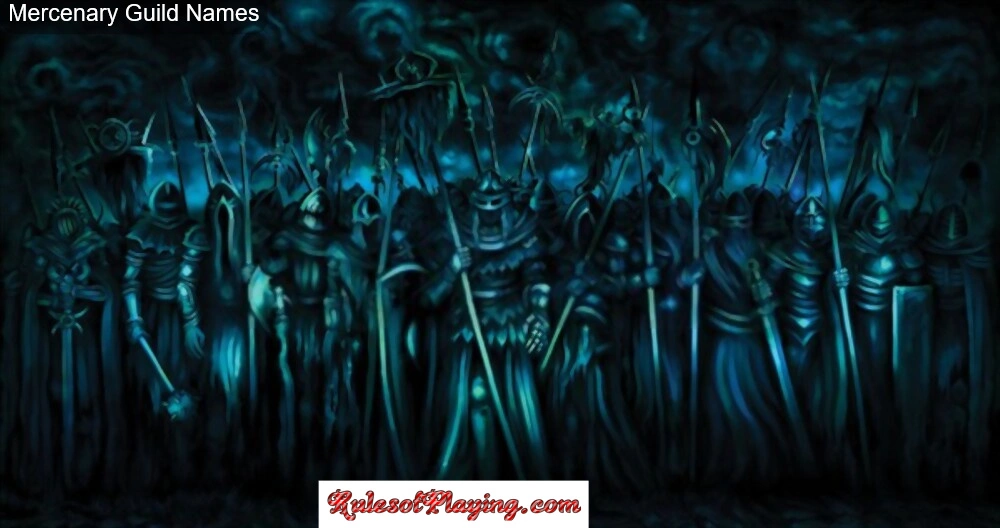 If you are also a part of such a guild, then you know how important it is for any guild to have an epic and powerful name, a name that shows how strong your guild is.
This list includes the best mercenary guild name suggestions that are perfect for any group. So, if you are also looking for some ideas, then do check this list out.
Phantom Strikers.
Banned Rebels.
Black Cats.
Terrorizers.
Fiery Dragons.
Violent Hounds.
Jawbreakers.
Death Riders.
Strong Arms.
Speed Demons.
Iron Fists.
Black Knights.
Gunmen.
Men Of Fire.
The Expendables.
Fantasy Mercenary Company Names
We have written some amazing fantasy mercenary company names in this list.
So, whether you are looking for cool fantasy names for your novel or even for your own company, then feel free to take a look at this list:
Red Flayers.
Black Spear.
Order Of Blue scale.
Black Hog Company.
Ivory Leopard Company.
Steel Shadows.
Red Serpents.
The Adamant.
Code Black.
Black Pyramid.
Grey Jackals.
Sons Of Eternal Flame.
Unyielding Swords.
Vulture Band.
High Velocity.
Good Mercenary Group Names
A name is the first impression of any group. No one wants to hire a group that has a dead name.
If you also have a group and you are looking for names' suggestions, then this list is for you.
We have listed some pretty good names in this list that will make your group stand out among other groups.
Justice Bringers.
Silent Warriors.
Eternal Fists.
Death Escapers.
Daredevils.
Skykillers.
Men Of Steel.
The Defenders.
Soaring Eagles.
Elite Soldiers.
Freemen.
The Resistance.
Adrenaline Rush.
United Forces.
Always On Defense.
Desert Brothers.
Black Hawks.
Mercenary Company Names

Private military companies provide security for various reasons all over the world. These services are very profitable.
However, the main key to success for any company is a great name, a name that shows how strong and smart your company is.
To give you some ideas for your mercenary company, we have also listed some amazing suggestions.
These names will definitely raise the bar for other companies.
Black Company.
Silent Professionals.
Resurrection.
G.H.O.S.T.S.
Black Arrow.
Timberwolves.
Crimson Talon.
Frostbite.
Black Mountain Group.
Snowscape Avengers.
Black Water.
Dawnstar.
Corps Security B
Steel Company.
Lethal Weapons.
How to Join a Mercenary Group
If the idea of joining a mercenary group sounds appealing to you, then this article might help you to join a mercenary group:
Gain Experience

You need to obtain military or law enforcement-related experience. Some companies offer training programs to interested PMCs who do not have military experience.
Learn a Foreign Language
You need to obtain proficiency in a foreign language.
If you have decided the area of the world you want to obtain employment in, then it would be better to learn the basic language of that region.
Get in Shape

If you want to join a mercenary group, then fitness is very important. There are several tests done to assess your strength and stamina.
Prepare Your Resume

You also need to submit your cv along with your other applications. Make sure to create a stand-out cv to create a good impression.
Where to Apply

The nature of this job is pretty serious so if you are waiting for a newspaper ad saying 'Mercenaries needed', then forget it.
The mercenary companies offer online application systems. Some of the famous companies are:
Triple Canopy.
 Academi.
Dyncorp.
Global Dynamics.
Erinys International.
Points to consider while creating a Mercenary Group Name?
If you are interested in creating your own mercenary group name, then follow these guidelines for brainstorming fresh ideas:
1. Take Inspiration: Take inspiration from military/action/adventure/mercenary movies. After choosing a name, you can add descriptive words to it to create unique words.
2. Create Acronyms: You can also create acronyms by using the initials of your group members.
List down all the initials and keep rearranging them until you create a perfect name.
3. Do Brainstorming:  What comes to your mind when you think about the word mercenary? Write down all the words or search for their synonyms on the internet.
This will also help you to create a unique name. For example, Money, Power, Solder, Daring, etc.
4. Think Out Of The Box: Do not settle for dull and boring names. Be as creative as you can. Keep trying phrases or rearranging words until you find a perfect name.
Related Post: List of Greatest Office Trivia Team Names 
Conclusion
From Cool to powerful names, we have tried to cover every category in this article. Choose any name from this list to raise the bar high for other groups.
These names will definitely give a tough competition to other groups. Also, if you like these names, then do share your opinions or more ideas in the comments section.