Cornhole is a serious yet friendly and competitive activity.  For a winning hit, a unique, thorough cornhole team name is a must.
In this game, you are supposed to throw the bags in the hold on a platform. If you throw the bags in the hole, then you get 3 points, and if you throw the bag on the platform, then you get 1 point.
It is great fun for every age group and can be played anywhere.
If you are also planning to participate in cornhole, then you should know that the first thing to make your team presentable and best among the rest is to choose a perfect Cornhole team name.
We know that playing cornhole adds confidence and excitement, but we want you to know that a perfect team name not only adds confidence but also enhances the bonding of your team members.
After all, who doesn't get excited to choose a perfect team name and then get that unique team name printed on shirts?
That is why we have written some best options for you that we believe have not been taken yet.
List of Cornhole Names Suggestions [ Best, Cool, Funny, Unique, Clever ]

We have arranged a list of Funny, Cool, Best, and Creative team names that will help you to become the center of attraction in the crowd.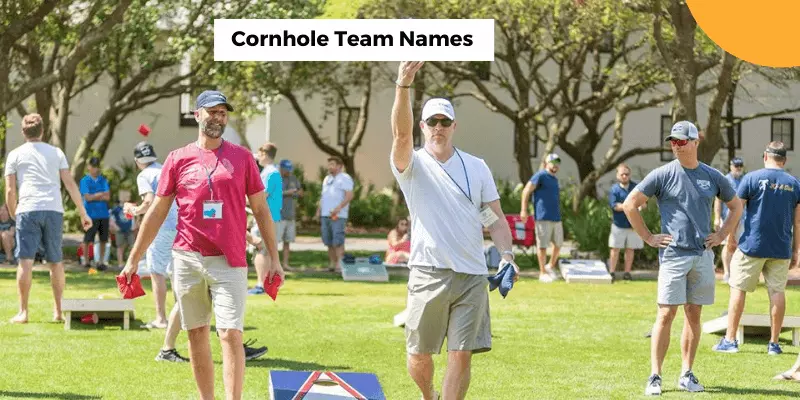 Funny Cornhole Team Names
Here is the list of funny team names that are exciting and interesting enough to tickle your funny bone:
1. Shucking Society: A bit too much?
2. Cornographic Content: Dirty enough.
3. Throw and Pray: They are the only option left now.
4. Masters of Holes: They surely have some skills.
5. Hole Chasers: They sure love a lot of action.
6. Hole Dominators: Because the hole is all that counts.
7. Corn Stars: And proud of it.
8. Holes Addict:  Just gross.
9. Amateur Club:  You can expect them to be terrible.
10. Corny Jesters:  Seeing their performance is no less than a comedy show.
11. Keep your bags to yourself:    They do not believe in sharing.

12. Corn Fritters:    Delicious snack indeed.
13. Corn Hub: Definitely not for kids.
14. The Douchebags: All idiots combined.
15. All Out: Better luck next time.
16. The Noob Gang: Go easy on them.
17. Hardcore Corn: Manners?
18. No Shucks Given: Losing to them would be pretty embarrassing.
19. Can't Find Hole: They definitely need some practice.
20. Kinky Kernels: Expect bizarre behavior.
21. Go Shuck Yourself: Whatever you say.
22. The Booze Club: Drinking before playing is always the best option.
23. Holey Noobs: Don't expect much.
24. Feeling Corny: They win the dirty way.
25. Shuck Off:  And that is an order.
26. Cornfusing Team:  Good for the other team.
Related Post: Best dart Team Name Ideas reloaded
Cool & Creative Cornhole Names Suggestions for Boys

Here is the list of cool team names that will not only help you to grab the attention of spectators but also make you look the best among the rest:
27. Spanking the Platform: They have some impressive talents.
28. Baggin' and Braggin': They will definitely make the other team nervous.
29. Holesome Fun:  For everyone who participated.
30. Corny Swag: The coolest bros.
31. Furious Hands:  Angry and motivated to win.
32. The Corn Job: And they are pretty good at it.
33. Corny Chicks: These ladies own this game.
34. The CornDogs:  Everybody's favorite.
35. The Mighty Shuckers: What else can you ask for?
36. Wild Corns: They are swift and fast.
37. The Corn Fathers:  In reference to the movie 'The Godfathers'.
38. Bar Setters:    When they play, the others know they need to improve their game.
39. Holey Kings: The top team.
40. Corn Love: They really love corn.
Cornhole Names for Girls
41. Corn Warriors:  They know what they want, and they will get it.
42. Bag Me To Hell:  In reference to 'Drag me to hell.
43. Done n Dusted:  Showing their opponents how a game is played.
44. Ooops! Wrong Hole:  Better luck next time.
45. Too Corny to lose:  They just can't help but win.
46. Itsy Bitsy Spankers: Too cute to be taken seriously.
47. Magical Hands:  Magic definitely has something to do with their performance.
48. Bag Attack:  Run!
49. Baggers on the move:  Bagging every point.
50. The Big Bag Theory:  In reference to 'The big bang theory.
51. PunnyAnd We Know It:  Expect a lot of puns from this team.
52. Bag in your face:  That might hurt.
53. Corn Busters:  They know how to get rid of their competition.
Awesome Creative Cornhole Names
Here is the list of  best team names to show your  opponent why they should think twice before competing with your team:
54. Bags of Terror:  Their skills will definitely make the other team nervous.
55. Laced Up:  All set up to win.
56. This Won't Take Long:  It will be a matter of minutes, and they will be declared winners.
57. Designated Winners:  They will effortlessly and flawlessly.
58. Lucky Shots:  They are skillful as well as lucky.
59. The Corn Clan:  All the best players.
60. Cornhole Pros:    Beating them is near to impossible.
61. Beat this:  Let's see if you can compete with this team.
62. All In:  They never miss their shot.
63. Winners in the making:  They came here just with winning intentions.
64. Bag control:    They have some unbelievable skills.
65. No.1 Cornholers:  No team is better than them.
66. The Bag Strikes Back:  And they strike flawlessly.
67. The Cornengers:  They know how to avenge themselves.
68. Corny Fellas:  This team is always there for each other.
69. Cornhole for life:  They are never getting bored of this game.
70. The Bagnificient Team:  They are better than magnificent.
71. Eyes on the Prize:  No option other than winning.
72. The Cornadoes:  You will know when they are here.
73. Shuck and the City:  In reference to 'Sex and the city.
74. Masters Blasters:  They are great at whatever they do.
75. Hyperactive:  This team's energy levels are so high.
76. Score More:  No Score is enough for them.
77. The Corn Squad:   Do no underestimate the skills of this team.
78. Graceful Hands:    Winning every game gracefully.
79. Lucky Bags:    They are always lucky enough to overcome any problem.
Related Post: Best Bocce Team Names Relisted
Powerful & Cute Cornhole Team Names
Here is the list of creative team names to show everyone that you are not just strong but smart too:
80. Wild Bags:  Not a group tomes with.
81. Corn Artists:  Just like con artists.
82. Game of Corns:  And they are damn good at it.
83. Adrenaline Rush:    Energetic much.
84. High Fructose Level:  Too many of these guys can be deadly.
85. The Flying Miracles:  Get ready to witness some unexpected shots.
86. The Cornypedia:  They know all about the game.
87. Corntastic Team:  Ain't they all fantastic?
88. Cornicide Squad:  In reference to 'Suicide Squad'.
89. The Unicorns:  Cause, why not?
90. A-Maize-ing Team:  A dream team.
91. 3 Points Struggle:  They are focused on their goals.
92. Pirates of Cornibbean:  In reference to 'Pirate of Caribbean'.
93. Game of Throws:  This game is all about précised shots.
94. The Corn Flakes:  And who doesn't like them?
95. The Bags of Victory:  This team only works at its best.
97. Corn to Rule:  Born Winners.
98. Multiple Corngasm:  They have got the spirit……and the stamina.
99. Corn to be Wild:  They like to speak things up.
100. The Maize Runners:  In reference to the movie 'The Maze Runner.
101. Bag to the Future:  In reference to 'Back to the future.
102. Cornlicious:  And delicious.
103. Dazed and Cornfused:  But it would be wise to not take them lightly.
104. Indigestible Victory:  Their opponents will not easily digest their victory.
How to Create a Super Perfect Cornhole Team Name?
Creating your own team name is super easy, and after reading these tips, it will be a matter of minutes for you to generate more and more ideas.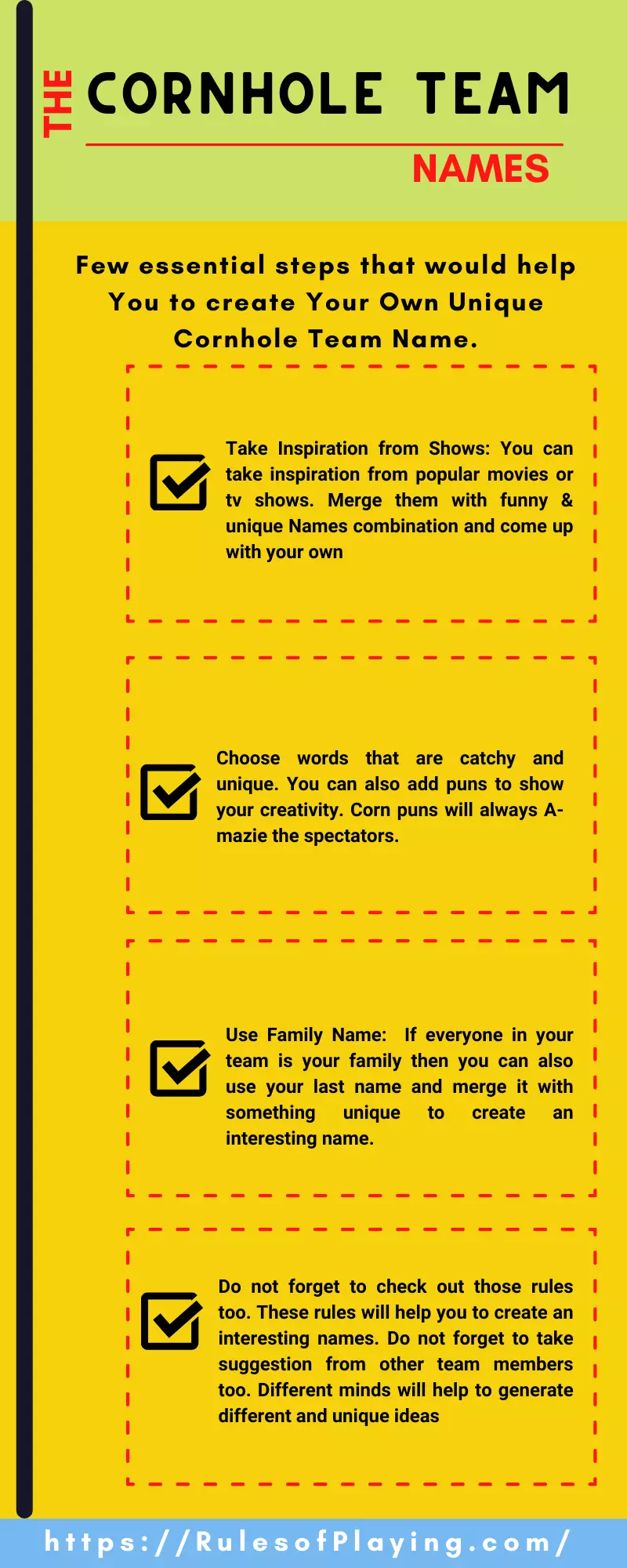 1. Take Inspiration from Shows:  You can take inspiration from popular movies or tv shows.
You can also use foods that are made from corn and merge them with funny or unique words to create an interesting name.
2. Choose Catchy Words:   Choose words that are catchy and unique. You can also add puns to show your creativity. Corn puns will always A-mazie the spectators.
3. Use Family Name:   If everyone in your team is your family, then you can also use your last name and merge it with something unique to create an interesting name.
You can also use words that are related to corn or words that describe your team's personality.
4. Look over the Internet:   Cornhole is a game with rules. Do not forget to check out those rules too.
These rules will help you to create an interesting name. You can merge them with hilarious words to create a funny team name.
5. Take all Members on Board:  Do not forget to take suggestions from other team members too. Different minds will help to generate different and unique ideas.
Related Post: Best Guild Names that are Yet to be Taken
Conclusion
Cornhole is a great and exciting party game. Anyone who has not tried it should definitely play this game with friends and family.
It will definitely help you to increase your bonding with your loved ones.
As far as team names are concerned, you can always count on our page to find the best team names that have not been taken yet.