Minecraft is still one of the most popular games, which gets more interesting if you play it in factions.
Minecraft factions is a widely used plug-in where the players can band together to gather resources, build strong bases, and protect their land from intruders.
Minecraft gets pretty competitive, especially when you play in factions. Only the factions with extraordinary names get the chance to have the upper hand on their opponent.
Yes, you read it right. You need a strong and impressive faction name in order to rule the game.
List of Minecraft Faction Names | Unique, Cool, Thundering Name Ideas
Your faction name represents your team's fighting spirit and strength.
A big question about the nature of players can only be answered by a good faction name, and the faction can express their strength of being together only by a good faction name.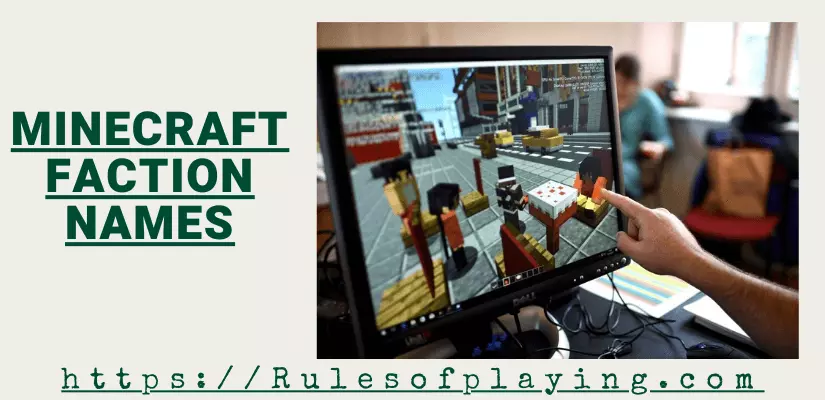 But if you are out of ideas and cannot find a good name, then check out the following suggestions.
We have listed good and creative faction name suggestions for you that will definitely make others envious of your faction.
Good Minecraft Faction Names
Minecraft is a pretty competitive game, so you need to motivate your faction with a good name.
Always remember that good team spirit starts with a good name.
Keeping this in mind, we have listed some good faction name suggestions below that will make your faction unique and elite than others.
1. Daredevils.
2. Exterminator.
3-Skylords.
4. Frozen.
5. Invaders.
6. Keepers.
7. Mighty.
8. Dawn.
9. Braveheart.
10. Supreme.
11. Headline.
12. Untouchable.
13. Guardians.
14. Prophets.
15. Revolution.
16. Spirited.
17. Nexus.
18. Enraged.
19. Raiders.
20. Avengers.
21. Fatal.
22-Threat.
23. Mystic.
24. Perfection.
25. Hyperflex.
26. High-Octane.
27. Legendary.
Related Post: 200+ Cool Clan Names with Meaning & Explanation
Cool & Creative Minecraft Faction Names
Do you want your faction to be recognized by a cool and creative name? Then check out the following suggestions.
A catchy and cool name is a great chance for you to show your faction mates how smart and creative you can be if you just put your mind to something.
Choose any name from this list to bring excitement to your game.
28. Infernal.
29. Trappers.
30. Abusers.
31. Devilish.
32. Fallen.
33. Deathless.
34. Frostbite.
35. Rebellion.
36. NoRemorse.
37. Unicorns.
38. Evil Fist.
39-Chaos.
40-Sugardaddy.
41. Frenzy.
42. Egocentric.
43. Soulless.
44. Reapers.
45. Executioners.
46. Loners.
47. Vigilance.
49. ChickMagnet
50. Outlaws.
51. Forbidden.
52. Devilish.
53-Spoilers.
54. Hunters.
55-Freeloader.
Related Post: 100+ Minecraft Faction Names For Your Squad
How to Create Minecraft Faction Names? An easy Method
Creating your own faction name is an easy task. You can use any cool word that you like to create your faction name.
However, there are certain points that you should keep in mind before finalizing a faction name. These guidelines are listed below:
1. Keep it Under 10 Characters:  Minecraft only allows you to choose a name with up to 10 letters. So, make sure to create a name by keeping this in mind.
If you like a name that is more than ten letters then use its synonym or change some of its letters with digits.
This will make your name more unique and cooler.
2. Choose appropriate Words:  Make sure that the word you choose is appropriate and decent.
If you have any doubts that your faction name might be offensive to others, then it is best to choose a different name.
3. Use Favorite Words: What are the words that you commonly use? Is there any word that you like?
Now is the best time to do brainstorming and think of some coolest words.
4. Search for Synonyms: If there is a certain word that you like but you also find mainstream, then search for its synonyms on the internet. This will help you to find unique names.
Related Post: 110+ GTA Crew Names for Your Squad
Conclusion
Choosing a cool and creative faction name can be such a hassle, especially if you are not good with names.
But luckily, now you have a place where you can find the best name suggestions for your factions. Feel free to steal any name from the list that represents your factions.
We can assure you that all the mentioned names are unique and have not been taken yet.