Vampires are undead creatures who live by hunting human blood. They hate two things; garlic and sunlight, because these things burn them.
From the folks, we learned that there is a total of 13 clans of vampires. Some are good, some are weird, and some are so ruthless that they spare no one.
However, in modern times, vampires are just considered fictitious entities, although belief in similar creatures still persists in some countries.
From 'Dracula' to 'The Vampire Diaries' we've become familiar with all the characteristics of vampires. At some point, all of us have wanted to have those powers, no?
If you are also a fan of vampire mythology and looking for vampire clan name suggestions, then this is your place.
We have written so many unique options for you in this article. All the suggestions are Fang-tastic. Hope you like them!
Vampire Clan Name Ideas | Funny Vampire Kingdom, Guild, Fantasy, Ancient, Awesome Vampire Clan Names

To make your decision-making easier, we have listed clan names under different categories, so it will get easier for you to search for your preferred category.
In this article, we have listed the following categories: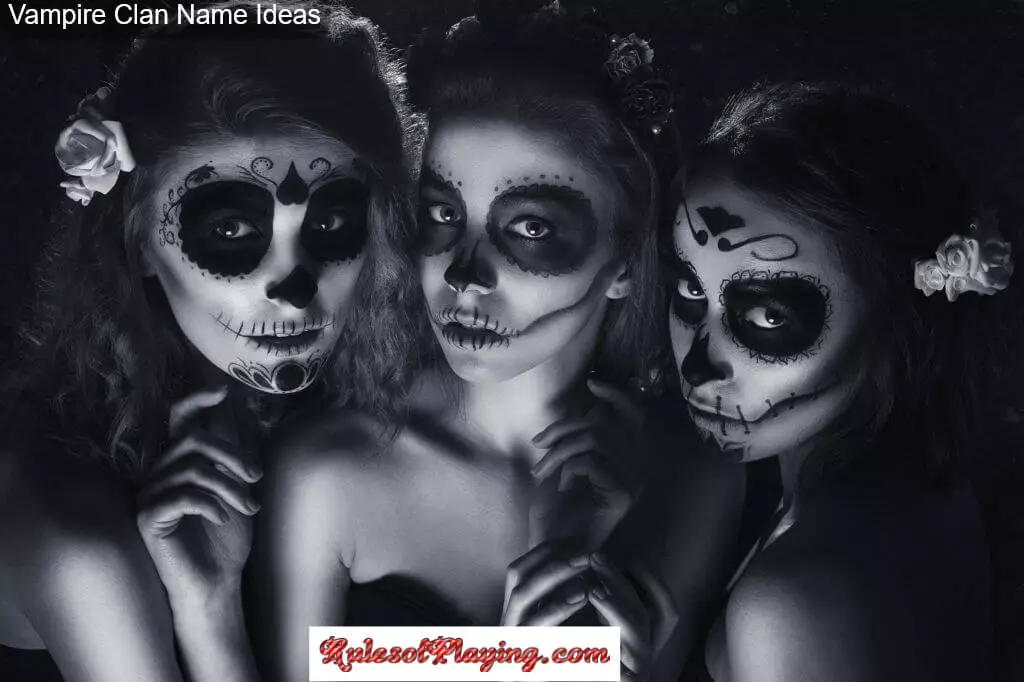 Vampire Kingdom Names

The vampire kingdom is a world of vampires that you cannot even imagine in your wildest nightmares.
The entire kingdom is full of blood-sucking creatures preying on humans. Some even treat humans as their pets.
Another thing that portrays a strong impression of a kingdom is its name. Naming a kingdom might sound hard to you, but it is not.
We have listed some spooky vampire kingdom suggestions for you in this list to make your kingdom stand out:
Kingdom Of Lost Souls.
Kingdom Of The Undead.
Land Of Immortals.
Mystic Falls.
Stake Land.
Kingdom Of The Damned.
Bloodthirsty Land.
Transylvania.
Cayor kingdom.
Castle Vania.
Death Valley.
Blood Thirsty Land.
The Fang Dynasty.
Sinners Land.
Devil's Den.
Related Post: Creative Start Wars Teams Name Suggestions
Vampire Guild Names
Looking for vampire guild names? Why not choose a name that is spooky enough to put fear in your opponent's heart?
Your opponent will judge you according to your guild name. A strong name not will not only scare him away but also show how powerful your guild is.
That is why we have written some deadly suggestions in this list, after which everyone will think twice before crossing your path.
The Monster Squad.
Dark Shadows.
Night Flyers.
Bloodsucking Beasts.
Prince Of Darkness.
Soulless Monsters.
Demonic Wings.
Sons Of Dracula.
Night Stalkers.
Bloodlust.
Grave Risers.
Dark Raiders.
Blood Hunters.
Undead Army.
Hell's Seekers.
Funny Vampire Names
Vampires make up a large part of history. There was a time when they were scary and fearful, but now you will see them in romantic and funny movies too.
Keeping this in mind, we have listed some hilarious funny vampire names in this list.
So, if you were looking for funny vampire name suggestions for Halloween or any other event, then this is your place.
These hilarious names will surely put your fear of vampires away.
Drac..oh la la!
Sleeper.
Vlad-The Bloody.
Hancock.
Draculina.
Sucker.
Vegan Vamp.
Bloody Mary.
Corpse.
Rockula.
Vampire Last Names

Nowadays, many people are ditching mainstream names. They prefer names that are catchy, like vampires' last names, which have different meanings and origins.
In this list, we have offered some best last name suggestions to choose from. Some of these names have dark meanings, and some portray specific capabilities of a person.
So, feel free to choose any name that fits your personality.
Vincent.
gilbert.
Hemlock.
Mitchell.
Collins.
Salvatore.
Damon.
Ruthven.
Cullen.
Lucien.
Ancient Vampire Names
All of us have seen so many movies that are based on vampire mythology. Some of those vampires were good, and some were ruthless.
After taking inspiration from those movies, we have written some ancient vampire names on this list. So, if you just love these immortals, then this list is for you: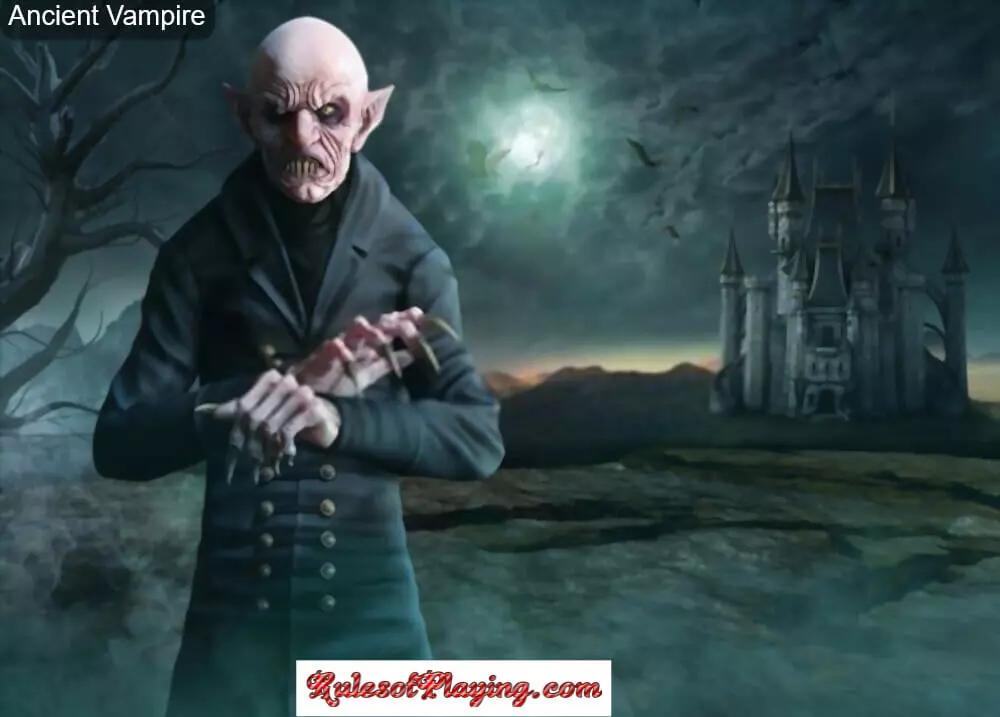 Gabrielle.
Vlad.
Valerious.
Valek.
Stephanos.
Alessandro.
Draco.
Claudius.
Silvano.
Barnabas.
Great Awesome Vampire Clan Names

I am sure that whenever you think about vampires, you surely imagine Edward Cullen's personality or Bella's strength but vampires' abilities are much more than that.
We have seen so many stories of blood-sucking creatures who created havoc with their dark and brooding energy.
After taking inspiration from all those movies, we have listed these great awesome vampire clan names. These names will surely give you Transylvania vibes.
Nightwalkers.
Eternal Wanderers.
DEADicated Forces.
Dark Omen.
We Suck.
Children Of The Night.
Neck Lovers.
Undeparted Souls.
Fangclub.
Ones Who Never Die.
Straight Outta Coffin.
Blood Addicted.
The Fang Gang.
Undying Devils.
Death Company.
>>>> Related Post:  Powerful Funny Cool & Catchy OZTAG Team Names on the List
Unique Fantasy Vampire Clan Names

Even though the movies portray vampires as evil creatures but these charismatic characters have still ruled our hearts for so long.
The shows like 'The Vampire Diaries' to 'The originals' have created so much obsession in young adults that now vampires are considered as a hero.
In this list, we have written some unique Fantasy vampire names for your clan after taking inspiration from Fantasy movies.
Dark Lords.
Love At First Bite.
The Immortals.
Coffin Crew.
Blood War.
From Dusk Till Dawn.
Dispatched Demons.
Undying Descendants.
The Originals.
Daughters Of Darkness.
The Hybrids.
Points to Consider While Creating a Vampire Clan Name
Read the following points to create a unique vampire clan name:
1. Take Inspiration:  Take inspiration from your favorite vampire movies. From Vlad To Edward Cullen, there are so many characters to take ideas from.
2. Search For Facts Related To Vampire History: You will find so much information about vampires on the internet.
Search about history, facts, scenes, and news about them because it will help you to find some excellent options.
3. Make A List Of Vampire Related Terms: What comes to your mind when you think about the word Vampire?
Make a list of those words, and then try to merge them with something unique to create an interesting clan name. For example, Blood, Bite, Fangs, Coffin, Castle, etc.
4. Create Puns: You can use puns to create epic clan names. Find terms related to vampires and then try to play with words to create hilarious names.
Related Post: Creative & Unique Fashion Group Names Listed
Conclusion
Whether you are a vampire series fan or just looking for clan names to have fun with, we are sure that you will find these names amazing.
Feel free to choose any clan name to strike fear in your opponent's heart.